Estrella Jalisco Michelada Review: Spicy Mango Flavored Beer
Estrella Jalisco Michelada will make the perfect beer for enthusiasts who are looking for something vibrant, new, and Mexican. The mango-flavored beer will keep you on your toes with its tasting notes that bounce from spicy to sweet.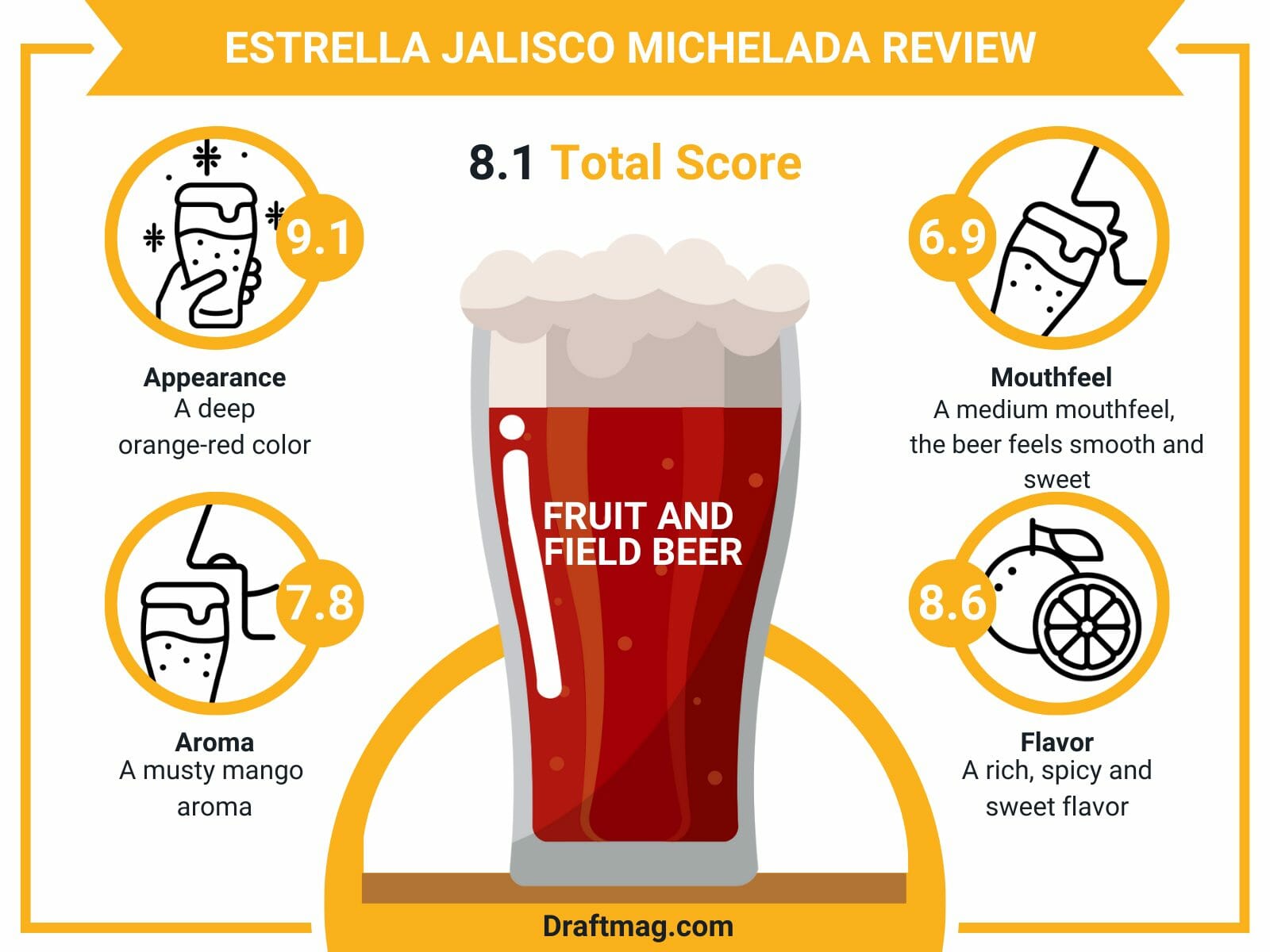 Enjoy gulping down this thirst-quenching beer with friends while having a barbeque, and pair it with all your adventurous dishes. Our review below covers more about the Michelada beer, so buckle up!
Estrella Jalisco Michelada Stats
| | |
| --- | --- |
| Country  | Mexico |
| Brand | Grupo Modelo S.A. de C.V. |
| Style | Fruit and Field Beer |
| Taste  | Mango, spicy, sweet |
| Body | Medium body |
| ABV | 3.5 percent |
| Flavors & Aromas | Mango, spicy, salty, sweet, tomatoes, fruity |
| Serving Temperature | 45 – 50 degrees Fahrenheit |
Tasting Notes
Estrella Jalisco Michelada Tasting Profile
Estrella Jalisco Michelada Review
Michelada is a fruit and field beer with a 3.5 percent alcohol content. The beer is made by Grupo Modelo in Mexico and features a medium body and an orange-red color. Tagged as a fantastic hangover cure, this beer is the ideal choice for those that still want to be sober while drinking an authentic beer.
The fruit beer has flavors and aromas of mango, tomatoes, salt, and spicy jalapenos, a seemingly weird combination that balances it out to give you a drinkable and refreshing brew. The unique beer is best served in a tall flute that looks similar to a champagne flute. The narrow class maintains carbonation and aromatics.
You can garnish the beer with hot sauce, salt, chamoy, or even mix it with more beer.
– Appearance
The pour of the Michelada beer shows a deep orange-red color in your glass, with a pink head up to half an inch high.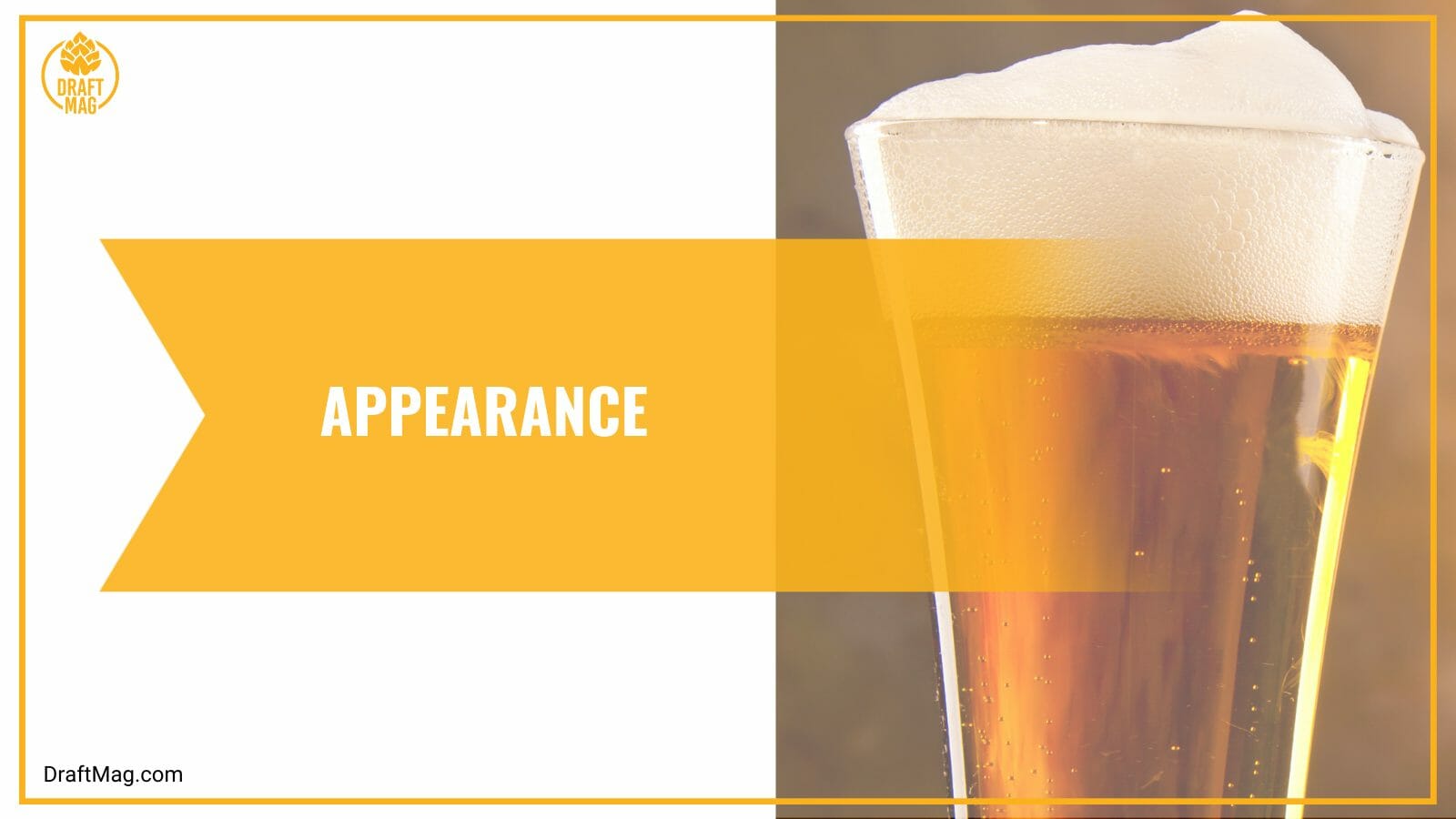 The foamy head dissipates quickly, leaving a thin film and some bubbles. It's advisable to mix the beer before you drink it, but expect to see some particles floating. The particles also stick to the glass as you drink, with no real lacing.
– Aroma
On the nose, the first thing you taste with this fruity beer is the musty mango. This is quickly followed by the aroma of sweet and juicy mango and then some tomatoes. The mango smells a bit artificial, while the tomatoes are savory.
– Mouthfeel
While the mouthfeel is medium, it is moving towards light despite its appearance.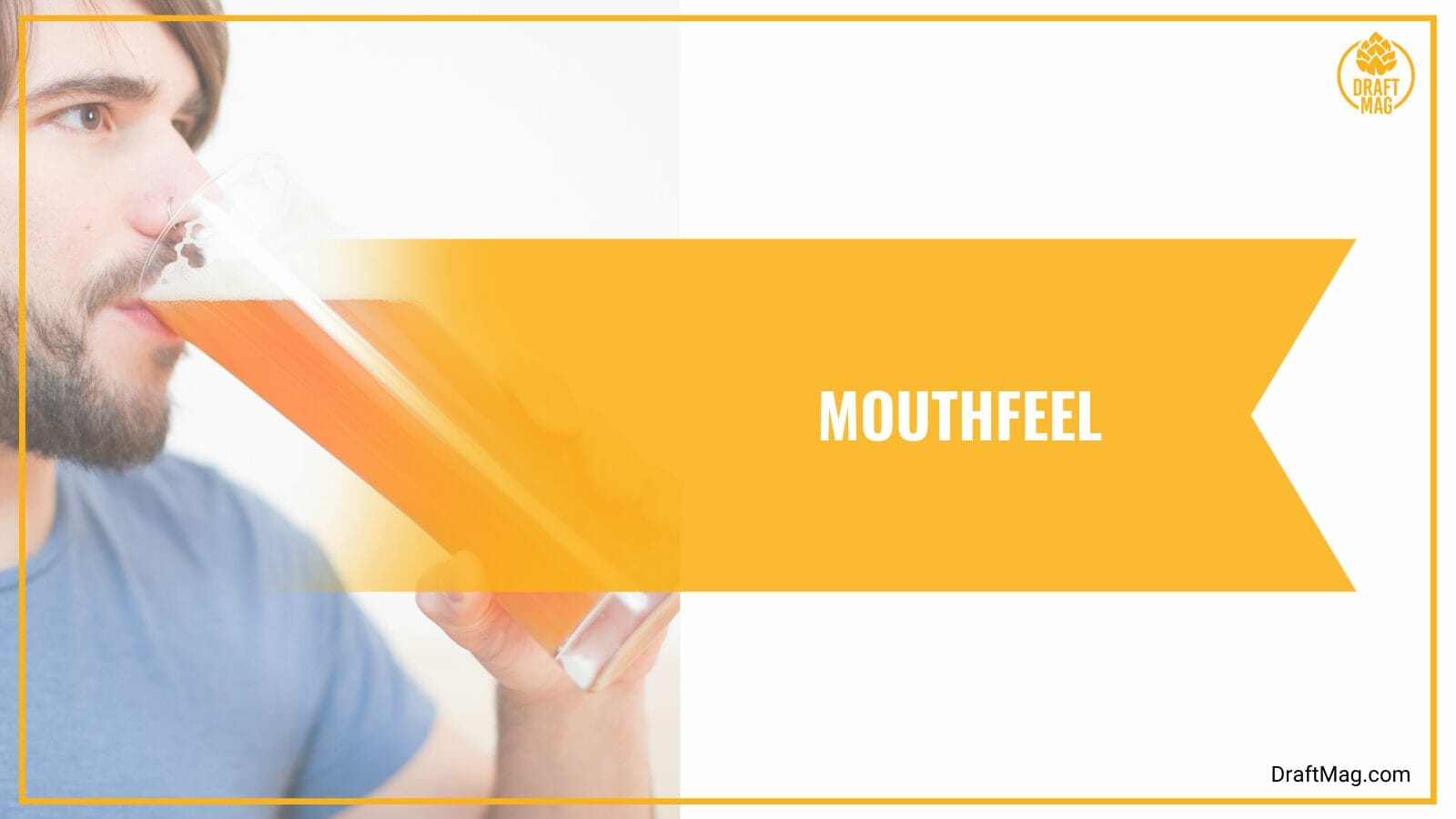 The beer feels smooth and sweet, with a drinkable and thirst-quenching feel as you swallow. At the back end of the flavor, you get a bit of stickiness that lingers for a short time.
– Flavor
The flavor of the Michelada beer is rich, spicy, and sweet. It is interesting, to say the least, with a few surprises. The sweet mango flavor comes out first, and this balances out with some salty Clamato. You might notice that the mango is a bit artificial.
Coming right after the mango is tomatoes and spicy jalapenos, which hit you mid-palate. The beer is savory and not too salty, as the mango works well with the salts and Clamato. It might be hard to taste the authentic beer flavor in between the notes, but it still tastes like beer.
– Food Pairings
Aside from the fact that you can garnish this beer differently, there are many options when you're looking at what to eat. The go-to food pairing for this Michelada is barbecue, so fire up the grills and try something spicy. Try out chicken, burgers, hotdogs, or anything with spicy barbecue sauce.
You should consider going for Mexican food like tacos, tostadas, and chips with guacamole or salsa fresca when having this beer, as it acts as a palate cleanser. The fruit beer goes great with salads that have acidic and fruity dressings or with toasted nuts. Also, try out sweet pork or duck dishes, pickled foods, and herbal dishes.
If you're considering dessert, any sweets with mango like mango fruit, pear, ginger crumble, and cardamom syllabub works great. Fruity desserts, in general, are a good pairing. Cheese lovers can have the beer with Feta or Mascarpone cheese.
Ingredients
The Michelada beer is made with the usual beer ingredients, but it is also brewed with cold fermented cane sugar, citric acid, malted rice, natural flavors, and sodium citrate. The main flavor of the beer is sweetness and mango, with barely any hops.
Nutrition Facts
In this beer, you get a very low ABV of 3.5 percent, which means you won't get drunk quickly. The beer does not taste boozy but is highly drinkable. It also features 166 calories, a decent level that you should keep in mind when calculating your daily dietary requirements.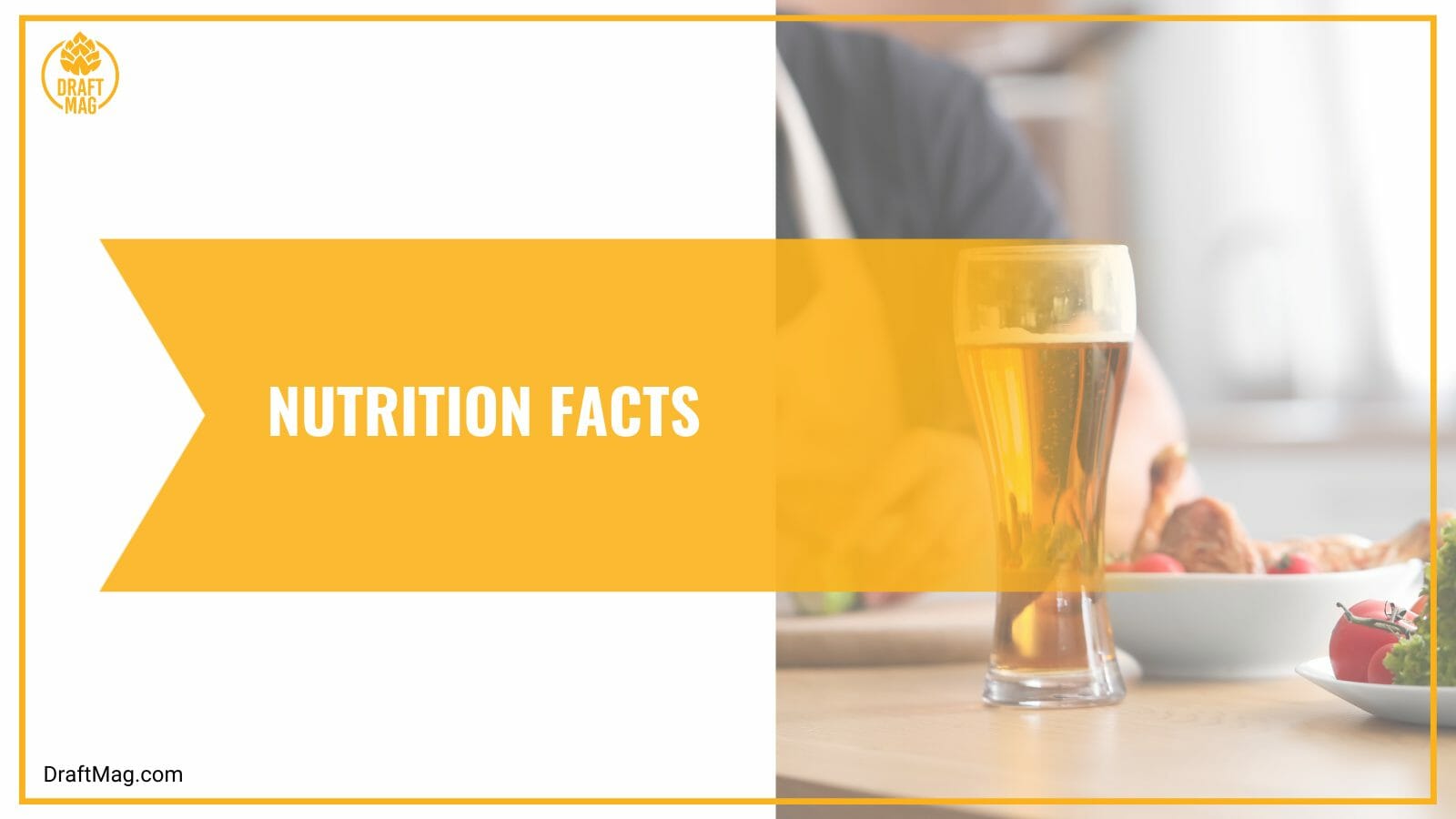 You also get 22 grams of carbs when you purchase this beer in 12 oz cans and 2 grams of protein. Due to the high carbs content, it is not suitable for those who are on a keto diet. It is also not a gluten-free beer or a vegan-friendly beer. Keep in mind that you get different nutrition facts if you mix this with another beer.
History
The Mango Michelada is under the Estrella Jalisco brand, which is made by Grupo Modelo. It is a unique twist on the classic Estrella Jalisco beer, which has quickly become a staple in Mexico. The beer was inspired by Mexican mango cart vendors, which you can find in the streets of LA.
It was made in collaboration with Golden Road Brewing in Los Angeles. You can mostly find beer with other fruity options from the brand like the Estrella Jalisco Tropical Chamoy Michelada. The brand is one of the largest beers in Mexico and was first brewed in Jalisco in 1910.
Conclusion
If you're curious about the Michelada beer, rest assured that you can enjoy spicy, sweet, and fruity notes when you try it. Here's a rundown of our beer review:
Michelada is a Fruit and Field beer with an ABV of 3.5 percent, made by Grupo Modelo.
The beer has flavors and aromas of mangos, tomatoes, fruits, and salty and spicy jalapenos.
It is made with malted rice, water, cane sugar, natural flavors, citric acid, and sodium citrate.
It is best served in a tall flute with a temperature of 45 degrees Fahrenheit.
Serve it with barbecues, Mexican food, chips and dip, fruity desserts, and feta cheese.
You can check out the beer online or in physical stores with ease. The beer is sold widely in cans.