Briney Melon Gose: Taking a Closer Look at a Great German Salty Beer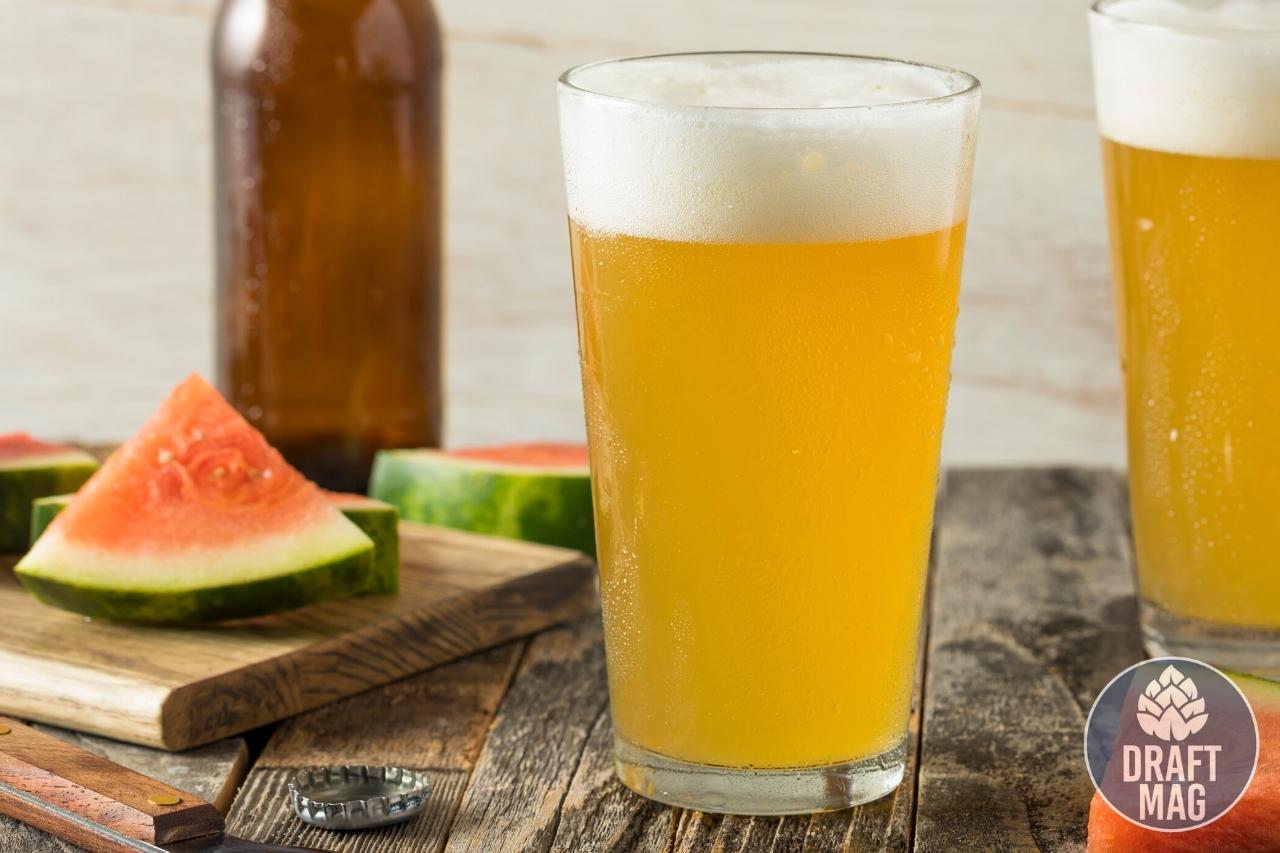 Briney Melon Gose is a refreshing and thirst-quenching drink that has all the qualities of sour beer. Its briny aroma and nicely balanced notes of watermelon flavors are great on the nose.
The sea salt helps to foster a perfect harmony between the candy and the sharp taste of coriander, which leads to a clean and dry finish.
To find out more about the popular Briney Melon Gose, keep on reading this review.
Beer Stats
Here is a quick overview of the important stats for the Briney Melon Gose beer.
| | |
| --- | --- |
| Country | United States of America |
| Brand | Anderson Valley Brewing Company, California |
| Style | Sour-Gose style |
| Taste | Watermelon taste mixed with coriander, strawberry and honeydew |
| Body | Light-bodied and breezy, with a lively and tart carbonation |
| ABV | 4.2 percent alcohol content |
| Flavors and Aromas | Citrusy flavors mixed with melon rind, strawberry and a touch of honeydew; with brine, cucumber and wheat aromas |
| Serving Temperature  | 40 to 45 degrees Fahrenheit |
Briney Melon Gose Review
A quick scan through beer review sites reveals some positive remarks for the German-style watermelon sour beer. However, we did not take their words for it as we also analyzed the watermelon Gose to determine what it's made of. Here is our take on the unique melon Gose beer.
– Appearance and Pour
The beer is available in green cans featuring a brown bear with antlers drinking from a pond. In the background is lush vegetation, probably reflecting the natural flavors that characterize the drink.
The beer pours an eye-catching golden hue with a thin head that doesn't last long. However, making up for the thin froth is a rich alluring lacing that lines the glass after every sip.
– Aroma
As stated in the earlier paragraphs, Briney Melon Gose has citrusy flavors mixed with melon rind, strawberry and a touch of honeydew. The aroma of brine gently seeps through as the beer pours into a glass.
One can also smell the aroma of cucumber in the mix and the unmistakable flavor of wheat as well. The fruity and briny aroma of the sour beer is then stabilized by its tartness to give it the feel of a real sour beer.
Though the taste may not be the best taste of Gose ever, its aroma certainly ranks among the finest. A cursory look at other reviews and ratings revealed an average rate of 4.5 stars for its delicious flavor. Thus, the aroma of this Briney Melon Gose is set to gently tickle your nose and draw you in for a drink.
– Mouthfeel
The Briney Melon Gose is light-bodied and breezy, with a lively and tart carbonation that feels delectable on the palate. The IBU for the Briney Melon Gose is 12, which is a bit on the sweet side due to the absence of hops to provide bitterness. However, note that there is some degree of tartness to balance the candy taste.
– Flavor
The beer has a watermelon taste mixed with coriander, strawberry and honeydew to give it a syrupy taste. Midway through the taste comes the bitterness that characterizes sour beers.
Once you move past the bitterness, you begin to feel the salinity which tastes like saltine crackers and a hint of umami flavors. The Briney Melon Gose also features a nutty flavor and humming spice that counteracts the sweet melon taste.
The melon beer then finishes off with a clean and dry mixture of citrusy flavors, salinity and bitterness. Though it is easy to drink, the sour beer has a stiff mouthfeel that can be uncomfortable. The balance of the sweetness, bitterness and salinity gives a refreshing mouthfeel, so if you want a perfect equilibrium of candy, tart and salt, then Briney Melon Gose is your go-to beer.
– Food Pairings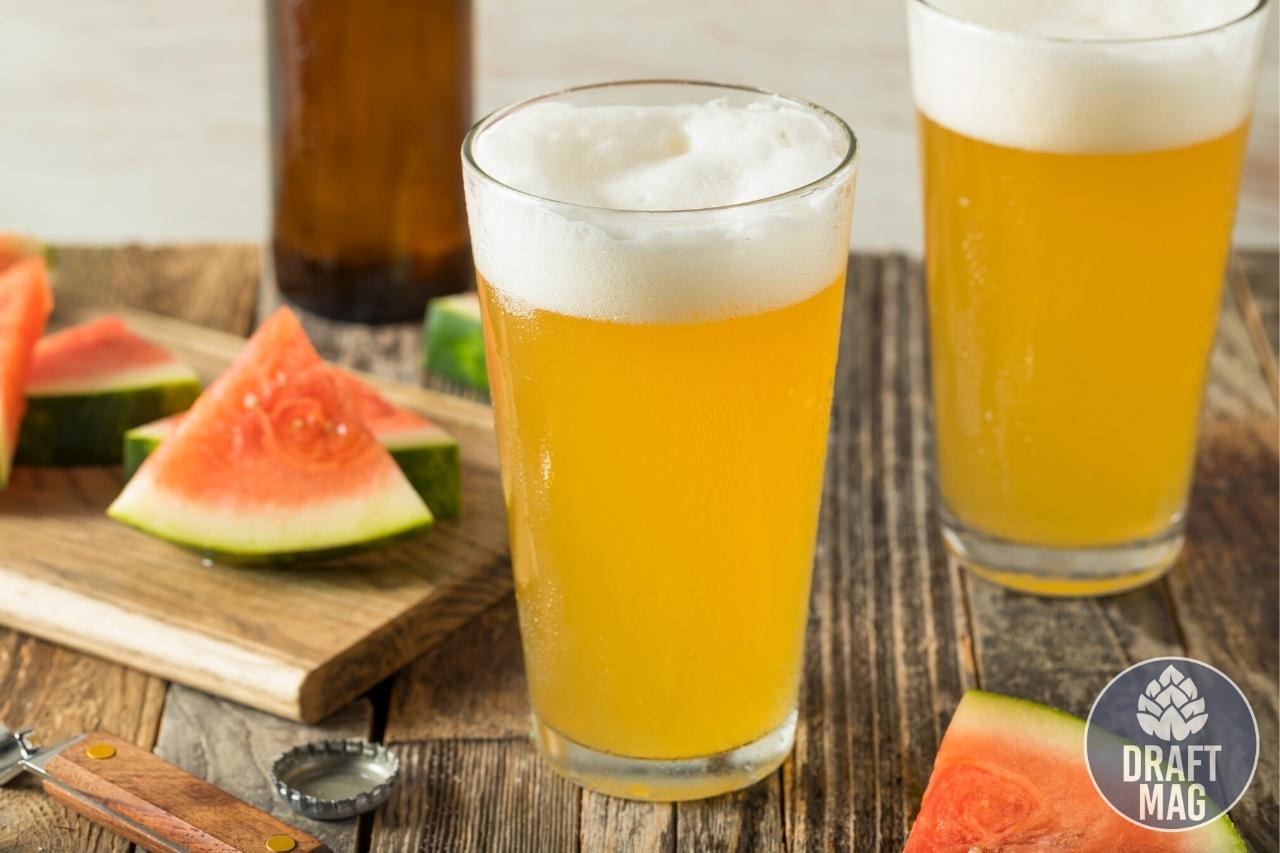 The Anderson Valley Briney Melon Gose tastes especially delicious when combined with grilled fish. You can opt for grilled chicken with a glass of the beer if fish is not your thing.
Briney Melon Gose also combines well with all kinds of salad to give the taste buds a treat.
The fruity flavor and melon taste perfectly complement the vegetables.
For cheese and beer combination enthusiasts, Briney Melon Gose can be accompanied by Chevre. Chevre is a type of French cheese derived from the milk of goats that has a sharp buttery flavor. Be sure to chill the beer to bring out the sour taste in all its glory, then harmonize it with Chevre to produce a delectable taste.
Nutrition Facts
The beer possesses 126 calories, which is a little bit on the high end. The calories for average goses is around 120, so 126 for Briney Melon Gose may be of minor concern. However, the good news is the gose has 0 percent protein, 0 percent cholesterol, and 18g of Carbohydrates. The sour beer also contains 8g of fat with 0 sodium, sugar and iron.
The ABV of Briney Melon Gose is 4.2 percent, which is great for sour beers. This means you can continue to guzzle a few more glasses of this spectacular drink after your first. However, be sure to know your limit and stick to it to avoid embarrassing yourself or worse, injuring yourself.
On the whole, Briney Melon Gose is a healthy drink that'll pose little to no health problems if consumed responsibly. So go ahead and guzzle down the sour beer without fear or anxiety. Be sure to not exceed your limit so you don't end up embarrassing yourself or wake up needing a few painkillers.
Ingredients
Chief among the ingredients used in brewing this sour beer is the Chinook hops, which have a variety of functions. Though their main purpose is to serve as a bittering agent, their piney and herbal aroma strengthen the fruity flavor of the beer.
The malt component involves Two-row pale and malted wheat, which gives it its cracker-like and sweet flavors, respectively. Then there is the presence of rice, which is used as a filtering enhancer to prevent wort viscosity.
The beer features a watermelon adjunct, which enhances its strong candy aroma and taste. Then there is also the house yeast in the mix which provides its high carbonation. These ingredients provide a perfect balance between the sweet taste and pungency of the beer.
History
Briney Melon Gose is produced by the Anderson Valley Brewing Company established in 1987. Located in the woods of Boonville California, the company is considered one of the finest breweries of craft beer in the country. The company began brewing gose when they started experimenting with an age-old German-style wheat beer. This gave birth to The Kimmie, The Yink and The Holy Gose in 2014.
This gose became an instant sensation that inspired the production of the Briney Melon Gose. Other variations by the brewery include the Blood Orange and G&T Gose.
The price of a can of Briney Melon Gose is $2.99 while the 6-pack is $15.99. A case of this beer, which contains 24 cans, goes for $60.99. However, these prices are tentative and can change depending on several factors.
– How To Pronounce Gose
The beer is pronounced "go-zuh" which is a German word for a traditional wheat beer that features salt and coriander seeds. This style of beer originated from a city in Germany called Leipzig and is available in the U.S. all year round.
FAQ
How is the Briney Melon Gose brewed?
Briney Melon Gose is brewed with malted barley, wheat, and water infused with watermelon juice and Himalayan pink salt, then fermented with yeast and lactobacillus bacteria.
Are there any saltless variations of Briney Melon Gose?
There are some saltless variations of Briney Melon Gose available, but they would not be true to the traditional style of this beer.
Is Briney Melon Gose a bitter beer?
Briney Melon Gose is not typically a bitter beer, but rather a sour and salty style with a refreshing watermelon flavor.
Summary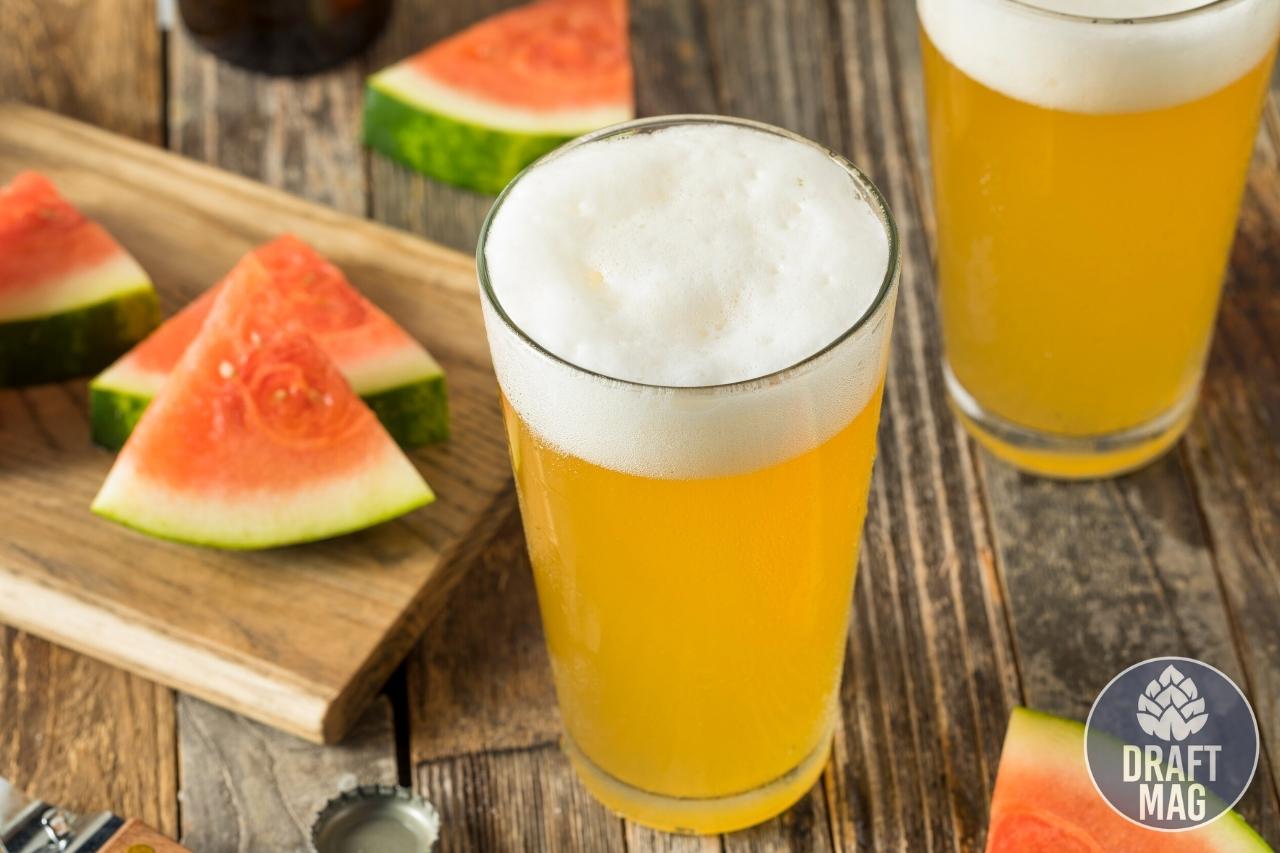 We've covered a lot regarding the sour beer Briney Melon Gose — from its taste to its nutritional information. Here's an outline of the major points discussed in the review above:
Briney Melon Gose has a great balance of sweetness and bitterness, featuring bursts of watermelon flavor with salinity. The aroma preceding the taste is a mouthwatering mix of melon, wheat, cucumber, strawberry and honeydew.
The beer has an IBU of 12 which indicates the level of tartness as well as an ABV of 4.2 percent, which is great for a sour beer.
The ingredients used in brewing this German-style beer are Chinook hops, Two-row pale malts, white wheat, rice hulls and yeast with an adjunct of watermelon.
The word is pronounced "go-zuh" and the beer originated from Leipzig, Germany. It is produced and distributed in the U.S. by Anderson Valley Brewing Company located in Boonville, California.
Foods that flawlessly accompany this beer include salad, grilled chicken or fish and Chevre.
Whether you're hosting your friends tonight or looking to relax and reflect on your own, we encourage you to try the Briney Melon Gose today.