Icehouse Edge Review: A Look At Miller Brewing's Popular Lager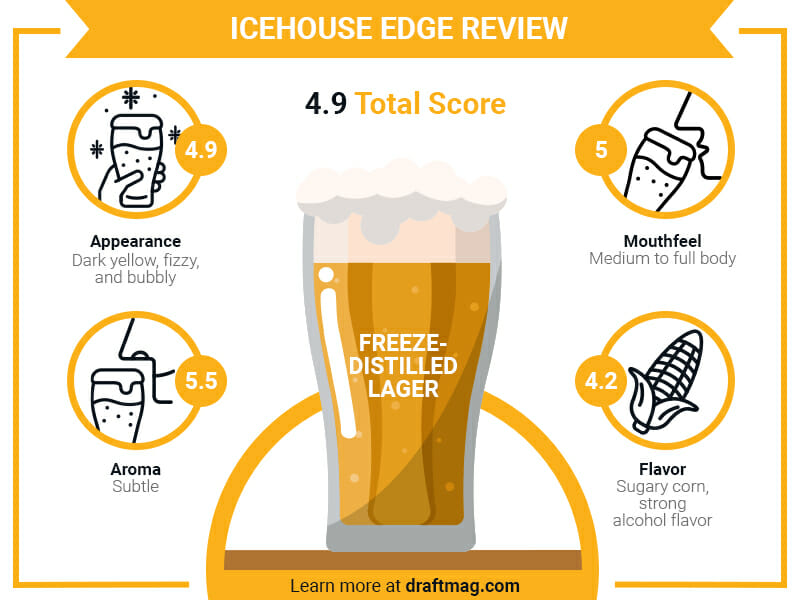 The Icehouse Edge is a freeze-distilled lager created by the famous Miller Brewing Co and is one of the most popular beers from the brewery. The high-gravity lager has a dark golden appearance and a balanced malt character.
The lager features 8 percent alcohol and a smooth, bitter flavor, ideal for those looking for a refreshing lager on a hot day. This guide will cover all you need to know about the Icehouse Edge beer and how to enjoy it.
Icehouse Edge Stats
| | |
| --- | --- |
| Country | United States |
| Brand | Miller Brewing Co. |
| Style | Lager/Freeze-Distilled Beer |
| Taste | Malty, bitter |
| Body | Medium to full-bodied |
| ABV | 8 percent |
| Flavors & Aromas | Malty, Boozy, Smooth, Hoppy bitterness |
| Serving Temperature | 38-55 degrees Fahrenheit |
Tasting Notes
Icehouse Edge Tasting Profile
Icehouse Edge Review
The Icehouse Edge is an ideal choice if you're interested in a high-ABV beer. The beer is a high-gravity, freeze-distilled lager, which tastes best in a pint glass, goblet, snifter, and chalice. The lager features a sweet scent, with the prominent character of malt and alcohol.
With its malty and boozy aftertaste and the strong alcohol kick, the beer makes your mouth dry and gives you a quick buzz. The Icehouse Edge beer has mixed reviews from its drinkers, so you can only determine if it's right for you by trying out the beer.
You can purchase highly carbonated beer from online stores, liquor stores, and bottle shops. However, it is also scarce because it was discontinued in 2021 and other economy beer brands like Keystone Ice and Miller High Life Light.
– Appearance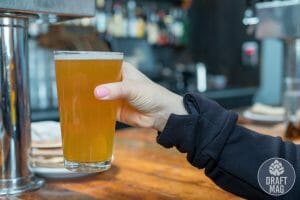 The first thing you will notice when you pour the Icehouse Edge beer is it's dark yellow to straw appearance. It has a fizzy and bubbly appearance; you can see the bubble strands trickling upward from the bottom. Icehouse Edge maintains a frothy head with decent retention but dissipates rather quickly.
– Aroma
On the nose, Icehouse Edge has a subtle aroma and is slightly aromatic. The beer smells like many other mass-produced lagers in the United States, with hints of stale grain, yeast, and corn. You will also notice aroma notes of malty sweetness and fruitiness.
– Mouthfeel
The Icehouse Edge has a medium to full body on the palate but is highly carbonated. This gives your tongue a fizzy and boozy feeling, with a strong metallic, bitter and unpleasant aftertaste. The beer becomes smoother and cleaner as you drink, but you will also notice a flat mouthfeel on your tongue.
– Flavor
The Icehouse Edge has a simple flavor, although a bit more bitter than what you'd expect from a freeze-distilled beer. The upfront flavor has a strong copper flavor, which follows into the aftertaste. The alcohol content in the beer is also evident in its taste.
The main tasting notes are creamy, sugary corn balanced with a strong alcohol flavor. The beer is sweet but hints of hoppy bitterness to provide a balance. The boozy flavor and bitterness might distract you from the sweet taste too.
– Food Pairings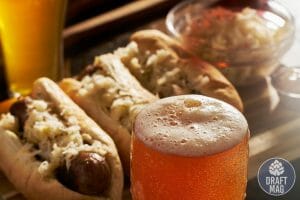 You can match your Icehouse Edge with a wide range of foods as it is a standard American lager. The beer goes well with grilled chicken, seafood, hot dogs, salmon, and desserts. With your Icehouse Edge, you can try out spicy foods, salads, and burgers.
For unique options, the Icehouse Edge goes well with Mexican, Thai and Asian cuisines. The beer also goes well with mild cheeses like Cheddar or Havarti, especially if you want something light and refreshing. As for desserts, you can pair the lager with chocolate-based sweets and coffee desserts.
Ingredients
The Icehouse Edge beer is made with the common ingredients for making an American lager. These include barley malt, yeast, and water. Rather than fresh hops, the beer is made with hop extract, so you might not notice the strong flavor of hops in the brew.
It is also brewed with corn syrup, dextrose, and maltose, which adds to the beer's corn flavor. Since it is a freeze-distilled beer with a high-gravity character, it was made by freezing up the liquid to increase the alcohol content. This led to the 8 percent alcohol level.
Nutrition Facts
The Icehouse Edge beer has 215 calories for a 12-ounce can, which is an expected amount for an American lager. The beer also has 5mg of sodium in the can and 13.8 grams of carbohydrates in 12 ounces. It features 1 gram of sugars and the same amount of protein too.
Aside from that, the Icehouse Edge beer does not have any fats or cholesterol. Since it has high carbs, the beer should be avoided on a keto diet. The beer contains gluten too, so those interested in a gluten-free beer can check this out.
History
The Icehouse Edge beer was introduced in 2012 as an addition to the Icehouse series. It is developed by Miller Brewing Co, an American brewery and beer company in Wisconsin. Miller Brewing is known to have created the popular Miller Lite beer.
They also made the Icehouse beer series, an American adjunct lager style brewed in Milwaukee and the first domestic ice beer in the United States. Icehouse Edge is one of the beers and is a mix of ice lager and a malt beverage. As a dark golden lager, it has a higher ABV than its counterparts.
Conclusion
The Icehouse Edge is the ideal choice whenever you're looking for a high-ABV lager, and although the beer does not appeal to everyone, you should give it a try to find out if it fits your tasting needs. Here are some important points to keep in mind from our article: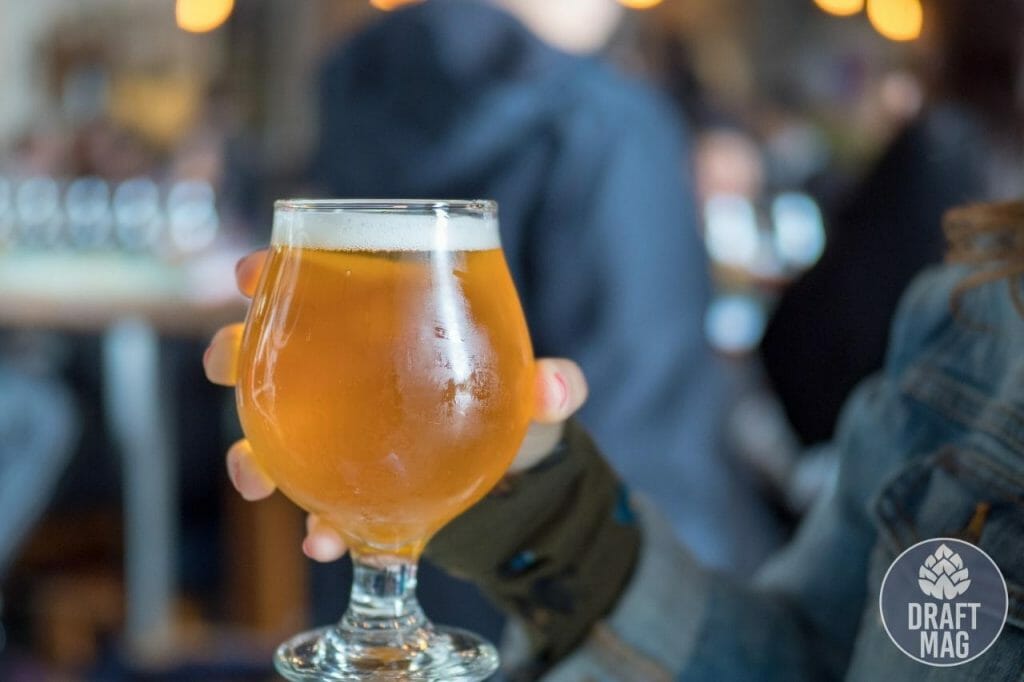 Icehouse Edge is a popular beer from the Icehouse brand made by Miller Brewing Company.
It is a high-ABV, high-gravity, freeze-distilled beer with an 8 percent ABV.
The beer contains water, barley malts, yeast, hops extract, and corn syrup.
The lager has a boozy and malty character, hints of sugary corn, slight bitterness, and a full-bodied mouthfeel.
It goes well with different kinds of food, including chicken, seafood, spicy foods, desserts, mild cheeses, and more.
If you're curious about the Icehouse Edge beer, you can search liquor stores around you to buy it in a can or bottle. You can also purchase the beer online at different beer stores or visit the brewery to see if they have it in stock.