Calabaza Blanca Review: Tart and Spicy Farmhouse Witbier
Calabaza Blanca is an ideal choice if you're looking for a delicious farmhouse witbier, the. The fruity and tart beer gives you an aroma and flavor of gentle spice, a mid-gold appearance, and a clean, dry profile.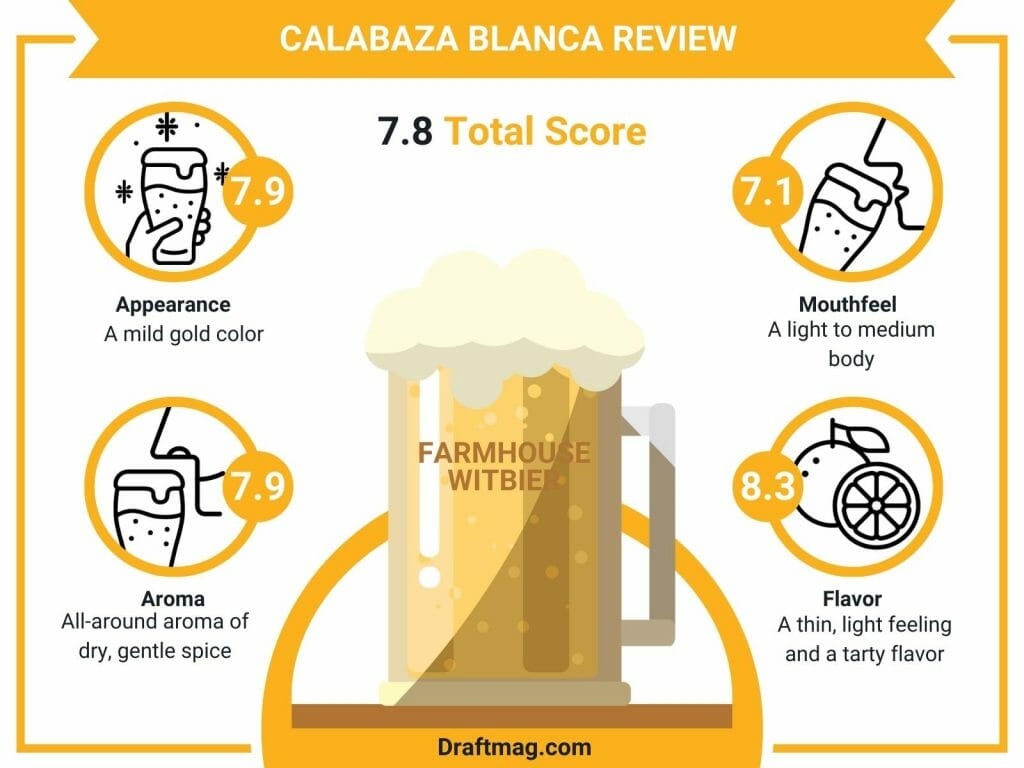 The savory beer is ideal for any season, especially if you need a spicy winter beer to keep you warm. In this review, we cover all you need to know about the Calabaza Blanca before purchasing, so keep reading below.
Calabaza Blanca Beer Stats
| | |
| --- | --- |
| Country  | United States |
| Brand | Jolly Pumpkin Artisan Ales |
| Style | Farmhouse Witbier |
| Taste  | Tart, fruity |
| Body | Light to Medium Body |
| ABV | 4.8 percent |
| Flavors & Aromas | Citrus, spice, tart, caramel |
| Serving Temperature | 45 – 50 degrees Fahrenheit |
Tasting Notes
Calabaza Blanca Tasting Profile
Calabaza Blanca Review
The beer has a fruity and tarty taste, with notes of citrus, spice, and caramel coming together to give you a high-quality beer. Altogether, it has a light to medium body and is drinkable and enjoyable, with a bit of dryness. You can keep that in mind when choosing a food pairing.
This beer is ideal for any time of the day, whether you want something refreshing for a hot summer day or a cool beer for the cold weather. It's an all-season beer, especially with its fruity nature.
– Appearance
This tasty beer pours a mild gold color into your pint glass, with a cloudy and hazy appearance. The beer shows a partial cap of white bubbles from the carbonation, which will float to the top of the glass as you pour it in.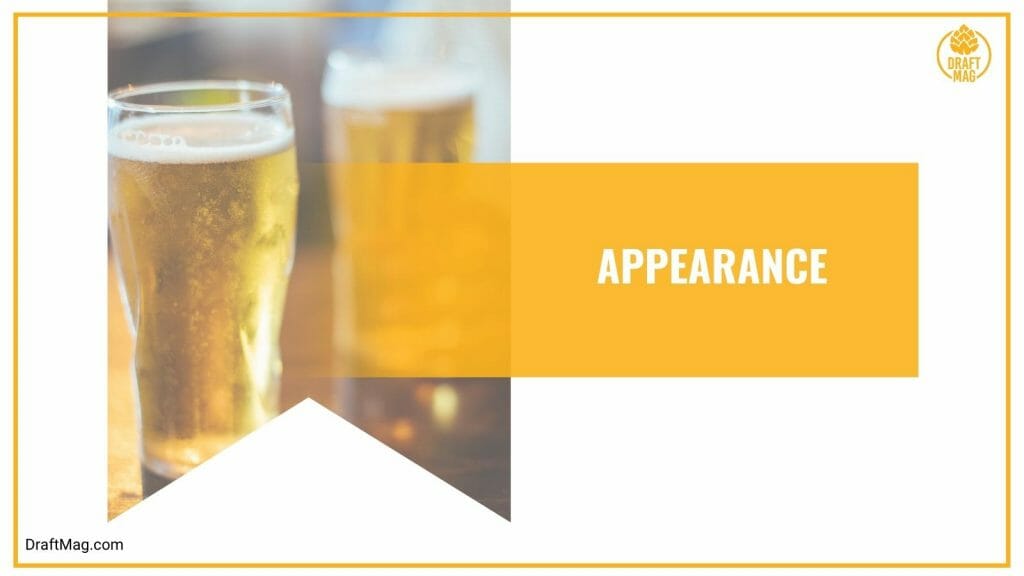 The solid effervescence makes the hazy, golden color seem brighter. The beer has a white head up to one finger and does not foam higher than the rim. It has pretty good retention and leaves limited lacing against your glass. Despite the wheat, the beer has a bit of transparency.
The Blanca beer pours a golden and bright color, in addition, the witbier tastes best when poured in a tulip glass, with temperatures from 45 to 50 degrees Fahrenheit. The beer can be garnished with a citrus wedge and should be kept cold to fully enjoy the experience.
– Aroma
On the nose, the Calabaza Blanca witbier has an all-around aroma of dry, gentle spice. The pungent and tart aroma will hit your nose first, but it is still subtle and soft without dominating the flavor. The nose is vibrant, with a delicate combination of grainy wheat and citrus, which is why the smell of this beer is a key aspect of the beverage.
There are aromas, a hint of coriander, citrus fruits like lemon and orange, cloves, and caramel in the backbone. The delicate tartness of the beer in the aroma is evident in the orange peel and mild citrus sourness. There is a hint of cracker biscuit and yeast.
– Mouthfeel
It is key to know that this beer has a light to medium body, and the effervescent bubbles will caress your palate in the middle as you drink this beer. The buried suds are bubbly and provide a kick to your palate. There is also a subtle soft sizzle in the finish from the carbonation, overall, this will not make it feel heavy when you consume it.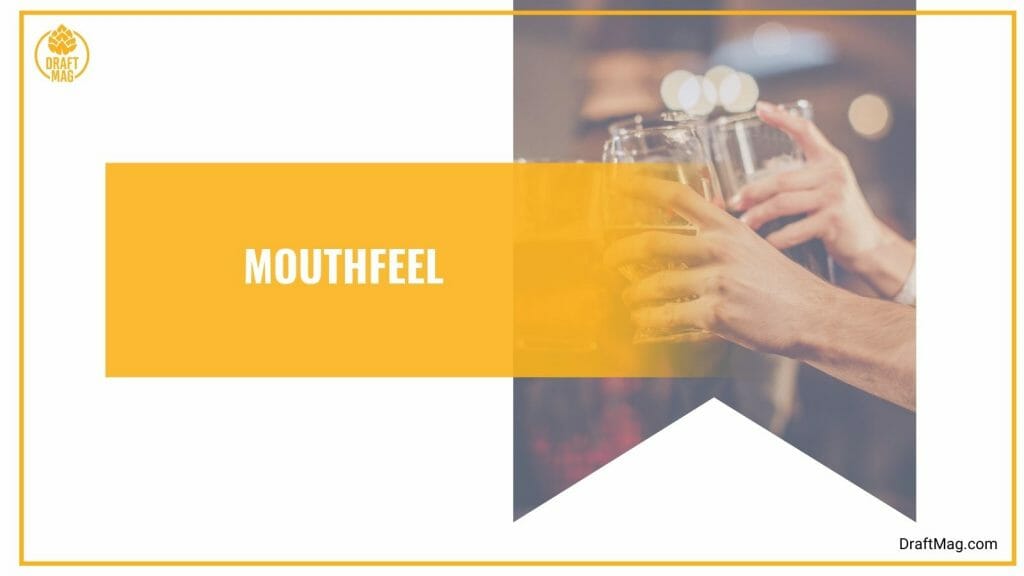 The beer has a brilliant gas activity that caresses your tongue. It also has a creamy texture, which is common for an unfiltered beer. This beer has a clean and dry profile that makes it easy to pair with a wide range of foods that won't make you feel like you're full already from the beer.
– Flavor
The taste and the flavor of the beer will follow the nose-feel, with a thin, light feeling and a tarty flavor, that won't be sugary. When you first drink the beer, the beer has a delicate funk and a light malt base. But, the malt flavor quickly disappears and moves to a faint taste of the fruit that reminds you of white wine.
After this, the taste of coriander will eventually emerge quite slowly, balanced well with fruit skin bitterness. The wheat also has a yeast flavor, and the funk adds a twist to the flavors. Despite all the spices in the beer, the wheat makes it taste subtle, so it does not overshadow the palate.
You will notice hints of coriander, lemon citrus, semidry, and cloves which will all hit the palate to follow the nose. The orange flavor is not strong as in the nose, but you will notice it in the mouthfeel.
On the other hand, the bitterness of the beer balances well with the entire flavor. Its clean, tart, and crisp flavor blends well with the citrus sourness, offering you orange peel and delicate funk. There are slight notes of pepper and barnyard, and the beer becomes pretty dry towards the end. The finish has tartness and funk, which linger into the aftertaste.
– Food Pairings
Significantly this beer would pair very well with light white meat, duck, and pork, and pickled dishes. You should consider pairing it with foods with sweet components, spiced with herbs and spices, and fruity desserts. The beer is also great with salads with fruity dressings, because they are complementary with the feel of beer together with the food.
Seafood is a good idea when having this beer, as its sweet malt and citrus spice notes will add complexity to foods like fish tacos, sushi, ceviche, mussels, and other light, simple dishes. The crispiness of green salads will go well with the malty flavor of the beer.
To appease your sweet tooth, you can have the Blanca beer with citrus desserts like a blood orange sorbet, banana orange crepes, and panna cotta with lemon. It can go well with brunch, like omelets, quiches, tacos, and pies. For a light dessert, go for a fruit soup or fresh berries, like maybe a puree kind of fuit mash.
In addition, you may also have the artisan ale with cheeses, especially fresh and mild goat cheese with a lemon flavor. The lemon flavor in the cheese will go well with the citrus notes in the witbier, while the coriander spice contrasts the cheese's earthiness. These mild cheeses also add a creamy mouthfeel to your beer.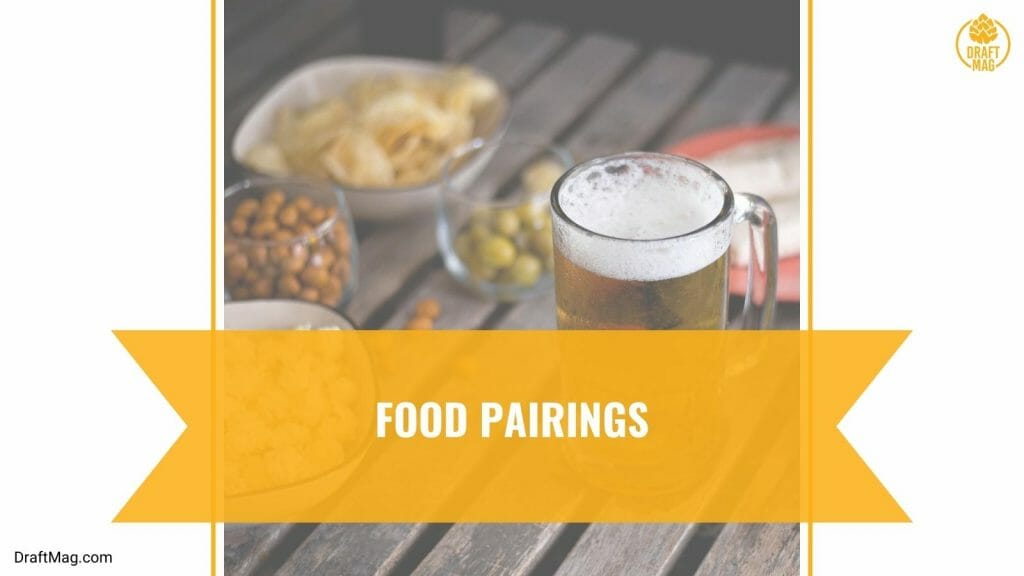 Ingredients
This beer is a farmhouse witbier brewed following the beer Blanche tradition in Belgium. The beer is spiced with coriander and orange peel, which makes it refreshingly tart. The year-round beer offers a dry finish.
The malts used to brew this beer include pilsner malt, raw wheat, and wheat malt. These add flavors of crackers and caramel to the beer, giving it a strong wheat backbone. Then, the brewers used Tettnag hops to brew it.
Some additional ingredients include coriander, bitter orange peel, and sweet orange peel, which offer the tart and spicy flavor you can enjoy in this witbier. The beer is kept in oak for two months before bottling, which gives it a rich and deep flavor.
Nutrition Fact
These artisan ales are a low-calorie farmhouse witbier, making it an ideal choice for health-conscious drinkers. It has 129 calories per every 12 ounces. The beer also has an ABV of 4.8 percent, while the IBU is set at 15. This gives the beer only slight bitterness, with the fruit and sweet malt dominating the taste.
The beer also has 7.94 grams of carbohydrates in the can. There are 8.94 mg of sodium and 1.39 grams of protein in the beer. These come together to give you a quality beer. It's suitable for those on a keto diet since it has a low-carb content, but the beer is not gluten-free, so for someone with a gluent-free diet or lifestyle, this beverage is not recommended.
History
The Calabaza Blanca beer is one of the oldest from Jolly Pumpkin and was first released in 2004. It is an award-winning beer from this leading craft brewery. In 2015, it won a gold medal for Best Wit at the Hong Kong International Beer Awards. In the same year, it won a bronze medal at Rate Beer in the wheat category.
The beer is also rated as one of the top 50 beers by The Fifty Best and has a rating of 100 for style and 94 overall by Rate Beer. Jolly Pumpkin was founded by the brewmaster Ron Jefferies in 2004.
He had been brewing professionally since 1995 and quickly became a well-respected brewer in the Michigan craft beer scene. Now, the brewery is based in Michigan, offering a comfortable taproom where you can enjoy their beers. It is well known for its wild beers and oak-aged beers.
Conclusion
This unique beer is the ideal farmhouse witbier for an occasion, especially since it offers a unique combination of farmhouse ales with wheat beer. Here's a rundown of what we covered in this review:
Calabaza Blanca is a farmhouse witbier by Jolly Pumpkin, with a 4.8 percent ABV.
The beer has flavors and aromas of spice and fruits, citrus fruits, and caramel, with a smooth and dry finish.
It is made with malts, hops, yeast, water, coriander, and orange peel.
You can enjoy the Calabaza Blanca in a tulip glass when cold with a citrus wedge.
The beer pairs well with seafood, crispy salads, meaty dishes, sweet and citrusy desserts, and fresh, mild goat cheese.
If you're curious about the Calabaza Blanca beer, you can have it at Jolly Pumpkin in Michigan or purchase it online. Now, after reading this beer review, what will you be pairing this significantly rich beer with?