Double Dog IPA Review: Drinkable and Robust Imperial IPA
Double Dog IPA stands out from most imperial IPAs that you might know as it doesn't send the malts to the backbone while the hops take center stage. Instead, the huge, drinkable beer balances out the hop flavors of orange and pine with the malty sweetness of caramel.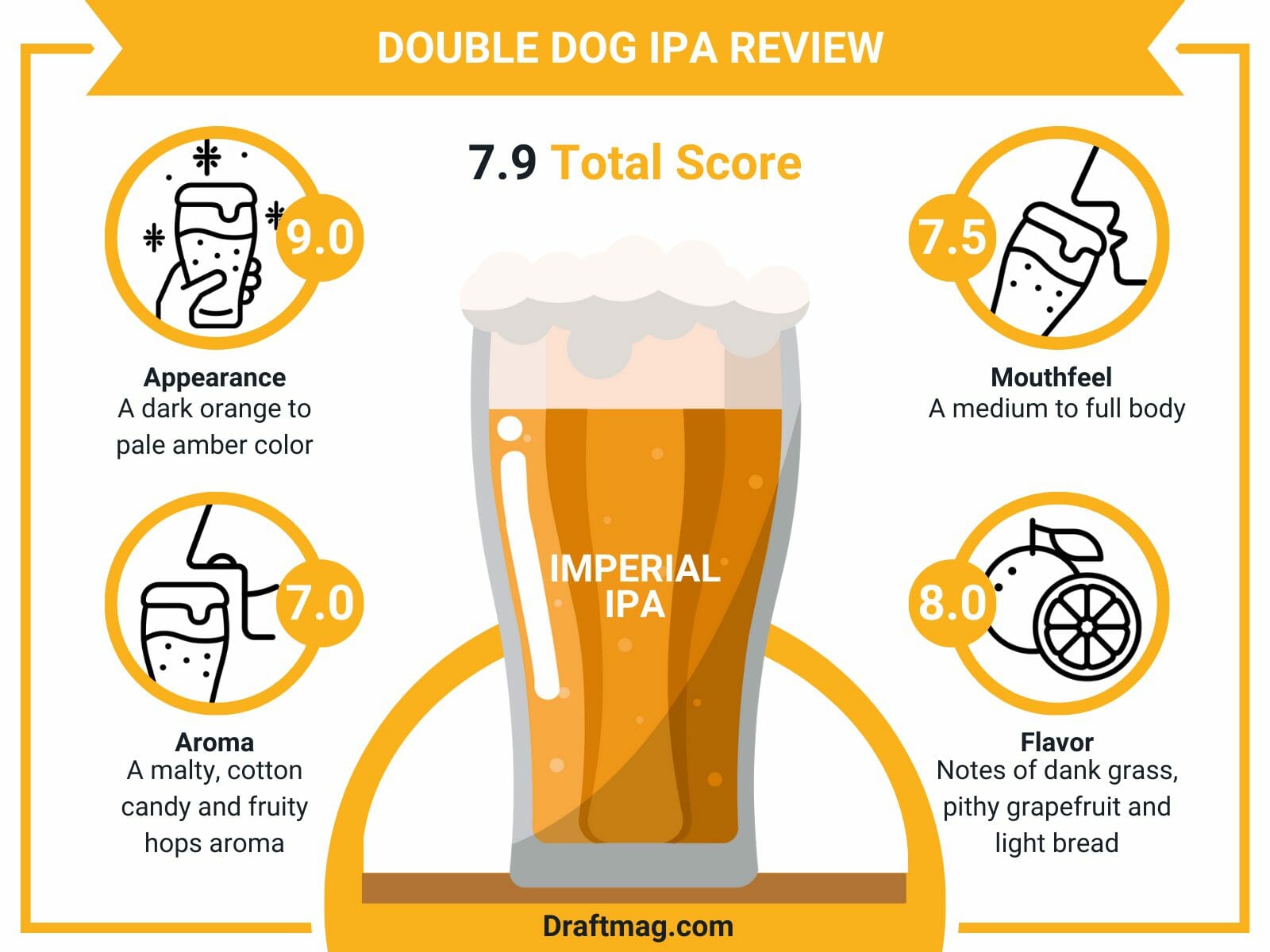 Whenever you're in the mood for a high-ABV beer that has a lot of flavor to offer, this DIPA is the ideal choice. To know more before you take your first sip, read our complete review below where we cover the tasting notes and food pairings of this brew. 
Double Dog IPA Stats
| | |
| --- | --- |
| Country  | United States |
| Brand | Flying Dog Brewery |
| Style | Imperial IPA |
| Taste  | Citrus, pine, caramel |
| Body | Medium-Full Body |
| ABV | 12 percent |
| Flavors & Aromas | Malt sweetness, caramel, citrus, pine, earthy hops, candy |
| Serving Temperature | 50 – 55 degrees Fahrenheit |
Tasting Notes
Double Dog IPA Tasting Profile
Double Dog IPA Review 
Appearance: 9/10

Aroma: 7/10

Mouthfeel: 7.5/10

Flavor: 8/10
Double Dog Double IPA is an imperial IPA with an amazing 12 percent alcohol content, so you can expect to taste ethanol in between all the notes of hops and sweet malts. Luckily, the alcohol is well-masked. The beer is brewed by Flying Dog in Maryland, United States. 
The beer pours a pale amber color into your glass, with a medium-full body and subtle warming. It offers flavors and aromas of citrus, orange, pine, fruity hops, caramel, earthy hops, and cotton candy. Try this beer out when you're on a night out with friends or simply want a well-balanced IPA with high ABV.
You should serve the DIPA into a snifter, chalice or goblet at temperatures from 50 to 55 degrees Fahrenheit. The glasses make it easy for you to twirl the beer and enhance the candy-like, hoppy aroma. You can garnish it with a citrus wedge. 
– Appearance 
On the pour, the imperial IPA has a dark orange to pale amber color that fills up the glass. The color looks dull but this is because it has a slightly cloudy appearance, but it is not hazy. You can still see through the beer.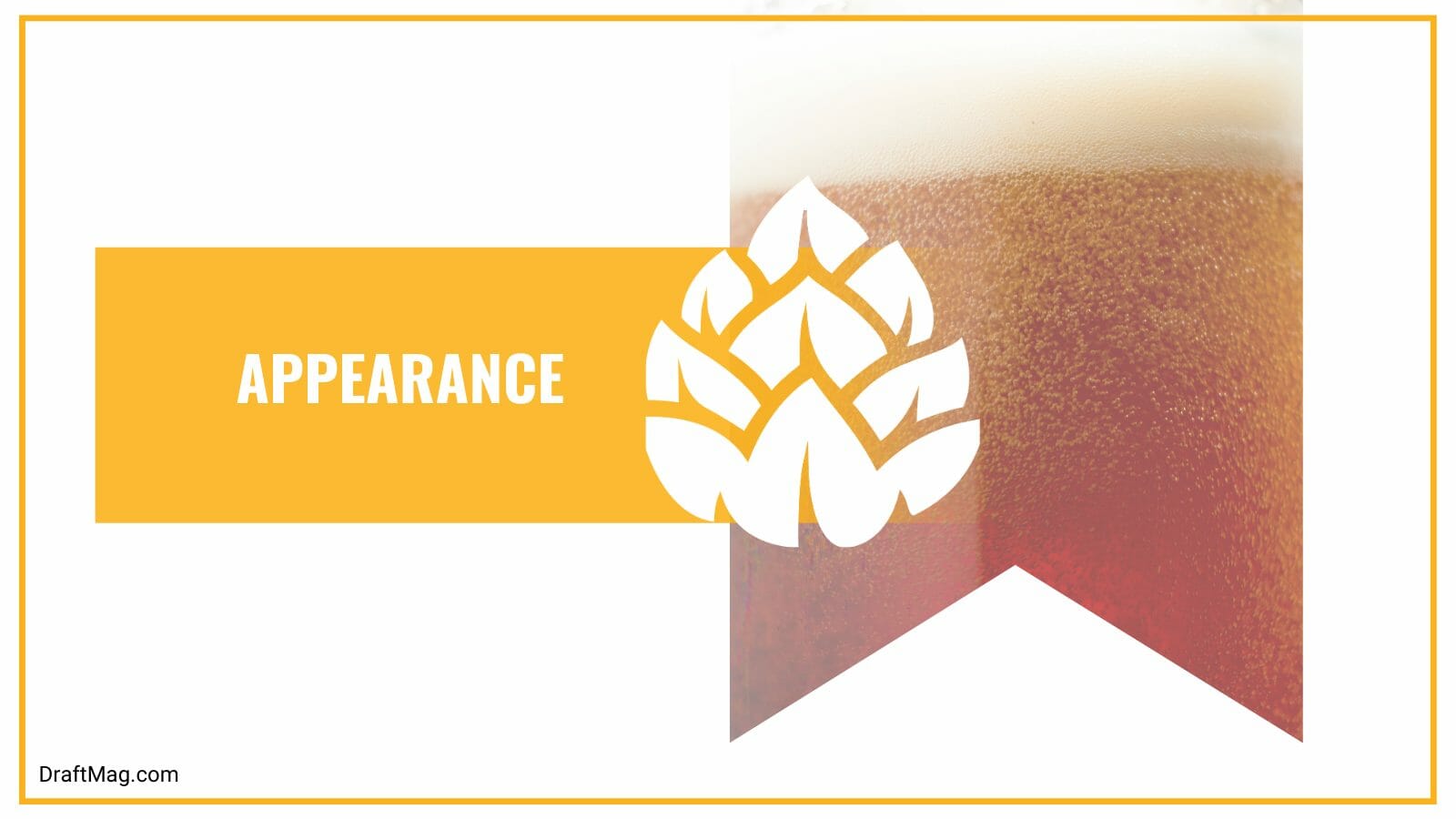 It features a large, creamy, white head that goes up to three fingers high and dissipates slowly. After a while, it leaves a good amount of lacing against your glass and a thin film of foam.
– Aroma 
The nose offers a balance between some candy-like sweetness and dank bitterness, as the hops and malts are pulling at each other. It smells like a big beer, and the first thing you smell is the malty, syrupy aroma of cotton candy and fruity hops.
The hops begin to smell more bitter as the beer warms up, with hints of piney hops, burnt sugar, orange marmalade, herbal hops and a bit of black pepper. 
– Mouthfeel 
The IPA features a medium to full body on the mouthfeel, and this fills up your mouth with a wide range of flavors. The beer has a tingling carbonation that is gentle rather than vibrant, giving you a smooth rather than fizzy feeling on your palate.
In the finish, the beer offers a lot of bitterness and is very dry. There is subtle alcohol warming too, which is less than you'd expect for the high ABV. The beer has no astringency.
– Flavor 
The Flying Dog Double Dog IPA offers an intense flavor as you would expect from the imperial ale style. The first thing you get is the huge hit of malty sweetness and pleasant caramel, and this complements the hop notes of pine and orange. Mid-palate, the alcohol flavor comes in but it isn't overwhelming or unpleasant. In the finish, you get earthy hop bitterness.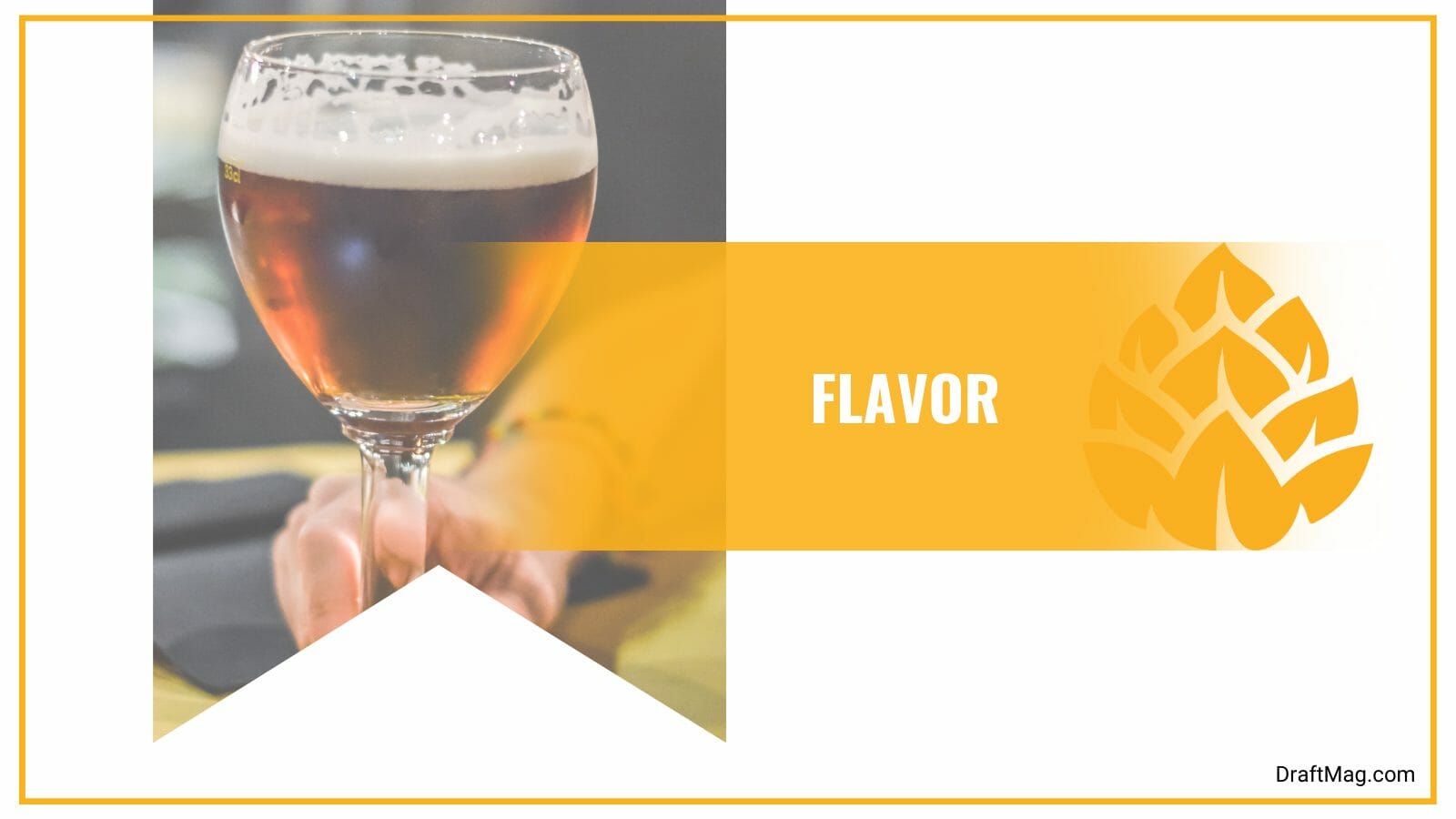 The intense hoppy taste gives you notes of dank grass, pithy grapefruit, fresh cut pine, pale malts and light bread on the front end. On the swallow, you can enjoy notes of piney hops, grapefruit, piney resins, black pepper, clove and toasted grains. As the beer warms a bit, you taste more of the alcohol.
– Food Pairings
When having the beer, you should pair it with foods that can meet up with the intense flavor so that neither the beer nor the meal can overpower the other. Have it with fatty foods and spicy sauces, as the high ABV and bitterness of the beer will scrub it away.
Some good pairings include grilled ribs, chicken, and pork chops. You can consider having a barbecue with spicy sauce, or tacos and a burger with spicy elements. The beer also goes great with meaty and oily fishes like salmon and mackerel which meets up with the medium-full body.
For your cheese pairing, strong and creamy cheeses like blue cheese and a sharp cheddar go great with the intensity of this beer. For dessert, enjoy an orange almond cake or sweet truffles with a chocolate ganache with the imperial IPA.
Ingredients 
The ingredients of the imperial IPA include the malts, hops, yeast and water. The hops play the main role in the flavor, but the malts are not left behind and they balance each other out. It is brewed with light caramel malt which gives a sweet flavor of caramel, toasted grains, pale malts, and light bread.
As for the hops, the double IPA is made with Columbus Warrior and Cascade hops. This offers the big hoppy flavor throughout the drinking time, with earthy, fruity, herbal and grassy notes at one point or the other. The yeast is American ale yeast. 
Nutrition Facts 
In the double IPA, drinkers get a 12 percent alcohol content, which is expected for an imperial IPA but still impossible to fully mask. You can taste the alcohol mid-palate and it becomes more evident as the beer warms up. The IBU of the beer is 85, due to the significant hoppy character and big bitterness that you get when you drink.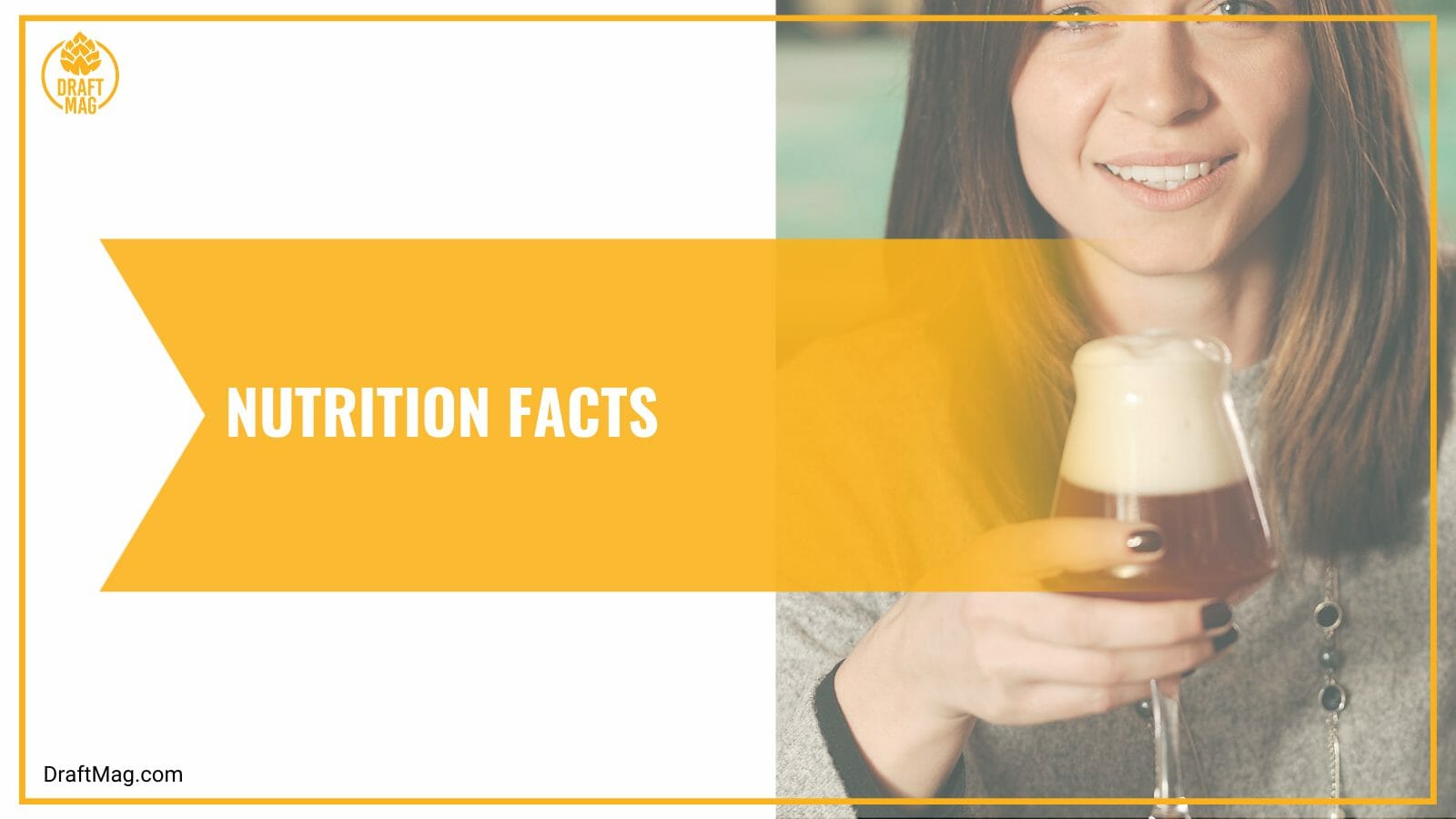 The IPA has 97 calories in every 100 ml serving, which translates to about 300 calories in every 12 oz bottle. As for the carbs, they are 25 grams, and the protein is 4 grams. The beer is not suitable for those on a keto diet and it is not a gluten-friendly beverage.
History 
The DIPA was released in 2007 by Flying Dog Brewery, and is advertised as being wild, untamed and seductively full-bodied. The beer has remained one of the most popular options from the brewery, and it is not the only ale offered in the series.
The brewery also offers the 18, which is a triple IPA with a 18 percent alcohol content, and the Pale Ale, an American strong ale with an ABV of 10.5 percent. Flying Dog was founded in 1990 and is the largest brewery in Maryland. 
Conclusion
While the IPA offers a lot of flavor and a clean taste for food pairing, it also features a high ABV that will make you forget all of that the next morning.
Here's what you need to know:
Double Dog IPA is an imperial IPA with a 12 percent alcohol content.
The brew has flavors and aromas of citrus orange, pine, caramel, sweet malts, earthy hops, grapefruit, and some grassiness.
It is made with light caramel malts, Cascade hops, Columbus Warrior hops and American ale yeast.
Serve it in a snifter or goblet at 50 degrees Fahrenheit.
The beer is best paired with grilled foods, spicy dishes, barbecue, oily fish, blue cheese, cheddar cheese, and sweet desserts like orange almond cake.
Whenever you're in Maryland, you can get this beer right from the tap and enjoy the experience. But before that, purchase it online or in stores near you.