Ruby Red Kolsch Review: Grapefruit Kolsch With Malty Base
Ruby Red Kolsch is one of the top beers from Genesee that will pique your interest from the name, and keep it when you take your first sip. An excellent session beer, it is simple and well-made, staying true to the German Kolsch style.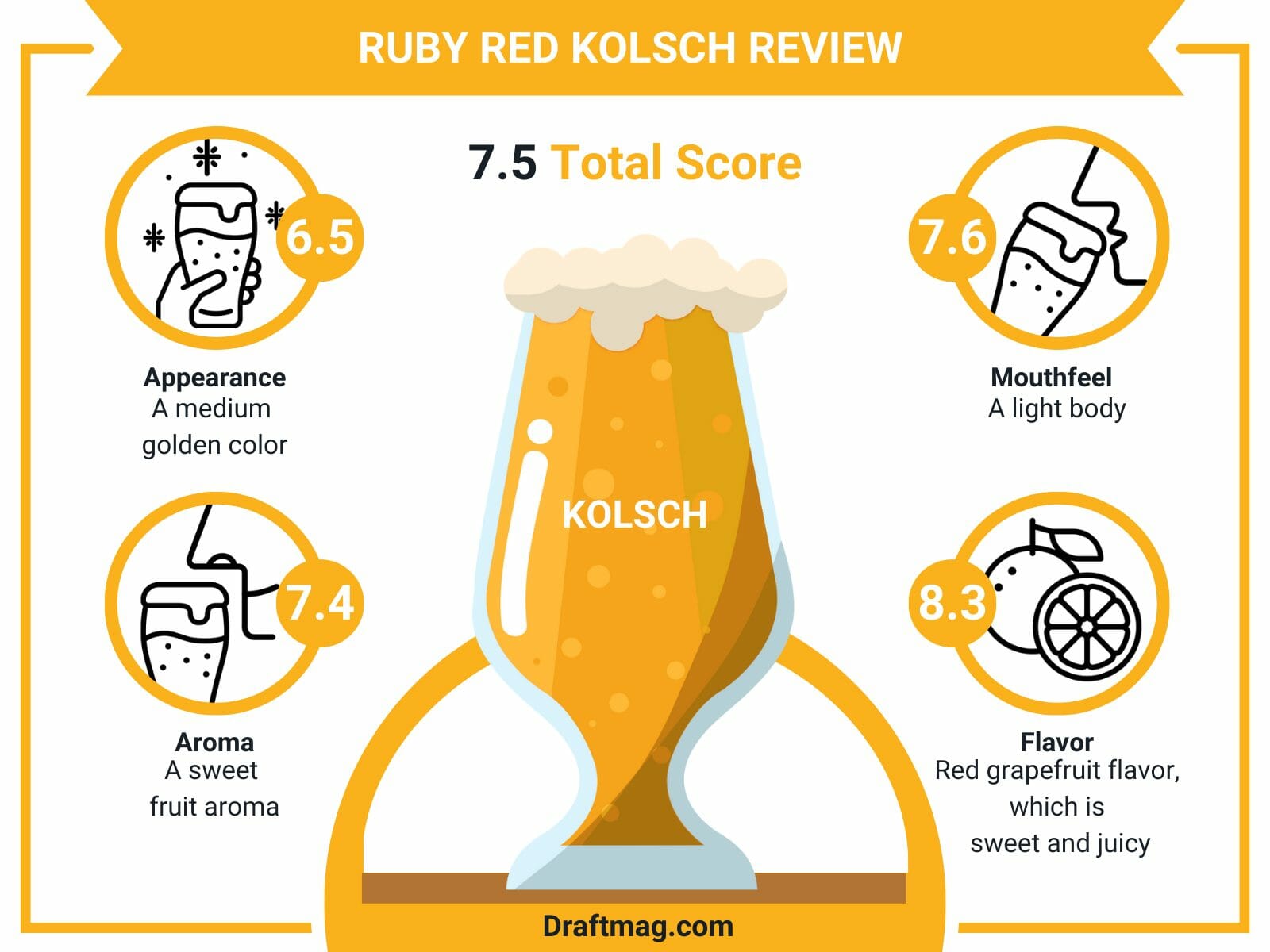 The beer is the ideal choice for drinking by the pool, on the beach, or on a hot summer day. If you are thinking about giving this beer a try, check out our detailed review below.
Ruby Red Kolsch Stats
| | |
| --- | --- |
| Country  | United States |
| Brand | Genesee Brewing Co. |
| Style | Kolsch |
| Taste  | Grapefruit, malty |
| Body | Light Body |
| ABV | 7 percent |
| Flavors & Aromas | Grapefruit, red fruit, malts, floral hops, citrus |
| Serving Temperature | 40 – 45 degrees Fahrenheit |
Tasting Notes
Ruby Red Kolsch Tasting Profile
Ruby Red Kolsch Review
This is a German Kolsch beer made by Genesee Brewing Company. Although it is a Kolsch, it stands out from others with the grapefruit flavors. Summer beer has an ABV of 7 percent without any artificial fruit flavoring, which mostly disappoints beer lovers.
It pours a golden color with a light body and a taste of grapefruit and malt. You can expect flavors and aromas of red and pink fruits, floral hops, malts, and light citrus, with a tart and sweet taste. To get the most out of this beer, serve it at 40 to 45 degrees Fahrenheit.
The beer is best served in a stange glass and can be garnished with a thin citrus slice.
– Appearance
On the pour, the beer gives you a medium golden color and an off-white head. The beer appears crystal clear, and the head is thick and frothy.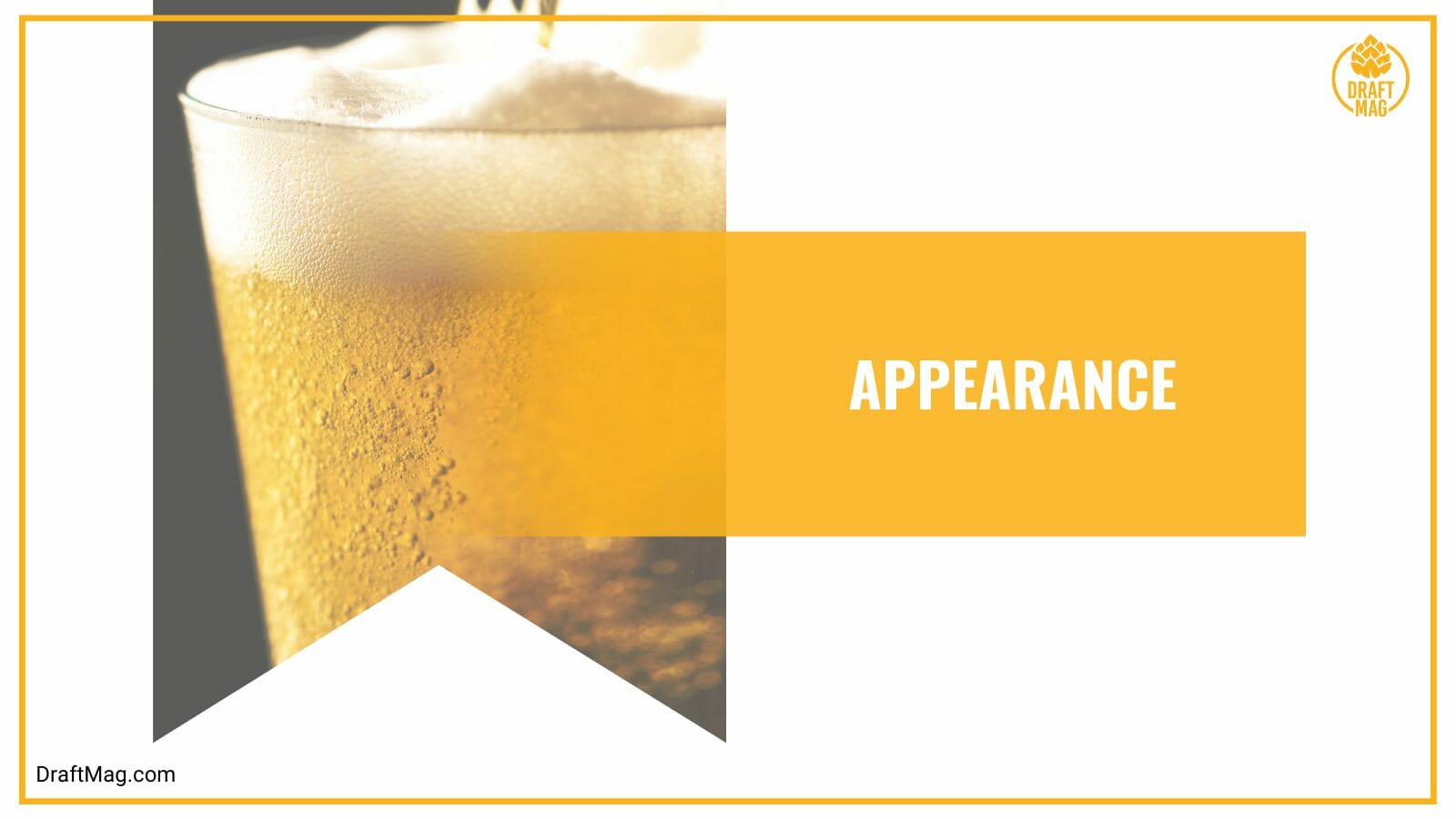 It dissipates quickly into a thin top and leaves a ring of lacing against the glass. The Kolsch looks great, and this is a good start to your experience.
– Aroma
As you pour the beer, the first thing you smell is the sweet fruit. The red grapefruit aroma dominates any other notes that you might be lucky to notice. These include the malty notes and subtle floral hops.
– Mouthfeel
As a summer beer, it's not surprising that the Grapefruit Kolsch is light-bodied. The light mouthfeel makes it feel crisp, clean, and refreshing, and it is nicely carbonated. It will go down easy and act as a palate cleanser, reminding you of a grapefruit seltzer.
– Flavor
The flavor of the Grapefruit Kolsch beer follows the aroma very closely, and it tastes very crushable. Luckily, the grapefruit is not as dominating as it is on the nose, so you can taste other flavor notes. The first thing you taste is the red grapefruit flavor, which is sweet and juicy.
Towards the end of the flavor, you get the malty base coming out and a sweet taste. Throughout the flavor, there is barely any hop bitterness, as this is limited. The malt flavor offers a solid base from the beginning to the end, reminding you that you're drinking a Kolsch and not grapefruit juice.
– Food Pairings
The best way to enjoy the Grapefruit Kolsch is with delicious foods that perfectly complement it. The summer beer goes well with grilled barbecue meats and melted cheese dishes, so try out a Sumac Roasted Chicken Flatbread. Fire up the grill during the summer and pair the smoky flavor of chicken with the light-bodied beer.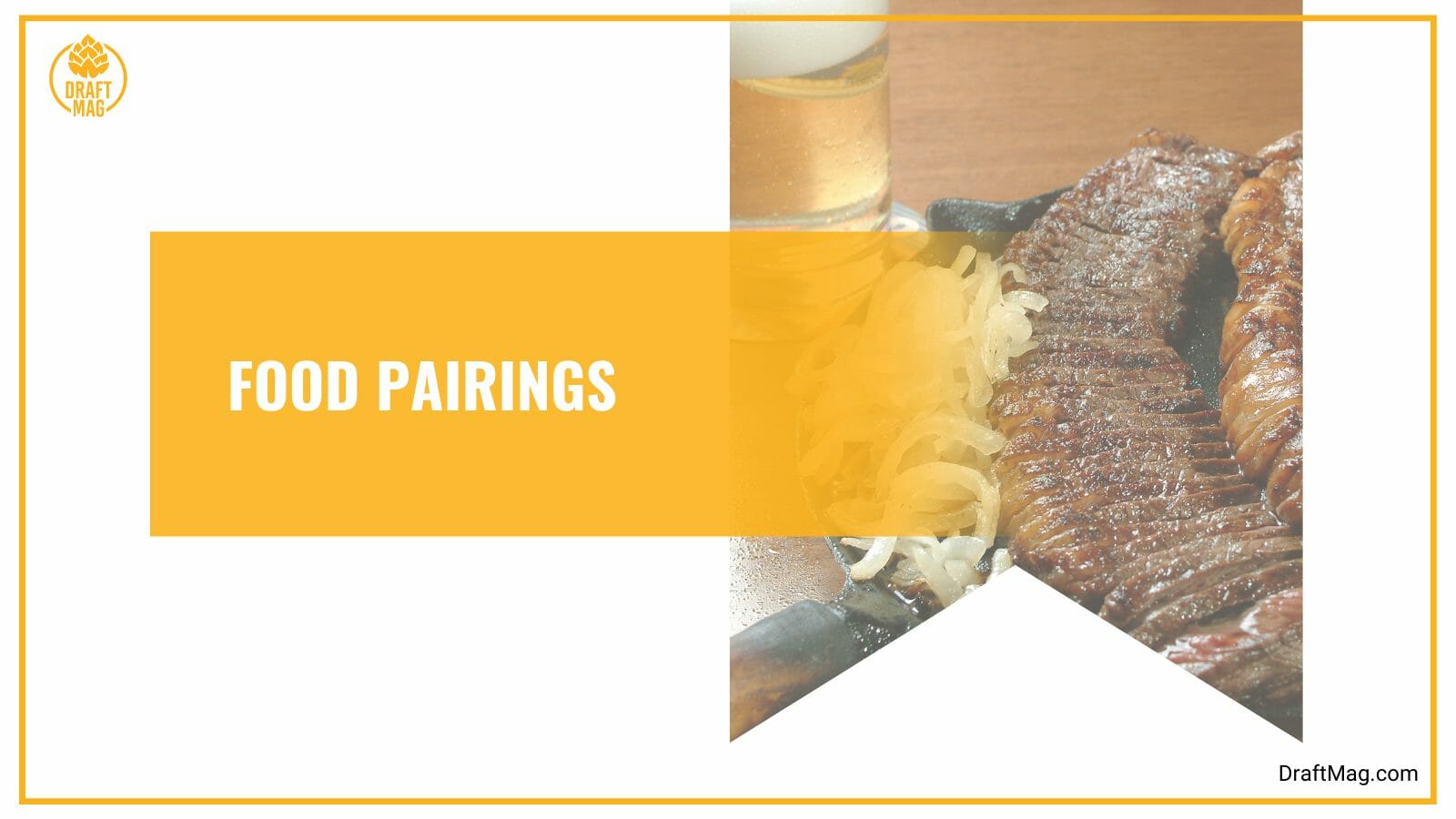 You can have the Kolsch with light seafood too, so try out fish dishes, monkfish, sole with a bit of lemon, or sushi. You can also have North African and Jamaican dishes as they are lightly spiced, fried chicken, and salads with a lot of herbs.
Those that enjoy cheese with their beer are not left out. Fresh cheeses like feta, burrata, mozzarella, or marinated cheeses go great with the subtle malty flavor of this beer. For dessert, you should try out an upside-down citrus cake, cranberry grapefruit cheese tarts, broiled grapefruit crisp, or pink grapefruit dessert bars.
Ingredients
The Genesee Ruby Red beer is brewed with red grapefruit flavors, but the exact ingredients are known. It is made with malts, hops, yeast, and water, which gives it a bready, malty body and mild hop bitterness that balances out the tart grapefruits.
Nutrition Facts
In the beer, you get an ABV of 7 percent, which is quite high. You should not expect any strong alcoholic flavors or aromas, making the beer pretty drinkable. There is a decent bitterness unit since the hops flavor is mild.
The beer contains 146 calories in every 12-ounce serving, and diet drinkers should consider this before purchasing a can. It also has 12.4 grams of carbs and 1.1 grams in the serving. Since it is a high-carb alcoholic drink, it is not keto-friendly. Those who cannot consume gluten should avoid drinking this beer too.
History
The beer is made by Genesee Brewing Company and was inspired by the German Kolsch, which dates back to the 19th century. The beer is a seasonal offering, so you might not get it now, but every March, a new batch comes and goes quickly. The beer is designed to be a 21st-century update of the Kolsch but with grapefruit flavors.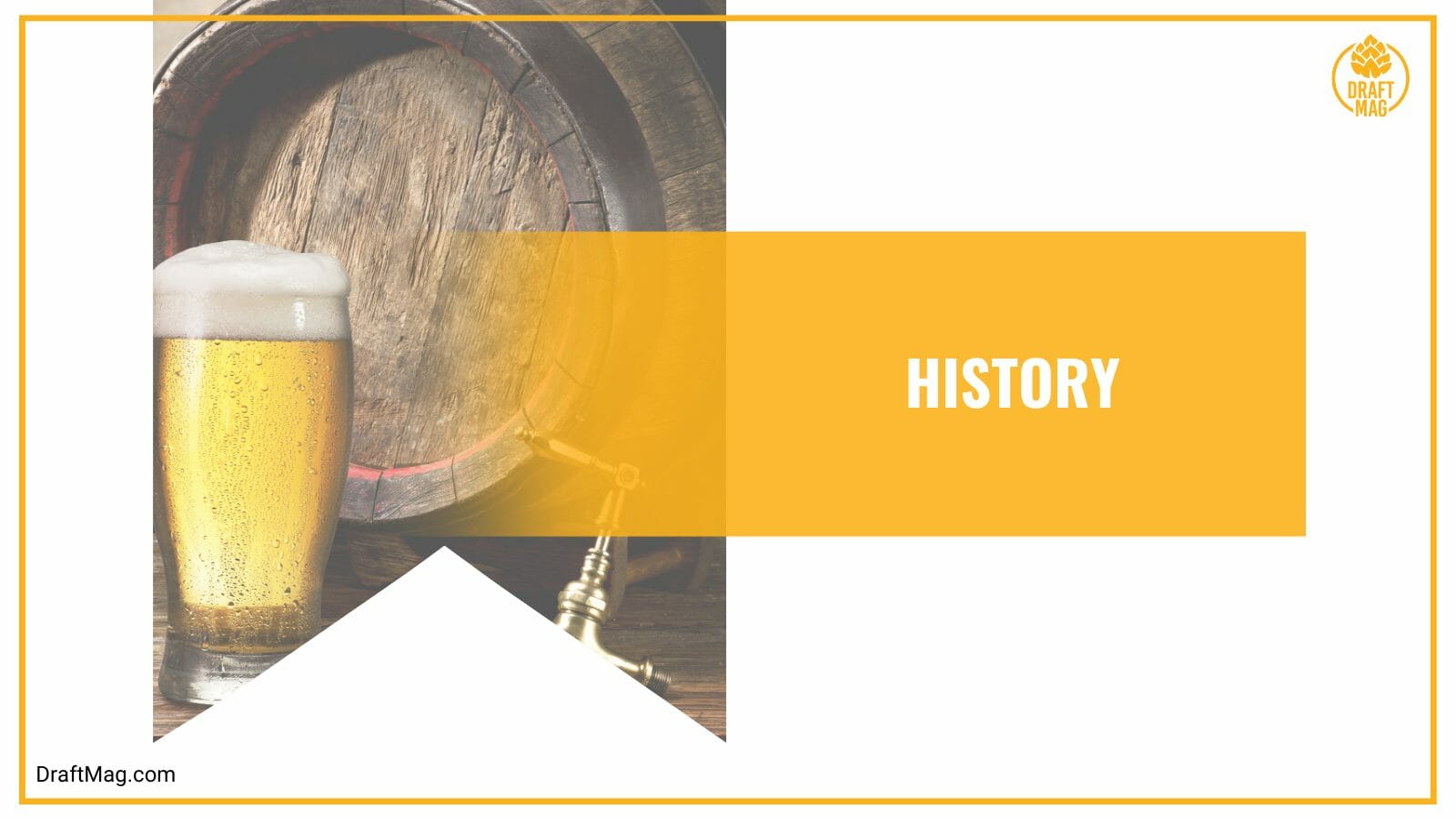 It was released in 2018 for the summer months, and it quickly sold out as it was a fan favorite. The Genesee Company dates back to 1878, making it one of the biggest and oldest operating breweries in America. It is known for its unique beers like the Original Cream Ale and Genny Light.
Conclusion
Beer lovers that want their palate to tingle with something new should consider trying this beer out whenever it's available. Here's a rundown of the thoughts in this guide:
Ruby Red Kolsch is a Grapefruit Kolsch brewed by Genesee, with a 7 percent alcohol content.
The beer has flavors and aromas of grapefruit, malts, citrus, red fruit, and floral hops.
The exact ingredients are unknown, but it is made with grapefruit flavor.
It is best served in a stange with a temperature of 40 degrees Fahrenheit.
Pair the beer with grilled barbecue, melted cheese dishes, seafood, North African cuisine, fresh cheeses, and fruity desserts.
If you're curious about this beer, you can check out stores online or near you to see if it's in stock. Alternatively, wait for the release to get it directly on tap.