Montauk Wave Chaser IPA Review: Bursting With Tropical Notes
If you're looking for a tropical IPA, our Montauk Wave Chaser IPA review is a must-read! This juicy IPA bursts with pine and tropical fruit flavors, making it the perfect choice when relaxing on a hot summer.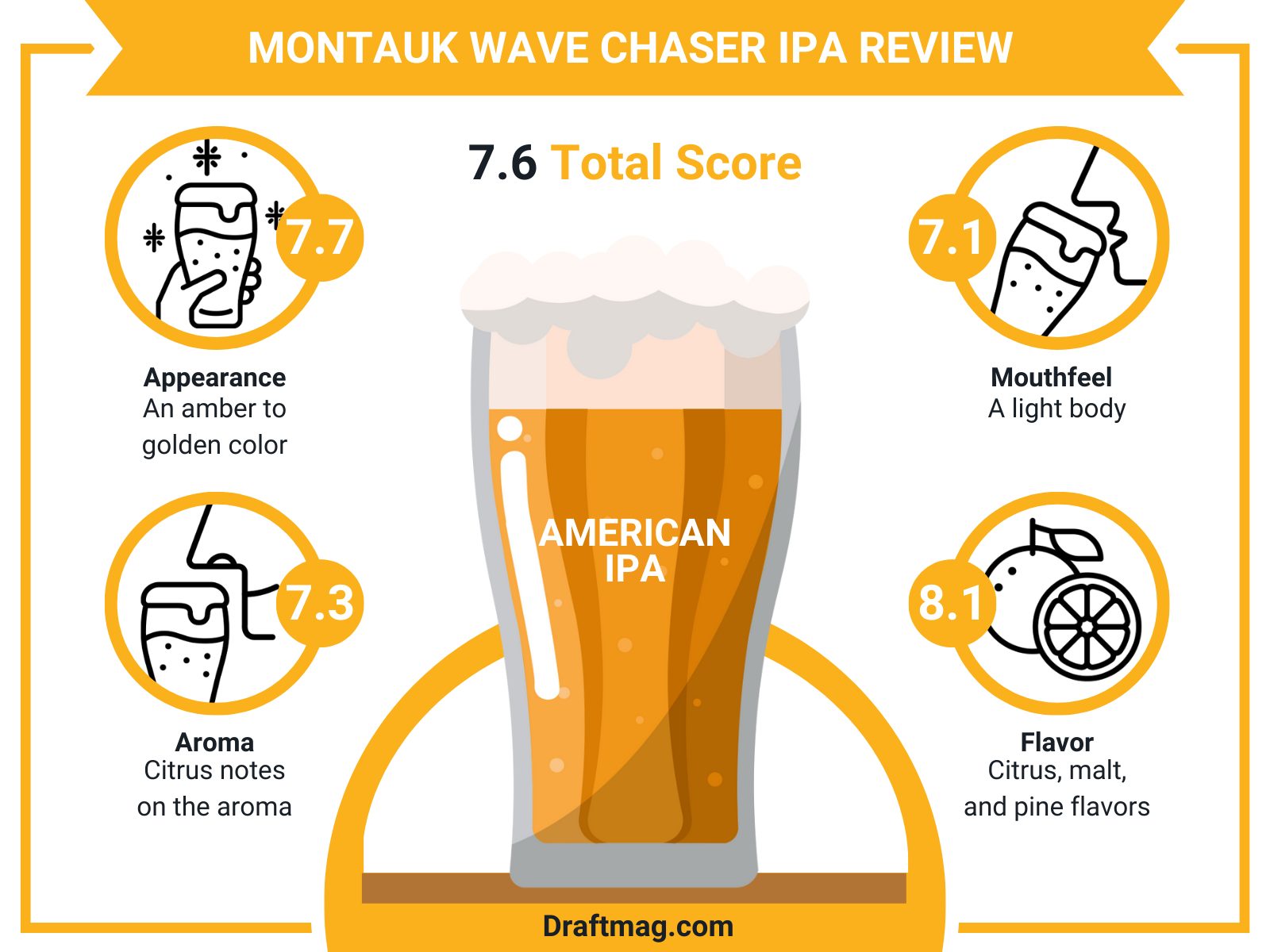 The Wave Chaser is brewed by Montauk Brewing Co and is promised to lead you to endless waves. Keep reading our Wave Chaser IPA review to know more about this beer.
Montauk Wave Chaser IPA Stats
| | |
| --- | --- |
| Country  | United States |
| Brand | Montauk Brewing Company |
| Style | American IPA |
| Taste  | Tropical, clean |
| Body | Light body |
| ABV | 6.4 percent |
| Flavors & Aromas | Tropical fruits, pine, malts, earthy |
| Serving Temperature | 45 – 50 degrees Fahrenheit |
Tasting Notes
Montauk Wave Chaser IPA Tasting Profile
Montauk Wave Chaser IPA Review
The Wave Chaser IPA is an excellent example of the American IPA style, brewed by the Montauk Brewing Company with a 6.4 percent ABV. The beer is moderately hoppy, with a medium amber color, aromas, and flavors of tropical fruits, malts, pine, and earthy notes. It is bursting with tropical fruits.
When having the Wave Chaser beer, you should serve it in a pint glass. The beer will also look great in a snifter, chalice, or goblet. Serve it cold, with citrus garnishings like lemon or orange slices. You can also add fruits to the beer to enhance its flavor as well as ice cubes.
The Montauk Wave Chaser is the ideal option for anyone that wants a thirst-quenching, flavorful beer during the hot summer days.
– Appearance
The Wave Chaser beer pours an amber to golden color into your glass, with a fluffy white head up to one inch. The head leaves rings of lacing against your drink and offers decent retention. The appearance is slightly hazy and cloudy, with moderate carbonation in loose bubbles floating to the top.
– Aroma
The aroma of the Montauk Wave Chaser is mild and will not overpower the flavor. The citrus notes are straightforward, but you will also notice malt sweetness, juicy hops, and pine in the background. The scent of the beer is pleasant and balanced, with hints of tropical fruits.
– Mouthfeel
The Wave Chaser IPA drinks like a session ale despite the high ABV and has a light body. The beer is well-carbonated, giving you a tingly, crisp, clean mouthfeel while you drink. With its high drinkability, the beer is a refreshing thirst-quencher that you can easily throw back.
– Flavor
The dominant flavor in the Wave Chaser beer is citrus, followed by the malt and pine flavors. The pine and citrus combine to make you taste a tropical IPA, while the malt is a strong backbone that reminds you that you're drinking a sessionable India Pale Ale.
There are earthy notes from the hops. The hops in the flavor are a bit muted and overpowered by the citrus and sugary tastes. This is balanced with a semi-bitter flow and hints of fruits like grapes, lemon, and grapefruit. The bitter pine will follow into the beer's finish, leaving you with a clean aftertaste.
– Food Pairings
When drinking the Wave Chaser IPA, you can pair it with a wide range of foods as the beer offers a crisp and clean taste. The beer will balance well with salty, fatty, and fried foods like sausages, French fries, and deep-fried meats as the hops cut through it.
You can pair it with blackened Ahi tacos with avocado, BBQ short ribs, chicken wings, roast beef, and other roasted, barbequed, fried, and braised food. Extra spicy foods will also go with the Wave Chaser IPA, as the bitter hops go well with the hot flavor.
If you're craving something sweet with your Montauk Wave Chaser, you should have it with fresh berries, fruit soup, orange crepes, or a fruit cake. Earthy and light cheeses like the Cambozola, high-fat cheeses like cheddar, spicy pepper cheeses, and blue cheeses will go well with the IPA.
Ingredients
The Wave Chaser beer is made with malts, flaked oats, yeast, water, and hops. The exact malts are unknown, but it offers a robust backbone with hints of caramel and bread. The hops used to make this beer are Chinook, Columbus, Azacca, and El Dorado.
The hops offer tropical notes and citrus flavors, including hints of grapefruit, lemon, grapes, and a strong pine character. With the heavy hops, you can expect a solid hoppy IPA, with a lot of bitterness following from the middle into the aftertaste. The flaked oats make the beer more creamy.
Nutrition Facts
The Wave Chaser IPA features a 6.4 percent ABV, but it drinks like a session summer ale despite this. The IBU is 60, evident in the hoppy, piney bitterness that it offers. The bitterness even follows into the aftertaste.
The beer has 189 calories in every 12-ounce serving, which is decent for an IPA. Health-conscious drinkers should consider this when calculating their daily dietary intake. As for the carbs, there are 40 grams of net carbs in the 12-ounce serving.
Due to the high carbs content, the beer is not ideal for anyone on a keto diet. It is not a gluten-free product either.
History
The Wave Chaser IPA is a product of Montauk Brewery and is one of the most popular beers from the company. It is so popular that it has a separate website from which you can order the beer. The brewery has been running since 2012 and started in a basement among friends.
Today, it is one of the top breweries in New York. Wave Chaser was released in 2016 and has remained a favorite of many beer lovers. The beer was created after nine months of experimenting with hop varieties.
The brewers released trial versions in the taproom and got feedback from fans. After trial and error, they finally landed on the Wave Chaser IPA.
Conclusion
The Wave Chaser beer is the ideal summer sessional beer to quench your thirst and wake your tastebuds up. Here's a rundown of what our Montauk Wave Chaser IPA review covered:
Wave Chaser is an American IPA with a 6.4 percent ABV.
The beer features aromas and flavors of tropical fruits, pine, citrus, and earthy notes, giving you a crisp and clean beer.
It is made with malts, flaked oats, hops, yeast, and water.
The IPA is best served in a pint glass when cold, with citrus garnishing.
It goes well with spicy foods, barbeque, sweet desserts, and a wide range of cheeses.
You can easily order the Wave Chaser beer online or at nearby liquor stores.