Lucky Charms Beer Review: Is This the Perfect Boozy Breakfast Pair?
Lucky Charms Beer is a perfect Saturday morning beer. It is a one-of-a-kind brew that is perfect for those who enjoy beer and cereal. This delightful beverage combines the two classic breakfast staples into one delicious drink.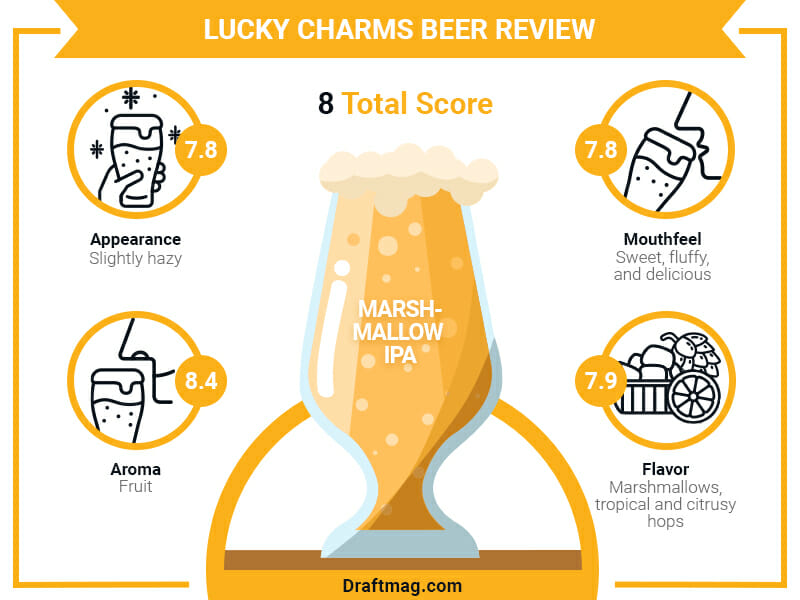 Read our in-depth review and get to know what to expect when trying Lucky Charms beer.
Tasting Notes
Lucky Charms Beer Tasting Profile
Lucky Charms Beer Review
The Smartmouth Brewing Company created a handcrafted beer using colorful, dehydrated marshmallows, like a box of Lucky Charms. It's referred to as Saturday Morning. The beer has a slightly sweet flavor profile and is smooth to drink with 6.6 percent alcohol content. With its passionate fruit aroma and tropical taste, it's the best way to start your day off on an exciting note.
The Saturday Morning Marshmallow IPA is a flavor explosion in your mouth. The sweet, sticky syrupiness of the marshmallows is combined with tropical and citrusy hops for an experience that will make you enjoy every sip.
– Taste
Saturday Morning Marshmallow IPA is a limited-release craft beer created to be sweet, fluffy, and delicious. You'll get a delicious hop-forward ale with notes of sweet and creamy marshmallow taste. It also has a caramel-like sweetness to it. Some people say that the taste reminds them of marshmallow cereal.
One ingredient that contributes to this taste is dehydrated marshmallow bits. The marshmallow bits are added during the brewing process and contribute a sweet and smoky taste to the finished product. The beer is also brewed with toasted malt, which gives the beverage a distinct flavor. It is a relatively high alcohol content for a beer, but it is still within the range of most craft beers.
So the first impression of this beer is definitely of sweetness with a slightly syrupy texture and a fruity flavor reminiscent of raspberry jam. There's also a hint of bitterness, which provides balance. Its perfect balance of juicy fruits and dry hops makes it a delicious, easy-to-drink beer.
– Strangeways Lucky Charms
Lucky Charms Beer Strangeways is a new craft beer in collaboration with Lucky Charms cereal. The cereal company provided the malt and hops, while four local craft breweries created the beer. The result is an ale with a marshmallow taste and a hint of toasted oats. The toasted oats provide a slight nuttiness, while the marshmallows add a touch of sweetness.
The beer is 4.75 percent ABV and has a slightly hazy appearance. It is best enjoyed cold and can be found in four-packs of 16 oz cans or on tap at the breweries. This alcoholic beverage is made with real marshmallows and Lucky Charms cereal, providing a delicious and nostalgic experience. The collaboration between Lucky Charms and Strangeways Brewing was born out of a shared love of cereal and beer.
The team at Strangeways had the idea to create a breakfast-themed beer and reached out to the cereal company to see if they were interested in partnering. Lucky Charms was thrilled to be a part of the project and provided the malt and hops for the brew.
– Where To Buy
The most frequently asked question is: "Where to buy Lucky Charms Beer?" As we mentioned earlier, Smartmouth Brewing Company released a beer named "Saturday Moring." However, it is a limited edition IPA. It is available in the testing room of Norfolk and Virginia Beach.
If you're in the area, stop by and pick up this limited-time offering while it lasts. Additionally, visiting one of Virginia's bottle shops or grocery stores is the best way to get your hands on some delicious craft beer. The general feedback for the beer has been incredibly positive as most people love the combination of sweet and hoppy flavors.
– History
It is a golden lager with a sweet taste and a smooth finish. The beer has been well-received by those who have tasted it, and Lucky Charms plans to keep producing it to satisfy demand. The beer was originally released as a root beer, but it was later changed to a lager. Each batch of the new beer is made from scratch, and the brewery has been working with Michigan craft breweries to ensure that the recipe remains consistent.
Lucky Charms beer Delaware is now available in the state. The Delaware-based creators claim that the brew has a distinct marshmallow taste. The beer is brewed with marshmallows, vanilla, and other natural flavors. The lucky charms in the beer are colored green, purple, and yellow and are made with real fruit juice.
Conclusion
So there you have it, a complete guide to Lucky Charms beer. This delicious and unique craft beer will surely be a hit with those who love sweet and hoppy flavors.
Saturday Morning is a beer made with dehydrated marshmallows with a sweet flavor.
It is available in Norfolk and Virginia Beach's testing rooms.
It has different tastes, predominantly sweet and smoky.
The beer has a 4.7 percent Alcohol by Volume.
If you love beer and breakfast cereal, why not give this brew a try? The combination of creative flavors and boozy aromas will surely tickle your fancy!