Strawberry Sky Review: A Juicy and Delicious Kolsch Ale
Strawberry Sky is the ideal choice if you want a classic Kolsch beer. This is a drinkable, light-hearted ale that you can drink and enjoy anytime, bursting with fresh fruit flavors, strawberry notes, and honeydew.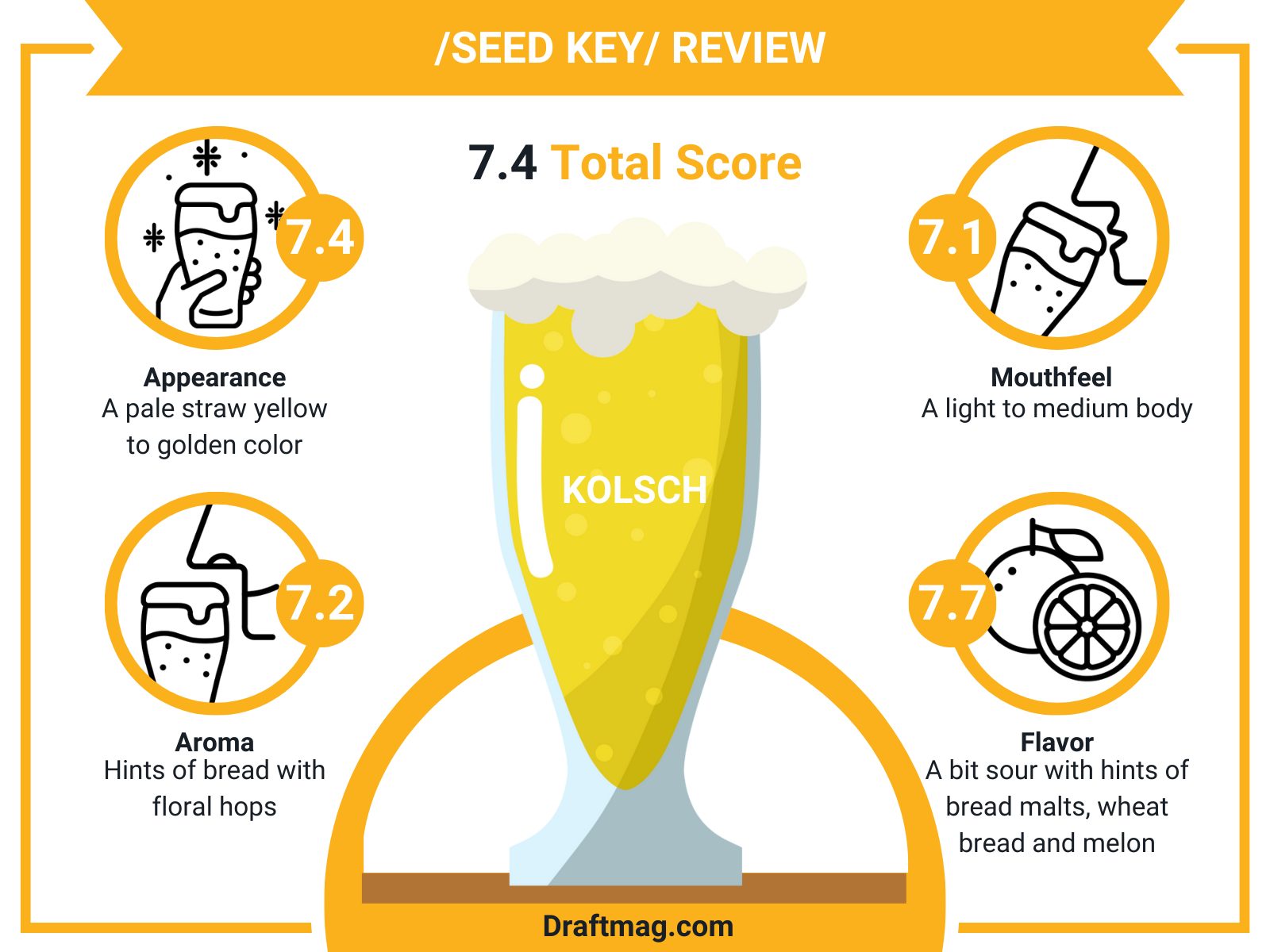 Brewed as a beer that could brighten your day, Strawberry Sky makes you feel like you're biting into fresh strawberry muffins with a wheat undertone. This review covers all you need to know about this strawberry-flavored Kolsch so you can decide if this is the beer for you.
Strawberry Sky Stats
| | |
| --- | --- |
| Country  | United States |
| Brand | Breckenridge Brewery |
| Style | Kolsch |
| Taste  | Fruity, bready |
| Body | Light to Medium body |
| ABV | 4.8 percent |
| Flavors & Aromas | Strawberry, bread, biscuits, hoppy bitterness |
| Serving Temperature | 40-45 degrees Fahrenheit |
Tasting Notes
Strawberry Sky Tasting Profile
Strawberry Sky Review
Strawberry Sky is a light-hearted ale brewed in a drinkable Kolsch style. The beer was brewed by Breckenridge Brewery, with a 4.8 percent alcohol content and juicy hints of strawberry set behind the hops. This Kolsch is bursting with fresh fruit flavors, dominated by strawberry and honeydew.
To enjoy the Breckenridge Strawberry Sky beer, you should serve it cold, up to 45 degrees Fahrenheit. It is best served in small glasses called a Stange, which is enough to display the beer's clarity and enhance its aroma.
The Breckenridge Strawberry Sky Kolsch features a pale-yellow color, a thin head that recedes quickly, and a definite aroma and flavor of strawberry that dominates the flavor. It also features floral and bready notes, although also a tad sour. Overall, it's a decent beer that will remind you of having your mouth full of a chocolate cupcake. Despite this, it doesn't take anything away from the authentic beer taste, with a backbone of wheat and malt.
– Appearance
The Strawberry Sky Kolsch pours pale straw yellow to golden into your glass, with an all-white one-finger head. The golden body also has a faint, reddish tint. The foamy white head will quickly recede and dissipate into your glass, leaving slight lacing on the sides of the glass. It also has a hazy appearance.
– Aroma
The Strawberry Sky Kolsch has a strong aroma flavor on the nose when you open it. The beer's aroma is combined with hints of bread that remind you that you're drinking a beer, not a strawberry drink. There are also notes of floral hops in the beer's aroma.
– Mouthfeel
As for the mouthfeel, the beer has a light to medium body and decent carbonation. The carbonation gives you a fizzy and light feeling on your tongue and will make your mouth full. It also feels crisp and clinging but will remind you of a standard Kolsch. There is no alcohol heat in the beer due to its low carbonation.
– Flavor
Strawberry Sky is a strawberry-flavored Kolsch, but you can rest assured that the juicy strawberry does not take away from the beer character. It starts you out with the flavor of hoppy bitterness, mostly straws and floral tastes.
Then, it moves on to a cracker grain and wheat flavor and will finish with a bold strawberry flavor. The beer is a bit sour, with hints of bread malts, wheat bread, and melon, with healthy bitterness from the floral hops that make it well-balanced.
There are also notes of seltzer water and faint cream when you drink the beer. It's ideal to drink if you need a refreshing beer to get you by on a hot day.
– Food Pairings
With the slight hoppiness and strawberry flavor on the Strawberry Sky beer, different kinds of foods go well with it. You can have the beer with light fish and other seafood, like monkfish or a sole drizzled with lemon.
The beer also goes well with hearty and meaty dishes, including pork and chicken. You can have these with vegetables and dumplings. This beer's diverse flavor will also balance with bread-based dishes like pizza or flatbread.
Different pairings go well with the beer from burgers and buffalo wings to pizza, steaks, and fried food. You can also consider eating it with spicy, nutty, Asian, and Mexican food.
As for cheese, you should have Fresh Comte and other creamy cheeses with the beer. The beer also goes well with sweet and fruity desserts, and you can even go for those with strawberry flavor for a full strawberry experience.
Ingredients
The ingredients used to make Strawberry Sky are unclear, but the brewery used malts and wheat, hops, and strawberry extract. As for the hops, the beer is made with Huell melon hops, which give you a shiny and complex flavor. It is also brewed with fresh fruit ingredients of strawberry and honeydew.
Nutrition Facts
The Strawberry Sky Kolsch features a 4.8 percent alcohol content and 23 bitterness units, mostly because the juicy strawberry takes a lot of bitterness away from the hops. It also features 150 calories in every 12-ounce can, which is a pretty high level for those on a diet.
The Kolsch also features 12 grams of carbs, 15 mg of sodium, and 2 grams of protein. The beer is not suitable for those on a keto diet because of the high carbs level. It is also not gluten-safe and should be avoided from this diet too.
History
Strawberry Sky is a Kolsch brewed by Breckenridge Brewery, based in Colorado. It is a year-round beer that you can have on draft or in a can at any time in the brewery.
Breckenridge is a popular craft brewery well-known in its city for serving the community for over 30 years. It first opened in Breckenridge town in 1990 and now has a wide range of beers. Some other top options aside from Strawberry Sky are Agave Wheat, Palisade Peach Wheat, and Hazy Pilsner.
Conclusion
Strawberry Sky is a juicy and bold Kolsch that you can enjoy whenever you want a delicious, fruity beer. Here is a rundown of what we covered concerning this beer in our review:
Strawberry Sky is a fruit-flavored Kolsch made by Breckenridge Brewery, with a 4.8 percent ABV.
The beer combines the tastes and aromas of strawberry, wheat, and bread to give you a juicy, sweet, and hoppy beer.
The beer's exact recipe is unknown, but you can make your own recipe.
It is best served in a Stange when it's cold.
The beer goes well with meaty foods, fish, and sweet desserts.
You can visit a liquor store close to you to try the Strawberry Sky beer, or check out the brewery whenever you're in Colorado for the full experience.