Wicked Weed Coastal Love Beer Review: Is This IPA Worth Your Dime?
Wicked Weed Coastal Love is one IPA that has quietly garnered attention and gotten beer drinkers talking about its taste. It is a hop-forward beer that expertly mixes hops and citrus flavors for a refreshingly clean and smooth taste.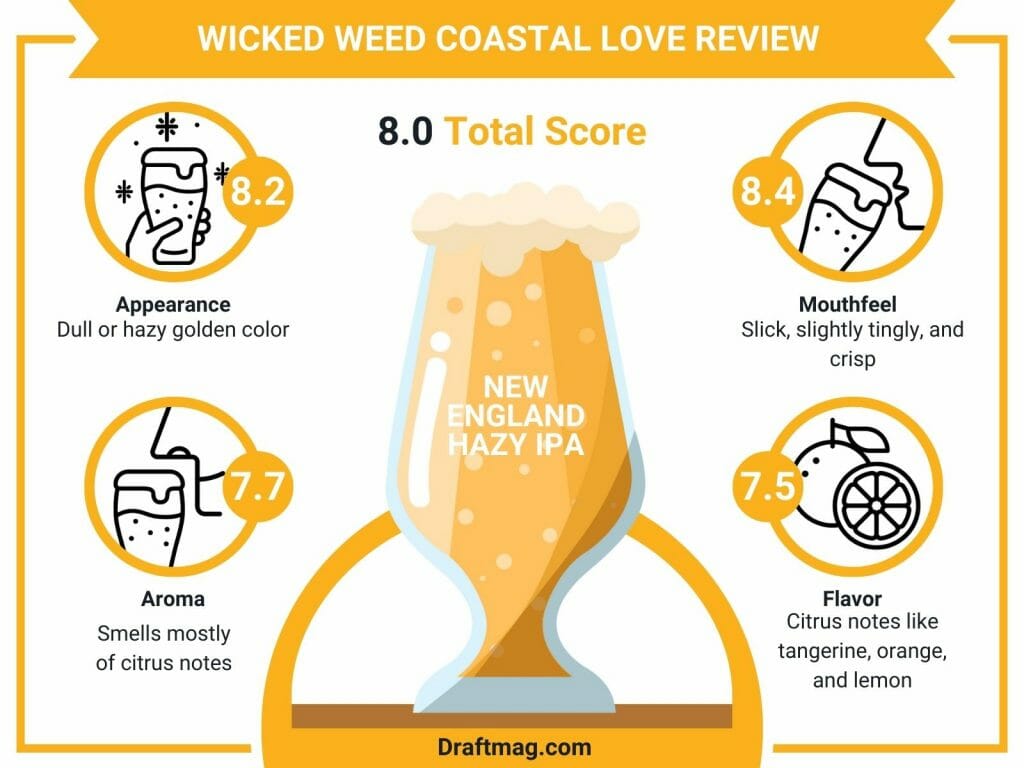 If you haven't tried this New England IPA yet, then our review is all you need to get prepared. With thorough research and sampling, our beer experts have produced this detailed review to serve as a guide when you are ready to grab a can of this brew.
Wicked Weed Coastal Love Stats
| | |
| --- | --- |
| Country | United States (North Carolina) |
| Brand | Wicked Weed Brewing |
| Style | New England Hazy IPA |
| Taste | This IPA is predominantly hops and citrus notes. You can easily discern orange, tangerine, lemon, and what may be pine. |
| Body | It is medium-bodied and has moderate carbonation, which gives the beer a fizzy and sticky feel. |
| ABV | 6.3 percent |
| Flavor and Aroma | There's a strong indication of hops and citrus notes. One can also identify malty notes as well as a piney/herbal flavor and scent that are all subtly highlighted. |
| Serving temperature | 45 degrees Fahrnheit |
Tasting Notes
Wicked Weed Coastal Love Tasting Profile
Wicked Weed Coastal Love Review
Our beer experts have taken the time to review this beer based on several categories. Each category provides a thorough breakdown of what you should expect.
– Appearance
When poured into a glass, this New England IPA has a dull or hazy golden color that is almost straw-like. It isn't bright or effervescent but appears almost golden brown. A thick white foam head immediately appears at the top of the glass and sits pretty for a long time before receding. It leaves a noticeable lacing that surrounds the glass with every gulp you take.
You can easily tell that this beer has active carbonation as fine bubbles can be seen making their way from the bottom of the glass to the top. Overall, this IPA doesn't have a bad appearance, although it almost appears basic with its color.
– Aroma
This IPA smells mostly of citrus notes. Some of the most predominant notes include lemon, orange, apple, and what hints at other tropical fruits. It is almost impossible to miss the bread-like or dough scent that emanates from this beer once you get past the initial citrus scents. It may also contain what might be a malt character and a very subtle hint of honey.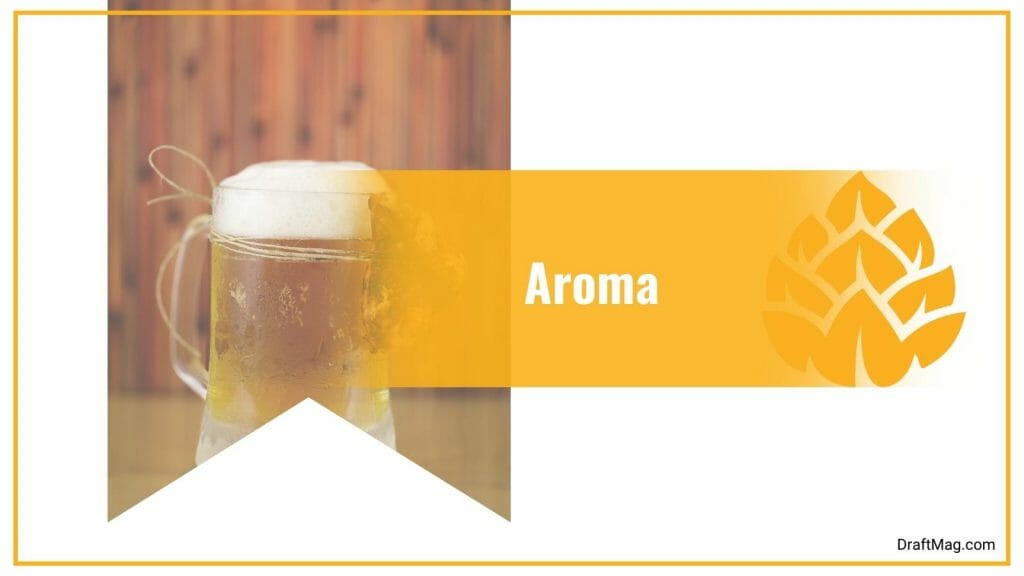 Upon closer inspection, you can easily smell the hops in the beer, which prepares your taste buds for what to expect. The alcohol content of this beer is easy to miss from its aroma, as there's barely an alcoholic tinge to indicate that it contains 6.3 percent ABV. One thing we like about this IPA is its delicate blend of citrus flavors, yeast, malt, and hops to make for an enticingly unique aroma.
– Mouthfeel
Upon sampling this beer, we discovered that it is medium-bodied with moderate carbonation. The mouthfeel is somewhat slick, slightly tingly, and crisp, almost like what you would expect with a soda drink. It also has a smooth, clean and crisp mouthfeel that is soda-like, and there's an alcoholic tinge that indicates its almost high ABV.
However, there's a solid bitterness just a few seconds after swallowing, which isn't surprising considering that it is a hop-forward IPA. Thankfully, the citrus notes help balance this bitterness and prevent it from being overwhelming or too much to handle, especially for new beer drinkers.
Also, the alcoholic content of this beer comes into play at some point. The 6.3 percent ABV, which seems to have been masked by the light citrus aroma and hop scent, becomes evident, as there's a mild burn or what we like to describe as 'warmth' after a long gulp. Overall, this IPA leaves a smooth, crisp, and dry finish on the palate.
– Flavor
If you're a huge fan of assertive flavors in IPAs, you might not be too thrilled with the flavor of this beer. To elaborate further, the flavors in this IPA aren't emphasized; however, it is easy to tell what they are. It has an interesting blend of flavors, including citrus notes like tangerine, orange, and lemon. There are also unmistakable malty and hops flavors.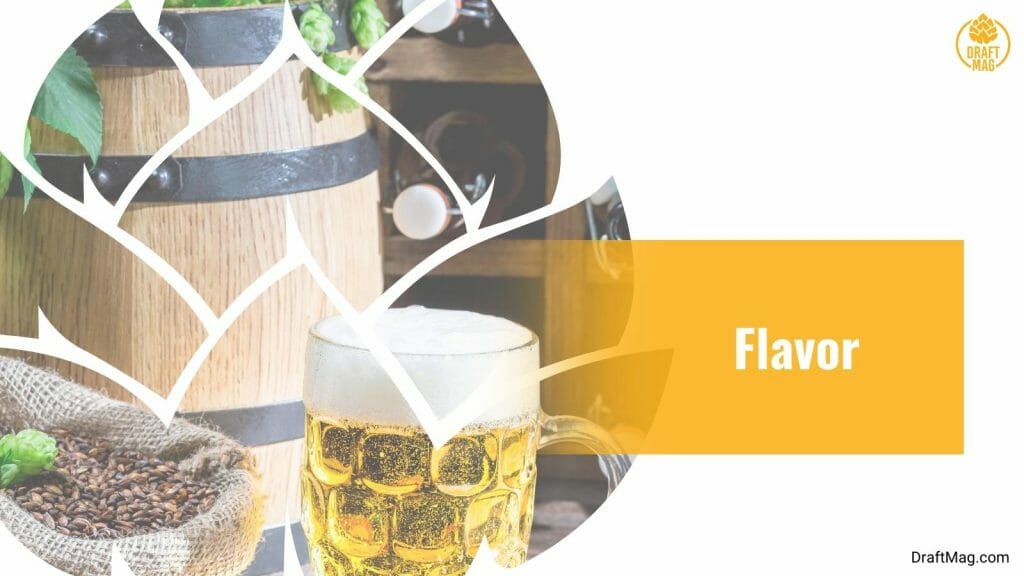 Although it isn't quite apparent, you may also get hints of an earthy or piney flavor. While fans of bold-flavored beers may be disappointed with this IPA's flavors, we like that it doesn't throw the drinker off balance and is subtle yet easily discernible. There's also the unmissable hint of malt, light honey, and a bread-like note. The hop is highly present, resulting in its strong bitter bite at the finish.
– Food Pairings
Experienced beer drinkers would agree that hazy IPAs go well with any meal that has a lot of spice and flavors. This is because these meals help suppress the biting bitterness of such beers and improve their overall taste. If you're searching for the best meals to pair with this beer, then you should consider pairing it with Indian curries or Mexican cuisines like tacos, roasted chilies, chicken guacamole, and cilantro.
It also goes with chicken wings and spicy Asian delicacies, especially spicy noodles. You can pair this India Pale Ale with burgers, grilled dishes, pizza, buffalo wings, French fries, and even salted nuts for a more casual setting. Don't forget that you can also pair it with steak and, of course, cake or fruity desserts.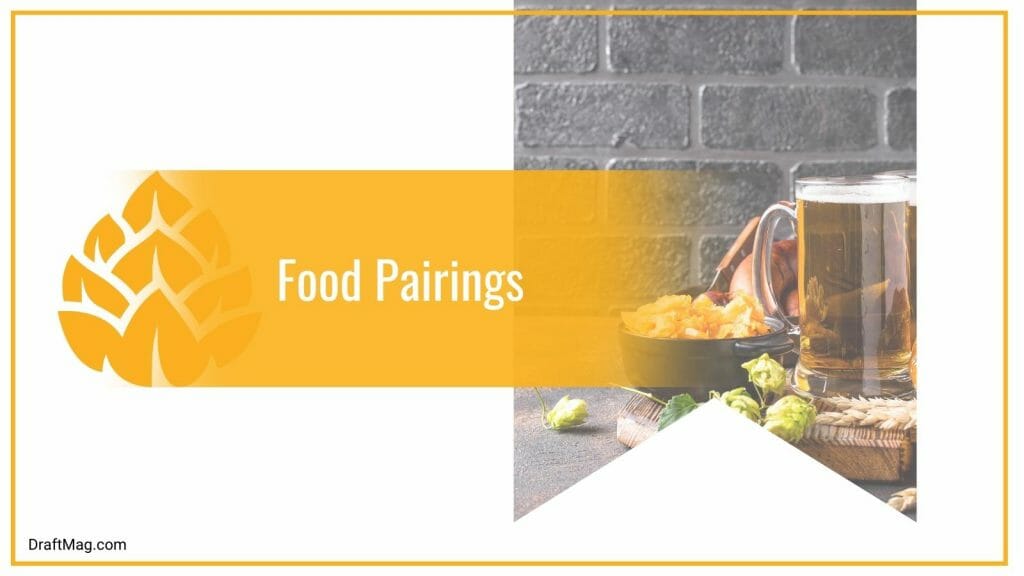 Ingredients
The predominant ingredients used in brewing this IPA are specialty hops and citrus notes suggestive of tangerine, orange, and what may be pine peels. It also includes water, yeast, caramel malt, barley malt, and wheat. There's no indication of additives or sugar.
Nutrition Facts
It contains 205 calories, 16 grams of carbs, and three grams of protein. This hop-forward beer also contains zero fat and two grams of sugar. Due to its high carbs, it isn't the best option for those practicing a Keto lifestyle or those actively trying to lose weight. It may also contain gluten.
History
This hop-forward beer may have appeared in the beer market around 2019. It is produced by Wicked Weed Brewing Company. Although it appears relatively unknown, it isn't doing badly, and beer lovers seem to rate it highly. It is a New England Hazy IPA with 6.3 percent alcohol content that infuses hop and citrus notes to create an appealing solid IPA for fans of hop-forward beers.
Conclusion
Overall, this isn't a bad drink at all, especially as it tastes exactly as an IPA should. Here's a quick summary of the points we discussed in this review:
Wicked Weed Coastal Love Hazy IPA is a New England Hazy IPA with 6.3 percent alcohol content, produced by Wicked Weed Brewing.
Its flavor, taste, and aroma are similar as there's a strong presence of citrus and tropical notes.
The hops are also very strong and vibrant and impossible to miss. There's a subdued malt character that is discernible but not much to think of.
This hop-forward IPA is medium-bodied and has moderate carbonation, giving the beer a fizzy, champagne-like effect. The mouthfeel is crisp, smooth, and somewhat sticky, hence the beer has a noticeable bitter but very dry finish.
You can pair it with any spicy meal of choice, from Asian and Mexican to Indian cuisines. You can also pair it with regular meals like burgers, pizza, steak, grilled dishes, French fries, and sweet desserts.
Everything about this IPA might disappoint if you're a fan of bold flavors and taste. However, if you enjoy a simple IPA with a solid bitterness and do not mind the high amount of carbs and calories, you will surely enjoy this brew. It is refreshing, smooth, and thirst-quenching, making it a great choice for the summer.