Sycamore Mountain Candy Review: A Hoppy IPA for Fruity Goodness
The Sycamore Mountain Candy is bursting with hops and fruity flavors, ideal for those who enjoy juicy and hoppy beers. The American IPA was made by Sycamore Brewing in the United States and properly executed this beer style to the satisfaction of its many fans.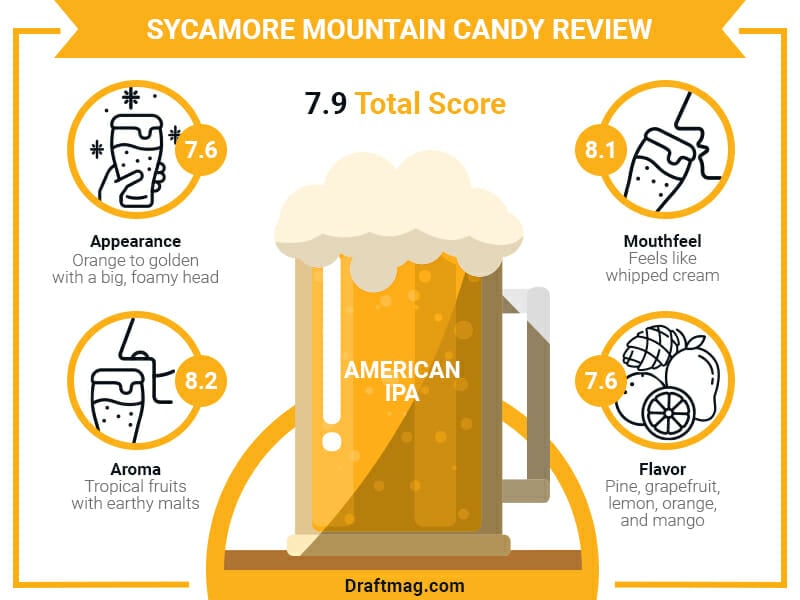 The award-winning IPA is double dry hopped, giving you juicy flavors of stone fruit, candy, and citrusy notes. Our review covers the Mountain Candy IPA, from the tasting notes to the ingredients and food pairing, so let's dive right in and take a closer look.
Sycamore Mountain Candy Stats
| | |
| --- | --- |
| Country | United States |
| Brand | Sycamore Brewing |
| Style | American IPA |
| Taste | Crisp, hoppy |
| Body | Medium body |
| ABV | 7.5 percent |
| Flavors & Aromas | Citrus, hoppy, tropical fruit, sweet |
| Serving Temperature | 45-50 degrees Fahrenheit |
Tasting Notes
Sycamore Mountain Candy Tasting Profile
Sycamore Mountain Candy Review
The Sycamore Mountain Candy is a juicy and hoppy India Pale Ale, bursting with flavors of citrus, grapefruit, stone fruit, and tropical fruits. This comes together to give you a sweet, fruity beer that feels great on the palate.
The American IPA tastes crisp and fresh, especially when you serve it cold in a pint glass, goblet, chalice, or snifter. Due to the fruit flavor, you can pair it with citrus garnishings like a wedge of lime or orange.
Mountain Candy is the ideal choice if you're looking for a juicy IPA that still tastes like beer. The beer retains its malty and ale-like flavors, pleasing many fans of Sycamore. Mountain Candy features an above-average ABV, promising to get you drunk quickly on your night out.
– Appearance
The Mountain Candy pours an unfiltered orange to golden with a big, foamy head. The white head has good retention and leaves decent lacing against the glass. It features a glossy and hazy appearance, with lively carbonation evident in the bubbles floating to the top.
– Aroma
The Mountain Candy beer has a strong aroma on the nose, and you will quickly get a whiff of it when you open the can. There is a balanced aroma of freshly cut limes, passion fruit, candied oranges, and tropical fruits with earthy malts. There are also slight hints of floral and pine aromas.
– Mouthfeel
With a medium body, the beer has a full mouthfeel that feels like whipped cream in your mouth. This creamy body is combined with bubbly carbonation that adds a tingle to your palate. The high ABV does not present itself in an alcohol burn, making it a middleweight beer. It has a dry finish to its juicy mouthfeel.
– Flavor
You can expect to taste the delicious blend of hops as you drink the Mountain Candy beer. This bold flavor is obtained from the double dry hopping process, making it more vibrant. The hops offer tasting notes of pine, grapefruit, lemon, orange, and mango, merged with a slight sweetness.
The Mountain Candy beer offers flavors of white bread dough, crackers, and a hint of caramel from the malts in the brewing process. Its fruity flavors are zesty with old-school lime bitterness. The beer finishes with flavors of sugar and watermelon and has a long-lasting, fruity aftertaste.
– Food Pairings
The Sycamore Mountain Candy goes well with a wide range of foods, especially since it's a fruity, hoppy flavor. This makes bold foods like barbecue, spicy chicken, tacos, and sweet and sour pork a good choice.
You can pair it with cured meat, ducks, game bird, meaty and oily fish, and white fish.
The beer also goes well with lamb, pork, shellfish, pasta, nuts, salads, greens, and tomatoes. As for fruit pairings, you can have the beer with sweet and dried fruits. Mountain Candy is delicious with different cheeses, from the nutty and stinky to aged and fresh. You can pair it with fruity and chocolatey desserts.
Ingredients
The Mountain Candy is made with hand-picked hops, but the brewery does not reveal its ingredients. We don't know the hops and malt list used to make the beer. But what is sure is that it's made with water, yeast, hops, and malts.
If you're a homebrewer, you can try out the beer to find the right recipe or look out for clone recipes online.
Nutrition Facts
The Mountain Candy IPA features a 7.5 percent alcohol by volume, an above-average level that will surely get you drunk quickly. It also features 58 bitterness units from double dry-hopping and tangy flavors.
The beer features 170 calories in every 12-ounce serving, which is pretty decent. Although it isn't a low-cal beer, it's still suitable for those watching their calorie intake. There are 19 grams of carbs, so this beer is not ideal for those on the keto diet.
The beer has 1 gram of sugar, 10 grams of sodium, and 3 grams of protein in the 12-ounce serving. It is not a gluten-free or vegan-friendly beer.
History
The Mountain Candy IPA is the flagship beer of Sycamore Brewery, an award-winning craft brewery in Charlotte, North Carolina. The beer is sold in a 16-ounces can at the brewery and distributed all around Charlotte due to its popularity.
The brewery was founded in 2013, focusing on using top-notch ingredients to make fresh beer. Even its catchphrase is "powered by Mountain Candy & puppies," showing how popular the beer is. The Mountain Candy is a year-round offering along with the Double Candy and Southern Girl.
Conclusion
If you're looking for a hoppy and juicy IPA to kick start a fun night out or a fruity and delicious beer to nurse at home, the Mountain Candy is a perfect choice. The beer's hoppy flavors are pleasant and still allow the ale character to shine. Here are the points we covered in this review:
Mountain Candy is an American IPA and the flagship beer of Sycamore Brewing.
The beer combines flavors and aromas of citrus, tropical fruits, stone fruits, bread, and caramel, with a hoppy body and dry finish.
Although the ingredients are unknown, the beer is dry-hopped, which gives it its juicy and fruity flavor.
You can enjoy the Mountain Candy beer best when it's cold, poured in a pint glass, and garnished with a citrus wedge.
The beer has different food pairings, which include spicy foods, barbecue, pork, duck, fish, chocolatey and fruity desserts, and all kinds of aromatic and aged cheeses.
You can visit Sycamore Brewery in Charlotte to try out the Mountain Candy beer or check liquor stores in the city and online for an easy purchase.