Dogfish Head Punkin Ale Review: Choose the Best Pumpkin Beer
Dogfish Head Punkin Ale is simply a bodied ale with smooth hints of sugar, cinnamon, allspice, nutmeg, and pumpkin. That's only a short answer and does not do justice to the beer enough.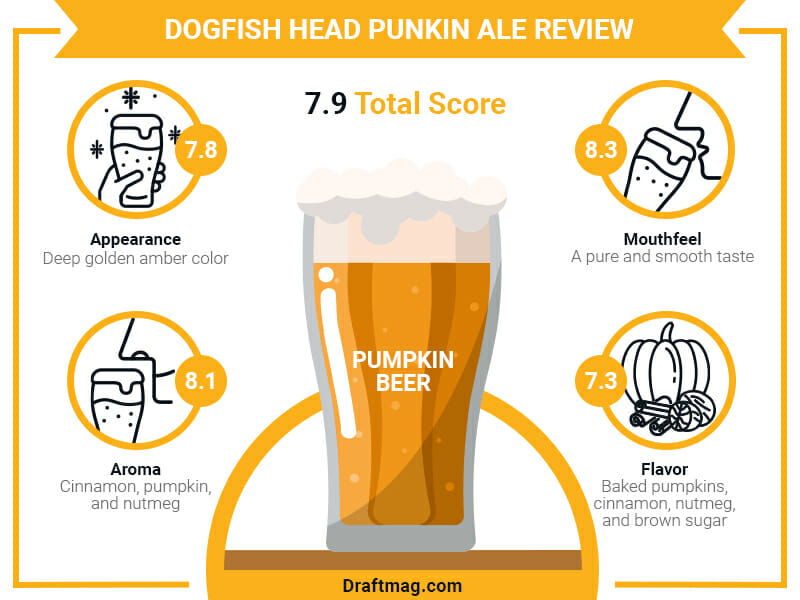 There are several other characteristics you should know about craft beer before you purchase it, and we have outlined them in this article.
Dogfish Head Punkin Ale Stats
| | |
| --- | --- |
| Country | United States |
| Brand | Dogfish head |
| Style | Pumpkin beer |
| Taste | Creamy, luscious |
| Body | Full-bodied |
| ABV | 7.0 percent alcohol content |
| Flavors & Aromas | Cinnamon, nutmeg |
| Serving Temperature | 50-55 F |
Tasting Notes
Dogfish Head Punkin Ale Tasting Profile
Dogfish Head Punkin Ale Review
The table above points out all the essential characteristics of this great beer. These characteristics will help you conclude if it's the perfect choice for you. But read further to learn more details about this beer.
The Dogfish head craft brewery's most distinguishing characteristics are the brown color, clean beer flavored with nutmeg, cinnamon, allspice, brown sugar, and pumpkin flavors. This beer places the pumpkin-related sweetness and flavors where they belong in a pumpkin beer: in the background, where they are hardly perceptible.
Dogfish Head keeps it authentic by brewing the beer and gradually adding the nutmeg, cinnamon, and brown sugar. The combination of beautiful deep color, spicy aroma and unique flavor create a special beer. Check below for a detailed review of the beer and its characteristics.
– Appearance
The beer pours as a deep golden amber color with an excellent Whitehead. It also has a nice amount of lacing, which sticks to the side of the glass.
– Aroma
A perfect blend of all the ingredients gave rise to this beer's refreshing flavor. It has a spicy and sweet aroma of cinnamon, pumpkin, and nutmeg, reminiscent of freshly-baked snickerdoodles. Once you pour it into a glass, the aroma will be more indeed with the pumpkin spice overpowering.
– Mouthfeel
This is one of the most important characteristics of the Pumpkin beer that makes it unique. It has a pure and smooth taste with its pumpkin spice giving you the necessary thrill. Dogfish beer's taste has a well-balanced blend of toasted malt, brown sugar, and pumpkin spices.
It gives off a gourd vibe. Its carbonation is very fine. This beer is a great choice when you want to enjoy a beautiful evening with family and friends.
– Flavor
Dogfish head craft brewery brews this beer as a full-bodied, spiced brown ale with baked pumpkins, cinnamon, nutmeg, and brown sugar.
Food Pairings
The body of this beer makes it a great pair with any kind of food. So you can try out this beer with your favorite meals. You can combine it with fried, salty, sea, or spicy food. Examples of food that goes well with the pumpkin beer are turkey, stuffing, sweet potatoes, cranberry sauce, and lots more.
Moreover, the smooth carbonation helps wash the palate so the food taste will not overpower your tongue. Because of the beer's full body, do not consume too much food when drinking this beer. Doing that will make you feel full fast.
Ingredients
The brewers of his unique beer selected the fines and suitable ingredients to give you a crisp and refreshing taste. Dogfish head brewery manufactures Pumpkin Ale with pumpkin meat, organic brown sugar, and spices. The basic ingredients in the beer are as follows.
Water makes up the bulk of the liquid medium of any beer. It is an essential ingredient, ensuring that all ingredients can be dissolved. The water used has to undergo a series of filtration processes as only pure water can give the beer consistency and premium quality.
Yeast is the main ingredient in the brewing of pumpkin beer aside from pumpkin. The yeast also adds to the flavor of the beer.
The hops are added to transmit the beer a bitter taste and add to the aroma. No one who actually enjoys pumpkin ales wants them sweet! So, the hops help create a blend between the sweet malty flavor and the bitterness.
Nutrition Fact
Pumpkin ale abv is about 7.0. percent. A 12 fl. oz bottle of Pumpkin Ale contains 11 milligrams of sodium, 230 calories, 21 grams of carbohydrate, 0 grams of protein, and 0 grams of fat.
This beer is not recommended for people who are on a diet because of its high-calorie count. However, the low presence of fat, carbohydrate, and protein makes it a healthier option than many similar beers on the market. What's more, it has a relatively high amount of nutrients, so if you need a pumpkin diet beer, this beer is for you.
The alcohol content is a little high. If you have a low resistance to alcohol, it is advisable to watch the amount you consume.
History
Punkin Ale's history began in 1994 when it took first place in a baking competition at the World Championship Punkin Chunkin. This storied autumn festival in coastal Delaware ran intermittently from 1986 to 2016, attracting visitors worldwide to see who could throw a pumpkin the farthest.
Calagione entered the competition 23 years ago using his first-ever batch of the ale. The batch was prepared (and is still produced today) with actual pumpkin meat, brown sugar, and freshly crushed spices.
The Off-Centered Art Series label and artwork for Punkin Ale were created by Dogfish, who is incredibly passionate about all things artistic and creative. Dogfish collaborated with a longtime friend and highly esteemed designer, Marq Spusta. The packaging shows Spusta's interpretation of a mystically haunted Halloween woodland filled with frightful characters.
Conclusion
Dogfish Head Punkin Ale has proven itself as one of the very best pumpkin and yam ales in the United States. We have extensively talked about the beer, and below are some key points you should note before buying it.
The beer has a deep golden amber color with an excellent white head.
The beer has a decent amount of lacing that sticks to the glass's side.
Pumpkin beer is best served with turkey, stuffing, sweet potatoes, Cranberry sauce, and lots more.
Pumpkin Ale is quite heavy, having an alcohol content of 7 percent, 230 calories, and 21 grams of carbohydrates.
Despite its high-calorie count, there is no fat in this beer.
If you want to try out unique, top-notch beers, you should add Pumpkin Ale to your list. You can purchase the beer in liquor stores or order them online.