Dominga Mimosa Sour Review: A Fruity Beer That Compels
Dominga Mimosa Sour is a unique fruited kettle sour that will keep you coming back after the first sip. Loved for its interesting and refreshing taste of citrus and calamansi fruits, the beer is one of the most popular choices from New Belgium.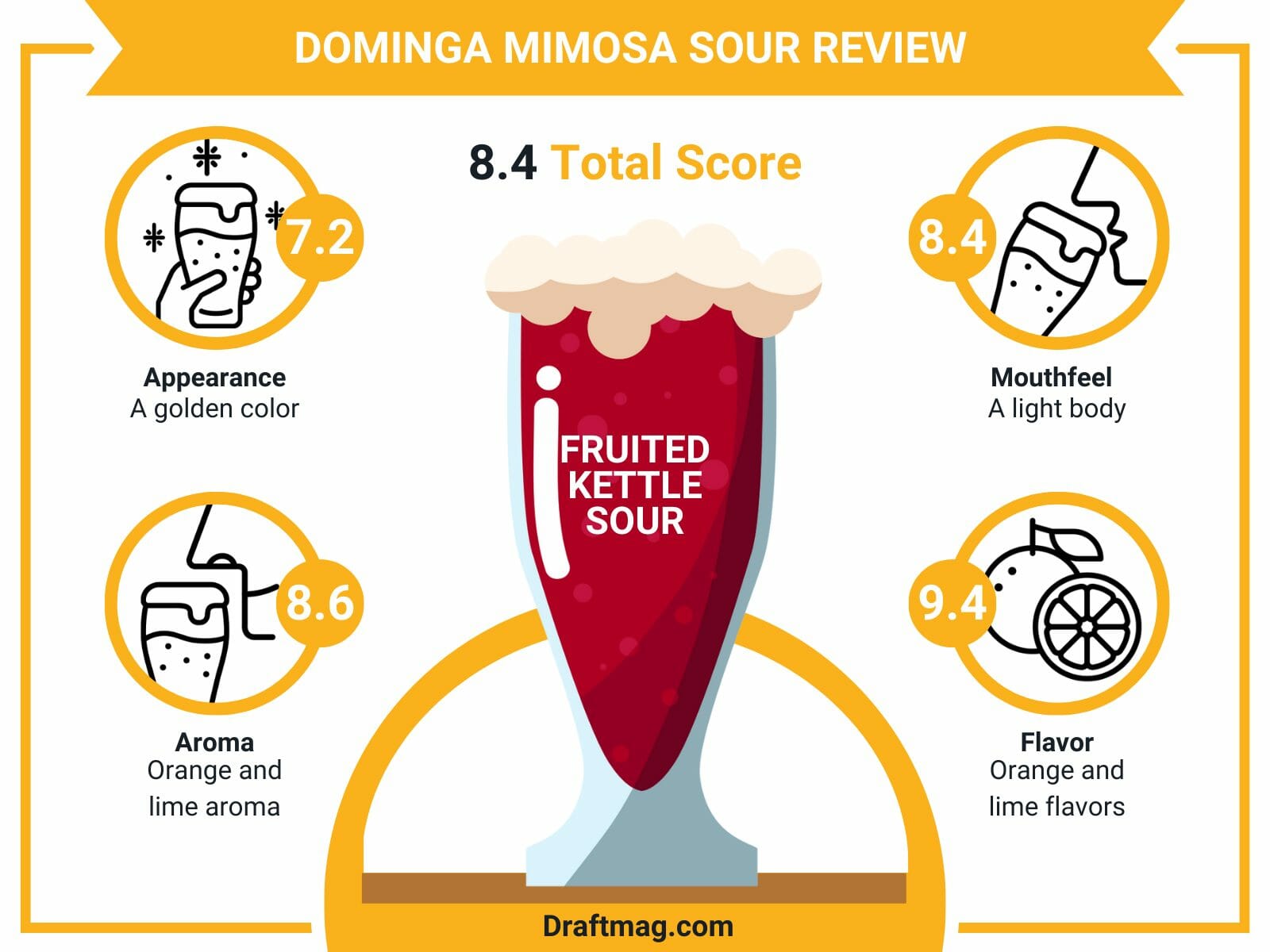 The ale is the ideal choice for sipping on a hot summer afternoon, as it is even inspired by bottomless sips in the sun. If you're wondering whether you should give this beer a try, our detailed review has all you need to know. 
Dominga Mimosa Sour Stats
Country 

United States

Brand

New

Belgium Brewing

Co

Style

Fruited Kettle Sour 

Taste 

Citrus, fruity

Body

Light-to-medium Body

ABV

6 percent

Flavors & Aromas

Citrus, tart, sour, orange, grapefruit, mango, 

Serving Temperature

50-55 degrees Fahrenheit
Tasting Notes
Dominga Mimosa Sour Tasting Profile
Dominga Mimosa Sour Review 
Dominga sour beer is a fruited kettle sour ale made by New Belgium Brewing Company. The beer is a citrusy-sweet sour beer that mostly has flavors of Mexican Orange, Tangerine, and Calamansi before being blended with another sour. It is a unique brew with a lot of character and flavor and a 6 percent alcohol content.
The beer has a hazy golden appearance and a light body that leans towards medium. It shines with flavors and aromas of citrus, orange, grapefruit, mango and a tart, sour and sweetish taste. Despite this, it stays true to the beer flavor with a basic malt base. 
It's best to serve the sour beer in a tulip glass or Belgian glass. The glass has a short stem that fits great in between your fingers and makes it easy to swirl the beer, enjoying the aroma of beer. Serve it at temperatures from 50 to 55 degrees, and garnish it with a slim orange slice. 
– Appearance 
The ale has a golden appearance that pours into your glass, with a hazy look that you can barely see through. The golden color leans towards yellow, and you might notice hints of orange if you hold it to the light. It has an attractive and bright color that stays true to its style.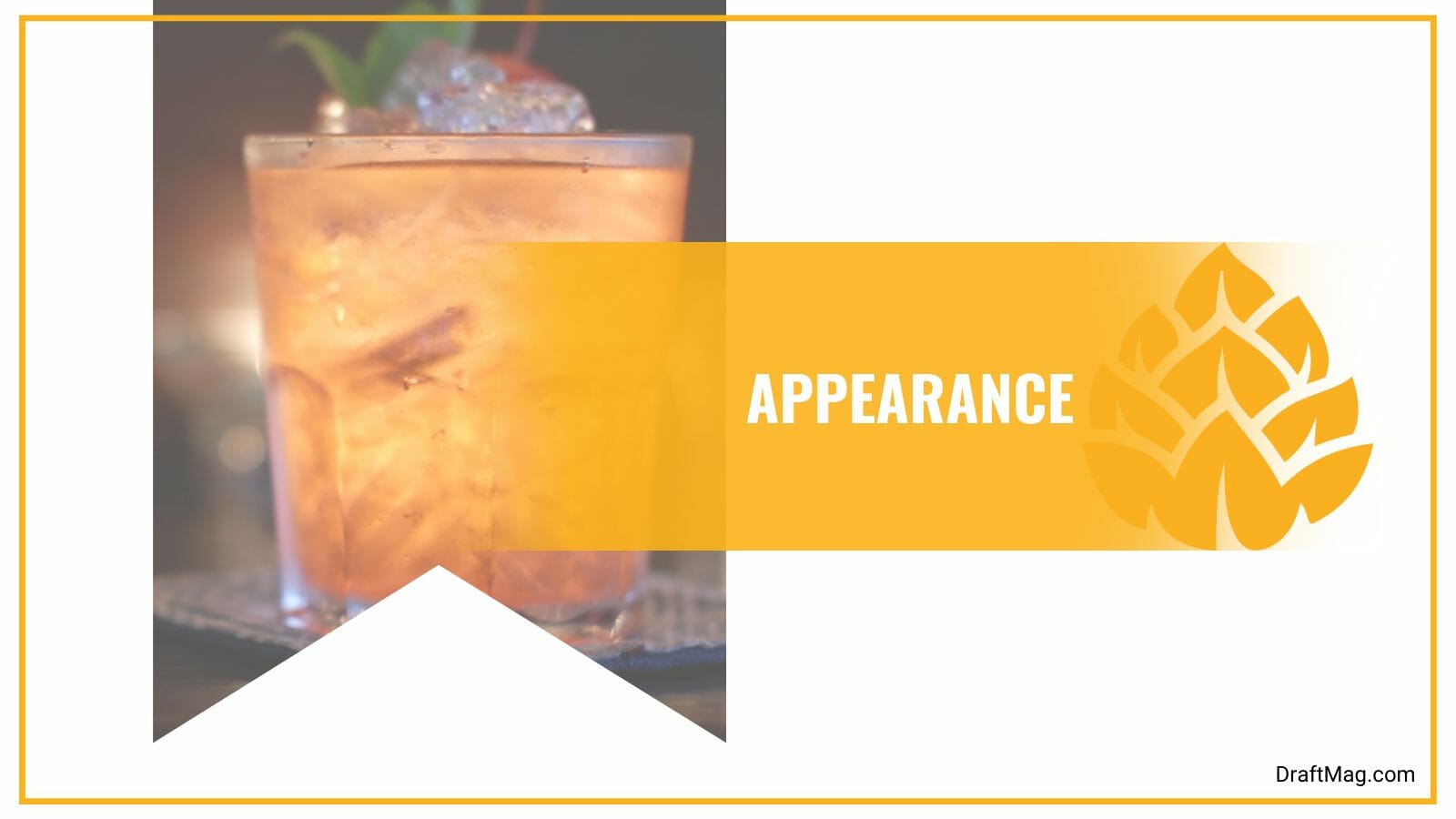 Above the golden body is a frothy white head, which is quite short. The foamy head holds up nicely despite the beer style, and as it dissipates, it leaves a nice streak of lacing against the inside of your glass. There is some carbonation, but it is not too evident because of the haziness. 
– Aroma 
The sour beer stands out with an interesting aroma that adds character to the vibrant beer. It combines a tart aroma of orange and lime that will hit you first when you pour the beer. The fruity aroma seems to be enveloped by some candy-like sweetness.
Along with the citrus zest, fresh oranges, and lemon, the beer smells very fresh and zesty. There are some hints of cream and a subtle malty scent hiding in the background. It might remind you a bit of a cocktail with citrusy aromas.
– Mouthfeel 
The Dominga sour offers a light body on your tongue, but because of some graininess, it is leaning close to medium. The feel is smooth, clean, and crisp, with a thin body that goes down easy. With this drinkability, you can enjoy having this beer on the hottest days.
Along with the thirst-quenching drinking, the sour brew is lightly zesty, so you'll feel some tartness on your tongue. It is also dry on the finish and leaves a tangy citrus aftertaste that will fade into oaky bitterness. The feel is a bit grainy, and there is a lot of carbonation. 
– Flavor 
When you taste the sour beer, you will see that it does not offer much difference from the aroma. It follows it closely, and the tartness is milder than you'd expect for a sour beer. The sourness is more prominent, along with some sweetish citrus and fruitiness from the lime and orange. The tart and sour flavors are rounded up by some malt and soft cinnamon.
Towards the end, the beer offers a bit of acidity in the flavor, and it finishes mostly dry. There is a bit of residual sugar that tastes like orange juice, but this quickly leaves your tongue to allow for the dry finish and bitter aftertaste.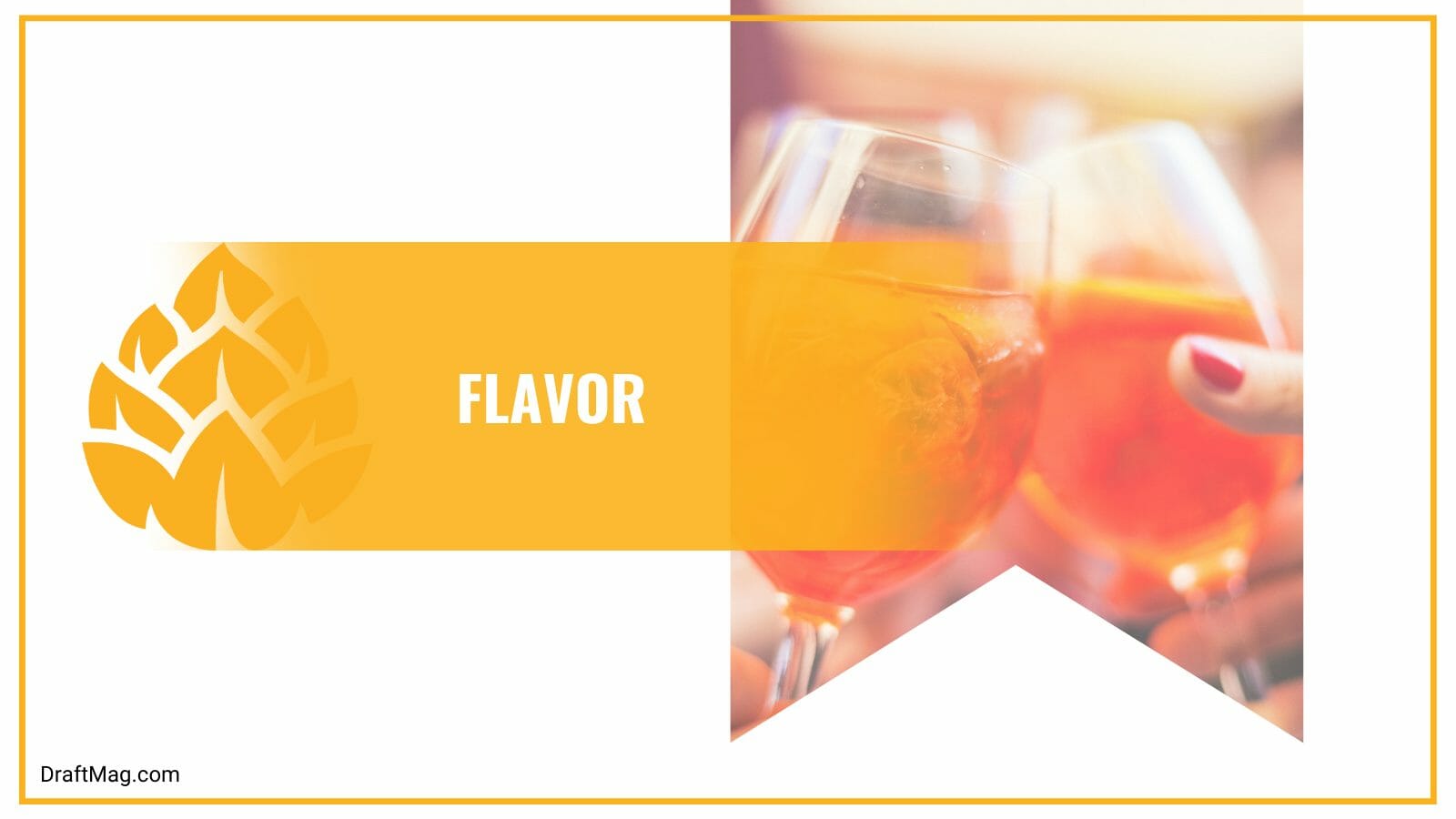 The flavor of the beer starts with a quick burst of citrus, but this is quickly overcome by some sour kettle tastes. Mid-palate, you will notice a grainy beer taste that follows until the finish, seeming to remind you that you're drinking a beer.
Along with the balance of sweet and sour citrus, there's some earthy woodiness obtained from the mix in the brewing. There is a subtle hint of vanilla and a funky, tangy, and creamy side. It has a hint of lime squeeze and a bit of alcohol too. 
– Food Pairings
The ale pairs well with a wide range of foods despite its sour and tart flavor. You can't go wrong with spicy food that complements the tart flavor of the beer, so try out Indian curries, chili, or fajitas. 
You can also enjoy the beer with fatty cuts of beef, as the richness of the beef will pair well with the light body. Consider having a ribeye, T-Bone steaks, or filet mignon with your beer, and you can add a lot of spices to make it match the tartness. 
Another good pairing that you can enjoy with the beer is seafood like mussels. Top it up with fresh lemon and brown butter to match the sour beer. Other good seafood pairings are oysters and grilled catfish. Furthermore, egg dishes like an omelet with creamy sauces and cheeses will pair great with the beer. 
If you enjoy having cheese with your beer, you should have the Mimosa ale with tangy and stinky cheeses like goat cheese and bleu cheese. Enjoy this with some fresh fruits like apples and pineapples. Fruity desserts are a great pairing for the beer, so try out blood orange crepes or panna cotta with lemon.
Ingredients 
The Dominga sour ale is a foeder beer, a sour brew, and a wheat beer, making it a unique beer for you to enjoy. It is made with the standard ingredients for beer, including malts, hops, yeast, and water, although the hops are prominent in character.
It is made with juice from Calamansi fruit and Mexican and Clementine oranges. These are blended into the light wheat ale. Furthermore, the beer is blended with a wood-aged golden sour that offers an earthy and woody flavor on the palate. There is also some tangerine notes in the beer. 
Nutrition Facts
The sour beer features an alcohol content of 6 percent, which is decent for the beer style. It has a slight boozy taste towards the end, but it is well-masked. The exact IBU of the beer is unknown, but there is barely any bitterness except towards the end.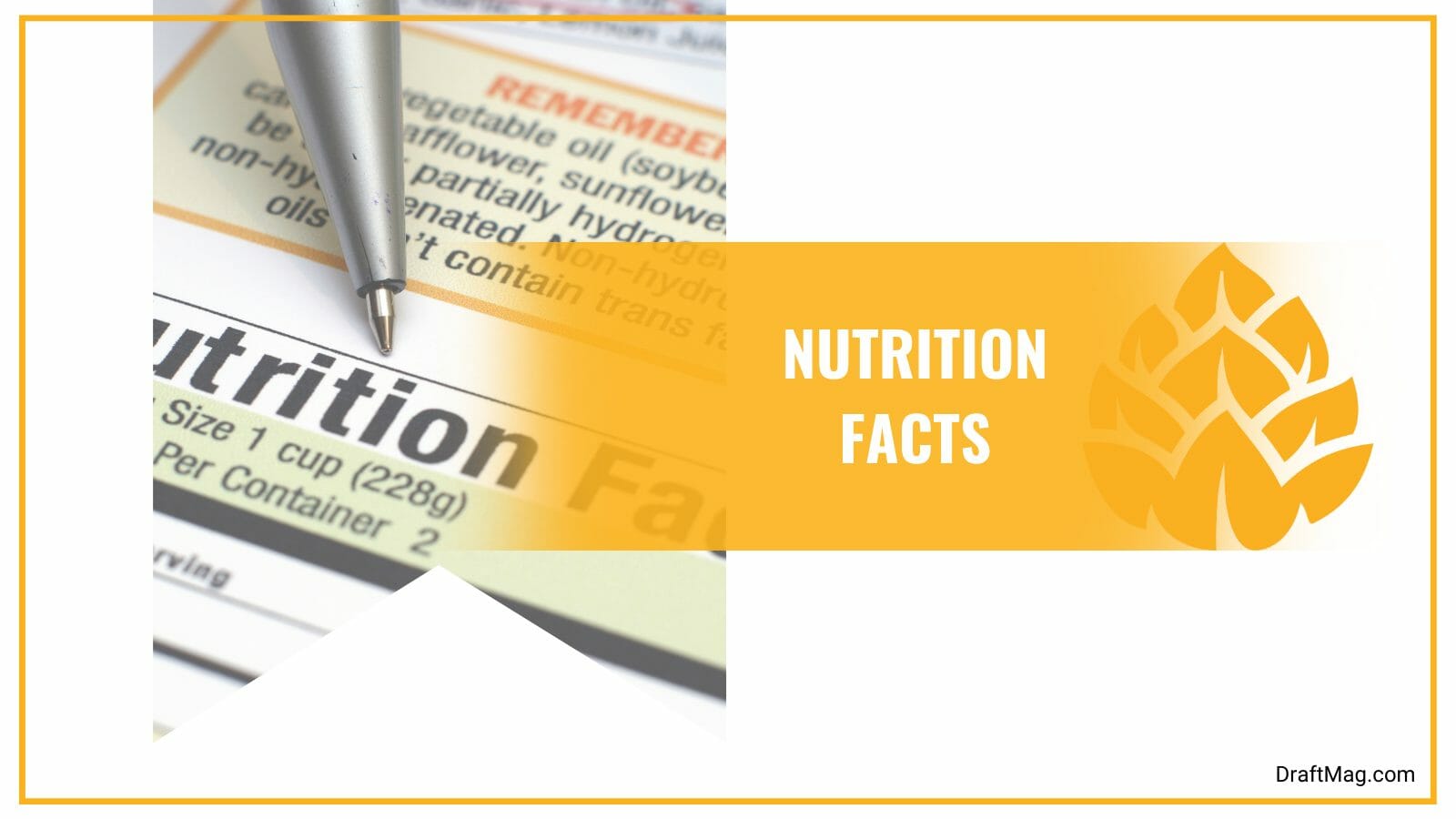 It has 170 calories in every 12 ounces of beer. It also features 11 grams of carbohydrates, 2 percent of calcium, 2 grams of protein, 170 mg of potassium, and 5 mg of sodium. It's important to consider this when calculating your daily dietary requirements. It is not ideal for those on a keto diet. 
History 
Dominga sour beer is brewed by New Belgium Brewing Company, which is based in the United States. The beer was founded by Lauren Limbach, who got a new foeder while sipping mimosas. She named the foeder Dominga, and this was used to make the Dominga series from the brewery.
When the Dominga beer was released, it became very popular among sour beer fans. Other options in the series include Paloma Sour and Goddess of Brunch. Due to their popularity, the beers have become part of the year-round line-up at the brewery, so you can get them at any time. 
Conclusion
The beer is a fruity and sweetish beer that will wake up your tastebuds with every sip you take. Here's a rundown of our beer review below:
Dominga Mimosa Sour is a fruited kettle sour with a 6 percent alcohol content, made by New Belgium.
There are flavors and aromas of citrus, orange, grapefruit, mango, and some graininess, with a tart and sour taste.
It is made with Calamansi fruit and Mexican and Clementine oranges.
The beer is best served in a tulip glass at 50 degrees Fahrenheit with an orange slice.
It is best paired with spicy food, fatty cuts of beef, seafood, egg dishes, stinky cheeses, and fruity desserts.
If you're curious about the New Belgium Dominga Mimosa beer, you can purchase it online, in person, or get it right from the tap at the brewery.