Leffe Brune Review: The Ultimate Guide to This Belgian Dark Ale
Leffe Brune is one of the acquired brands InBev Belgium. The beer is a must-try and an excellent choice for all beer lovers. And to give you a heads up on what to expect from this beer, this detailed review will discuss its flavor profile, appearance, aroma, and nutrition facts.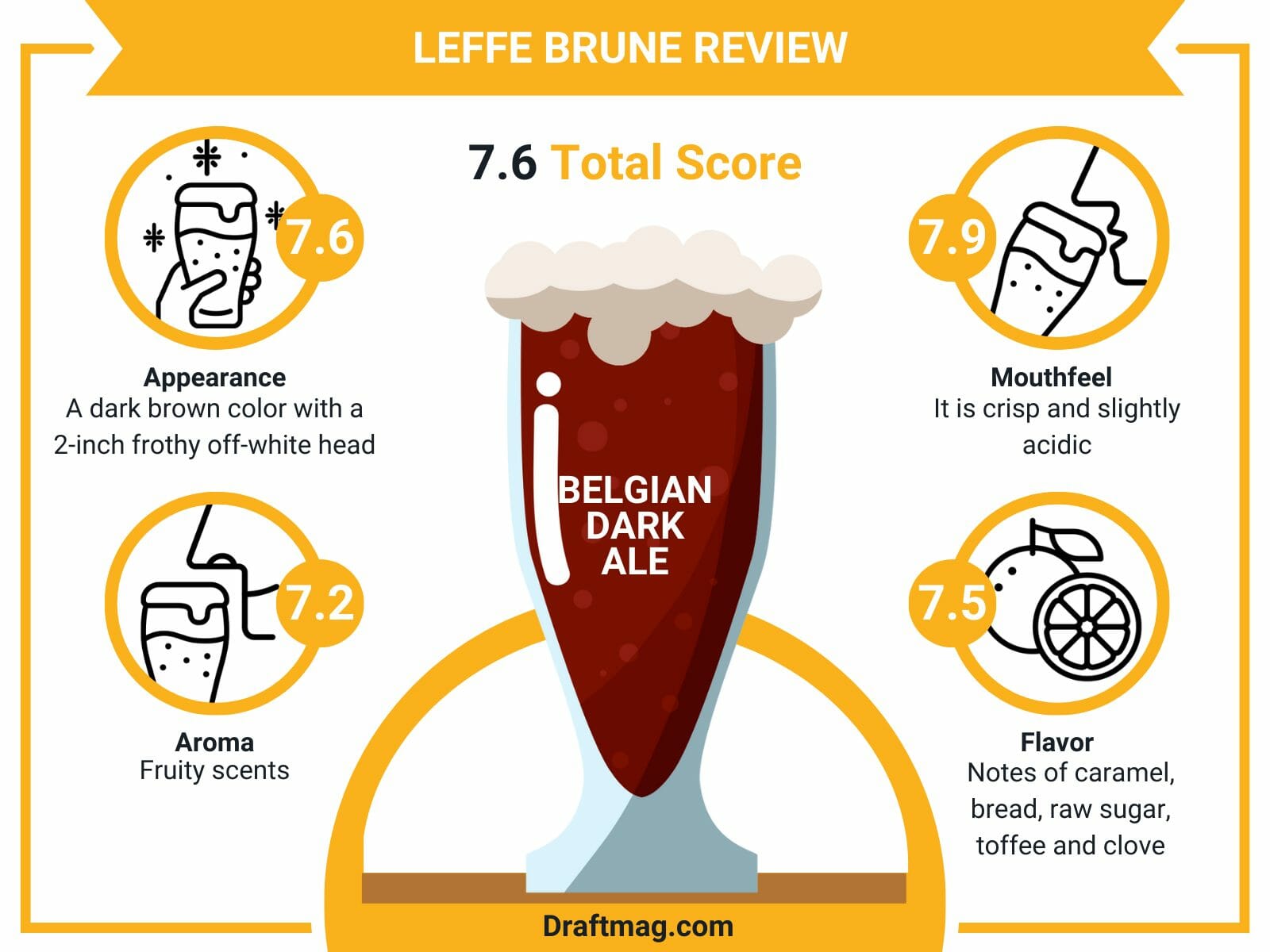 Also, we'll share a brief history of the beer and exciting foods you can pair with it.
Leffe Brune Stats
| | |
| --- | --- |
| Country | Belgium |
| Brand | InBev Belgium |
| Style | Belgian Dark Ale |
| Taste | Notes of caramel, raisin, and clove aftertaste |
| Body | Medium-light |
| ABV | 6.5 percent alcohol content |
| Flavors & Aromas | Roasted malt, clover, sweet caramel |
| Serving Temperature | 40-45 degrees Fahrenheit |
Tasting Notes
Leffe Brune Tasting Profile
Leffe Brune Review
While the table above gives an overview of the beer, let's further explain its organoleptic characteristics and food pairings.
– Appearance
The Leffe Brune pours a dark brown color with a 2-inch frothy off-white head with excellent retention.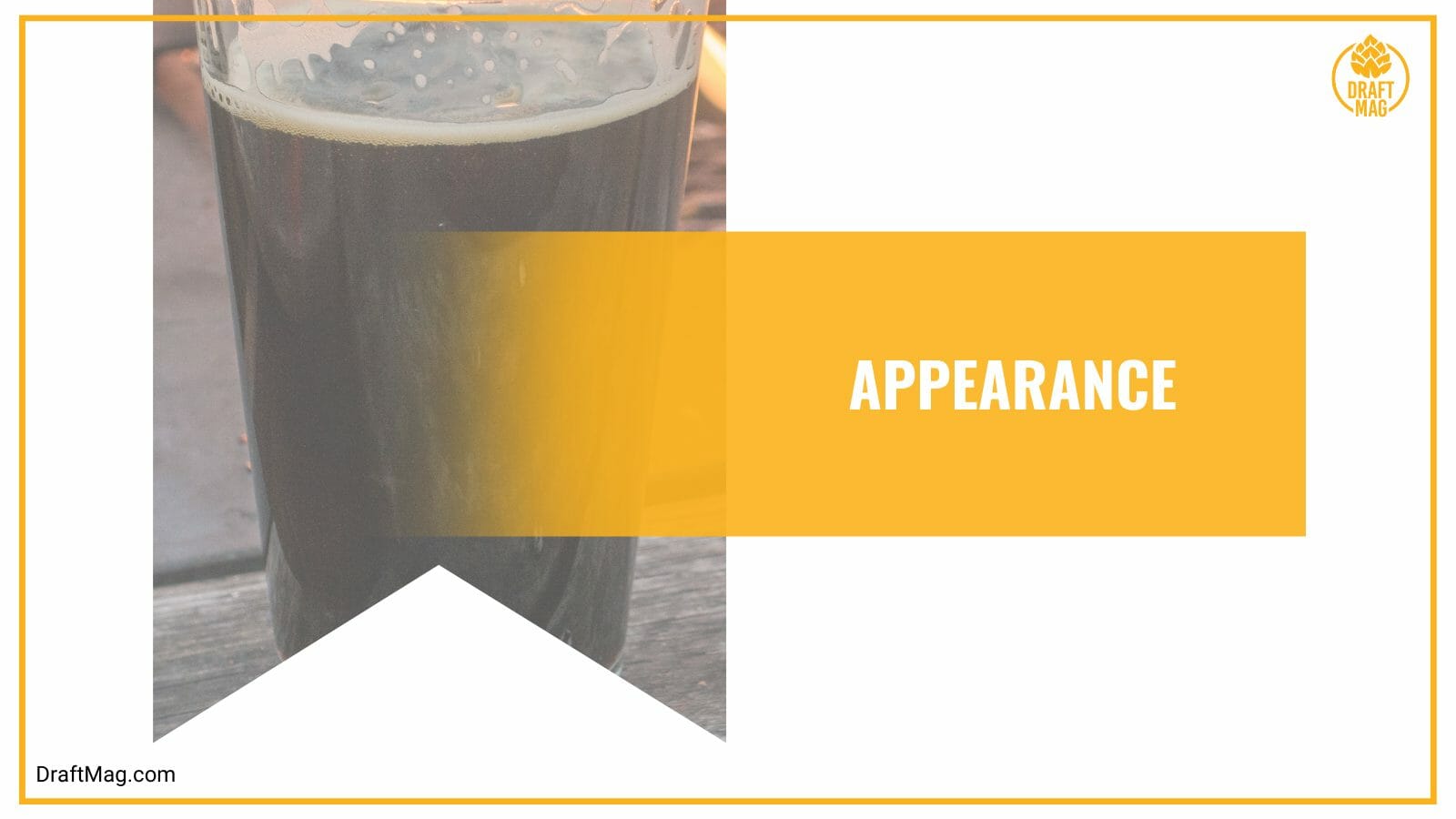 This beer also has good carbonation, so you notice rising bubbles sticking to the beer glass.
– Aroma
This beer has a bready aroma with caramel and malt scents. The smell also picks up fruity scents like banana, clove, and apple, with notes of toffee and chocolate on the back end.
– Mouthfeel
The beer has a medium-light body with average carbonation. On the palate, it is crisp and slightly acidic with a syrupy feel as it rolls off the tongue. Also, you'll feel a bit of alcoholic heat due to its ABV. On the back end is a sweet and fruity aftertaste with a dry finish.
– Flavor
The flavor follows the aroma and is similar to that of the Leffe blonde but with darker malt. Also, there are notes of caramel, bread, raw sugar, toffee, and clove with slight bitterness midway. In addition, you'll sense mild alcohol warmth that lingers through the finish.
– Food Pairings
Leffe Brune is a Belgian dark ale that is best paired with thick steak, barbeque, meat stews, and smoked rib roast. Also, the beer's bready notes pair well with cheeses like cheddar, Roquefort, Stilton, Gorgonzola, and Maytag Blue. Another mouth-watering combination is with Paprika Salami, as the heat compliments the beer's sweetness. And the best desserts are milk chocolate, butter truffles, almond sweets, chocolate pudding, and other creamy desserts.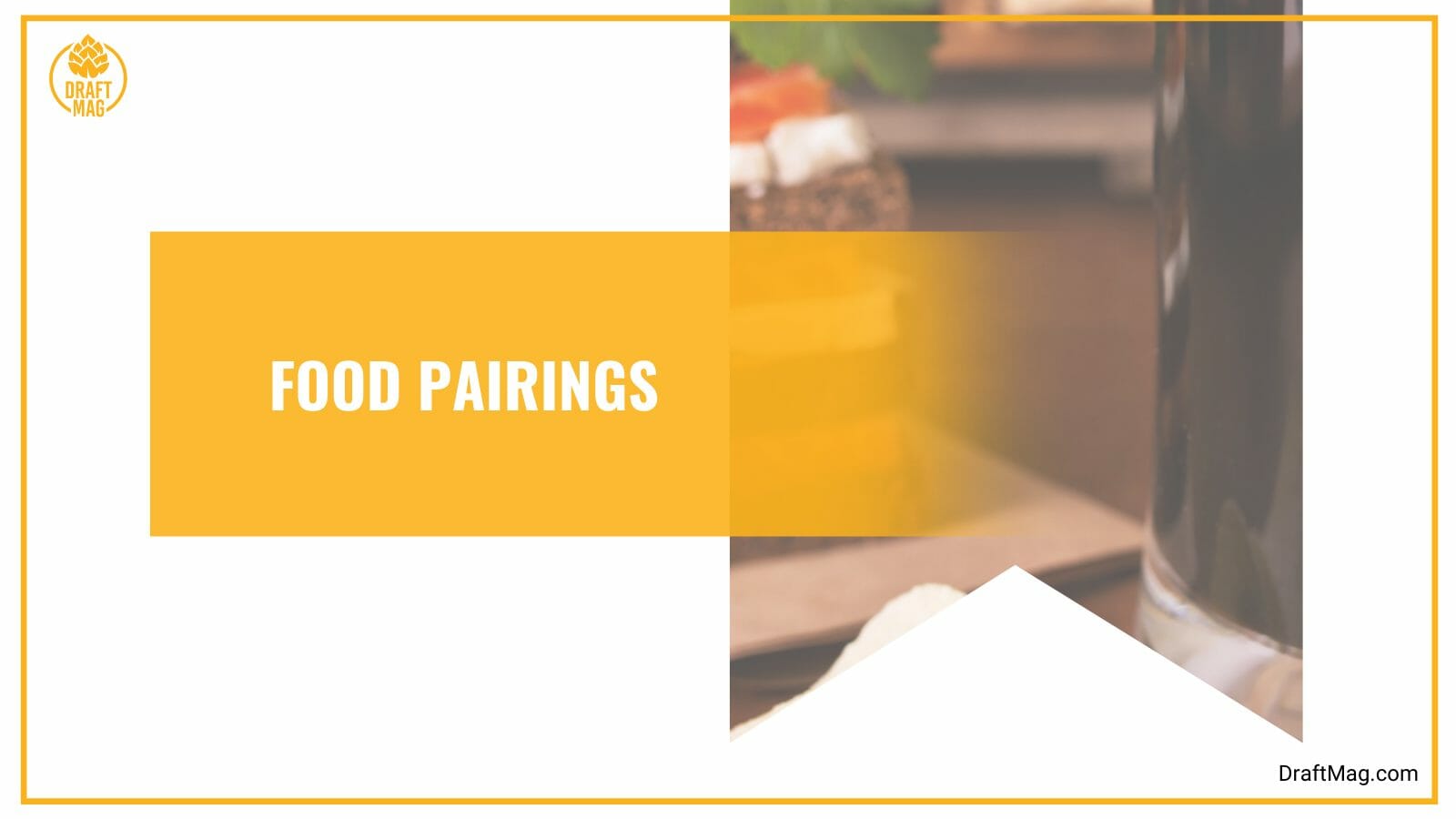 Interestingly, the beer's sweetness contrasts with the salty sauce served with pasta dishes, and caramel notes create an excellent connection with lasagna. In addition, beer makes a perfect pair with beefy meals like the Hearty Goulash. It is also unique with chicken, turkey, fresh salads, fried fish, steamed mussels, and mac and cheese.
Furthermore, you can pair this beer with pre-dinner snacks like canapes and sweet-sour dishes. We recommend Leffe Brune with hummus, crème brûlée, steamed mackerel, herring, seafood, and cassoulet. And to appreciate this Belgian ale better, ensure you serve between 40-45 degrees Fahrenheit. Note that the food pairings are not limited to what we have in this review, so you would do well to explore dishes.
Ingredients
The primary Leffe Brune ingredients include:
Roasted malt
Hops
Corn
Yeast
Water
You can mimic this Belgian ale at home with the ingredients above and a few modifications.
Nutrition Facts
A 330 milliliter bottle of the Leffe Brune dark ale contains 202 calories with 95 percent carb and 5 percent protein. This amounts to about 18 grams of carbohydrates and 1 gram of protein. The value shows that regular beer consumption can result in drastic weight gain. Therefore, it is not fit for someone on a keto diet.
Also, the beer has an IBU of 20, implying that it is barely bitter, especially since it is laced with fruity zest. Leffe Brune alcohol percentage is 6.5, which is in the mid-range. Therefore, don't get carried away with beer's flavor; drink within your limit. Also, note that excess beer intake can contribute to weight gain and is generally unhealthy.
History
Leffe Brune goes far back to the middle ages when the Premonstratensian monks of the 12th century encouraged people to drink beer instead of contaminated water. As a result, of the various plagues in that period, the monks made brown ale for several visiting pilgrims in the Abbey. Since the brewer sterilized the water used in making beer by boiling, beer was safer than ordinary water.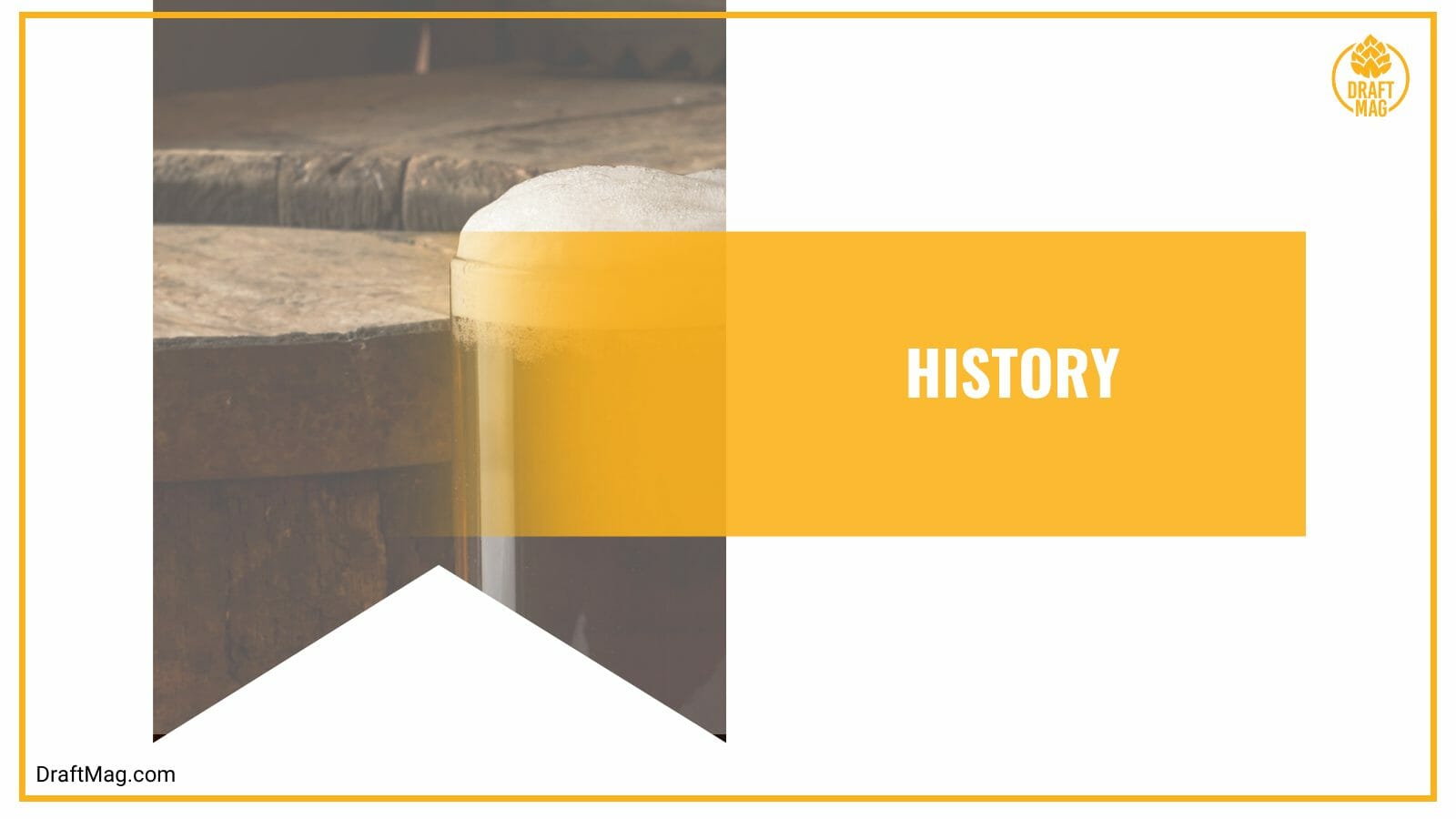 In 1952, Abbot Nys licensed the production to Albert Lootvoet, a brewer and this birthed Leffe Brune. Leffe Brune was brewed as Dubbel dark abbey beer, with Dubbel translating to double in English. This means it was made with double malt quantity, and the roasted malt used forms the base flavor of the beer and is responsible for the slightly sweet caramel taste. Other brands include Leffe Blonde, Royale Mount Hood, Triple, Ruby, Royale CAscade IPA, and many more.
After many years, AB InBev acquired the Leffe brand and brewed their beers at the Leuven-based brewery in Belgium. You can get Leffe Brune 750 ml and 350 ml bottles and 500 ml cans. The beer is available online, in restaurants, bars, and stores across Belgium and the United States.
Frequently Asked Questions
– How Is Leffe Brune Pronounced?
The Leffe Brune pronunciation is either in French or Dutch. The Abbey of Leffe was located in the french-speaking area of Belgium and had a french pronunciation of /lef/. And then Dutch pronunciation from the AB-Inbev headquarters in Flanders, Belgium, is /lef-ah/.
– Is Leffe Beer Healthy?
Yes, Leffe beer is healthy. Leffe Brune and Blonde were evaluated in European laboratories, and from the research findings, both brews were found to have suitable antioxidant activities helping to mop out free radicals. You don't have to be guilty when drinking this!
Conclusion
After discussing this old dark ale, understanding its food pairings and dissecting nutritional facts as well as its history, here are some essential things to note:
The Leffe Brune has 6.5 percent ABV and 20 IBU.
The beer pours with a two-inch off-white head that lingers and laces the glass.
The aroma and taste of this dark-colored ale have a bready note with a fruity balance.
The Leffe Brune ale is a medium-light-bodied beer with good carbonation.
Finally, remember to serve at the temperature suggested in the table above for a pleasant experience.