Big Little Thing IPA Review: An Easy Drinking Imperial IPA
Big Little Thing IPA is the ideal choice for IPA lovers who want extra hops and alcohol for an even more exciting night. Despite the high ABV, the triple IPA drinks really easily and offers a pleasant mouthfeel that is crisp.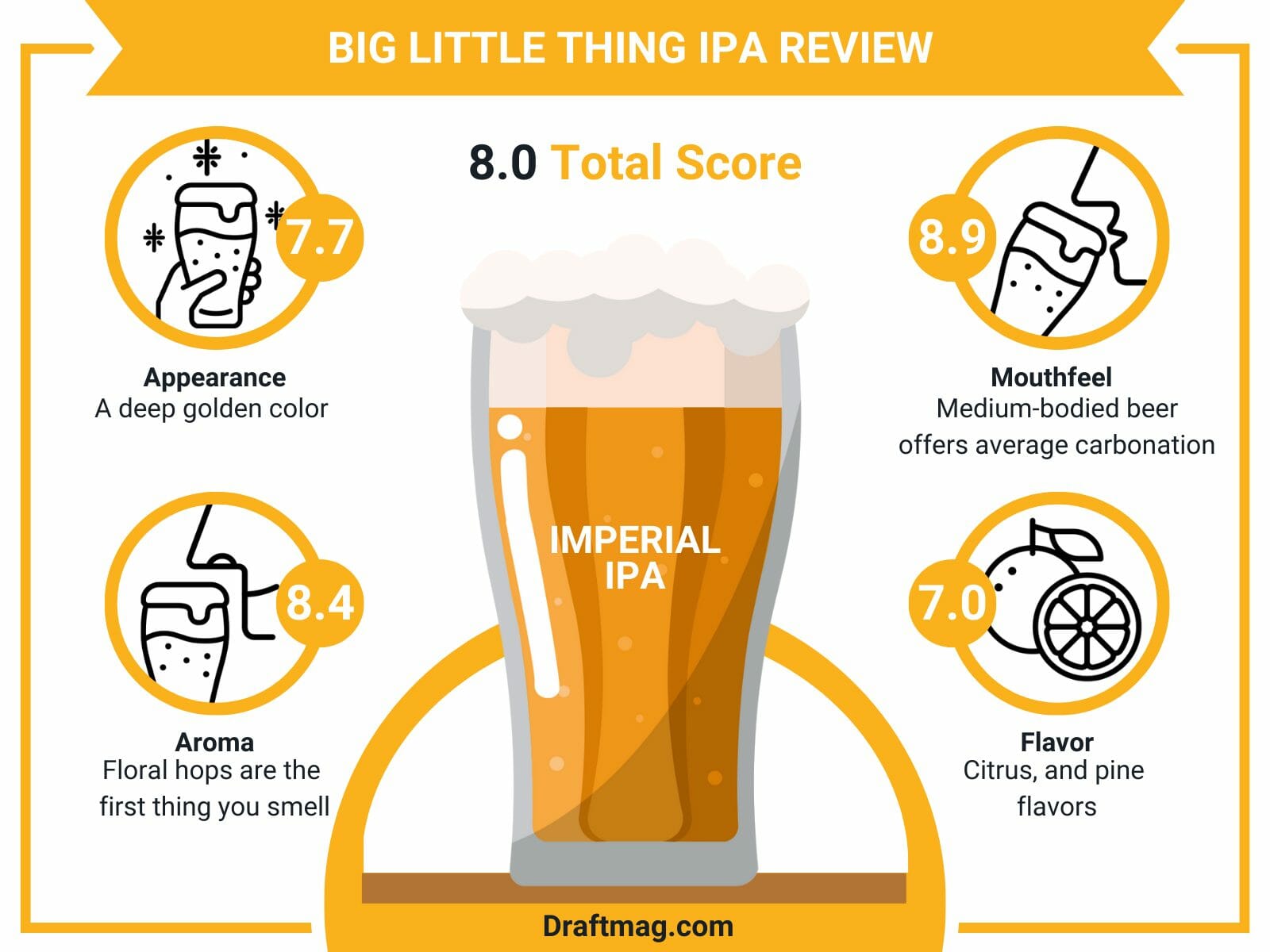 With a good balance between malty sweetness and hoppy bitterness, Sierra Nevada does a brilliant job of delivering a pleasant surprise to your tastebuds. To know more about this beer, continue reading our detailed review.
Big Little Thing IPA Stats
| | |
| --- | --- |
| Country  | United States |
| Brand | Sierra Nevada Brewing Company |
| Style | Imperial IPA |
| Taste  | Floral, fruity |
| Body | Medium Body |
| ABV | 9 percent |
| Flavors & Aromas | Floral, fruity, malty, bready, citrus, pine, |
| Serving Temperature | 45 – 50 degrees Fahrenheit |
Tasting Notes
Big Little Thing IPA Tasting Profile
Big Little Thing IPA Review
Big Little Thing is an imperial IPA with a 9 percent alcohol content, brewed by Sierra Nevada. The pleasant hazy IPA is an excellent example of the style, offering a full malt level and tropical fruit flavors from the hops. The beer pours a deep gold body with a medium mouthfeel.
There are aromas of floral and fruity hops, bready malts, pine, and citrus. Pour the beer into a snifter, which is designed with a bulbous body and a short stem. The stem allows you to swirl your beer and enjoy its aroma. Serve it at temperatures from 45 to 50 degrees Fahrenheit, with citrus garnishing like an orange slice on the rim.
– Appearance
The IPA pours a deep golden color into your snifter, with light hues of reddish amber.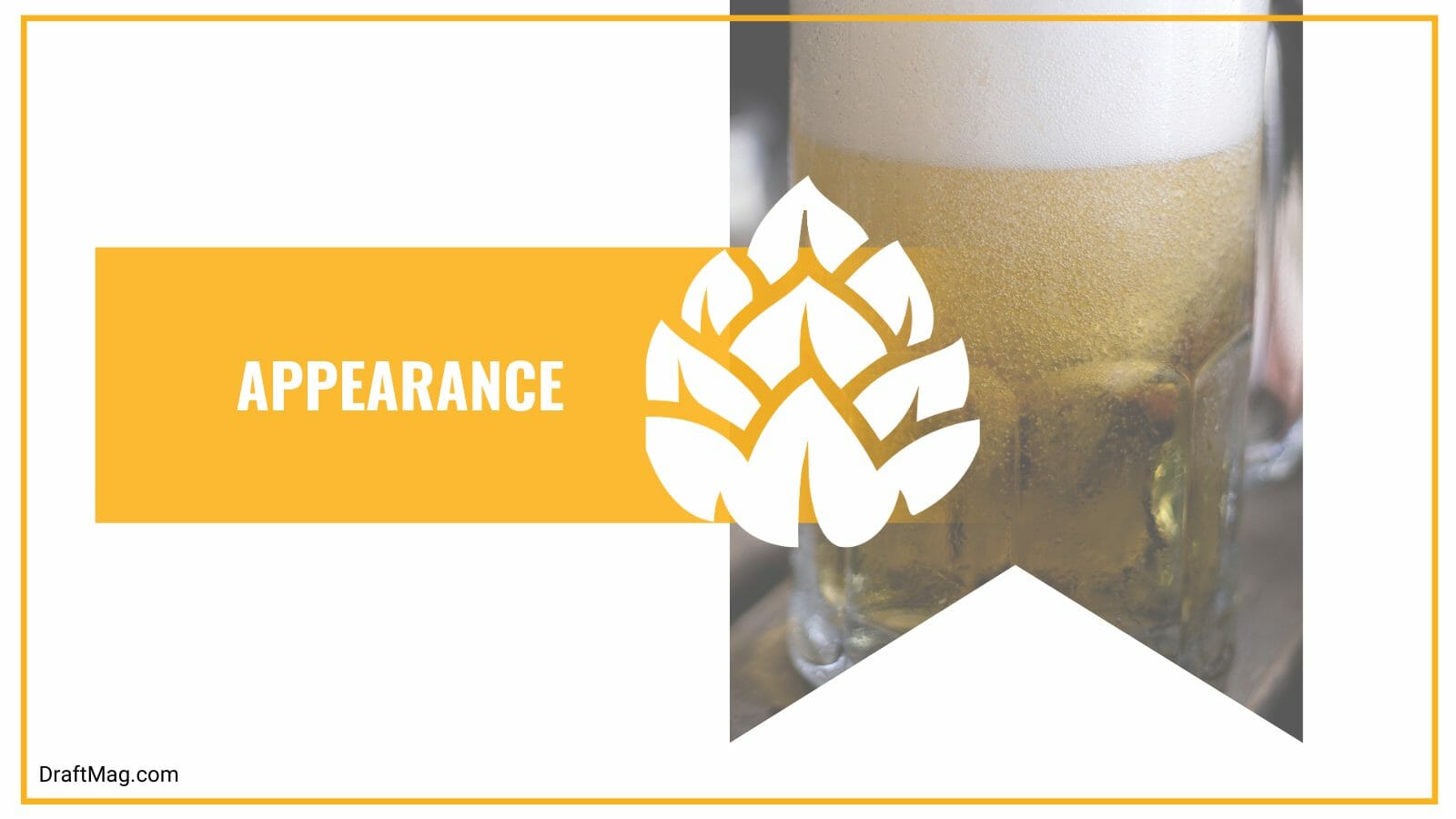 It has a crystal clear appearance and a soapy white head on top. The off-white head has decent retention and leaves streaks of lacing against the glass as the levels drop.
– Aroma
On the nose, the IPA smells like a balance of bready malts and floral hops. The floral hops are the first thing you smell, with the bread and biscuits following very quickly. There are also slight hints of citrus and pine in the aroma. The beer has a light aroma that sets the stage for the big and bold flavor.
– Mouthfeel
The medium-bodied beer offers average carbonation that presents itself in slight fizziness against your palate.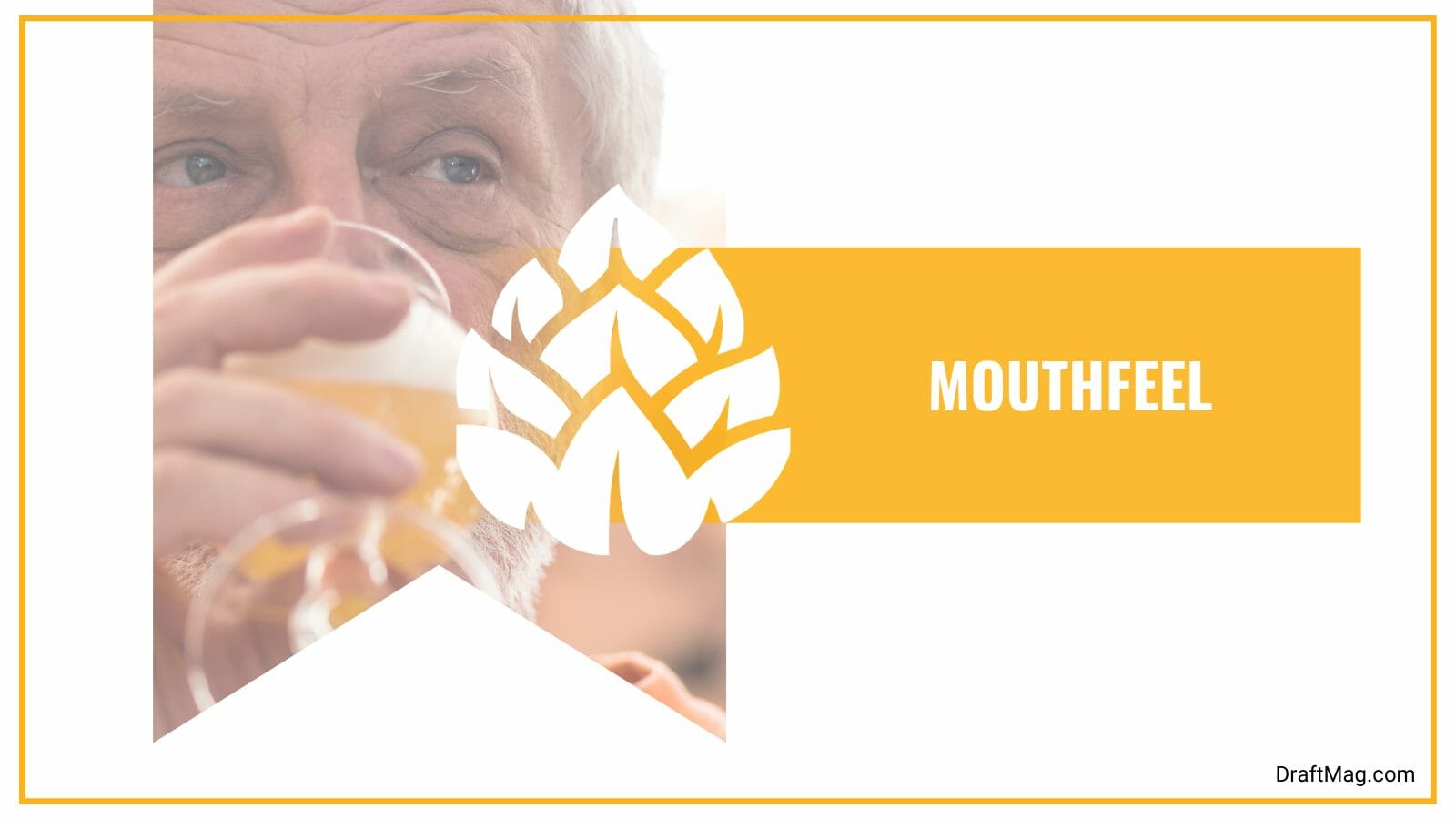 It feels smooth and syrupy without being too cloying. The beer has a dry, resinous finish after you swallow, with a pleasant aftertaste.
– Flavor
As for the flavor of the Big Little Thing ale, you can expect a good balance of fruity hops and bready malts. Upfront, you will enjoy the flavors of floral hops, citrus, and pine, which caress the tongue in the beginning. Mid-palate, you can expect the malts to shine through in flavors of biscuits and malts.
The beer finishes with some citrus peel bitterness, but it doesn't linger. There are hints of pineapple, orange, grapefruit, tangerine, mango, and earthy hops in the flavor. The malts also offer some caramel sweetness along with toasted biscuits, and the tropical hops linger into the aftertaste.
– Food Pairings
When drinking this triple IPA, you should consider foods with similarly strong tastes. Try out an aromatic Thai green curry, a mild curry, other Indian food, and Mexican dishes like tacos heaped with a lot of spice. The beer goes great with spicy foods in general, whether it's burgers with barbecue sauce or spicy noodles and pasta.
Grilled and fatty food will go great with the IPA, as the high ABV and bitterness will cleanse your palate nicely. Try out grilled ribs, chicken, or pork chops. Crunchy dishes will also complement the softness of the medium mouthfeel, so try out fried chicken, a crisp potato salad, French fries, or corn on the cob.
For your cheese pairing, consider pairing the beer with blue cheese and sharp cheddar. These strong cheeses offer a lot of fatty coating that can be washed away by the IPA. As for dessert, enjoy the beer with an orange almond cake or other fruity desserts.
Ingredients
The Big Little Thing ale is made with malts, hops, ale yeast, and water. The malts are pale malt, wheat malt, and Munich malt, which offer a bold body and sweetness in caramel and bread flavors. As for the hops, they include Magnum, Chinook, Columbus, Mosaic, Crystal, Idaho 7, and Cascade.
Nutrition Facts
The beer has an ABV of 9 percent, and although it is well-masked, it still shines through into the flavor and aroma of the beer. As for the IBU, it is set at 45, as the hops offer an average level despite being an imperial ale. The bitterness is mellowed down by the malty sweetness and caramel flavor.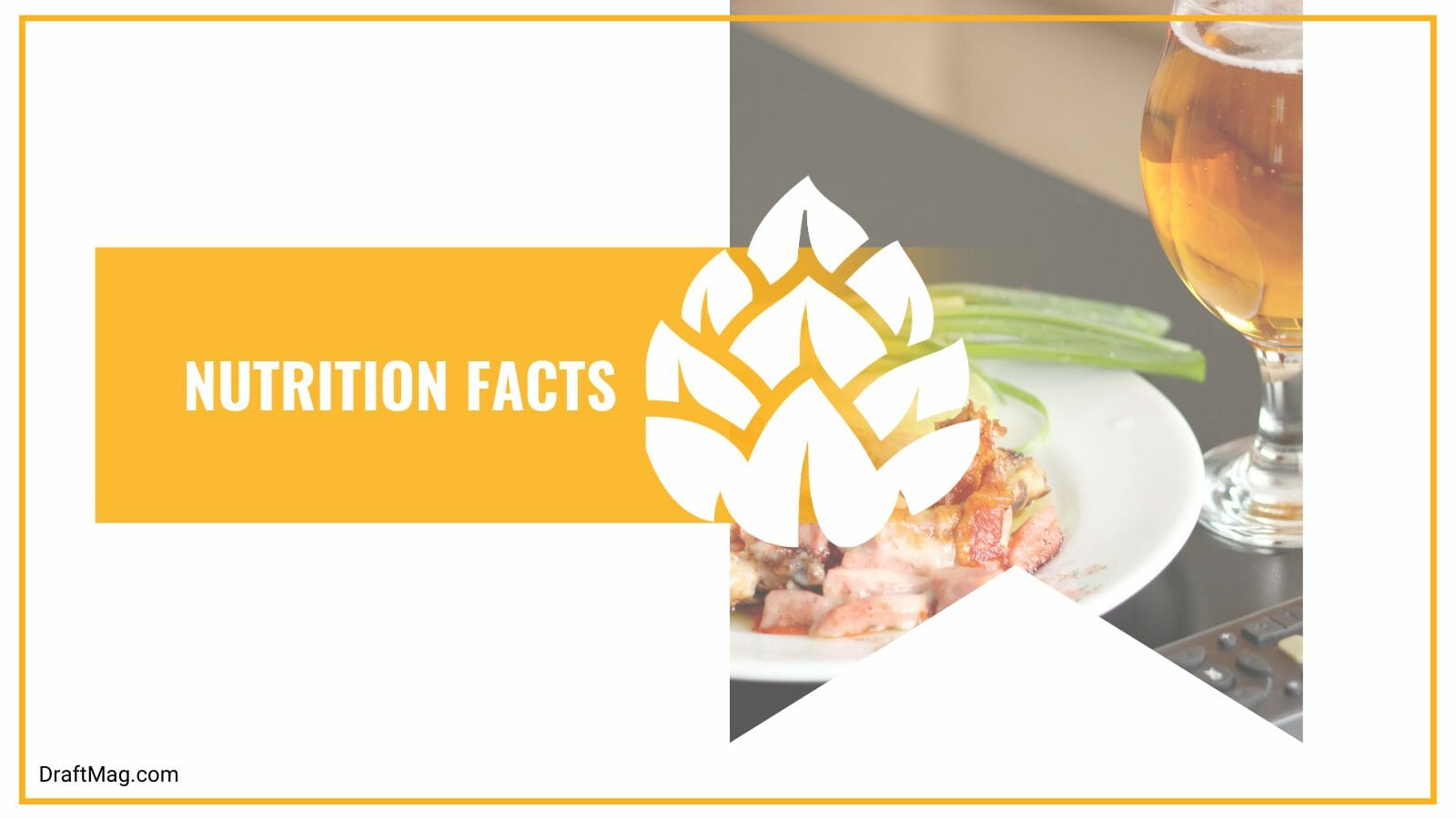 The beer has 254 calories per 12 oz serving, and while it seems high, it is expected for the triple IPA style. Consider this when calculating your daily dietary requirement. There are 15 grams of carbs per serving, 3 grams of protein, and no fat. The beer is not suitable for those on a keto diet or who are gluten intolerant.
History
The Big Little Thing IPA is made by Sierra Nevada Brewing Co and was launched in March 2021. It was first launched in 12oz and 19.2oz cans. The brewery launched the beer by attempting to catapult a full keg of it at their hop field to break a Guinness World Record.
The beer is the latest addition to the Little Thing series and the imperial version of the Hazy Little Thing beer, one of the most popular products from Sierra Nevada.
Conclusion
Beer lovers that are looking for something extra in their IPA will definitely be pleased with the Sierra Nevada Big Little Thing IPA. Read here for a summary of our beer review:
Big Little Thing is an imperial IPA with a 9 percent alcohol content from Sierra Nevada.
The beer has flavors and aromas of floral hops, fruity notes, bready malts, sweet caramel, citrus, and pine.
It is made with malts, hops, ale yeast, and water.
Serve the beer in a snifter with an orange wedge at temperatures ranging from 45 to 50 degrees Fahrenheit.
It pairs well with spicy and strong dishes, grilled and fatty food, crunchy dishes, blue cheese, and fruity desserts.
If you're curious about this beer, it is sold in cans at a wide range of stores. You can also order it online or visit the brewery in California to get it straight from the tap.