Leinenkugel Lemon Haze IPA Review: A Comprehensive Evaluation
Leinenkugel Lemon Haze IPA review highlights the features of this fantastic New England IPA. It's a perfectly blended beer showcasing American and Noble hop's citrus, bittering and refreshing features.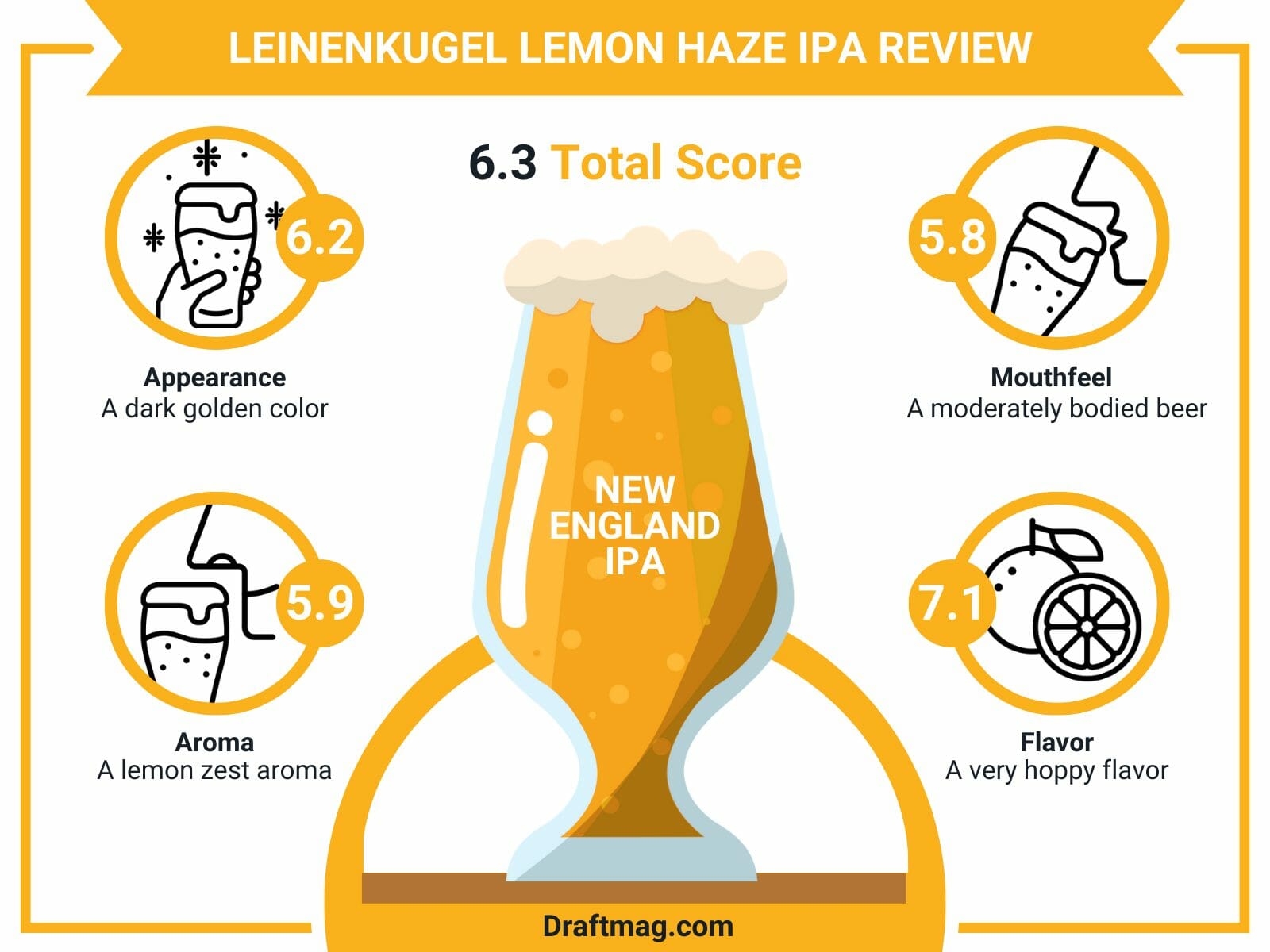 The brewers of this beer carefully selected the various brewing ingredients, resulting in this fine craft beer. Let's get right into the review of this distinct beer.
Leinenkugel Lemon Haze IPA Stats
| | |
| --- | --- |
| Country | United States |
| Brand | Leinenkugel Brewing Company |
| Style | New England IPA |
| Taste | Slightly malty with bittering features |
| Body | Medium-bodied |
| ABV | 4.9 percent |
| Flavors & Aromas | Slightly malty and citrus flavors with pleasing spicy and flowery aromas |
| Serving Temperature | 45 to 50 degrees Fahrenheit |
Tasting Notes
Leinenkugel Lemon Haze IPA Tasting Profile
Leinenkugel Lemon Haze IPA Review
The name already indicates that this beer is hazy, which means cloudy. Besides, you will definitely want to know more about its features, especially if you are a beer enthusiast.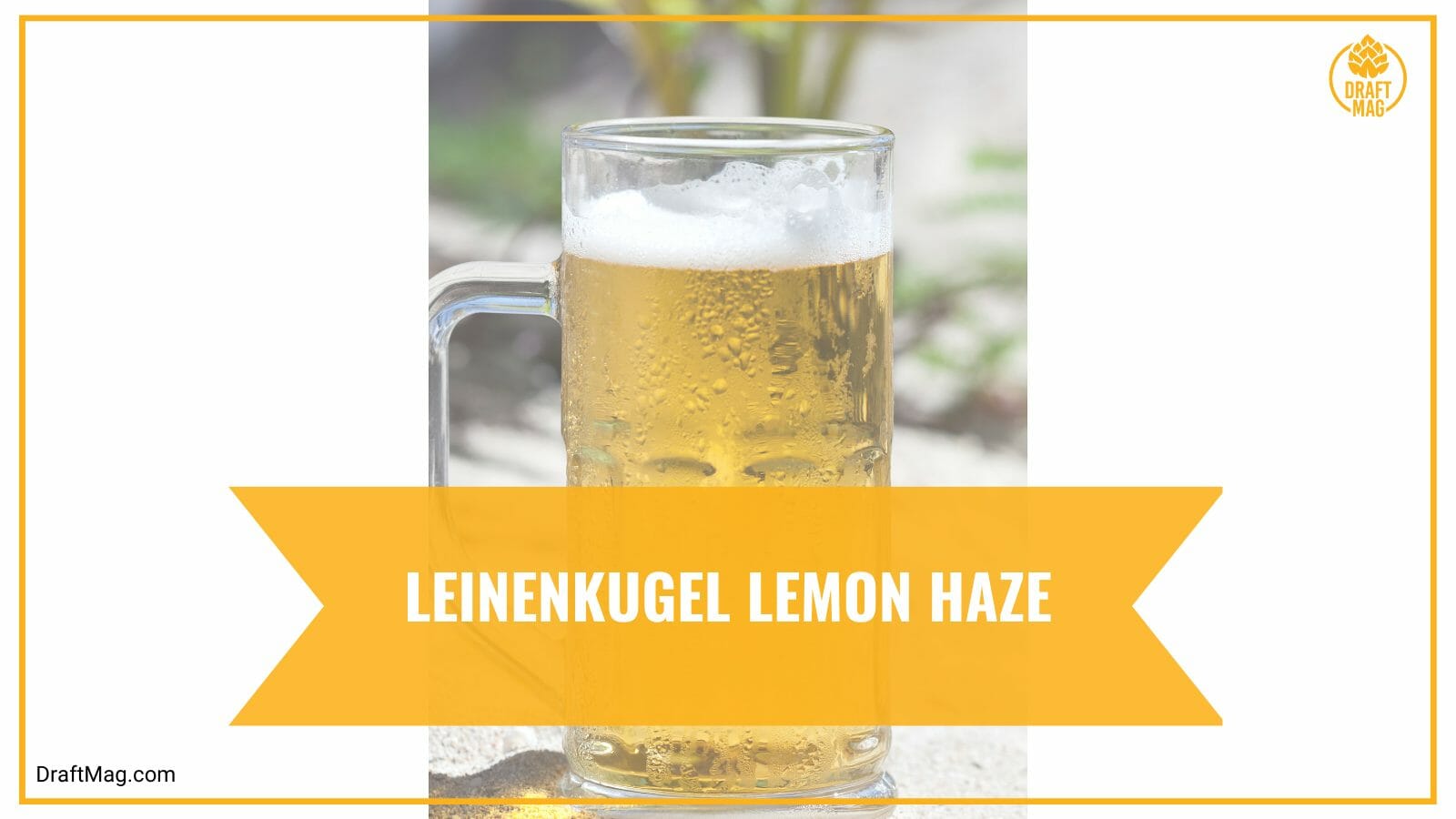 That said, let's discuss the characteristics of the Leinenkugel Lemon Haze IPA in detail.
– Appearance
As the name suggests, this beer appears hazy with a relatively dense creamy head that seems like a cloud floating over its dark golden color. As you pour, you quickly notice the carbonation that continues to develop. The carbonation persists for a little while as it rises to the top.
– Aroma
The beer aroma perfectly depicts the hop varieties used in brewing. The classical C hops – Citra, Cascade, and Centennial, endow this craft beer with their lemon zest aroma. It also employs the noble German hop – Hallertau, which gives it a pleasing spicy, flowery aroma. In the end, it provides a slightly hoppy bittering note, a feature of a genuine Indian pale ale.
– Mouthfeel
Upon taking a sip of this beer, you'd quickly notice that it's a moderately bodied beer with typical IPA hoppy bittering notes. However, the bittering features are well masked by the malt and hop aroma, showcasing its IBU rating of 40.
– Flavor
The flavor is like a typical New England IPA; it's slightly malty and gives off citrus flavors. The beer hops dominate the beer's feature giving off lemon zests upon drinking. Also, the beer is dry-hopped, giving it its slightly bittering quality, with a bittering rating of just 40.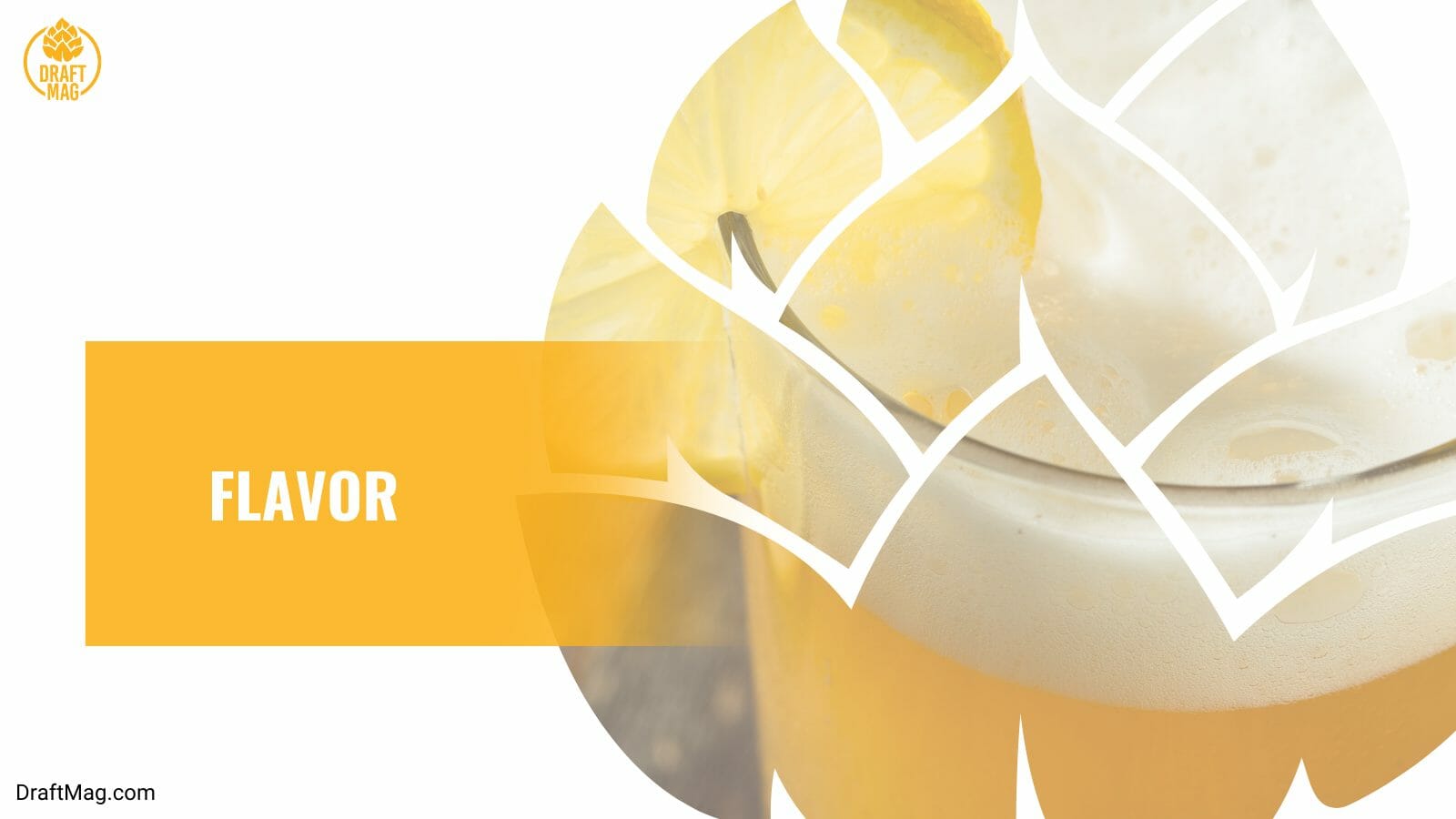 So it's quite an enjoyable beer, especially for those who don't fancy the decent bittering features of a typical IPA.
– Food Pairings
The beer is already becoming a favorite at summertime pool parties. It's a typical NEIPA that pairs well with different food combos. This is because it does not have an overwhelming taste or aroma that submerges your dish.
It is enjoyable with barbecues, fish tacos with pineapple salsa, peas, or Thai dishes with a sweet peanut sauce and a squeeze of lime. Essentially, this beer is an excellent fit with anything that contains citrus flavors.
Ingredients
The Leinenkugel Lemon IPA uses the following ingredients in brewing:
Water
Corn syrup (maltose)
American hops (Citra, Centennial, Cascade) and the typical Bavarian hop (Hallertau).
Yeast
Other ingredients include sucrose, hop extracts, citric acid and natural flavors. All these ingredients combined with top-notch brewing techniques give rise to the Leinenkugel Lemon Haze IPA. The beer is a fine blend of caramel and pale malts. Also, it uses the dry-hopping brewing method to introduce the four different hop varieties.
It is a perfect blend of the malt, hops and other brewing ingredients. This results in a beer with a refreshing, slightly malty taste with bittering notes typical to all IPAs.
Nutrition Facts
When it comes to Leinenkugel Lemon Haze IPA nutrition facts, a can of Leinenkugel Lemons Haze containing 355 ml has the following nutritional stats:
| | |
| --- | --- |
| Nutrients | Value |
| Calories | 158 |
| Carbohydrates | 15 grams |
| Fats | 0 grams |
| Proteins | 1 grams |
| Alcohol | 4.9 percent |
It is essential to know the composition of whatever drink or food you put into your body, especially those with one underlying disease or have an allergic reaction to certain ingredients. With that being said, this beer has most of its ingredients in moderate amounts. The Leinenkugel Lemon Haze IPA calories, carbs and even its ABV are modest amounts.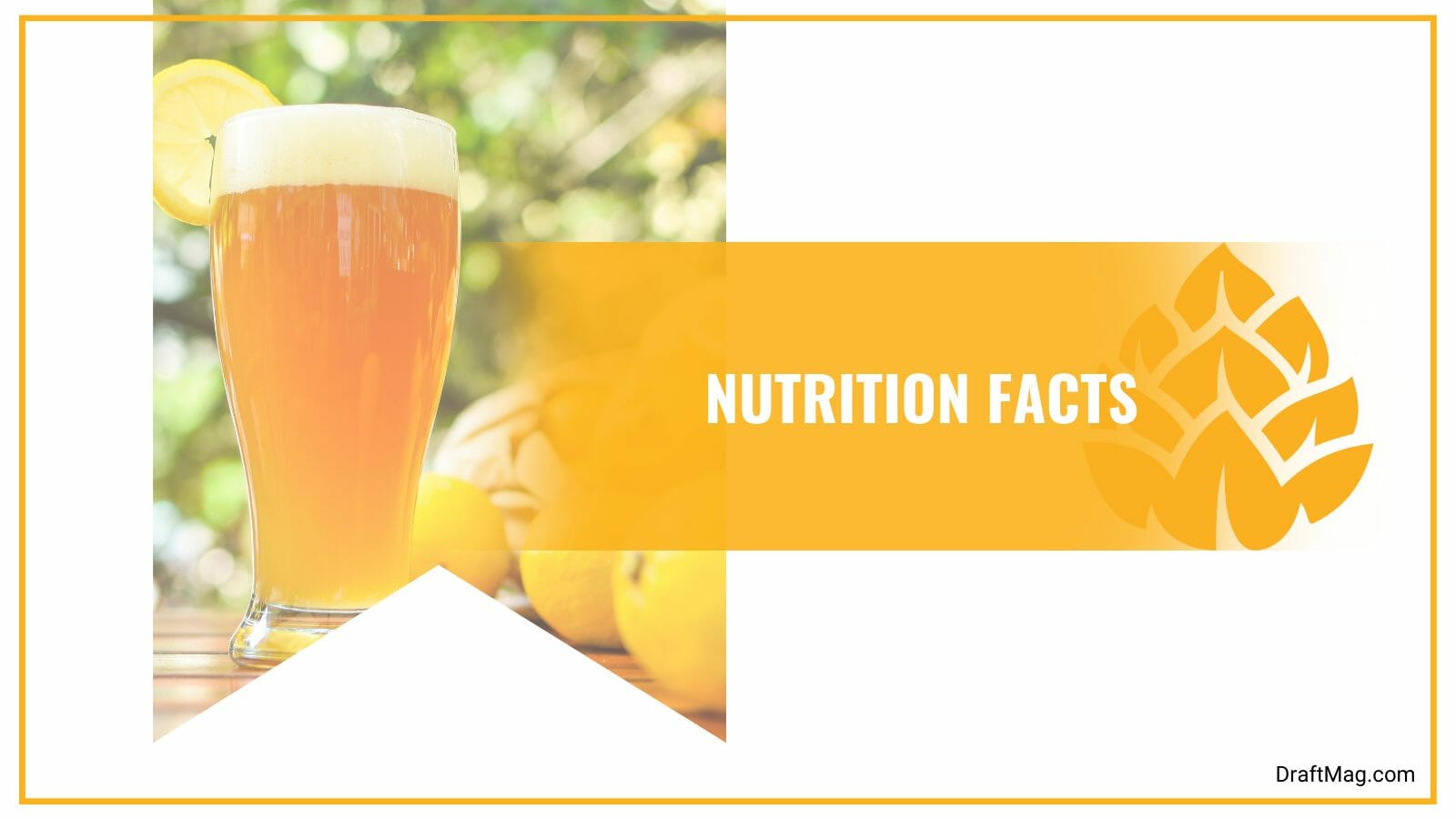 Those on a low-calorie diet may consider this calorie level too much. However, that's not the case. For instance, the FDA recommends daily consumption of about 1500 to 2000 calories. So consuming a can of this beer would take less than 10 percent of the daily calorie intake.
Moreover, with an active lifestyle, you can quickly burn these calories. A 15-minute run or cycling for about 25 minutes would completely burn off these calories. In addition, it contains 15 grams of carbs and 1 gram of protein.
History
Leinenkugel Brewery has been around for a long time, dating as far back as May 1867. It was established as a family brewery by Jacob Leinenkugel in Chippewa Falls. He was a German with an iron work ethic, knowing that his German heritage would play a crucial role in the brewery's success.
After six generations, the Jacob Leinenkugel Brewing Company still exists and features some of the original family's recipes in its beers. The brewing company now boasts different kinds of beers, including the Lemon Haze IPA. It's an IPA with a bright, juicy lemon flavor with bittering features of American and German hops.
The Lemon Haze IPA is the first beer of Leinenkugel to become available all year round, as most of the brews were designed for summertime like the familiar Summer Shandy. However, since this brew, there's an increase in the number of craft beers now available all year round.
Conclusion
Having analyzed the essential features of the Leinenkugel Lemon Haze IPA in this review, you should know if it's something you'd like to try out. With that being said, let's quickly go over all that the review taught us.
Leinenkugel Lemon Haze is a New England juicy IPA with a slight malt taste endowed with citrus flavoring hops, giving it a lemon zest aroma and a crispy bitter finish.
The beer uses four different hop varieties, perfectly blended. No pungent nor overwhelming aroma attacks the nose upon sipping.
Most of its features are modest – the Leinenkugel Lemon Haze IPA abv is at 4.9 percent, with 158 calories, 15 grams of carbs and 1 gram of protein.
You know that this juicy IPA is a top-quality craft beer with all we have discussed. You should consider getting a pack when you visit your local liquor store.