Cusquena Beer Review: Give This Fantastic European Lager Beer a Try
Check out our Cusquena Beer review to know more about this delicious classic lager. The European lager is from Peru, offering flavors of white bread, biscuits, sweet malts, and stone fruit.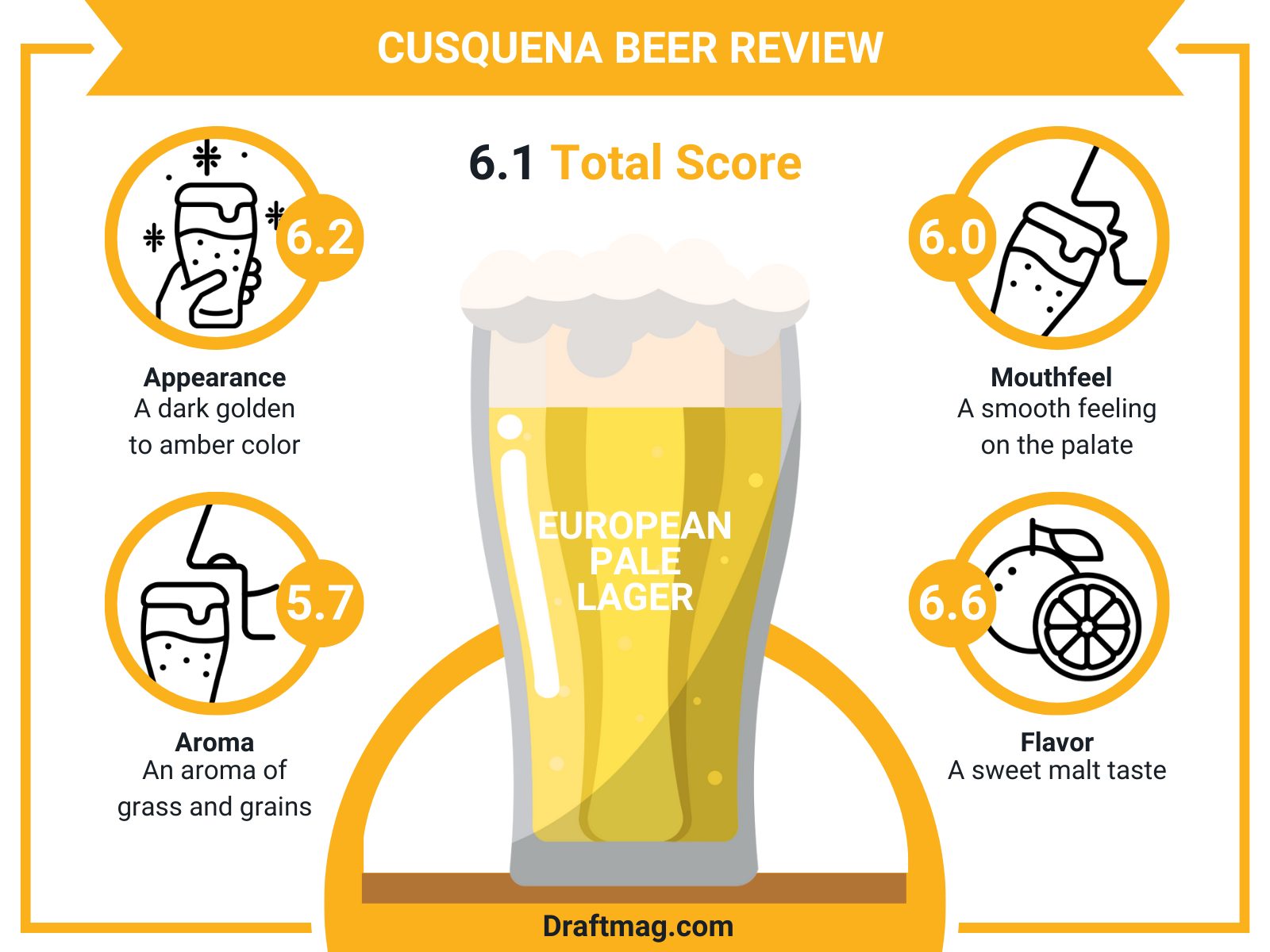 The beer offers a refreshing flavor perfect for any season, with a 4.8 percent alcohol content. Our review covers all you need to know about the popular European pale lager.
Cusquena Beer Stats
| | |
| --- | --- |
| Country  | Peru |
| Brand | Union De Cervecerias Peruanas Backus y Johnston |
| Style | European Pale Lager |
| Taste  | Bready, Grainy |
| Body | Medium Body |
| ABV | 4.8 percent |
| Flavors & Aromas | White bread, sweet malts, biscuit, stone fruit |
| Serving Temperature | 38 – 40 degrees Fahrenheit |
Tasting Notes
Cusquena Beer Tasting Profile
Cusquena Beer Review
The Cusqueña Dorada is a classic European Pale lager from the Union De Cerecerias Peruanas Backus y Johnston brewery in Peru. The beer offers a light, crisp taste that reminds you of European pilsners and a delicious flavor and aroma of white bread, biscuits, sweet malts, and the slight sweetness of stone fruit.
The Cusquena beer features an ABV of 4.8 percent. You can enjoy the beer best when you pour it into a pint glass to enhance the aroma and lacing. It is best served with citrus garnishing from 38 to 40 degrees Fahrenheit.
You can have the Cusquena beer anytime, as it is an all-season brew. It feels refreshing when you drink it, and it is the only Latin American beer made with 100 percent malt, so you can expect premium quality.
– Appearance
The Cusquena beer has a clear appearance and a dark golden to amber color, with a large foamy head sitting on top of it. You will notice the visible carbonation in the form of bubbles floating to the top of the glass. The foamy head will leave visible lacing against the glass.
– Aroma
On the nose, the Cusquena beer will first hit you with an aroma of grass and grains. It's a bit spicy and sweet, reminding you of egg whites. You might taste hints of biscuit and white bread too, but the beer is a lager when you smell it.
– Mouthfeel
When it comes to the mouthfeel, the Cusquena lager has a smooth feeling on your palate. It does not have much carbonation despite its appearance, with only a light tingling on your tongue. The beer has a light to medium mouthfeel and feels crisp and clean as you swallow.
– Flavor
The Cusquena lager has a semidry, malt-forward flavor, with all the tastes well-balanced. You first taste the malts, which are a bit sweet. From there, you can taste the flavors of freshly baked white bread and biscuits. There will also be a hint of dried stone fruit that gives the beer a slight sweetness.
In the middle of the taste, the beer gets a bit bitter. There is also a crackers flavor with hoppy bitterness and a slight peppery bitterness at the end. The flavor is consistent with the European pale lager style and well balanced.
– Food Pairings
If you have the Cusquena lager, the best food pairing is pasta. The beer has enough flavor and bitterness to match a delicious chicken pasta meal with tomato sauce, Pesto sauce, or oil-based sauce.
Since the Cusquena lager has a simple flavor, it goes well with a wide range of foods like buffalo wings, spicy noodles, French fries, fried fish, and hot dogs. Try it out with other fried foods like meat, chicken, and roast pork. Seafood like shellfish, sushi, and light dishes are also good choices.
The lager goes well with spicy foods like Southeast Asian, Mexican, and Latin cuisines. You should pair the Cusquena lager with chocolate-based desserts like brownies, chocolate cheesecake, fresh berries, and fruit soup. As for cheese pairing, the Cusquena lager goes well with mild cheeses like Havarti and mild Cheddar cheese.
Ingredients
The Cusquena lager is made with the basic ingredients of barley malt, hops, yeast, and water.
The malt list is mainly 100 percent barley malts, which gives it high quality. The barley malts offer a strong backbone and flavors of crackers, fresh bread, and biscuits. As for the hops, the beer is made with Saaz hops, offering you a slight flavor of stone fruit and sweetness.
If you're allergic to barley, you should avoid drinking this lager.
Nutrition Facts
The Cusquena beer features a 4.8 percent alcohol content in every 12-ounce serving. The low ABV means you don't have to worry about alcohol burning while drinking this beer. The IBU in the beer is 25, which gives you light bitterness from the hops.
In every 12 ounces, the Cusquena lager has 150 calories, which is a pretty decent level. It also has 10 grams of total carbs in the can. Due to the high-fat content, the beer is not ideal for those on a keto diet. It is also not ideal for those on a gluten-free diet.
History
The Cusquena beer is brewed by Union De Cervecerias Peruanas Backus y Johnston, based in Peru. The Backus and Johnston Brewery is the largest in Peru and is part of the Bavaria Brewery, which is also a part of the AB InBev group. The brewery is based in the Ate District of Lima.
Backus and Johnston have been brewing the Cusquena lager since 1911, using only the finest ingredients. One of the ingredients is pure mountain water from the Peruvian Andes, which goes as deep as 18,000 feet. The Cusquena beer is one of the most popular from the brewery.
Conclusion
The Cusquena lager is a premium European pale lager that offers a classic, delicious flavor and aroma. Here is a summary of what the Cusquena lager has to offer based on our review:
Cusquena is a pale lager with a 4.8 percent ABV from Backus and Johnston Brewery.
The beer has flavors and aromas of white bread, crackers, sweet malts, biscuits, and sweet stone fruit to give you a smooth and crisp flavor.
It is brewed with barley malts, hops, yeast, and water.
The lager is best served in a pint glass at 40 degrees Fahrenheit.
You can have the Cusquena with pasta and tomato sauce, spicy foods, seafood, chocolate-based desserts, and mild cheeses.
If you're curious about the Cusquena lager, you should look for online stores and physical liquor shops close to you and give it a try.