Lagunitas Hazy Memory Review: A Great Hazy IPA for You
Lagunitas Hazy Memory beer emerges as a true Hazy beer style and is rapidly becoming everyone's favorite. Perhaps this is due to the glut of juicy characters that makes it approachable and easy to drink. Besides, this New England Style beer is evocative of the hop-forward brewing technique boldly expressed in its unfiltered yet glowing appearance.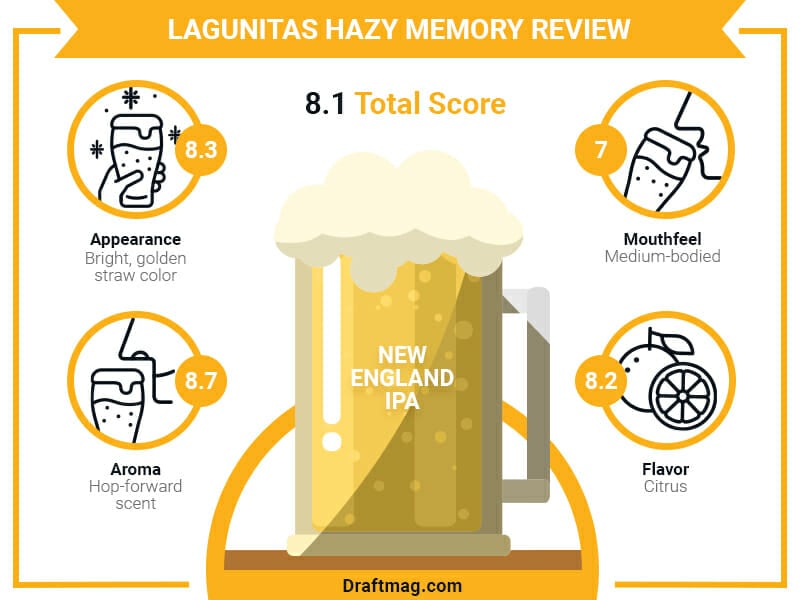 Continue reading this review to learn more about this unique Lagunitas beer.
Lagunitas Hazy Memory Stats
| | |
| --- | --- |
| Country | United States |
| Brand | Lagunitas Brewing Company |
| Style | New England Style IPA |
| Taste | Balanced, crisp, fruity with a mellow bitterness |
| Body | Medium-bodied |
| ABV | 8.0 percent |
| Flavors & Aromas | Exhilarating flavor and aroma with notes of Loral hops, citrus, tropical fruit, melon and pine |
| Serving Temperature | 45 to 50 degrees Fahrenheit |
Tasting Notes
Lagunitas Hazy Memory Tasting Profile
Lagunitas Hazy Memory Review
Lagunitas Hazy Memory beer comprises murky, juicy and turbid unfiltered ingredients to derive its savory notes. Thus, this nebulous release offers a refreshing, smooth, and exciting drinking experience you won't forget. The beer brand also has a rather interesting story that may excite you. But first, let's examine the features of this premium brew.
– Appearance
The Lagunitas Hazy Memory IPA appears as a bright, golden straw color when poured into a pint glass. This brew gets it's signature cloudy look from the aggressive brewing process and unfiltered high-protein content. The cloudy look is one of the exciting features that attracts many of its fans.
On the other hand, it pours an average size white head, leaving behind a quarter-inch lacing on the sides. Thus, this hazy ale compares well in terms of appearance to some other top-flight Lagunitas releases, including Hazy Wonder.
– Aroma
Most New England Style IPAs tend to have a plethora of aromatics dominating the nose. The Lagunitas Hazy Memory IPA stays true to this style. It packs a hop-forward scent from Loral hops with notes of blueberry and citrus-passion fruit from the Citrus and Galaxy hops. You can't miss this!
– Mouthfeel
Despite the high amounts of wheat and oats used in making this brew, it is appealing. You will discover that this medium-bodied beer has a hazy smoothness yet a brisk feel on the palate.
Furthermore, this unique Lagunitas IPA has perfect carbonation and plenty of juicy notes. Overall, you will get a clean and slightly bitter finish that satisfies most beer lovers.
– Flavor
This Hazy IPA by Lagunitas has a relatively straightforward citrus flavor and juicy punch, making it unique. You may notice additional notes of grapefruit, orange, and dried grass. Not to mention, Hazy Memory also reveals a touch of stiff bitterness as it runs through the palate. However, you will also notice the sweetish malt upfront that cancels the rising bitterness.
– Food Pairings
This Lagunitas beer is highly credited for its easy drinkability when served chilled. Several beer lovers also hail its versatility in pairing it with a variety of cuisine. We strongly suggest you pair this brew with creamy and bloomy cheese, fresh chicken, curried meat, spiced fish, and burgers. These foods will bring out the flavor of the beer.
Ingredients
This beer has prominent fruity notes generously balanced with ample hops, thus giving this pale ale a very New England Style poise.
The ingredients it uses are different types of hops, such as the Loral 291, Hallertau Blanc, Galaxy, and Citra. Two types of malts are used as well, wheat and oats, and lastly, yeast and water are added.
However, that's not all. Various fruity aromatics such as grapefruit, orange, melon, and tropical fruits combine with the primary ingredients to make this hazy IPA juicy and refreshing.
Nutrition Facts
You don't need any rocket science to interpret the beer math on ABV. Typically, the higher the ABV, the more alcohol. Lagunitas Hazy Memory ABV stands at 8.0 percent, implying that you must refrain from consuming this brew excessively.
This beer has an IBU rating of 55. Generally, high IBU beers have more bitter taste than lower IBU beers, and this fantastic IPA is no exception. Further, this beer contains 237 calories per 12-ounce serving, which is higher than other hazy Lagunitas beers.
For instance, the Lagunitas Hazy Wonder calories are 170 per 360-milliliter serving. Likewise, Lagunitas Hazy Memory beer contains a net carb of 12 grams per 240-milliliter serving. Above all, you must ensure that your daily net carb consumption from this exciting beer does not exceed 30 grams.
History
The Lagunitas Brewing Company was established in 1993 by Tony Magee just outside the Northern California hamlet of Lagunitas. As the story goes, Lagunitas Brewery started as a small industry right in the kitchen. But then, Tony moved the company a year later to a nearby Petaluma after outgrowing the original rural area.
Before Heineken opted to buy a 50 percent share of Lagunitas in 2015, the company met the proper characterization of a craft brewery. The reason is not far-fetched. Two years before this sale, the Lagunitas Brewery ranked the fifth top-selling craft brewery in the United States, a breathtaking feat!
However, Lagunitas Brewery is now entirely a subsidiary of the legendary Heineken, as they bought the rest of the brewing company in 2017. Moving forward, Lagunitas has developed to craft more hop-forward brews than before. Today, you will find some of their best renditions, including the Lagunitas Sumpin' Easy, Lagunitas Nighttime, and Lagunitas Super Cluster dominating various beer stores. Remember that it would be best if you didn't miss out on these top offerings.
Conclusion
This beer review reveals essential information on Lagunitas Hazy Memory beer features from the Lagunitas Brewing Company. Here are the crucial points we mentioned:
This Hazy IPA pours with hazy golden straw color alongside an average white head.
The beer has an intense hop aroma and silky-smooth mouthfeel with the perfect carbonation. It provides an appealing mouthfeel with hazy smoothness and a brisk feel on the palate.
It has a strong citrus flavor and underlying hop bitterness that pairs perfectly with many dishes, especially cheese, chicken, curried meat, and fish.
Lagunitas Hazy Memory alcohol content stands at 8.0 percent per 12-ounce serving and 55 IBU. It also contains 237 calories, making it a high-carb beverage and less keto-friendly.
Grab a Lagunitas Hazy Memory beer to savor its big fruity flavor that will keep you wanting more.