Hofbrau Hefe Weizen Review: Solid Version of the Hefe Style
Hofbrau Hefe Weizen comes highly recommended by its drinkers because of the balanced flavor notes and how it expertly follows the German Hefe style. Wheat beer is a classic, with the typical flavor of wheat malts with bananas and cloves.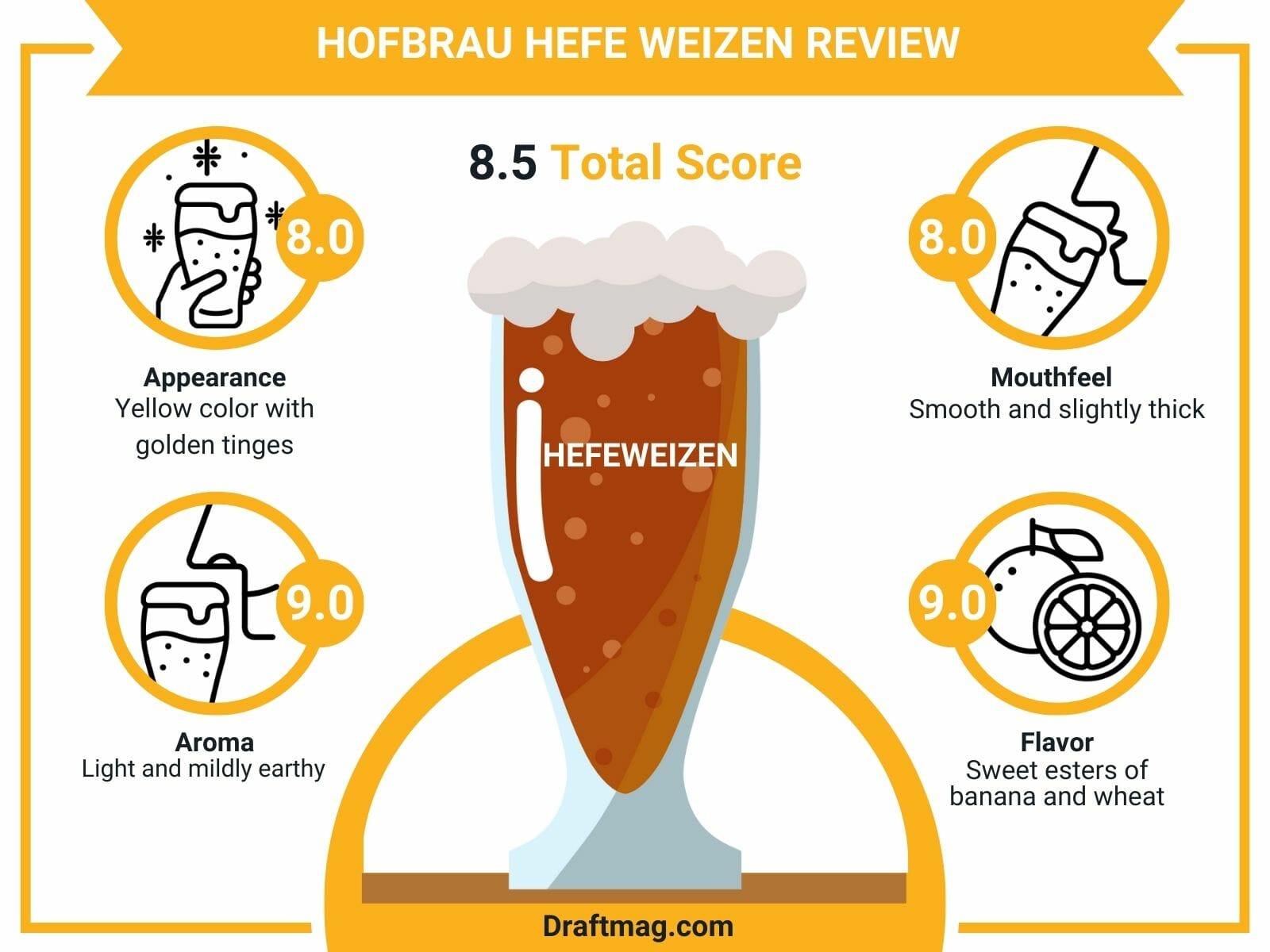 Enjoy the pleasant aromas and flavors of the beer as it offers a solid and sweet version of one of the best German beer styles. In our detailed review below, we cover all you need to know about the Hefeweizen and how you can enjoy it better. 
Hofbrau Hefe Weizen Stats
| | |
| --- | --- |
| Country  | United States |
| Brand | Hofbrauhaus Pittsburgh  |
| Style | Hefeweizen  |
| Taste  | Wheat, banana |
| Body | Medium-light Body |
| ABV | 5.1 percent |
| Flavors & Aromas | Wheat, banana, bubblegum, clove, malts  |
| Serving Temperature | 45 – 50 degrees Fahrenheit |
Tasting Notes
Hofbrau Hefe Weizen Tasting Profile
Hofbrau Hefe Weizen Review 
Appearance: 8/10

Aroma: 9/10

Mouthfeel: 8/10

Flavor: 9/10
Hefe Weizen is a Hefeweizen beer, which is a German wheat beer. The beer is made by the Hofbrauhaus Pittsburgh Brewery and features an alcohol content of 5.1 percent. Bursting with pleasant Hefe flavors, the beer is highly drinkable and heavily spiced. It might be a bit rough and bumpy around the edges, but that adds to the charm.
The beer features a hazy golden appearance and a medium, thick feel. The beer has prominent flavors and aromas of wheat, banana, cloves, bubblegum, and malts, with mild earthy notes. It is perfect for warm-weather drinking, with a slight fruitiness and zesty carbonation. 
You should serve the beer in a weizen glass, which features a narrow base and a round curved top. The glass retains the carbonation and holds the foamy head in place. The ideal temperature is from 45 to 50 degrees Fahrenheit, and one can garnish it with a slice of lemon wedge to add to the fruitiness. 
– Appearance 
When you serve the Hefeweizen into your weizen glass, you get a yellow color with golden tinges. The appearance is hazy and unfiltered, as you would expect from a German wheat beer. The carbonation is not very visible because of the unfiltered wheat.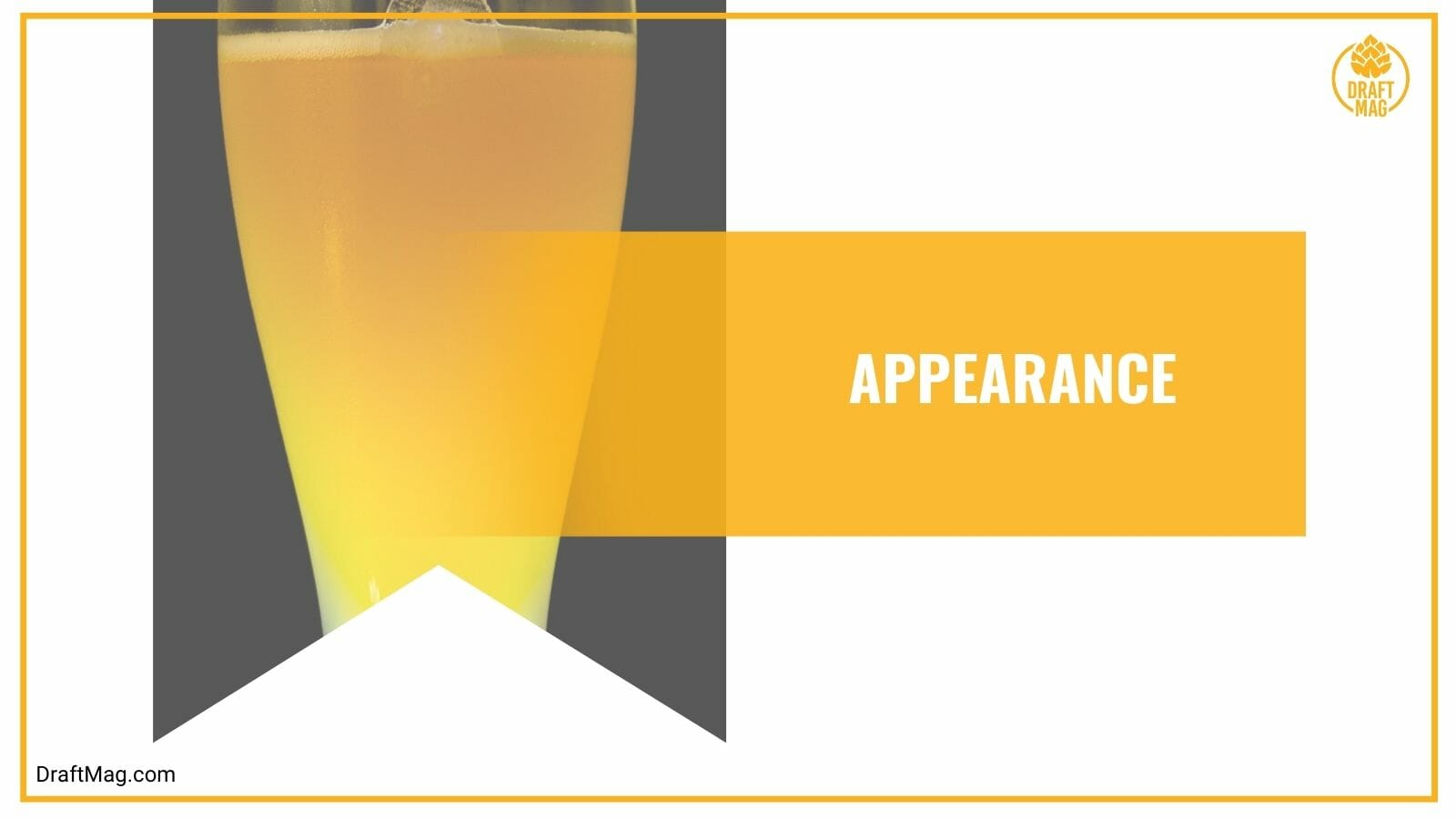 Atop the beer is an excellent two-finger foamy head that dissipates quickly and leaves a foamy top with decent staying power. It leaves some lacing clinging to the glass as it settles.  
– Aroma 
On the nose, the beer features a light and mildly earthy aroma with a solid base of sour wheat and malts. The beer will warm up and give off a spicy clove aroma that balances out the scent notes. 
The aroma gives you an explosion of sweet esters, so you mostly get the usual banana and bubblegum notes as you drink. You will also notice a bit of graininess in the backbone and some cloves and medicinal notes. 
– Mouthfeel 
On the palate, the Hefeweizen features a drinkable feel despite having a medium body. With the medium body, the beer feels a bit velvety and smooth and slightly thick. It still manages to be crisp and full.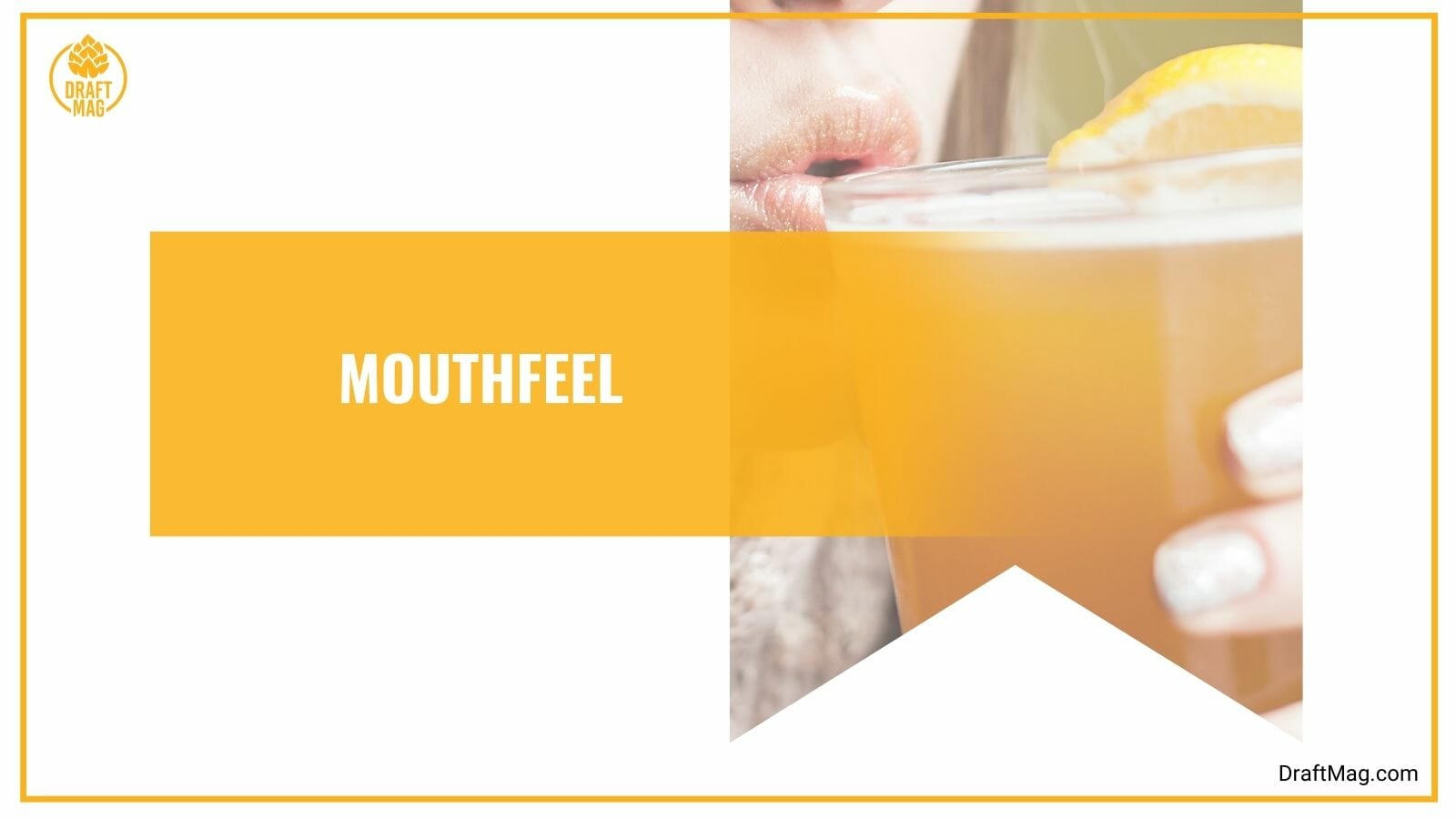 The beer also has a decent carb level that offers a slight bubble feeling on your tongue. It is pretty drinkable too, and feels a bit rough around the edges. 
– Flavor 
The flavor of the Hefeweizen follows the aroma very closely with a vibrant character. The first thing that you taste is the sweet esters of banana and wheat, which are a bit heavy upfront. There's also a slight touch of spicy clove and yeast, and there's a slight medicinal backbone. Unlike the usual hefeweizens, this one doesn't have some tartness at the end.
The pleasant flavor gives you hints of banana, subtle malt, sour wheat, and cloves, all of them well balanced. You can easily pick out the unique flavors in the beer as you drink. There are also citrus notes that taste a bit ripe and orangey, and some mineral notes. In general, the beer is heavily spiced with some sweetness from the bubblegum.
– Food Pairings
When having the Hefeweizen, you can pair it with different kinds of food, but it is definitely a great beer for barbecues. The wheat beer will go great with sweet and spicy ribs and sausages, or you can enjoy it with Thai food or the spicy flavors of Indian curries.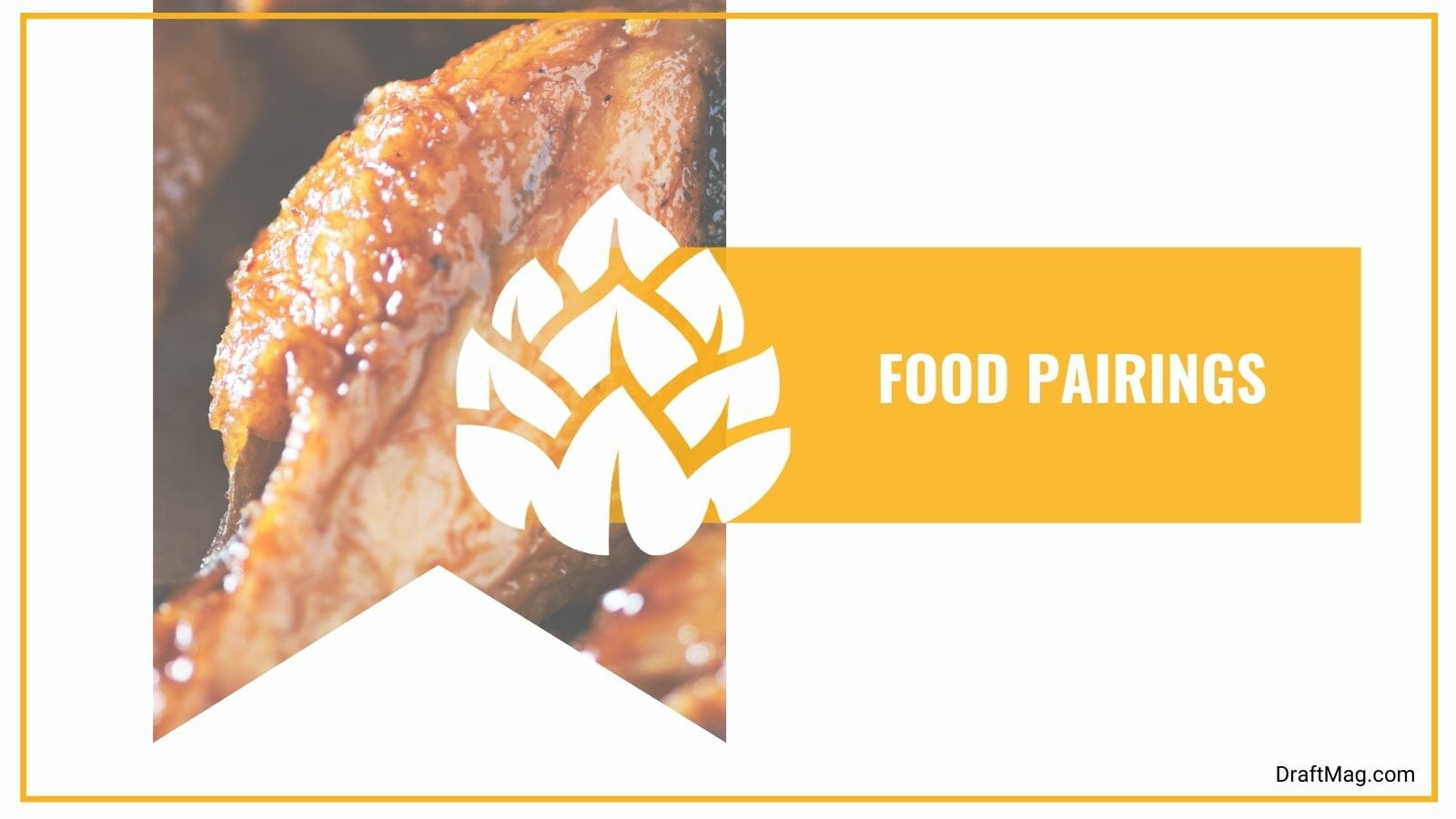 You can enjoy the beer with different kinds of seafood too, so enjoy it with a cedar-smoked salmon, crab salad with celeries, skewered shrimp on rosemary branches, and lobster and avocado salad. It also goes great with smoked pork and pizza, or you can opt for a German classic like apple strudel or weisswurst.
For your dessert options, pair the wheat beer with a banana cream pie with light chocolate or a lemon risotto. If you're interested in having cheese with your beer, you should consider having it with some goat cheese, brie, and mozzarella cheese. 
Ingredients 
The Hefeweizen is made with malts, hops, yeast, and water. The malts used to make the beer are wheat malts, Munich malts, and light barley malts. As for the hops, they include Hercules and Perle. The beer follows a top-fermented process and is unfiltered, hence the hazy appearance.
The malts offer a solid base of sour malts and sweet wheat, which is a good balance on your palate. It remains strong until the end of the flavor and balances out with the sweet esters of banana and cloves. There are some mild hops too, but the beer is barely bitter. 
Nutrition Facts 
In the Hefe, you get an alcohol content of 5.1 percent, which is a decent level for a hefeweizen beer. You can barely taste the alcohol content when you drink the beer, only when it begins to warm up. It also features 14 bitterness units, as there are barely any hops as you drink.
You get 164 calories, 13 grams of carbs, and 0.5 grams of protein in every 12 ounces of this beer. It is not suitable for those on a keto diet because it has a high level of carbs. It is not a gluten-friendly beer, either.
History 
The Hefeweizen was released in 2009 by Hofbrauhaus Pittsburgh, based in Pennsylvania, United States. The original beer was released by Hofbrau in Germany in 1589 by Staatliches Hofbräuhaus and is now an important part of the history of the brewery. In the United States, you can get the beer from the Pittsburgh brewery.
Hofbrauhaus Pittsburgh is known for its German beers and food and is a branch of the original brewery in Munich. This Hefe is known as the first Bavarian Hefeweizen in the world from 1602, and the brewery had a monopoly over wheat beers for 200 years. It has also won a lot of awards. 
Conclusion
If you want a classic German Hefe right here in America, this beer is the ideal choice for you.
Here's a summary of what we covered in our review:
Hefe Weizen is a Hefeweizen with a 5.1 percent alcohol content.
The brew has flavors and aromas of wheat, malts, banana, bubblegum, and cloves, with a medium spicy body.
It is made with wheat malts, Munich malts, light barley malts, Hercules, and Perle hops.
The Hefe is best served in a weizen glass at 45 degrees Fahrenheit.
Pair the beer with barbecue, Indian curries, Thai foods, seafood, smoked pork, German foods, goat cheeses, and banana cream pie.
If you're curious about the beer, you can purchase it online, directly from the brewery, or at a liquor store.