Franziskaner Weissbier Review: Classic Example of Hefeweizen
Franziskaner Weissbier is always a fantastic choice if you're interested in a creamy hefeweizen. Brewed by Spaten-Franziskaner-Brau in Germany, the Weissbier perfectly exemplifies the hefeweizen style.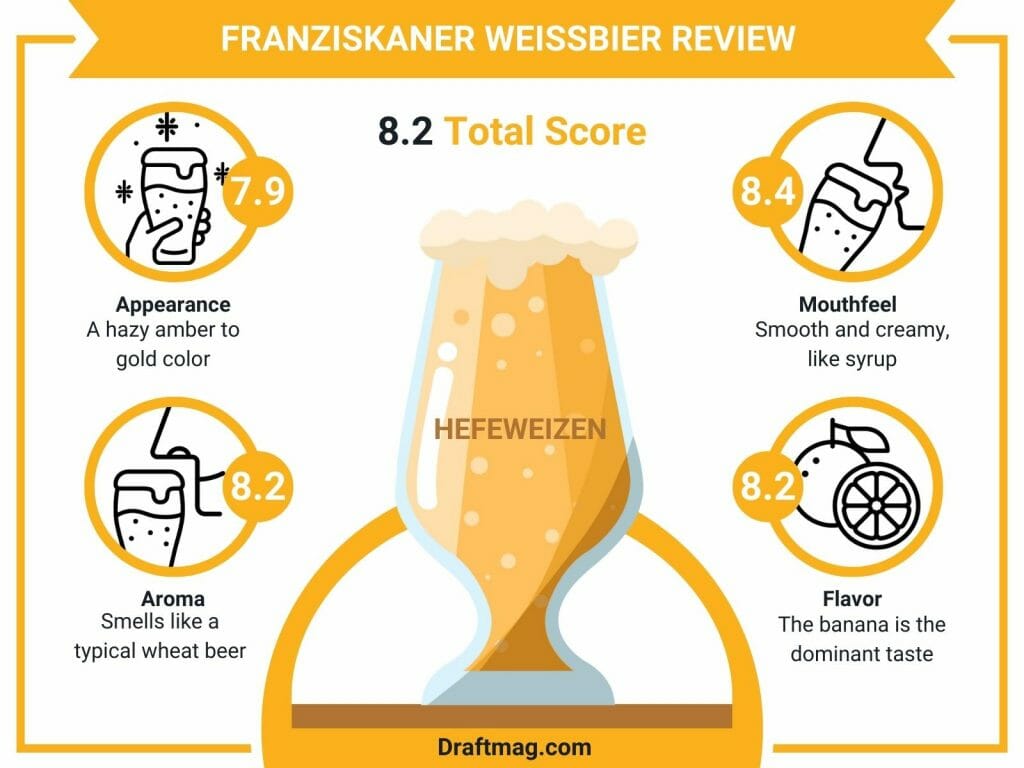 From the expected banana and clove style to a mix of fruits, breadiness, sweetness, and spiciness, the Weissbier offers surprises with each sip. If you're considering trying this hefe, read our beer review first to learn more about it.
Franziskaner Weissbier Beer Stats
| | |
| --- | --- |
| Country  | Germany |
| Brand | Spaten-Franziskaner-Brau |
| Style | Hefeweizen |
| Taste  | Creamy, fruity |
| Body | Medium Body |
| ABV | Five percent |
| Flavors & Aromas | Banana, bready, yeasty fruits |
| Serving Temperature | 45 – 50 degrees Fahrenheit |
Tasting Notes
Franziskaner Weissbier Tasting Profile
Franziskaner Weissbier Review
The Weissbier is a German hefeweizen beer from Franziskaner, with a medium color, slight hoppiness, and alcohol content of five percent. This gives you a creamy and summer-friendly beer.
Unlike other hefeweizen beers, the Weissbier goes further than the cloves and spices but focuses on the fruits. It's the perfect German beer for afternoon drinking during spring or summer. It has a decent ABV level that won't get you drunk quickly. Serve it between 45 and 50 degrees, and garnish it with lemon.
– Appearance
The Weissbier pours a hazy amber to gold color, with tinges of orange in the beer. It has an opaque appearance, so you can't see much except hints of your fingers wrapping the glass. Sitting on this beer is a white foamy head, up to three fingers, gradually dissipating into a thin and consistent cover. It also leaves a decent amount of lacing against the glass.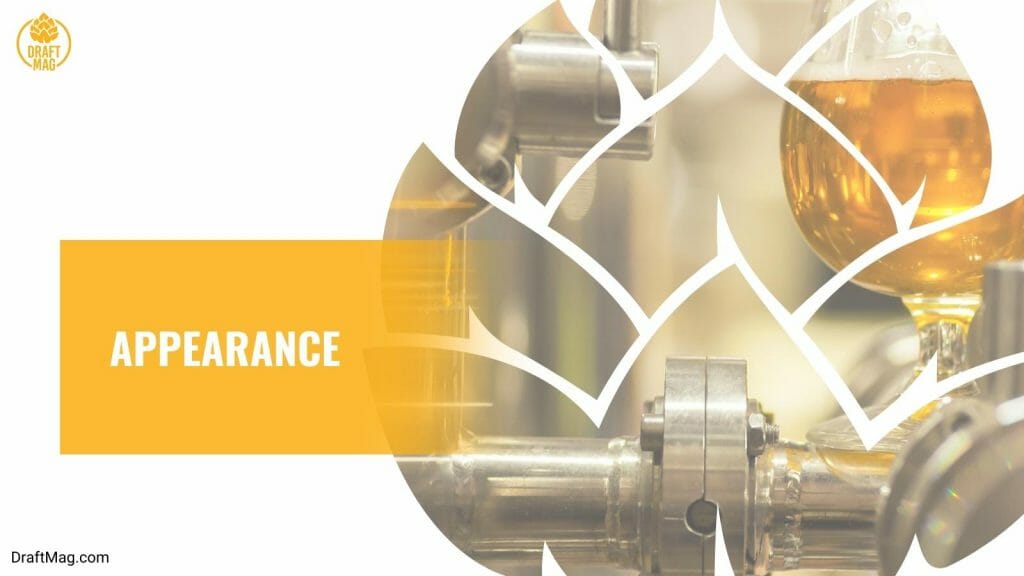 You should pour the Weissbier in a Weizen glass to get the best color. It has a wide opening before slimming down towards the end and opening up at the bottom. This enhances the decent head and keeps the aroma strong as you drink.
– Aroma
The Weissbier smells like a typical wheat beer but goes towards the aroma of a hefeweizen. The aroma of cloves is very faint, but the scent is overwhelmed by bananas and citrus fruits. There are also slight hints of peach and apricot. The white bread dough aroma makes up the backbone of the scent.
– Mouthfeel
On the palate, the Weissbier feels smooth and creamy, like syrup. The beer has a soft mouthfeel and a medium body, making it very drinkable. It will go down easily with no alcohol burning and caresses the tongue gently.
– Flavor
When you drink the Weissbier hefeweizen, the flavor follows the aroma, but the banana is the dominant taste. The first thing you taste is the flavor of overripe bananas, followed by sweet oranges and other citrus fruits like lemon and lime.
Although the cloves are light in aroma, they are more pronounced in taste. The cinnamon joins the spiciness of the cloves. The spicy cloves balance well with the sweetness of the banana and citrus.
There is a slight hint of bubblegum in the beer's flavor, and it finishes with slight cloves and muted sweetness. The white bread dough, hints of bread, and yeast are on the backbone of the beer.
– Food Pairings
When having the Weissbier hefeweizen, there are different kinds of meals that you can enjoy with it. The craft beer is best paired with German foods, salads, shellfish, and fish. You can try out a cedar-smoked salmon or a some good-old crab salad. As for salads, a lobster and avocado salad, a tomato and watermelon salad, or a classic summer salad.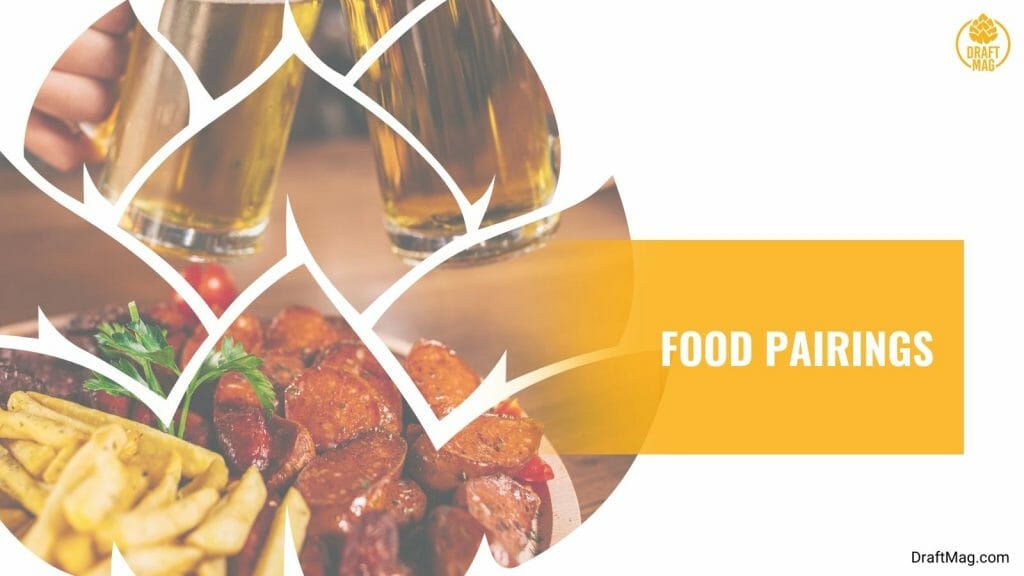 You can also try skewered shrimp, a ricotta crostini, or a lemon risotto. Even goat cheese with smashed beets will pair well with this beer. The Weissbier is a good beer with Indian food and spicy cuisines, as the sweet flavor goes well with the spicy foods.
As for cheese, you can have the beer with creamy and buttery cheeses like herbed goat cheese or Edam. On the other hand, you may even enjoy a banana pudding to appease your sweet tooth. In addition, you can also use the Weissbier to make a hefeweizen beer cheese dip too, and enjoy it with friends at your next party.
Ingredients
The Weissbier is a German hefeweizen with a good level of carbonation, a fruity and spicy flavor, and a cloudy appearance. It is brewed with wheat malt and barley malt, which offers its flavors of bread and dough.
There are also minimal hops in the beer, although it is very fruity. The beer is also brewed with yeast and water and made with a top-fermenting method.
Nutrition Fact
The Franziskaner Weissbier features an ABV of five percent, which is a decent level. There is no alcohol warming in the beer as you drink, while the IBU is 12, which shows that there is very slight bitterness.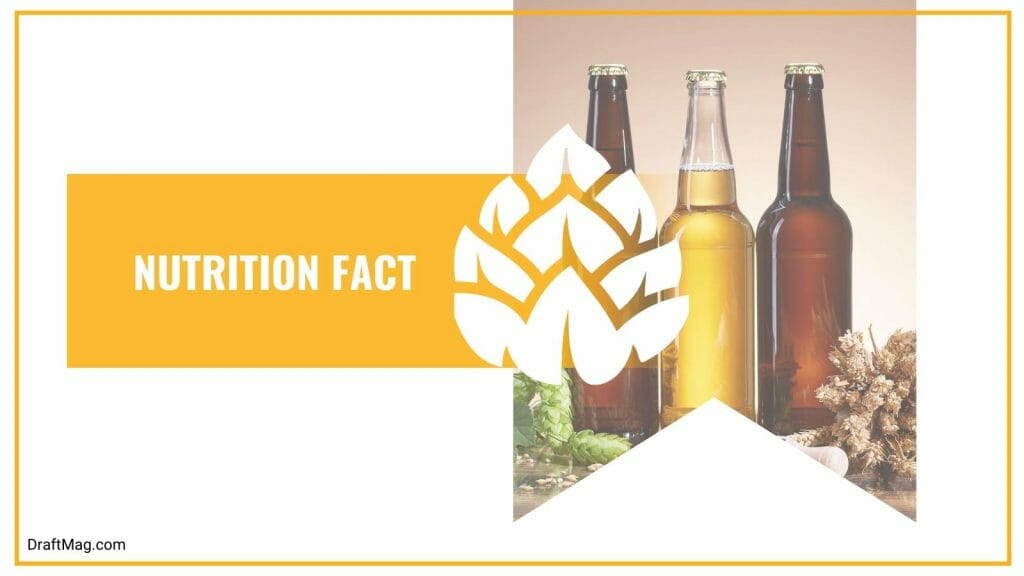 There are 153 calories in every 12-ounce serving of the Weissbier. Aside from this, it has 16.7 grams of carbs and one gram of protein. The beer is unsuitable for those on a keto diet because of the high net carbs level. In addition, wheat makes it unsuitable for drinkers who cannot consume gluten.
History
The Weissbier is a German wheat beer made by Franziskaner, the oldest privately-owned brewery in Munich. The brewery dates back to 1363 and is one of the most important breweries in Germany. The Weissbier was launched in 2001 and remained a popular choice in Germany. It was initially called the Franziskaner Hefe-Weissbier.
The Spaten-Franziskaner-Brau makes Spaten and Franziskaner beer brands, and the Weissbier falls under the latter brand. The Franziskaner beers are also strictly following the Bavarian Purity Law of 1516.
However, today, if you're curious about the Weissbier, you may even order it online or purchase it from nearby liquor stores.
Conclusion
The Weissbier is a delicious hefeweizen with a deliciously fruity and spicy flavor that caresses your tongue with its smooth and creamy feel. Here's a rundown of what our Franziskaner Weissbier review covered:
The Weissbier is a German hefeweizen beer with a five percent ABV, made by Franziskaner.
The beer has flavors and aromas of banana and citrus fruits, cloves and cinnamon, and bread and yeast to give a creamy and smooth feeling.
It is made with wheat malt, barley, malts, hops, yeast, and water.
Serve the Weissbier in a Weizen glass and cold with a lemon slice.
The Weissbier pairs well with seafood, meats, salads, spicy foods, creamy cheeses, and banana desserts.
After reading this very well-put together review, when will you try this low caloric beer? Oh and, what would you pair it with, knowing that it goes very well with everything?