Colimita Beer Review: A Tropical German Lager From Mexico
Colimita beer is a tropical representation of a German Pilsner. Just like a German Pilsner, this beer is light-bodied and light-colored, making it a breezy drink. One can also call it a Mexican/American combination of all-malt Lager.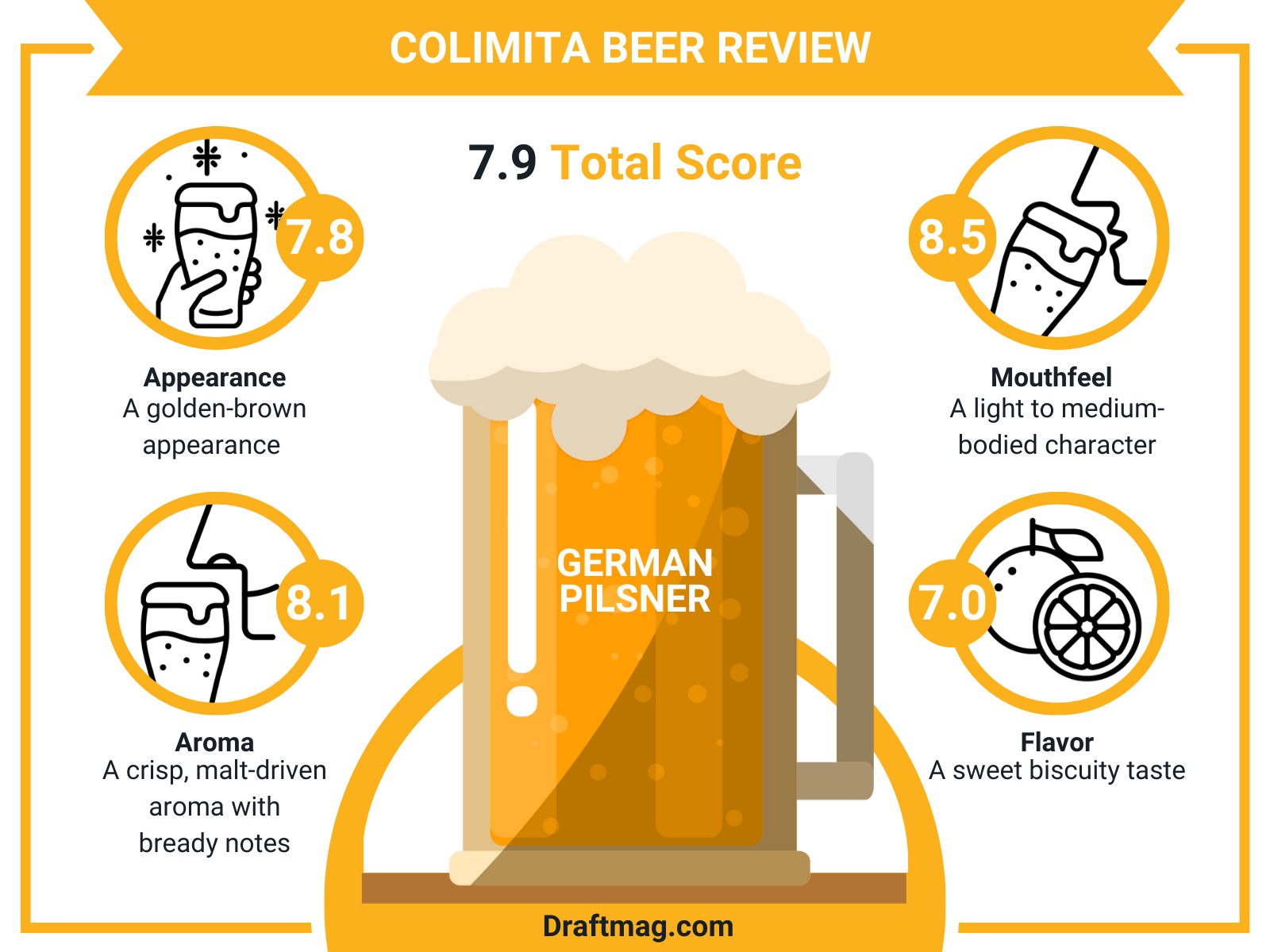 With a subtle ingredient scale and a classic approach, this beer can become your next favorite, this article will cover all about the beer, keep reading and learn more.
Colimita Beer Stats
| | |
| --- | --- |
| Country | Mexico |
| Brand | Cerveceria De Colima |
| Style | German Pilsner |
| Taste | Bready malt character, |
| Body | Light body with good carbonation |
| ABV | 4.2 percent |
| Flavors & Aromas | Lemon, pineapple, lager yeast, piney, citrusy |
| Serving Temperature | 40 to 45 degrees Fahrenheit |
Tasting Notes
Colimita Beer Tasting Profile
Colimita Beer Review
There is something quite striking about this beer, that puts it into the list of classic German-inspired Lagers and Pilsners but also takes a stand apart. Here are all the characteristics of this classic Mexican beer from south of the border.
– Appearance
Colima Colimita has a golden-brown appearance, almost transparent in texture, and hazy straw gold beneath a short head of pearl white foam. Some may also say, this beer is crystal clear as it fades down from its initial fizz into light yellow color. The white head is quite high and bright and fades down to a thin layer of lace. Overall, the beer exhibits very good clarity.
– Aroma
The beer is full of bready and malty aroma. Just like a classic German Pilsner, Colimita beer has a crisp, malt-driven aroma that resembles bready and biscuity notes. There is no nose of hop aroma. It has a little grainy-sweet malt scent of honey and cracker. All these characteristics make this beer a super easy, summer drink.
– Mouthfeel
The beer is light to medium-bodied in character. It has a clean finish on the palate. There is moderate to high carbonation, which is again, a major character of the German Lager. This beer is more highly attenuated and carbonated than a classic Czech Pilsner. It is overall, a highly refreshing beer.
– Flavor
The tongue follows the nose in this case. The sweet biscuity aroma stands out on the palette too. The bready and toasty malts leave a light sweetness and aftertaste. The feel of this beer is extremely light on the tongue, crisp, just like its German counterpart and has a clean, yet dry finish.
Some may even agree that there is light existence of lemony taste on top of a nice, rich and light malt base. Upfront, it has a clean cracker taste with a noble grassiness that is later taken over by lemony notes. The beer also has a clean fermentation profile. The cleaner the fermentation, the better and finer the beer.
– Food Pairings
The light bitterness of this Mexican beer makes it an excellent companion to sweet seafood. There is almost no dominant flavor, aroma, or obvious hop presence, which makes it pair well with spicy foods as well. This beer helps bring up the right flavors of almost any type of food. Some brilliant options for this are shrimp, spicy Indian food, grilled chicken, tacos, and scallops.
Whether you pair this drink with sweet foods or with spicy ones, it will always complement your palate.
Ingredients
Colimita is an American all-malt Lager. The beer has no special malts, no loud strain of hops, or funky ingredients. The recipe of a classic Colima beer simply follows the malt, the basic light hop, yeast and carbonation technique.
There is nothing extraordinary about this beer except for the beer itself. It is an extremely light, crisp and clean-bodied beer, perfect for a hot summer day by the barbeque.
Nutrition Facts
The beer is extremely light in mouthfeel and an easy pour and a much easier drink. The absence of lactose-like elements and any other ingredient in excess keeps it from being a high-calorie beer.
In addition, the beer is free of any over-the-top flavors and added calories. So, worry not, if you want to grab one of these even when on a diet. This beer has less than 112 calories per pint. One pint won't do much harm.
History
Colimita has an excellent backstory. Who would have imagined that the third smallest state of Mexico would produce this gem of beer. Mirroring almost all the aspects and characteristics of a German Pils, Colima is one of the best beers sold across Mexico.
Located in Trapiche Colima, these beers express the simplicity of the city. They are the second biggest independent brewery across Mexico and produce over 100 liters of beer every month.
Some other beers brewed by Cerveceria De Colima are Piedra Lisa beer, an American-style IPA, which is a refreshing yet hoppy beer. Cayaco beer is a tropical Lager that is light-bodied with stark clarity, floral aromas and a light citrusy taste. Parano is a Pale Ale with a coppery appearance and prominent bitterness. It has flavors of passionflower and citrusy notes.
FAQ
– What Are Some Other Famous Mexican Beers?
Ticus beer is a widely popular Porter beer particularly used to make Mexican Michiladas cocktails. Colima Cayaco is a Light Lager-style beer brewed by Cerveceria De Colima that is also extremely famous in the country.
Conclusion
The Colima Colimita is packaged in a unique way. The can is slimmer than almost all the other beer cans and has a neat, minimalistic design approach with a clean, white matte-finish outer coating. The design makes it easy to hold, and quick to finish. Here are some reasons why this beer can become your next go-to drink.
The beer has a crisp finish and the packaging makes it an easy pick, easy finish and easy to carry and store in your backpacks.
The fact that there are almost no fancy ingredients used, makes it an all-time classic.
The aroma and flavor profile of Colimita is very subtle making you grab for another, and another.
You don't have to worry about the calories so much, because the beer pint has 112 calories only.
So what are you waiting for? It's time you order yourself one of these classic Mexican Lagers and enjoy your summertime.