Heavy Seas Loose Cannon Review: Is This IPA Worth a Purchase?
Heavy Seas Loose Cannon IPA has remained a favorite among beer drinkers who love a lot of hops. Nicknamed Hop3, this beer contains a very high amount of hops, which produces a hoppy and boldly flavored beer that's delightful to drink.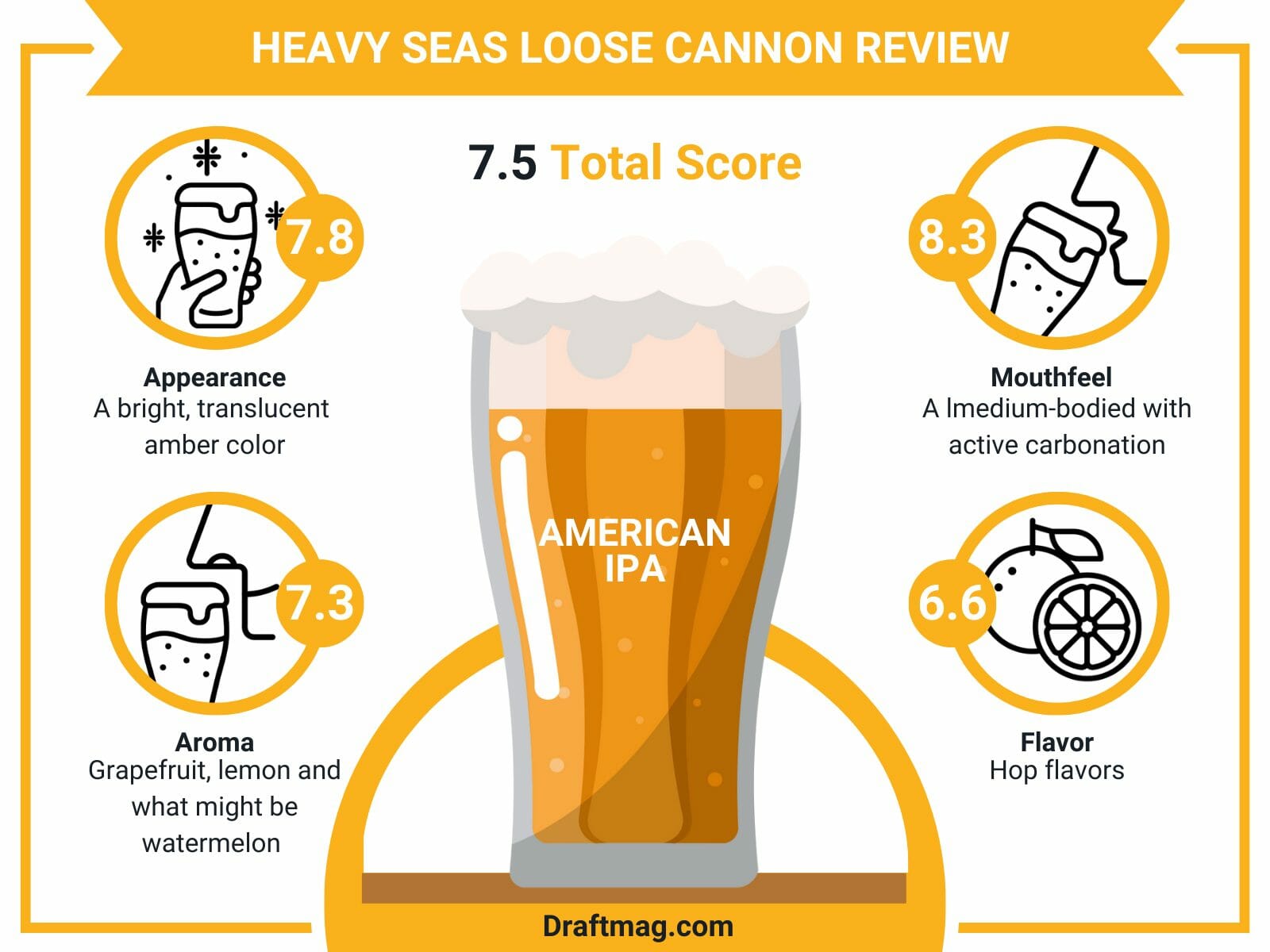 Whether you're a beginner or an experienced beer drinker, trying this beer is probably on your to-drink list. Our review reveals if this IPA is worth looking forward to or if it's just another unnecessarily hyped brew.
Heavy Seas Loose Cannon Stats
| | |
| --- | --- |
| Country | United States (Marland) |
| Brand | Heavy Seas Beer |
| Style | American IPA |
| Taste | This beer tastes sweet at first, then gives way to a very strong bitterness. This bitterness lingers for a while before a sweet maltiness balances it. |
| Body | It is medium-bodied with active carbonation. The beer has a crisp, clean, and dry finish that is perfect, considering how it tastes. |
| ABV | 7.25 percent |
| Flavor and Aroma | Its flavor and aroma are predominantly of hops, grapefruit, pine, lemon, peach, bready and caramel malts, and an alcoholic note. |
| Serving Temperature | 50 degrees Fahrenheit |
Tasting Notes
Heavy Seas Loose Cannon Tasting Profile
Heavy Seas Loose Cannon Review
You might be wondering what makes this IPA different from others. To satisfy your curiosity, our beer experts have compiled this helpful review to help you discover all there is to know about this American IPA.
– Appearance
Like most IPAs, this beer pours a bright, translucent amber color. You'll see a rocky white foam head gracing the top of the beer glass, and this foamy head has good retention. After some minutes, there's a scattered coating on top of the beer glass, and with every sip you take, a dense ring of lacing attaches itself to the inside of the glass.
Although the view of this beer is excellent when it is poured into a glass, it isn't any different in appearance from other IPAs. Still, this beer wins some points for its active carbonation as tiny bubbles float around the glass, creating a picturesque view.
– Aroma
The aroma of this beer more than makes up for its commonplace appearance. There is a sweet-smelling fragrance that immediately hits the nose, and it is predominantly citrus.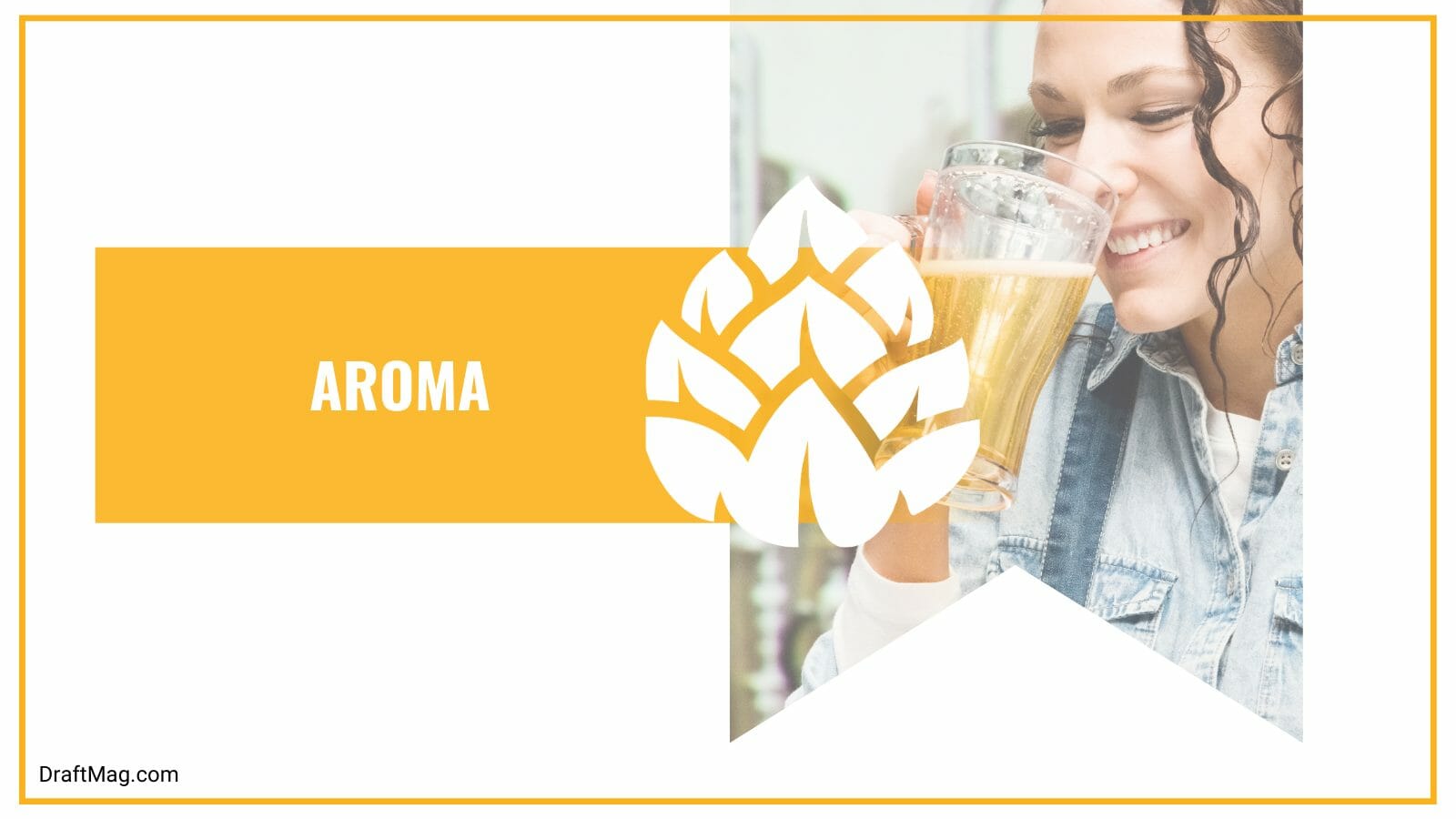 You can smell grapefruit, lemon, and what might be watermelon, peach or other dark fruits. This IPA's hop-forward essence comes into play at this point, as you can perceive a strong whiff of floral hops.
There's also a spicy undertone that might be from pine. All these aromas are balanced by a sweet scent of caramel and bready malts to create a desirable aroma that invites you to quickly take a huge gulp. You'll also find a muted alcoholic/sulfuric note at the base of this sweet scent.
– Mouthfeel
This American IPA is medium-bodied with active carbonation, giving it a solid and crisp mouthfeel. The beer's fruitiness also lends it a drying feel, although it isn't too astringent. At some point, the malt character of this beer is more discernible as you can feel graininess, which gives the beer a sticky effect. As this is a hop-forward IPA, you'll note a lot of hoppiness.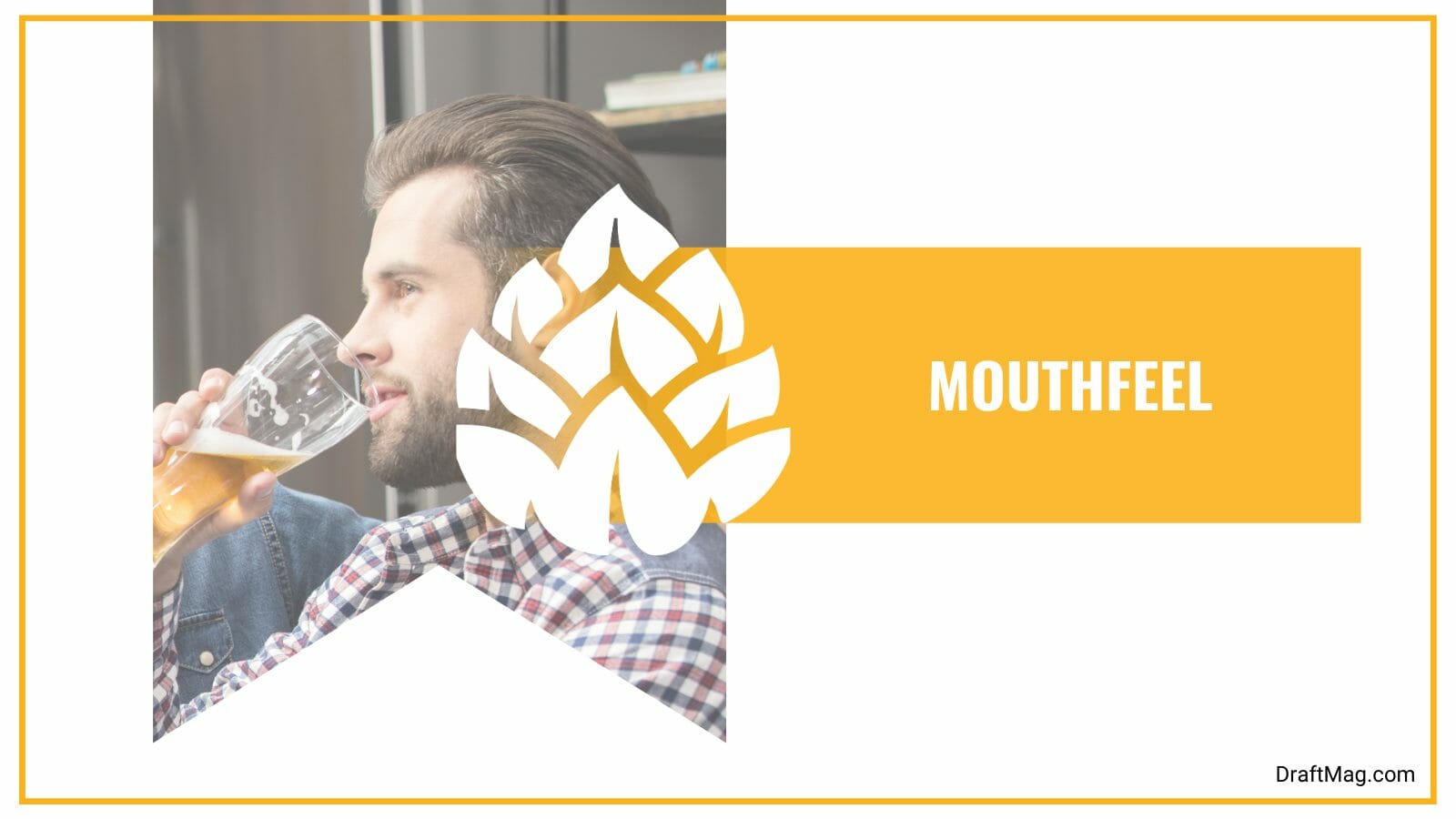 Thankfully, this beer's bitterness doesn't linger, making it a bearable IPA for those who are not huge fans of hoppy beers. Its alcohol presence is felt at the finish, balancing the malt and hop notes.
– Flavor
The predominant flavor of this is hops. You can taste the hop flavors from the moment you start drinking until the end. Aside from this hop flavor, there's a citrus flavor that combines grapefruit, lemon peels, peach, and pine.
It is almost impossible to miss the rich malt flavor from its caramel and bready malts composition. The result of all these is a bold-flavored beer balanced and delightful to the palate.
– Food Pairings
This IPA pairs excellently with spicy Mexican, Thai, Chinese, Indian, and even Italian dishes like every other IPA. Due to its citrus and malty notes, this IPA complements the flavor of its paired dishes and cleanses the palate when necessary. Other great food pairings for this American IPA are barbecue, barbecue sauce, grilled chicken, steak, buffalo wings, and cheese.
You can pair this beer with regular pizza, burgers, and French fries for a quiet drinking session with friends. It is also great with desserts like fruit salad, cakes, especially citrus-flavored types, and apple or strawberry pie.
Ingredients
The IPA's producers intricately mix various premium beer ingredients to produce it. It contains Simcoe, Centennial, and Palisade hops and the regular addition of malts, yeast, and water.
There's also the presence of grapefruit, pine, and what might be lemon peels. All these make for a refreshing, thoroughly hop-forward beer.
Nutrition Facts
This beer has 160 calories, 13 grams of carbs, two grams of protein, and zero grams of fat. It has a slightly high alcohol volume of 7.25 percent.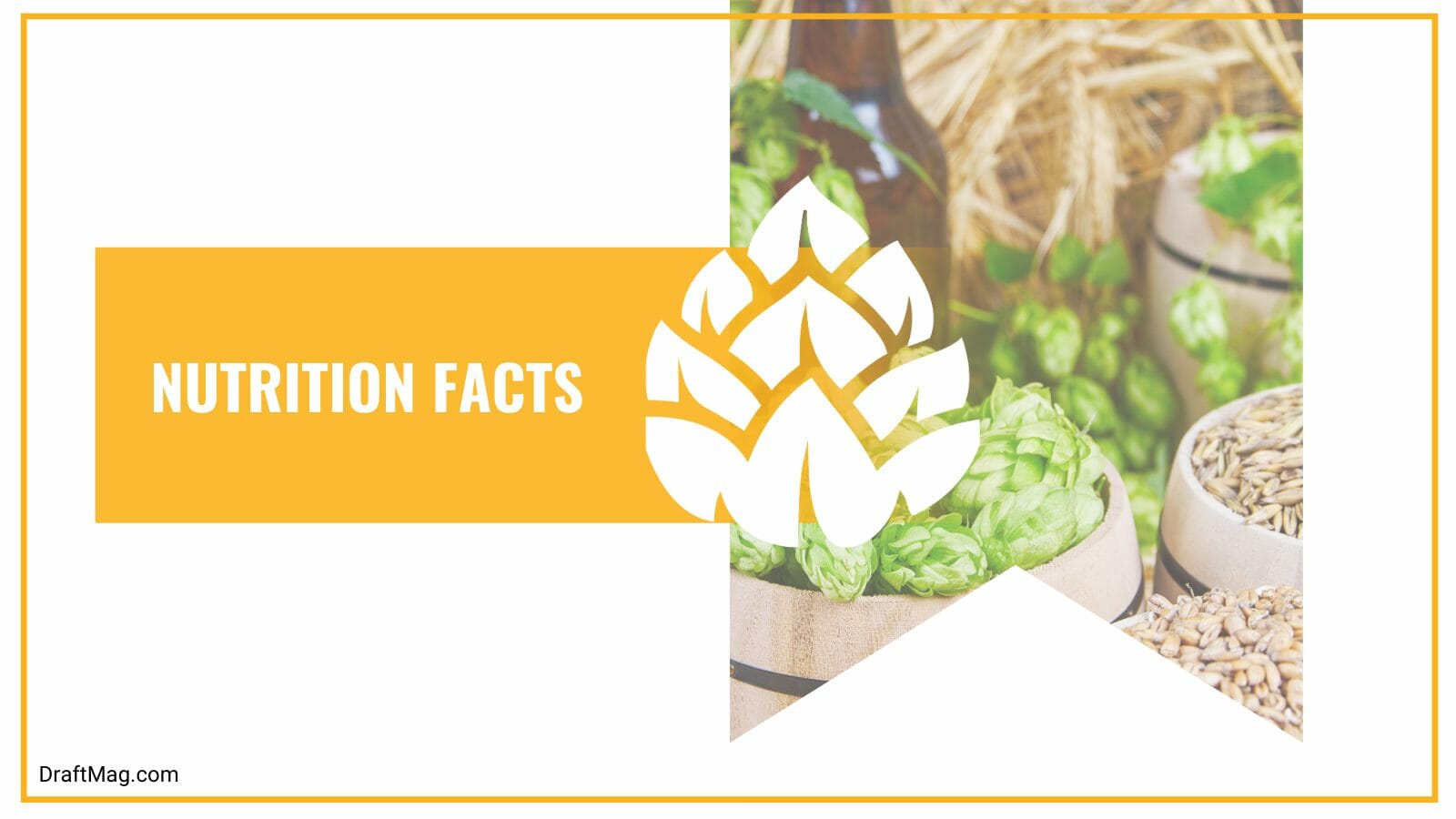 Due to the possible inclusion of barley malt, this beer might contain gluten unless stated otherwise. Besides that, this beer is excellent for vegetarians as it is made from 100 percent plant-based products.
History
​Loose Cannon IPA is the flagship beer of Heavy Seas Beer in their bid to break into the craft beer scene. It was first released in 2010 and had a lot of beer drinkers talking, especially about its hoppy nature.
According to the brewing company, this beer is hopped in the boil, the hopback, and fermentor. Hence, it is brewed with a variety of fine hops and mixed with pine and grapefruit to create a delicate yet intensely bitter IPA.
There's also an exciting maltiness that balances this beer and makes it a truly remarkable brew. It is little wonder why this beer won a CAMRA award (second place) at the 2010 Great British Beer Festival.
Conclusion
Here's a summary of everything we discussed in this review:
Heavy Seas Loose Cannon is an American IPA with 7.25 percent alcohol content.
Its aroma, taste, and flavors are predominantly of hops, citrus notes, and malt. There's also an alcoholic presence to round off this ale and give it enough character.
This beer is medium-bodied with the right amount of carbonation to produce a crisp, dry, malty finish to balance its strong bitterness.
You can pair this beer with barbecue sauce, burger, cheese, steak, grilled chicken, fruit salads, and strawberry pie.
This beer is highly recommended and worth trying at your next beer hangout. It tastes remarkably clean, with a rich malt finish and just enough bitterness to give you an unforgettable drinking experience.