XXXX Bitter Review: A Complete Look at This Top Queensland Beer
XXXX Bitter is one of the most popular beers in Queensland, Australia. Its exquisite and refreshing aromas and flavors make it a favorite of beer lovers worldwide.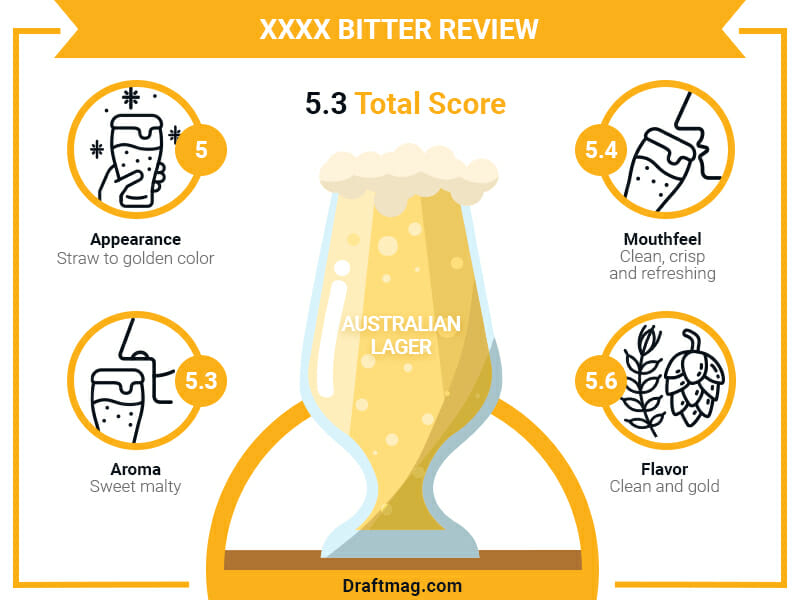 If you're a lover of Budweiser or Coors, then you should not miss out on this beer. This XXXX Bitter review will discuss the various features of this exciting Castlemaine beer.
XXXX Bitter Stats
| | |
| --- | --- |
| Country | Australia |
| Brand | Castlemaine Perkins |
| Style | Australian-Style Lager Beer |
| Taste | Clean, crisp and refreshing |
| Body | Light-bodied |
| ABV | 4.4 percent |
| Flavors & Aromas | Sweet malty aroma and clean gold flavor |
| Serving Temperature | 37 to 40 degrees Fahrenheit |
Tasting Notes
XXXX Bitter Tasting Profile
XXXX Bitter Review
XXXX Bitter is an Australia-Style light lager beer. This clean-tasting beer is one of the best beers from Castlemaine Perkins. It has a place in Queensland's history, standing tall for the Sunshine State among several other beers in the world. Despite spending almost a century in the market, beer lovers still enjoy and crave this full-flavored lager.
Produced with bottom fermentation techniques, this beer's refreshing and balanced flavor is one to covet. If you want an American lager you can combine with your favorite delicacies, then this Australian beer is your best option. Don't be discouraged by the "Bitter" in its name — this beer has an IBU rating of only 18! Let's check out its features.
– Appearance
Compared to many other beers in its class, XXXX Bitter is a clear beer. It falls within 2 to 5 in the SRM Color Scale and appears straw to golden color in a beer glass. It is a light beer with a thin white head that settles very quickly.
– Aroma
The sweet malty aroma of the beer hits you first, along with a hint of citrus and green apple on the nose. The aroma is quite faint, with medium maltiness mixed with a sweet rice smell. You also can't miss the light corn notes on the nose.
– Mouthfeel
This brew is a well-hopped lager that goes easily down your throat. The bottom fermentation process, strong yeast, faint fruity taste and mild sweetness gives this beer its unique mouthfeel.
– Flavor
This great Northern beer is one of the best Australian light lagers with a clean gold flavor. It is unpretentious as you will notice a slight nuttiness on the palate as you sip it. The taste is clean and crisp, with a lingering after-bitterness at the back of your throat.
– Food Pairings
We recommend serving this beer very chilled due to its light flavor. Therefore, it is the perfect beer for hot afternoons when you don't want to drink something heavy. Since the beer is of Australian origin, you should try it with foods like barbecued snags (sausages), Australian-style burgers and meat pies. Barramundi (fish and chips) and pumpkin soup are also perfect pairings for this amazing beer.
Outside the Australian region, you can enjoy this beer with a nice plate of cheese. Brie or Muenster are perfect options in this case. If you want to take it to a higher level, you can try a delicious Entrée like Seafood, Salad, Asian cuisine, and barbecue. Since Australian lagers are excellent complements for lightly flavored dishes, you will enjoy this combination.
You're not left out if you're a lover of spicy dishes. The crisp and refreshing flavors of this light lager can cut through the food's spiciness and give you refreshing relief from its heat. Who says you can't make your own michelada or margarita with this brew? Bring together your tomato sauce, spices, lime, salt, etc., to make an exciting beer mix.
Ingredients
This big-hearted lager is full of pride, and this pride runs deep in its ingredients. The unique yeast and Golden Cluster hops were grown at the Castlemaine Perkins brewery. Therefore, you can be sure that this beer has the finest quality ingredients you can think of. The Australian malted barley is another twist to this popular lager, offering it a unique aroma.
Aside from the Golden Cluster hops, Castlemaine Perkins uses another strain of hops – Superpride of Ringwood. This second hop strain is mainly used due to its high alpha acid units. Therefore, the beer has more IBU for a distinct taste that beer lovers enjoy.
Queensland cane sugar and pure local water bring everything together. As a result, you have a beer with a special clean, crisp and satisfying taste.
Nutrition Facts
XXXX beer has 131 calories per 375 ml serving or 35 calories per 100 ml serving. Depending on your activity levels, you may need up to 30 minutes on the treadmill to burn out one pint of this beer. This calorie level is not as high as many other beers, so you can easily maintain weight and stay healthy.
Moreover, a 375-ml serving of this beer contains less than 0.8 grams of total fat and less than 0.4 grams of saturated fat. This is a healthy choice since you won't be storing unneeded fats in your body. Other average nutritional values per 375-ml serving are:
Protein – 1.1 gram
Carbohydrate – 8.1 grams
Sugars – 0.8 grams
Dietary Fiber – 1.5 grams
Sodium – 16 milligrams
The alcohol percentage for XXXX Bitter is 4.4 percent, which is the industry standard for a regular beer. It is an average ABV that helps the beer maintain its light taste. Therefore, you can enjoy this Australian lager with low chances of getting intoxicated. Moreover, drinking such a beer with a relatively low alcohol content will not predispose you to adverse health conditions.
History
XXXX was first released by Castlemaine Perkins in October 1924 in Brisbane, promoted with the popular character – Mr. Fourex. In the early 1900s, this brewery appointed a Master Brewer from Germany. It is hard to imagine a German bloke being crucial to the history of this Queensland's brew, but Alhois "Bill" Leitner was different. He had the task of helping the brewing company transport the initially cloudy XXXX beer to hot and dry parts of the state.
Bill worked out the problem, noting that the issue came from the cleaning method used on the brew vessels. He created a new recipe that kept the brew fresh, even with transportation into the long and hot areas of Australia. The Castlemaine brewery still uses this recipe to make Queensland's favorite beer.
World War II began the distribution of this beer abroad, with troops in Asia and North Africa experiencing the distinct taste of XXXX. This beer went overseas again during the Vietnam war. The diggers there gave it the nickname "barbed wire" because of its label. In the 1980s, Castlemaine promoted the lager with this line: "Australians wouldn't give an XXXX for anything else."
– History Behind the "XXXX" Name
If you're a regular XXXX drinker, you would have pondered the meaning of the Xs in the name at one point. Back in the day, beer lovers measured beer quality with Xs. Brewers often marked their barrels of beer with an X to make them subject to high pay.
Later, several brewers were adding "X" to their beers, primarily for marketing purposes. The more Xs you have, the better and stronger the beer is. Castlemaine's first brew was the XXX Sparkling Pale Ale, with an award of a respectable beer due to the three Xs. However, it was still missing something.
After perfecting the recipe, it gained the fourth X, giving us what we have now. Today, the Australian brewery has various beers, including the popular XXXX Gold. Other offerings include XXXX Dry and Summer Bright Lager. Interestingly, a rival Brisbane brewer tried to out-X Castlemaine Perkins by producing an XXXXX beer, but not with much success.
Frequently Asked Questions
– Do They Still Make XXXX Bitter?
Yes, they still produce XXXX Bitter as it remains the pride of Queensland. You can find this beer at various beer shops, pubs and bars across Australia. It is also available in various other countries, including the United States and many countries in Europe.
– Is XXXX Bitter Vegan?
Yes, this beer is vegan friendly because its ingredients contain no dairy or animal products. It only contains Australian malted barley, Golden Cluster hops, Superpride of Ringwood, yeast, cane sugar and pure local water. So this beer is a great option for vegans!
Conclusion
This XXXX Bitter review has given more insight into the refreshing Queensland beer. You now have a better view of its tasting notes and features. Let's take a quick look at the things we discussed.
XXXX is a popular Australian lager with refreshing aromas and flavors that make it beer lovers' favorites since 1924.
This brew appears straw to golden color in a beer glass with a faint fruity taste and mild sweetness. The taste is clean and crisp, with lingering after-bitterness.
Its ingredients include malted barley, Golden Cluster and Superpride of Ringwood hops, cane sugar, yeast and pure local water.
It has a 4.4 percent alcohol content, less than 0.8 total fat content, and 131 calories per 375ml serving. Other additives include sugars, dietary fiber, and sodium.
XXXX goes perfectly with several Australian dishes including barbecued snags, Barramundi and pumpkin soup. It is an excellent beer to pair with spicy foods.
If you're looking for a top-quality Australian lager with a refreshing taste, get a glass of this brew today!