Snowdrift Vanilla Porter Review: What Is This Beer's Full Profile?
Snowdrift Vanilla Porter is a type of beer that, if you're a fan of porter beers you must want to consider this beer style. This beer review will give you an insight into what to expect from this beer.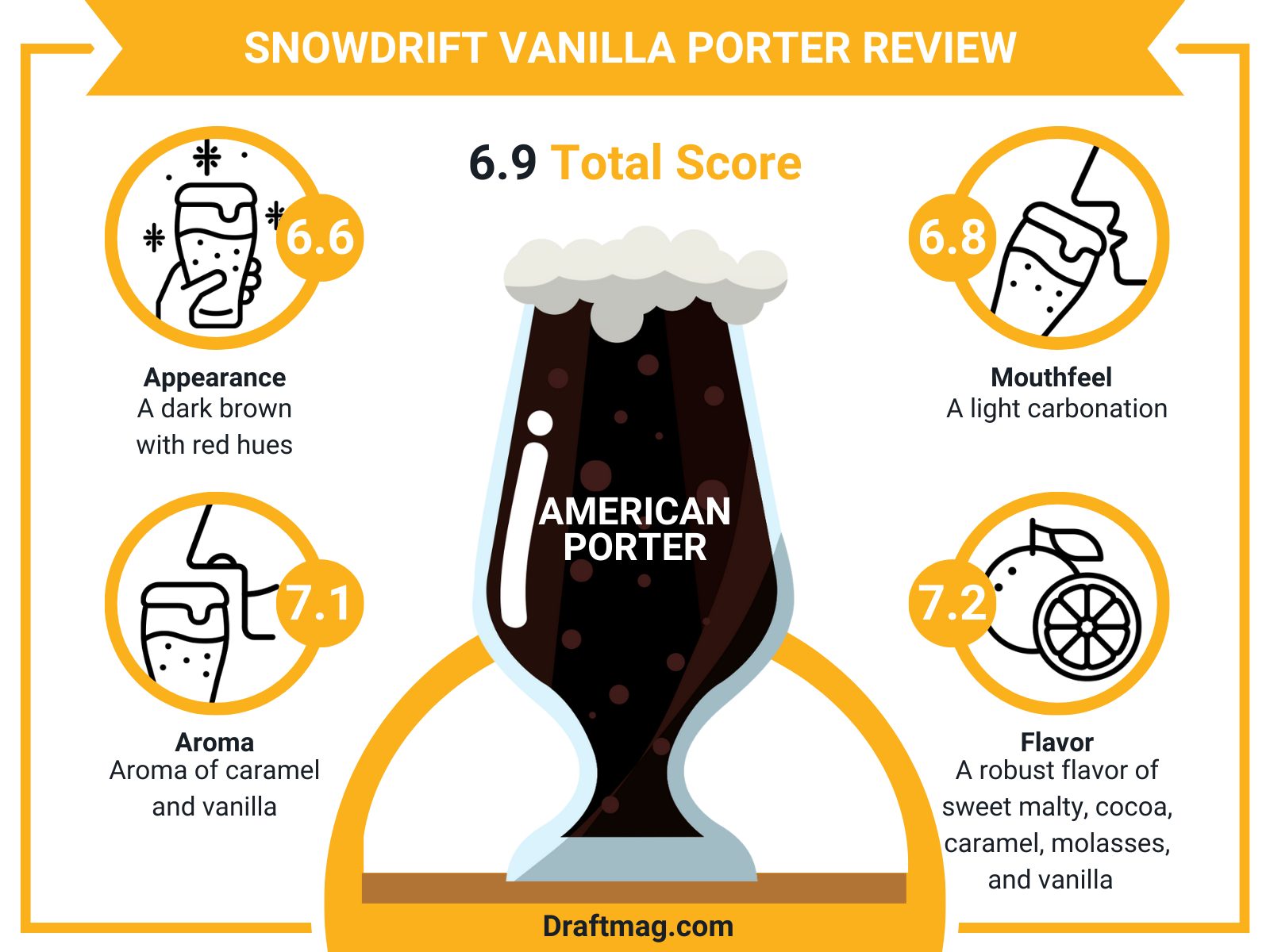 We'll discuss its aroma, appearance, flavor, nutrition facts, and ingredients. Keep reading as we'll also dive into the beer's history and food pairings.
Snowdrift Vanilla Porter Stats
| | |
| --- | --- |
| Country | United States |
| Brand | Jacob Leinenkugel |
| Style | American Porter |
| Taste | creamy vanilla |
| Body | Medium |
| ABV | six percent |
| Flavors & Aromas | cocoa, coffee, and caramel |
| Serving Temperature | 45 to 55 degrees Fahrenheit |
Tasting Notes
Snowdrift Vanilla Porter Tasting Profile
Snowdrift Vanilla Porter Review
To know more about this beer, you must bare in mind that it is an American porter. Below you will find the organoleptic characters that define the beer's style and its food pairings.
– Appearance
It appears opaque and dark brown with red hues when poured into a beer glass. The beer is lightly carbonated with a light brown foamy head about one finger thick and clears rapidly with a few lacings.
– Aroma
The aroma welcomes you with caramel maltiness and vanilla, which is the key aspect of this beer. After this, it is followed by hints of roasted malts, dark chocolate, and light coffee.
– Mouthfeel
The beer is medium-bodied with light carbonation. The beer is relatively smooth for a porter, which is typically harsh. On the palate, it begins with a toasty feel with sweet maltiness, caramel, and with some bitterness. Also, the vanilla note is moderate and does not bombard the palate. Overall, the beer is easy to drink because of the light carbonation.
– Flavor
It has a robust flavor, sweet, malty, cocoa, caramel, coffee, molasses, and a not-so-intense vanilla note. In addition, it is important to know that there is no solid bitterness in this beer.
– Food Pairings
Porters like Leinenkugel's Snowdrift come with a kind of fullness after drinking. However, this beer is a fantastic digestive to serve with various dishes. The roasted malt flavor makes it travel well with roasted or smoked brisket, bacon, sausage, meat, fish, and barbeque. These pairs will result in a resonance of similar smoky flavor and aroma. Also, you can further enrich these flavors by including aromatic herbs in your dish.
Talking about contrasting flavors, you can introduce shellfish like mussels, crabs, shrimp, oysters, prawns, and lobsters. The reason is that the iodized side of shellfish creates a sweet versus salty game on the palate. Interestingly, this beer is vegan-friendly, so vegetables also play the game.
The beer is also suitable for dessert time, and you can take advantage of its vanilla and chocolate flavors to create a pleasant experience. Given this, it would be best to enjoy this beer with chocolate and vanilla-based desserts. Examples include vanilla pudding, mustard cake, tiramisu, vanilla crepes, chocolate fondant, or an almond cake. Also, the roasted malt notes make this beer a perfect fit with chocolate peanut butter cookies, caramel tart, and toasted coconut magic bars.
Furthermore, if you want to complement the flavor, you can focus on light desserts based on cherries and red fruits. Also, you can include steak pies, sweet potato casserole with marshmallows, buffalo wings, glazed ham, and Mexican cuisine. This beer also goes well with blue cheeses like Roquefort or cow milk cheeses like cheddar, gruyere, muenster, parmesan, and gouda. The beer's sweet caramel flavor balances the flavors this cheese releases on the palate.
Ingredients
Snowdrift Vanilla Porter recipe had a medium body light carbonation it has key the ingredients of Cluster hops, Willamette hops, 2-row, Special B, 6-row, Carapils, Water, Caramel 60, yeast, dark chocolate malt, lastly it has real vanilla and roasted barley.
Nutrition Facts
Every 12 fl. oz bottle contains about 22g of carbohydrates and 2g of proteins. Also, compared with Breckenridge Vanilla Porter, which has about 170, Snowdrift Vanilla Porter calories are about 211, which is on the high side. Hence, you don't want to be a close friend of this beer if you're conscious of your weight.
On the flip side, it's a seasonal beer, so you can enjoy it while it's available. Also, this beer contains a trace amount of sodium, potassium, and calcium.
Snowdrift Vanilla Porter ABV is 6 percent, like the Big Muddy's Vanilla Stout. While the alcohol content is moderate, multiple bottles may make you boozy. In addition, the beer's IBU is 16, below the range of a typical American porter, usually between 25 and 50. This is why the beer doesn't have a strong hop bitterness.
History
Snowdrift Vanilla Porter was introduced in 2012 by Jacob Leinenkugel Brewing Company, a subsidiary of Molson Coors. The brewery, which has existed for over a century, is located in Chippewa Falls, Wisconsin, and is one of the leading craft beer makers in the upper Midwest.
Also, the company brands her products as Leinenkugel's. While Leinenkugel is known for releasing year-round beer, the company also ventures into brewing seasonals. These include the Snowdrift Vanilla Porter, Summer Shandy, Oktoberfest, Sunset Wheat, etc.
On the other hand, Snowdrift Vanilla Porter was brewed to warm up the cold months and snowy nights of winter. Because of this, Leinenkugel only releases beer between September and January. Now, you can get the beer in six-packs, 12-packs, and on draft due to their availability.
Conclusion
If you're looking for a beer to warm up the winter season, you should try Snowdrift Vanilla Porter. Indeed, this beer will stimulate your taste buds with its chocolate and vanilla flavor. If you have read this far, here is a summary of our review:
The beer is an American Porter with six percent ABV.
It appears opaque, dark brown, with a light brown foamy head about one finger thick.
Its ingredients include 6-row, Cluster hops, Carapils, Special B, dark chocolate, Willamette hops, 2-row, caramel, vanilla, roasted barley, water, and yeast.
The beer's flavor includes caramel, vanilla, cocoa, and coffee.
Pairing dark beers with food can be tricky as they differ from regular lager or ales. Generally, the pairing still relies on the basic principle of contrasting or complementing flavors.
Winter is coming, and the last thing you want is a dull season. Therefore, load your home with this beer and enjoy the meals suggested in this review. In addition, remember to follow the serving temperature for a more pleasant experience.