Hamm's Special Light Review: A Popular Favorite for Beer Lovers
Hamm's Special Light is a thirst-quenching pale lager with a drinkable character and delicious mouthfeel. It offers a classic character that will remind you of an American beer.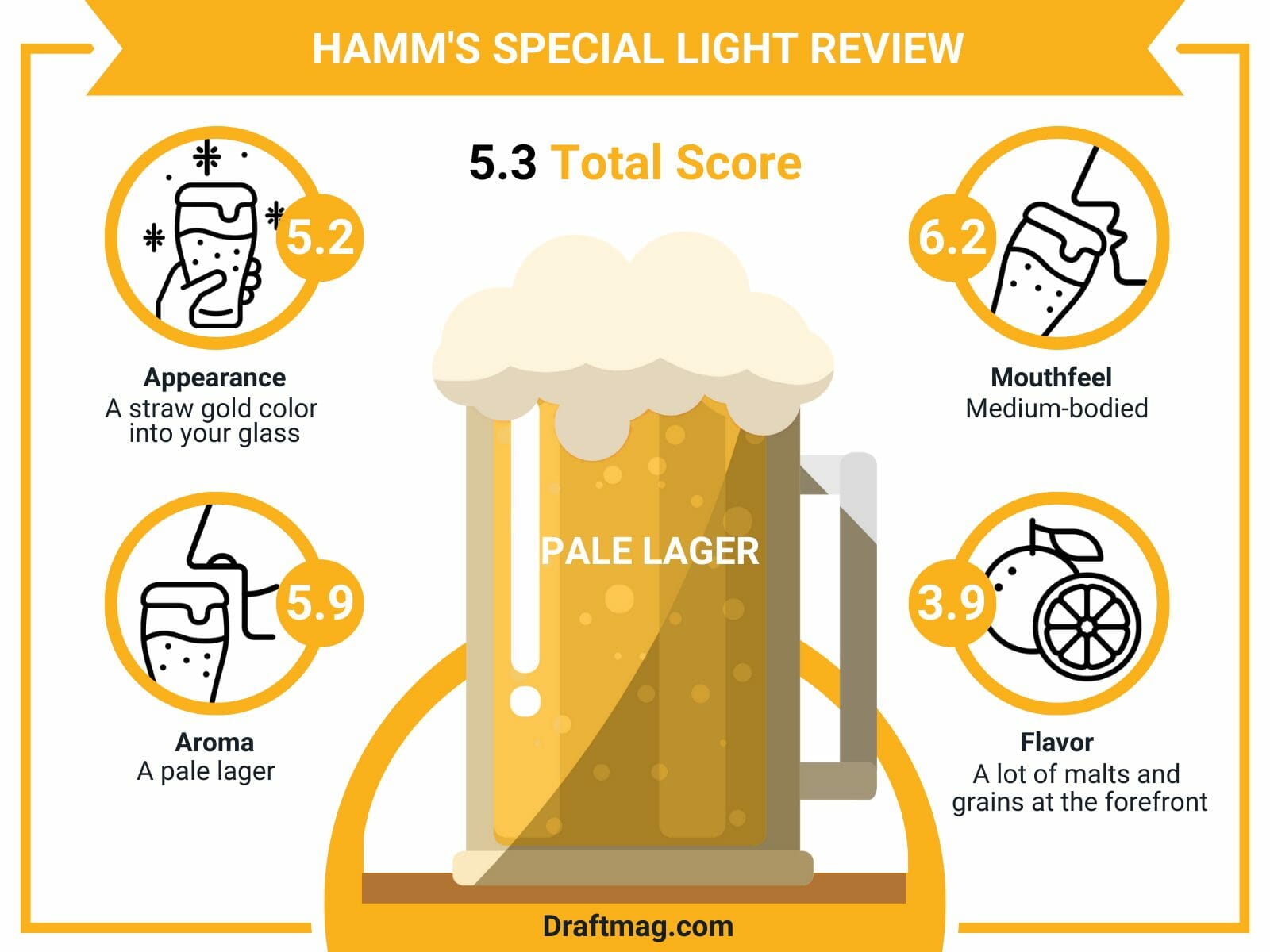 The beer is the ideal go-to for a Saturday evening with friends or a palate cleanser after dinner. Before trying it out, check out our complete review of Special Light below.
Hamm's Special Light Stats
| | |
| --- | --- |
| Country  | United States |
| Brand | Hamm's Brewing Co. |
| Style | Pale Lager |
| Taste  | Corn, grass |
| Body | Light Body |
| ABV | 3.8 percent |
| Flavors & Aromas | Corn, light grass, white bread, mild fruit, spice |
| Serving Temperature | 35 – 40 degrees Fahrenheit |
Tasting Notes
Hamm's Special Light Tasting Profile
Hamm's Special Light Review
Special Light is a pale lager brewed by Hamm's Brewing Co. with a 3.8 percent alcohol content. The beer has a light body and pours a sparkling golden color into your glass, with flavors and aromas of corn, light grass, white bread, fruits, and spicy hops. It stands out from other classic American lagers with its flavorful experience.
Pour the light lager beer into a pilsner glass, as the tall-footed glass shows off the bright gold color and clear carbonation. The beer is best served with a citrus wedge on the rim of the glass, as this will accentuate the fruity flavor of the beer, and you should ensure it is served cold. The ideal temperature is 35 degrees Fahrenheit.
The beer offers a clean feeling that goes well with different foods, and its low ABV makes it fantastic for watching games and parties.
– Appearance
The Special Light pours a straw gold color into your glass and has a clear appearance. The moderate carbonation will be showcased in the form of bright bubbles floating to the top. It has a white foamy head up to a finger high that will drop quickly and leave splotchy lacing against the glass.
– Aroma
On the nose, the Special Light smells of corn and light grape. It stays true to its style as a pale lager with a hint of white grapes at the back, but the aroma is more assertive than you'd expect, with a bit of lemon coming from the hops.
– Mouthfeel
As for the mouthfeel, the Special Light is light-bodied without feeling too thin or watery.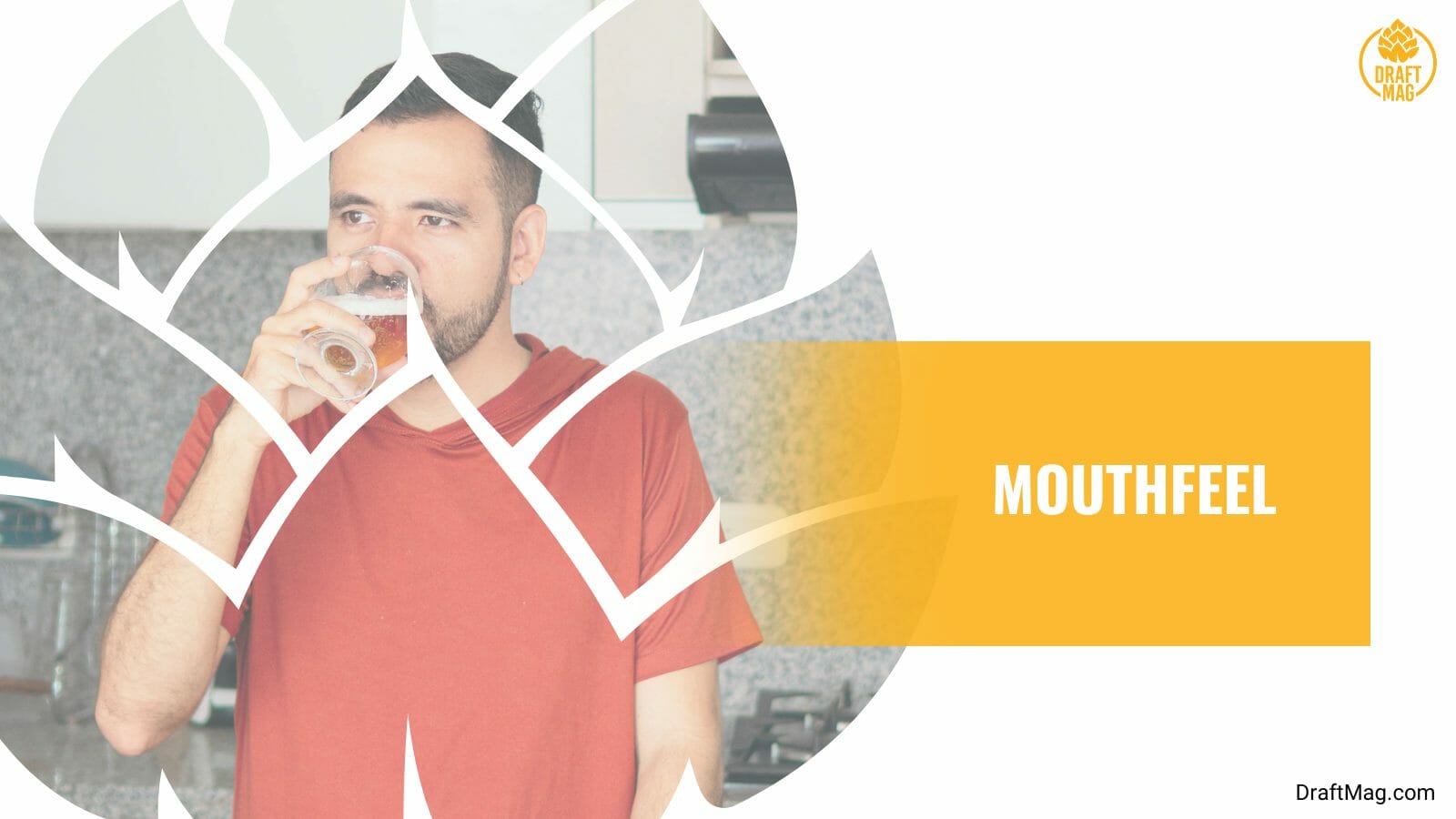 There is enough carbonation in the mouthfeel without feeling too fizzy. It is refreshing and has a thirst-quenching character, with a dry mouthfeel towards the end.
– Flavor
When you taste this Hamm's pale lager, you get a lot of malts and grains at the forefront. The beer tastes like white bread, corn, mild fruit sweetness, and some grassy spice from the hops. It offers some mild bitterness in the aftertaste that is obtained from the hops.
The taste of the Special Light will remind you of cornbread, but there's a slight hint of lemons with a bit of dryness on the finish. It is quite flavorful despite being a pale lager, making it stand out from other options. There are hints of cracker, flaked corn, apple, and a clean finish.
– Food Pairings
When having the Special Light, you can pair it with different kinds of foods, especially bold and spicy flavors. Since the beer is clean, it waters down the bitterness of different kinds of foods. Try out an Indian curry, spicy noodles, tacos and burgers with a barbecue sauce, and more.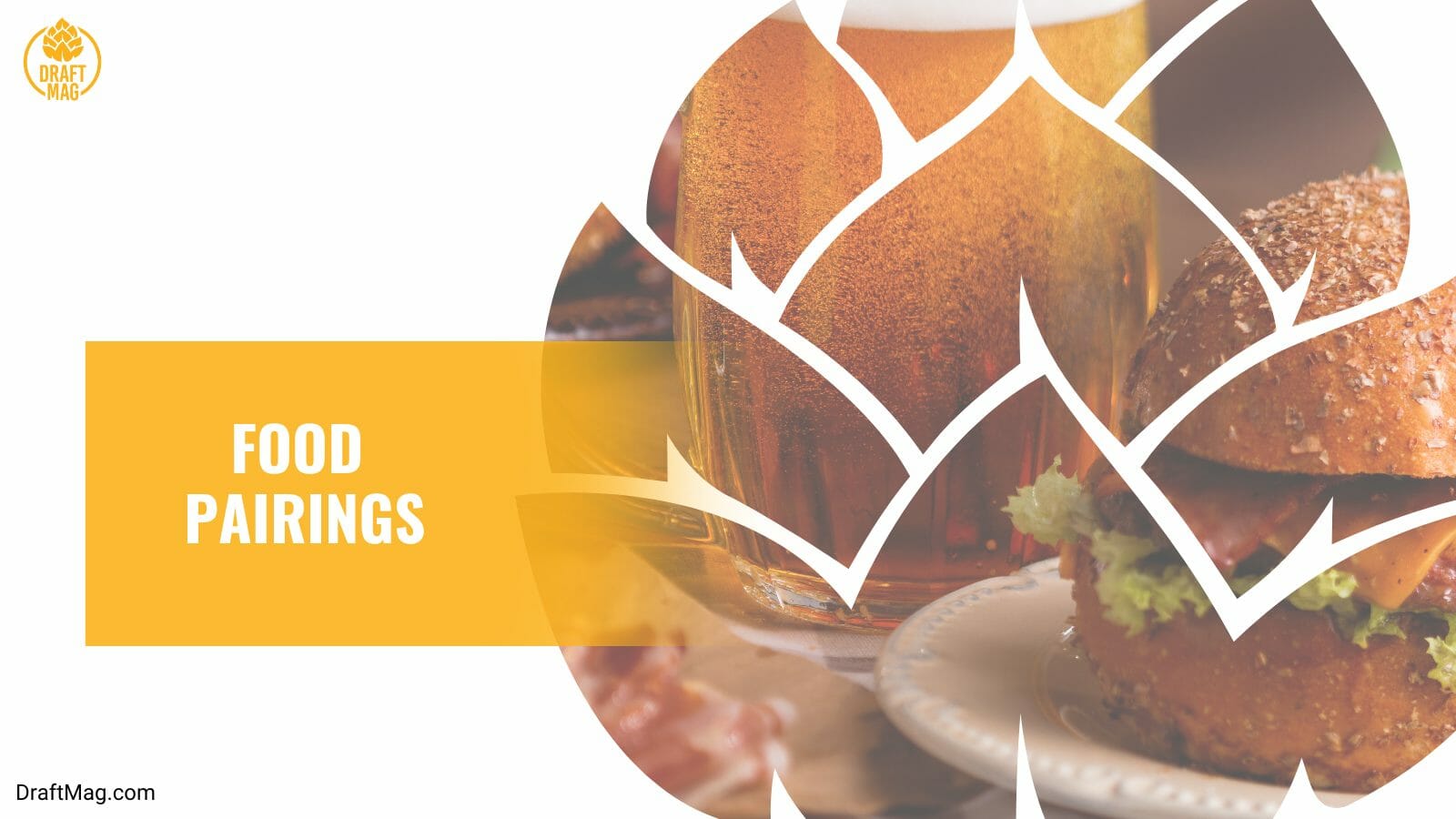 Salads are also a great pairing, especially those that are topped with a citrus-flavored dressing and with crisp vegetables and different kinds of light foods. Try out chicken, salmon, bratwurst, sausages, pork, hearty foods, and Mexican cuisine.
Your typical American foods go great with this beer, so try out hotdogs, French fries, taters, buffalo wings, noodles, pasta, and seafood. For those who enjoy cheese, you can go for mild cheeses like a Havarti or Cheddar. As for the desserts, top options include lemon shortbread, mango flan, spice cake with pine nuts, or almond biscotti.
Ingredients
The pale lager is made with barley malt, grain, hops, and pure water. It is also brewed with yeast and corn syrup consisting of dextrose and maltose. The beer's malt is at the forefront, offering flavor and a clean taste, while the hops shine through in the form of lemon and apples. You can also taste the grains and the corn.
Nutrition Facts
Hamm's is a light beer, which places its ABV at 3.8 percent. It's the ideal beer for anyone who wants to drink without getting drunk quickly. The beer has low bitterness units as there are mostly sweet notes.
In this beer, you get 110 calories, which you need to keep in mind when calculating your daily dietary requirement. As a light beer, it's ideal for those that are on a diet, which explains the low calories. There are also 8.3 grams of carbs, 1 gram of sugar, and 5mg of sodium. The beer is not keto-friendly or gluten-free.
History
The Special Light lager is brewed by Hamm's Brewing Company and was first released in 2004.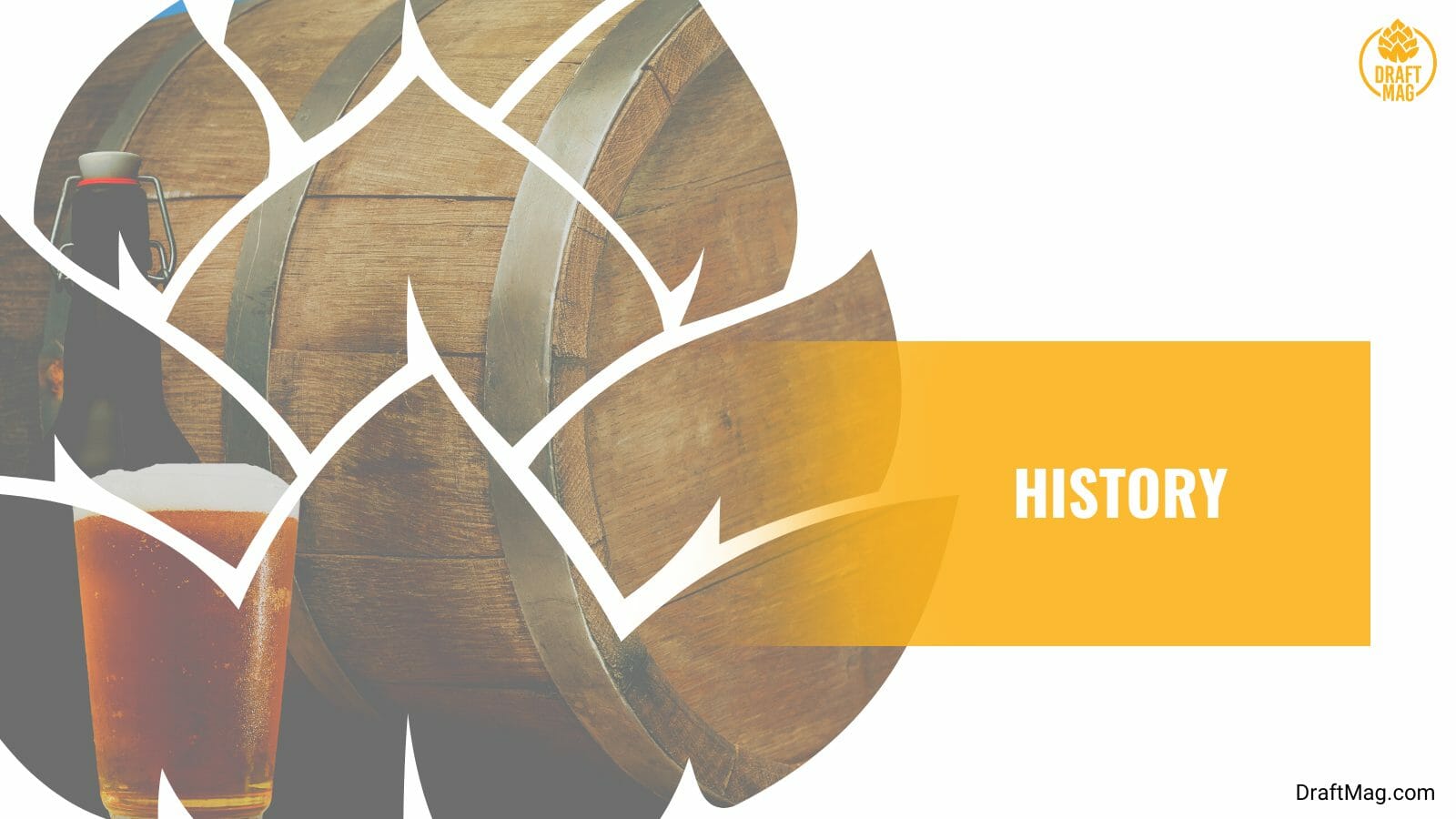 The brewery was founded in 1865 and was first called the Theodore Hamm Brewing Company. It was inherited by a German immigrant in the United States.
Hamm's has already become the fifth-largest brewing company in the United States and has acquired different kinds of breweries. Although Premium, Golden Draft, and Special Light are offered by Hamm's, they are brewed by Molson Coors. In 2021, Special Light was discontinued as an attempt to streamline the company.
Conclusion
Special Light is a light but surprisingly flavorful beer that will impress any beer lover looking for quality. Here's a summary of our review:
Hamm's Special Light is a pale lager with a 3.8 percent alcohol content.
It has flavors and aromas of corn, light grass, white bread, grass, and spicy hops, with a light body and dry finish.
The beer is made with barley malt, grain, hops, and pure water.
It is best served in a pilsner glass at a very cold temperature.
The beer tastes great with spicy food, citrus-flavored desserts, light foods, mild cheeses, and American food.
You can easily purchase the Special Light at physical stores and supermarkets close to you or online.