Wachusett Blueberry Review: A Refreshing Fruit Beer for Summer 
Our Wachusett Blueberry review is for anyone that has heard of this unique blueberry brew from the Massachusetts-based brewing company. The Blueberry Ale offers a refreshing fruity flavor without leaving behind its beer character.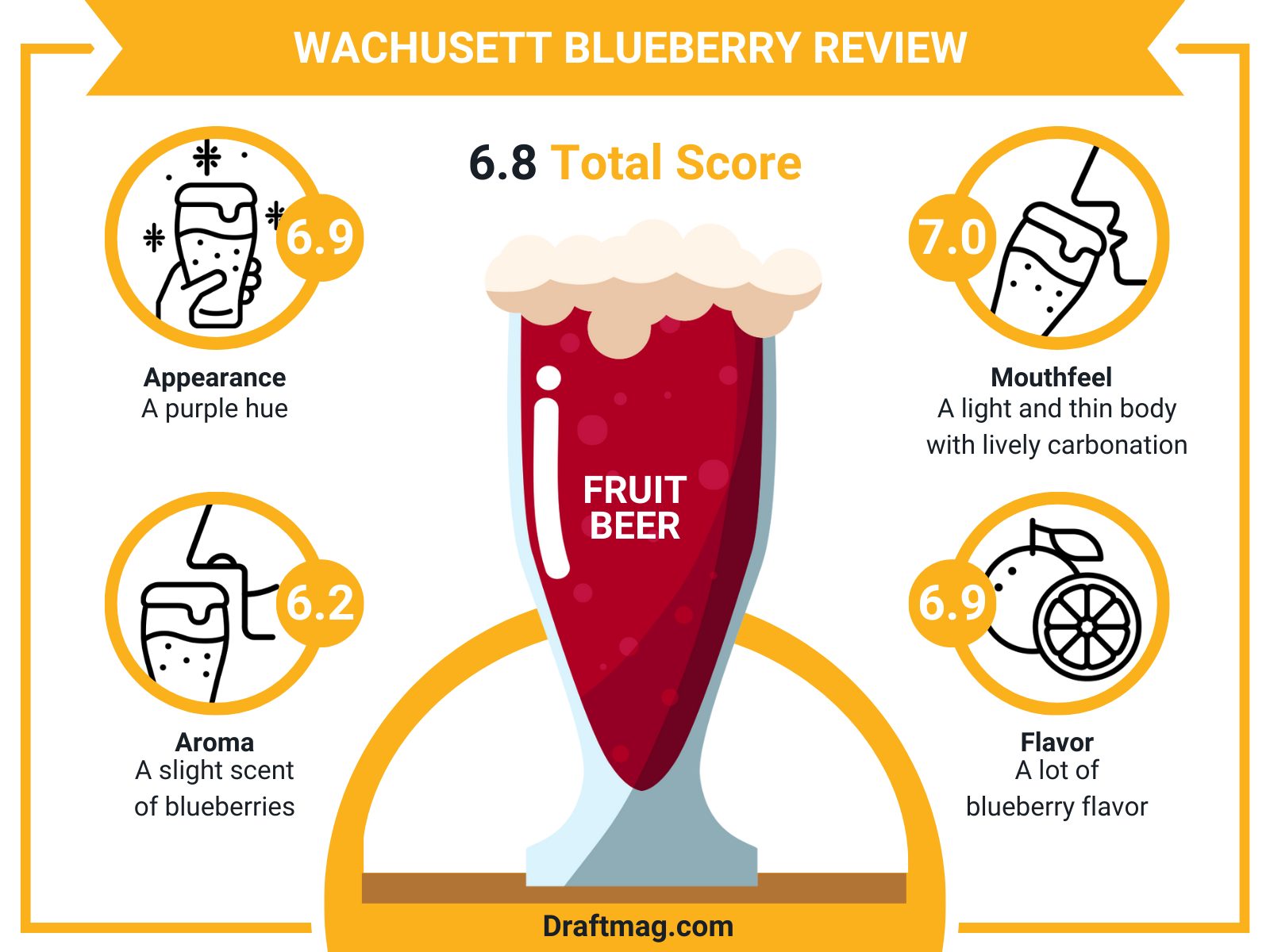 Looking for the perfect summer beer? Find out if the Blueberry beer fits your bill by reading our complete review below.
Wachusett Blueberry Stats
| | |
| --- | --- |
| Country  | United States |
| Brand | Wachusett Brewing Company |
| Style | Fruit beer |
| Taste  | Blueberry, sweet |
| Body | Light Body |
| ABV | 4.5 percent |
| Flavors & Aromas | Blueberry, caramel, yeast, bread |
| Serving Temperature | 45 – 50 degrees Fahrenheit |
Tasting Notes
Wachusett Blueberry Tasting Profile
Wachusett Blueberry Review
The Blueberry Ale is a fruity beer with a 4.5 percent ABV from Wachusett Brewing Company. The delicious ale has a gorgeous appearance of golden and purple hues and a well-balanced flavor between blueberry sweetness and ale. The wheat ale has a thin body and a delicious taste without feeling tangy or lambic.
If you're having the Wachusett Blueberry Ale, you can best enjoy it when cold and poured in a pint glass. You can also opt for a goblet, snifter, or chalice. Garnish the beer with fresh blueberries, ice, and a slice of lime.
Although the Wachusett Blueberry beer is an all-season option, beer lovers enjoy this beverage on a hot summer day. It has a refreshing flavor and acts as a palate cleanser. The beer also has a low ABV, making it great for afternoon drinking without any alcohol burning.
– Appearance
The Blueberry beer pours a golden color with a thin head. The head has a purple hue that makes it look attractive in your pint glass. The beer has a clear appearance; you can see the blueberries at the bottom of the glass, while some are floating under the head. The head is maintained throughout, so you can expect nice lacing against your glass.
– Aroma
On the nose is a strong aroma of wheat ale, with a slight scent of blueberries. The blueberry aroma is evident but not overpowering. You might also notice hints of grass and yeast in the aroma. The Blueberry beer's aroma will remind you of a warm blueberry-flavored muffin.
– Mouthfeel
The Wachusett Blueberry beer has a light and thin body with lively carbonation. Some drinkers might consider this beer thin, but the carbonation adds a bubbly tinge to your palate when you drink it. It finishes semi-dry with a slight bitterness that reminds you it's a wheat ale.
– Flavor
The flavor of the Blueberry beer follows the aroma, but you taste the blueberry first. The fruity flavor is not overpowering and is soft, quickly transitioning to the taste of caramel malt. But you get a lot of blueberry flavor throughout the time you are drinking, and it is well-balanced between a lambic and sweet, so it still feels like a beer.
You will also notice the flavor of freshly-baked bread and ale yeast from the taste. There is slight bitterness and a wheat backbone. The brewing company did a great job with the Blueberry beer, as it is highly drinkable and balanced, with low bitterness seeping into the aftertaste.
– Food Pairings
When having the Wachusett Blueberry, there are different food options you can consider pairing it with. For cheese, you should look for fresh and soft cheeses like feta, cream cheese, cottage cheese, gorgonzola, and ricotta.
It also goes well with seafood, so try out a meal of mussels, clams, and garlic bread. The beer is best served with a salad, fruity dressing, or light desserts. You can choose sweet desserts like cheesecake, chocolate-flavored sweets, milk tarts, or applesauce cupcakes. A blueberry pie will hit the spot with this beer.
In general, you can have Blueberry beer with food with a lot of spices and herbs, sweet and sour pork, roasted duck or chicken, and pickled dishes. Your everyday foods like burgers, pizza, fries, or spicy foods will go well with this beer, as it will cleanse your palate.
Ingredients
The Wachusett Blueberry beer was made with a unique fermentation process that combines wheat ale with fresh blueberries, leaving you with a crisp, clean finish. It was brewed with malts, hops, yeast, water, and fresh blueberries.
The malt list consists of American two-row and Crystal malts, which give it a wheat backbone and flavors of sweet caramel and bread. As for the hops, they are Liberty, Perle, and Tettnang hops. The beer is slightly hoppy with a subtle bitterness, allowing the blueberry and malts to shine.
You should avoid consuming this beer if you're allergic to blueberries or wheat.
Nutrition Facts
Blueberry beer has an ABV of 4.5 percent, a low level. You can barely taste the alcohol while drinking the beer. As for the IBU, it is 10, translating to very low bitterness in the flavor.
The total number of calories in a 12-ounce serving is estimated to be 240 due to the fruity flavor. It has 20.4 total carbohydrates but no protein, sodium, cholesterol, or dietary fiber.
The beer has no carbs, so it is ideal for those on a keto diet. But it is not a gluten-friendly beer due to the wheat content.
History
The Blueberry beer is a production of Wachusett Brewery, based in Massachusetts, United States. It is a microbrewery and craft brewery in Westminster and also the first brewing company in Worcester County.
Blueberry beer is one of the oldest from thise brewing company and is among its year-round options. The brewing company is known for hosting fun events like the Fan Can Contest. Aside from Blueberry Ale, it has other beer styles in its year-round selection.
Conclusion
Blueberry beer is a unique, fruity beer that will appeal to any beer drinker craving something different. Here's a summary of what we covered in our review:
Blueberry beer is a fruity beer and wheat ale with a 4.5 percent ABV, offered by Wachusett Brewery.
It has flavors and aromas of blueberry, caramel sweetness, and wheat background, leading to a semi-dry and crisp finish.
The beer is made with fresh blueberries, malts, hops, water, and yeast.
It is best served cold in a pint glass and can be garnished with ice, fresh blueberries, and a lime wedge.
You can have Blueberry beer with soft cheeses, seafood like clam and mussels, and light desserts.
If you want to taste a Blueberry brew, you can check out Wachusett as it is available year-round. The beer is also distributed to different physical and online stores.