Dirty Blonde Beer Review: Give This Crisp, Smooth Wheat Beer a Try
Dirty Blonde beer is one of the top wheat beers that look and taste amazing from your first sip. True to its style, the beer offers yeast and wheat balanced with coriander snap and sweet orange peel that lingers on your lips.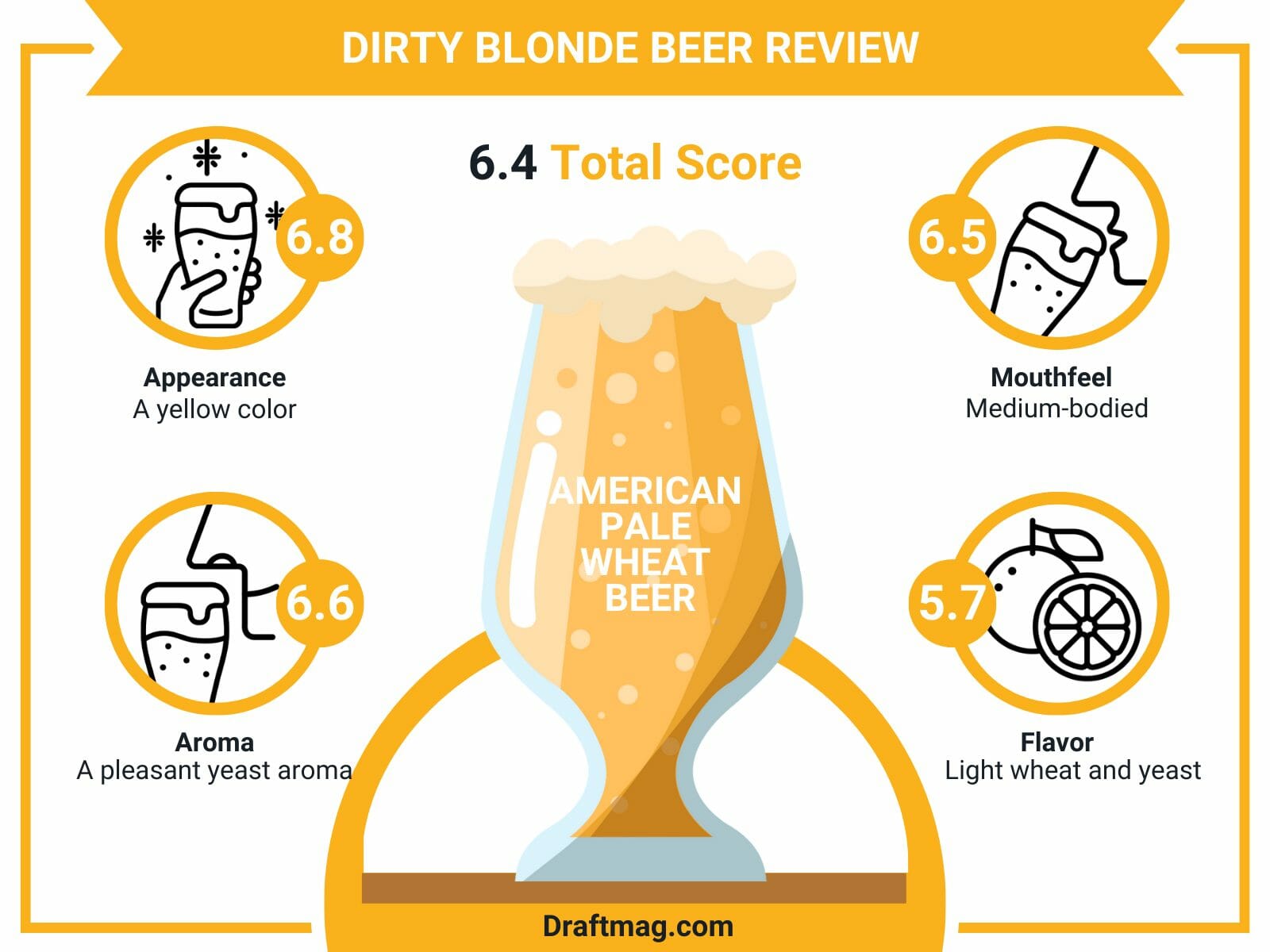 The beer is smooth and crisp, with an excellent drinkability that goes great during any occasion. To know more about this beer, continue reading our complete guide below.
Dirty Blonde Beer Stats
| | |
| --- | --- |
| Country  | United States |
| Brand | Atwater Brewing |
| Style | American Pale Wheat Beer |
| Taste  | Wheat, yeast |
| Body | Medium body |
| ABV | 4.5 percent |
| Flavors & Aromas | Wheat, yeast, coriander, orange, caramel |
| Serving Temperature | 45 – 50 degrees Fahrenheit |
Tasting Notes
Dirty Blonde Beer Tasting Profile
Dirty Blonde Beer Review
Dirty Blonde is an American pale wheat beer with a 4.5 percent alcohol content from Atwater Brewing. The beer pours a cloudy golden color with an ample head and flavors and aromas of wheat, coriander, caramel, yeast, and orange. It has a medium body and a refreshing feel, with a lot of carbonation.
The blonde ale is best poured in a pint glass, as the slender shape shows off the golden color and foamy head. It is best served at temperatures from 45 to 50 degrees Fahrenheit, with the orange and crisp notes balancing well with a citrus slice in the beer.
You can have a warming and refreshing beer on any occasion, especially on a hot summer day. It goes down easily and is best shared with friends.
– Appearance
The Atwater Dirty Blonde wheat beer pours a yellow color into your glass with a hazy, cloudy appearance, as expected from the beer style. It looks like a blurry yellow beer. On top of it is a pure white head that will dissipate quickly, leaving barely any lacing behind.
– Aroma
In terms of the aroma, the Dirty Blonde has a pleasant yeast aroma that dominates the style. There are hints of orange, coriander, and caramel in the aroma too, which are enveloped by the wheat scent.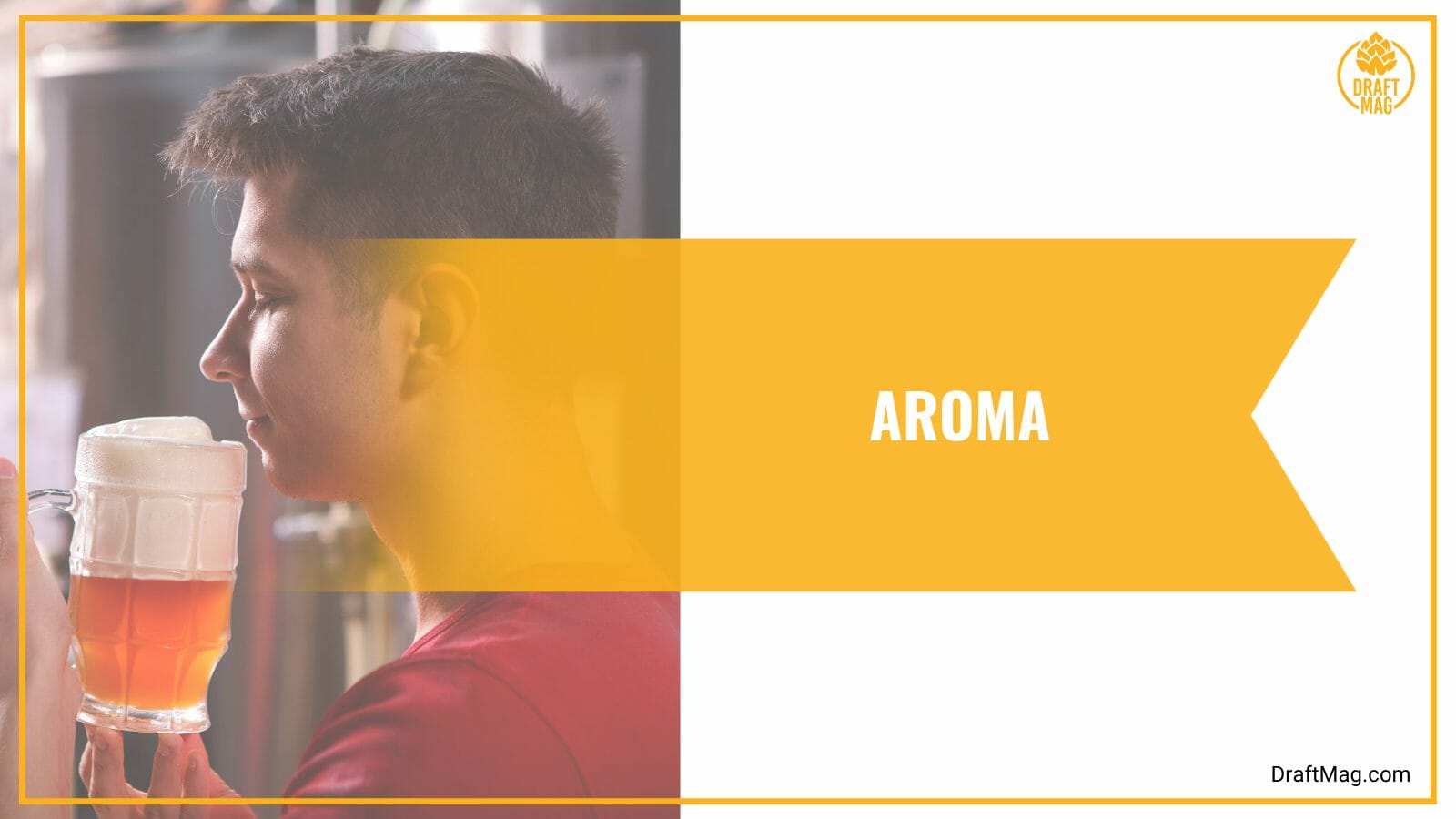 The aroma of the beer is faint and light and will not overshadow the taste.
– Mouthfeel
On the palate, the Dirty Blonde wheat beer is medium-bodied and smooth. The effervescence seems a bit low for the style, but there is still moderate carbonation that will tickle your throat as you swallow.
– Flavor
As for the flavor, the Atwater Brewery Dirty Blonde tastes like light wheat and yeast. It will remind you of a typical wheat beer, but it is more flavorful with a touch of orange at the end. It is not overly sweet or bitter but offers a balanced taste that will appeal to your taste buds. The coriander is very obvious in taste, but it is not too much.
The orange peel is available in the taste, with a mild and carbonated flavor. The semisweet taste follows the nose fairly closely but is more vibrant and flavorful. There is low bitterness too, that gets out of the way of other flavors, and the orange undertones bring out the wheat, making it more crisp and clean tasting.
– Food Pairings
The Dirty Blonde wit pairs well with a wide range of foods, but when in doubt, go for buffalo wings, spicy noodles, salads, fruit tarts, and pastries. You can have a beer with different spicy foods like chicken wings, noodles, Indian curry, and Mexican food.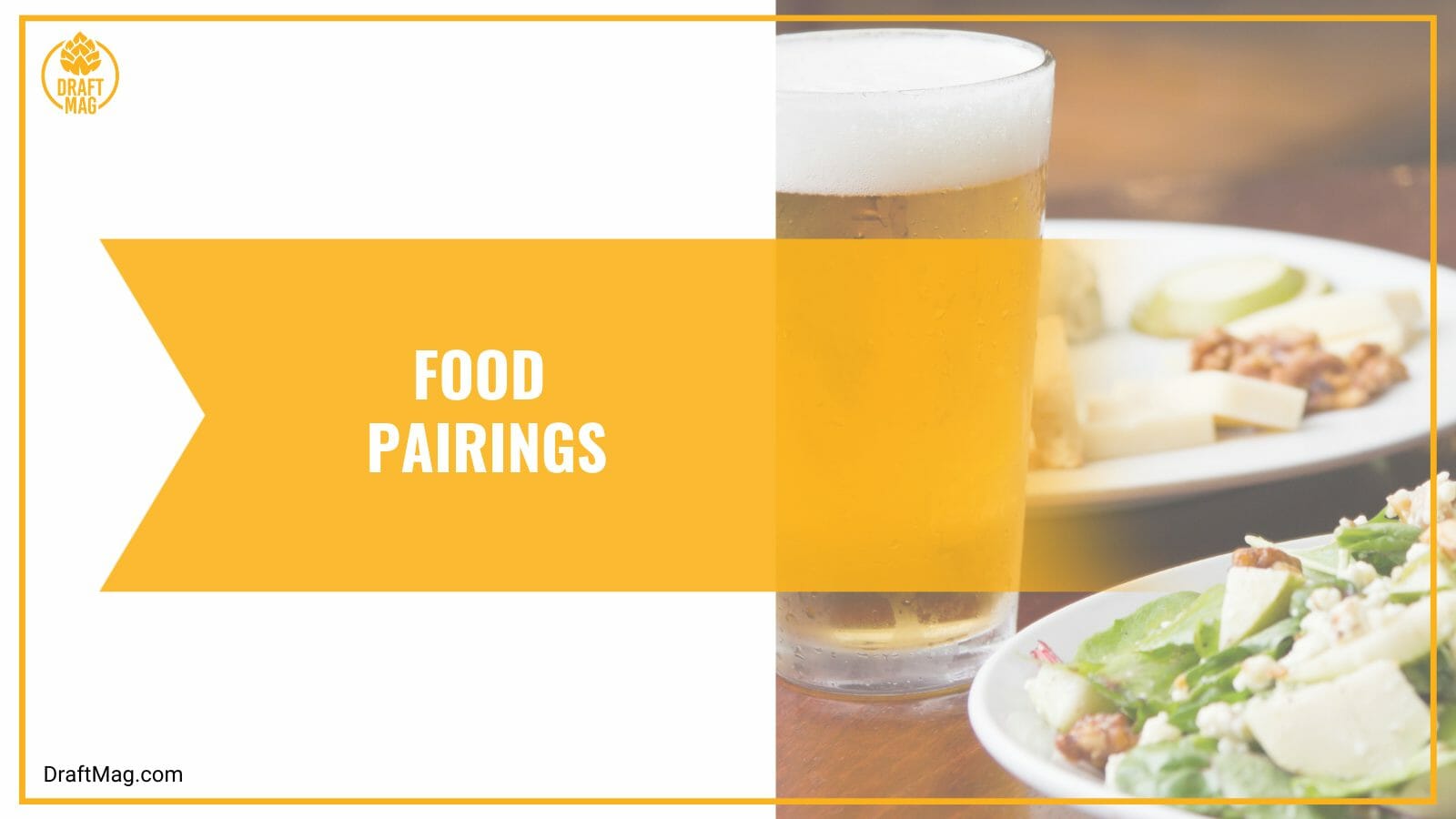 It also goes great with light salads and soups, especially if the salad has citrus-flavored dressings on it. Vegetarian dishes will also go great with beer, especially anything with crisp and crunchy foods. Sweet and fruity Asian dishes will also go great with this beer.
The Dirty Blonde wheat beer also goes well with citrus-flavored desserts like a blood orange sorbet, lemon cheesecake, panna cotta with lemon, and more. As for your cheese pairing, it goes great with Gruyere, feta, and goat cheeses. Lighter fresh cheeses also pair well with beer.
Ingredients
The Dirty Blonde is brewed with crushed orange peel and coriander, which provide the flavor and aroma notes in the beer. The exact malt list and hops profile in this wheat ale is unknown.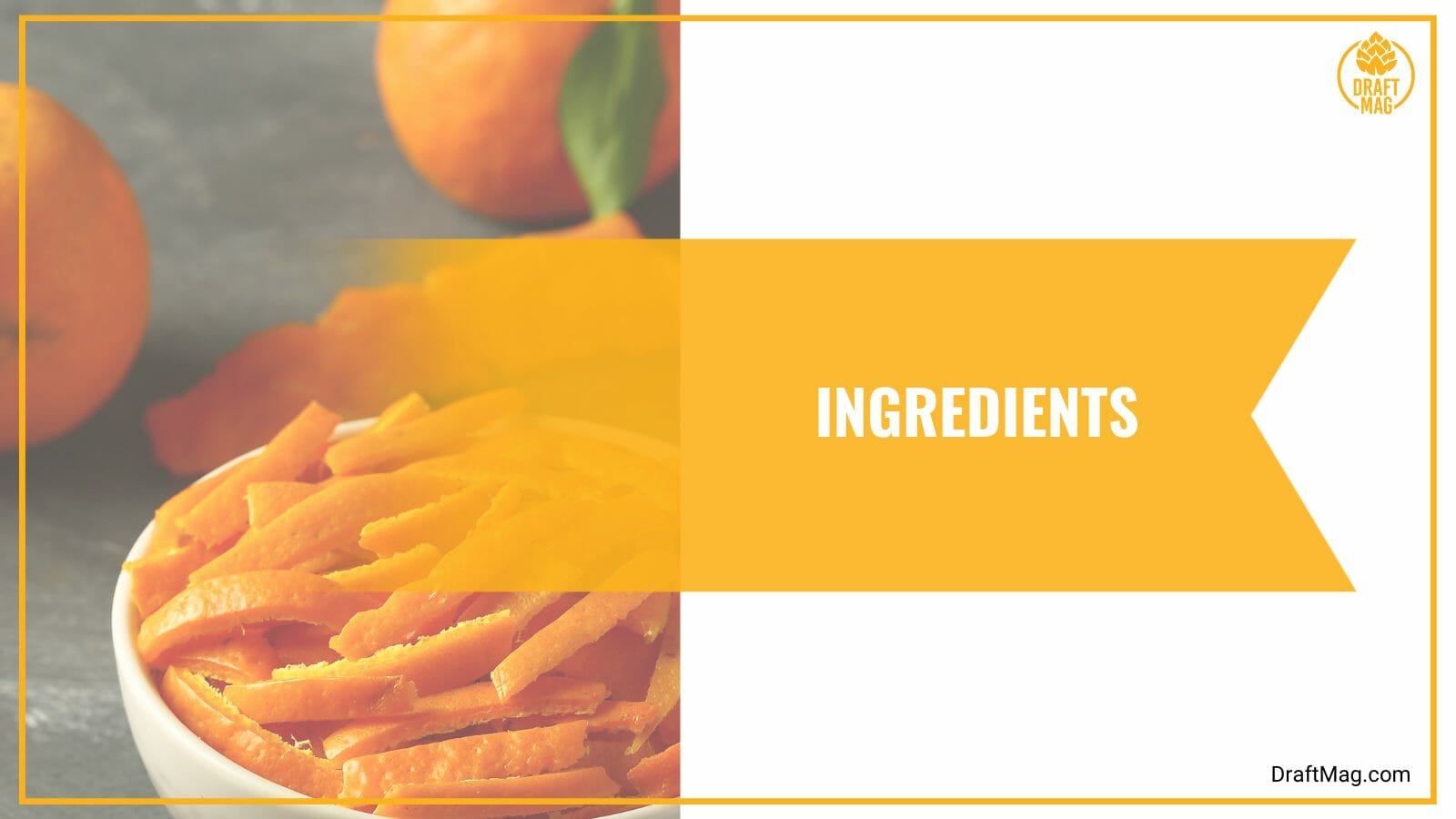 It offers a wheaty backbone while the hops add minimal bitterness to the flavor. The yeast also has a strong flavor.
Nutrition Facts
The Dirty Blonde features an ABV of 4.5 percent for every 12 ounces, which is a decent level. There is no alcohol in the aroma or flavor of the beer. As for the IBU, it is only 8 as there is barely any hoppiness or bitterness in the beer's character.
There are only 65 calories in the beer, which you should keep in mind when calculating your daily dietary requirements. The beer also has 12 grams of total carbs, 10 grams of net carbs, 1 gram of fat, and 2 grams of protein. It is not keto-friendly or gluten-friendly.
History
The Dirty Blonde is brewed by Atwater Brewery, an American brewery based in Michigan. The beer was released in 2008 and is still brewed by the brewery. It was made in Detroit. Atwater was founded in 1997 with the purpose of bringing focus to Bohemian-style beers.
They also make a wide range of German-style lagers and boutique ales. The owner was focused on making beers that Stroh's Brewing Company made in the mid-1800s. It was purchased by Mark Reith in 2005. You can visit the brewery in Michigan, along with its other craft beer tap houses.
Conclusion
The Dirty Blonde is a creamy wheat beer that will match any occasion, from the vibrant flavor to the smooth mouthfeel. Here is the summary of our beer review:
Dirty Blonde is an American pale wheat beer with a 4.5 percent alcohol content brewed in Atwater Brewery.
It has flavors and aromas of wheat, yeast, coriander, orange peel, and caramel, with a smooth finish.
The beer is made with crushed orange peel and coriander.
It is best served in a pint glass at 40 degrees Fahrenheit.
Pair it with spicy foods, light salads with citrus dressings, citrus desserts, and light, fresh cheeses.
You can have the Dirty Blonde at the brewery in Michigan or purchase it online.