Saint Archer Hazy IPA Review: Is This Beer Worth Buying?
Saint Archer Hazy IPA is a smooth, hoppy, and fruity beer from a California-based craft brewery. You should try this beer if you love beers with low bitterness. But before trying, read this review, as we'll provide details about its organoleptic properties.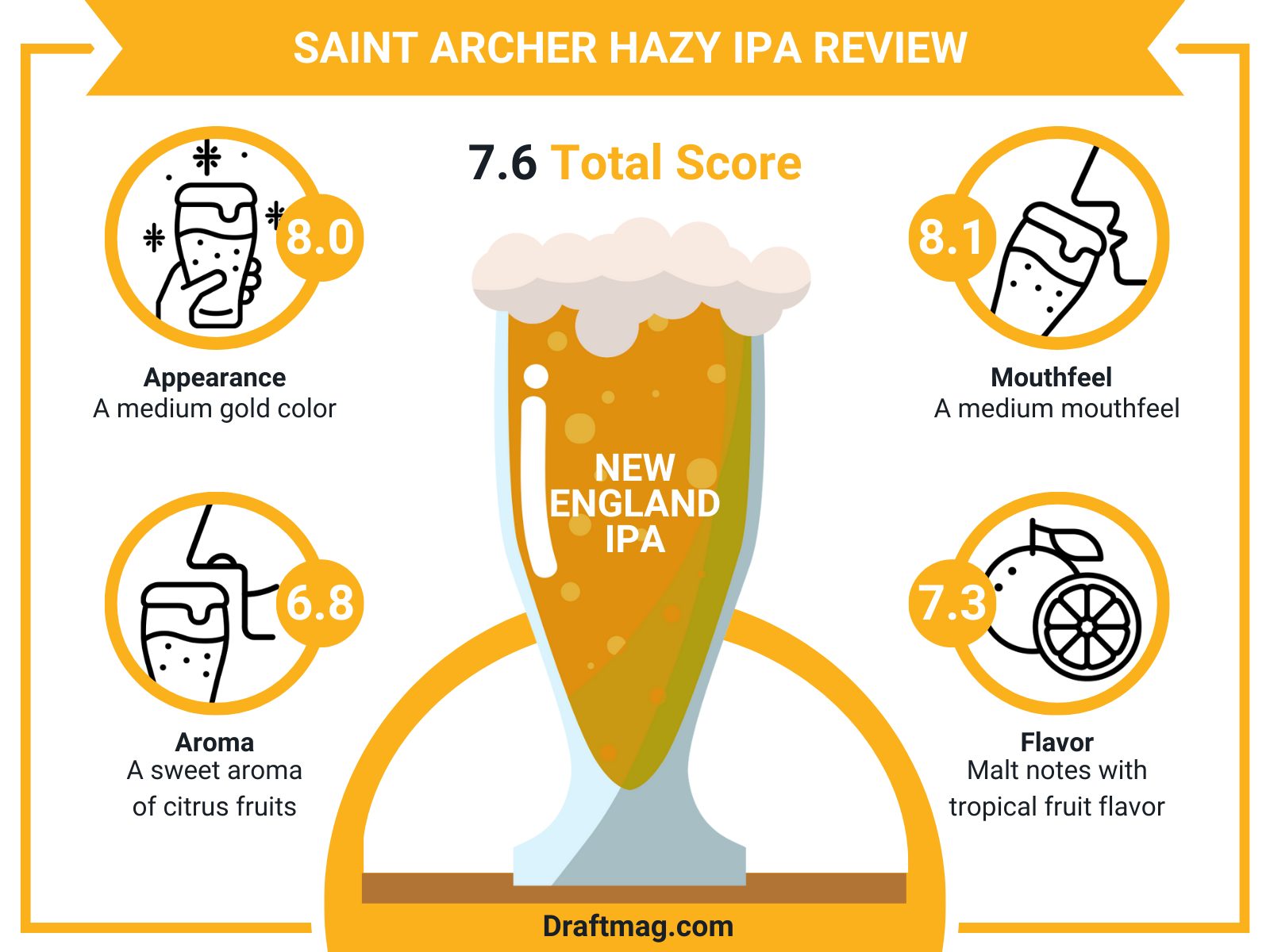 In addition, while reading, you'll learn about the beer's history, nutrition facts, and possible food pairings.
Saint Archer Hazy IPA Stats
| | |
| --- | --- |
| Country | United States |
| Brand | Saint Archer Brewing Co. |
| Style | New England IPA (NEIPA) |
| Taste | Fruity with hop richness and mild bitterness |
| Body | Full-bodied |
| ABV | 6.2 percent |
| Flavors & Aromas | Tropical fruits with floral notes |
| Serving Temperature | 45-55 degrees Fahrenheit |
Tasting Notes
Saint Archer Hazy IPA Tasting Profile
Saint Archer Hazy IPA Review
It is key to know that this is a NEIPA beer, which means it is a New England India Pale Ale Beer. Now let's discuss its organoleptic characters and food pairings.
– Appearance
As the name and style suggest, this beer appears cloudy or hazy with a medium gold color in a beer glass. It has lots of carbonation with bubbles springing up the glass with a two-finger thick white head with decent retention and lacings.
– Aroma
The aroma is a blend of sweet hoppiness with citrus fruits, including orange, pineapple, grapefruits, tangerine, and lemon notes. In addition, this beer is thin on malts, which is common in many NEIPAs.
– Mouthfeel
Typical of a NEIPA, this beer has a medium, smooth, juicy mouthfeel and high carbonation, unlike what you expect in West Coast IPAs. However, on the palate, it begins with a pool of fruity citrus notes that finishes with no lingering hop bitterness.
The mild bitterness is due to the brewing process and the kind of hops that present tropical sweetness rather than the regular bitter notes found in traditional beers.
– Flavor
The flavor follows the aroma giving a well-balanced leafy, malt notes and tropical fruitiness of orange, pineapple, grapefruits, tangerine, and lemon. The hop bitterness is subtle, unlike traditional beers, and may not be perceived by some drinkers. In addittion, its yeast extracts contribute to the sweet undernotes. Lastly, it has a neutral malt character typical to many NEIPAs.
– Food Pairings
While beers are generally drunk to relax or chill with friends and family, they also travel well with food. However, for a pleasant experience, it is crucial to pair the beer with a suitable dish. In this case, the beer's flavor, aroma, and strength are considered to choose an ideal food pair.
Generally, Saint Archer hazy IPA is a versatile beer. However, you shouldn't combine it with very sweet or aromatic foods as these foods could overwhelm the beer's aromas. NEIPAs have a unique juicy character that isn't common in traditional beers.
As for Saint Archer, this juicy IPA is a blend of orange, pineapple, grapefruits, and tangerine flavors. These fruity flavors create magic as they cut through fatty dishes like French fries, cheeses, pizza, caramelized onions, or deep-fried meats.
In addition, the cloudy character of this beer is due to the yeast strains and high protein malts used in brewing. As a result, you don't want to pair it with meats like smoked pork butt or brisket as it results in a boring texture. Instead, accompany this beer with something more crunchy like chips, corn on the cob, grilled chicken, seafood, and potato salad. You can also pair it with over-cooked meats served with green beans, peas, or leafy vegetables like asparagus and radish.
Hot and spicy foods can also play the game with this beer. Consider hot wings, rice with scotch bonnet sides, lasuni gobi, spicy noodles, etc. The pool of citrus flavors soothes the tongue with the intense spice in these foods.
Ingredients
This beer is brewed with a dry hopping process using the following ingredients as London Ale III yeast, Mosaic hops, Citra hops, Azacca hops, Galaxy hops, water, flaked oats and lastly it has unsalted white wheat.
Nutrition Facts
The beer contains 186 calories, approximately 14g of net carbohydrates, and 1.5g of proteins per 12 fl. oz serving. This is a high-calorie beer; thus, you should be mindful when running a weight loss program. It also contains a little calcium, sodium, and potassium but is free of vitamins, fats, and cholesterol.
Saint Archer hazy IPA ABV is 6.2 percent; thus, it's an average beer; nonethless, its IBU is 48. However, this beer doesn't have a distinct bitterness despite its IBU being on the high end of the scale for a typical NEIPA.
The subtle bitterness is due to the dry hopping process. In this process, the hops are added at the secondary brewing stage. As a result, it imparts fruity flavors instead of the regular bitterness experienced with traditional beers.
History
This beer is brewed by Saint Archer Brewing Co, a San Diego-based craft brewery owned by Molson Coors. The company was introduced in 2013 and was acquired by Miller Coors in 2015. With the increasing fame of NEIPAs for over a decade, Saint Archer decided to join the trend by producing a richly hopped IPA with low bitterness.
Because of this, the craft brewery released Saint Archer tropical IPA in 2018. The beer was initially sold on draft, later produced in cans, and introduced in various markets in September 2018.
However, in January 2022, Miller Coor discontinued Saint Archer as it was underperforming and sold the brewery's assets to Kings & Convicts Brewing. This was disappointing to many, as beer experts expected the beer to develop into one of the best hazy IPA around.
Conclusion
Saint Archer hazy IPA is smooth and refreshing with a pool of citrus flavors. It's a beer of choice if you want something with rich flavors and low bitterness, unlike traditional beers and West Coast IPAs. This review has provided details about this beer; here are key takeaways:
The beer has 6.2 percent ABV and 48 IBU.
The beer appears cloudy with a medium golden color and a two-finger thick white head with decent retention.
The beer's aroma is a blend of rich hops and tropical orange, pineapple, and lemon fruitiness.
The beer was released in 2018; however, Saint Archer was discontinued in January 2022.
If you can still lay your hands on this beer, do well to serve it chilled and enjoy it with the dishes recommended in this review.