Veltins Pilsner Review: Should You Try Out This German Brew?
Veltins Pilsner is easily one of the oldest German beers that made an impact on the American beer scene. Known for its balanced blend of creamy malt, dry hops, and citrus notes, many beer drinkers believe it is the ultimate German beer.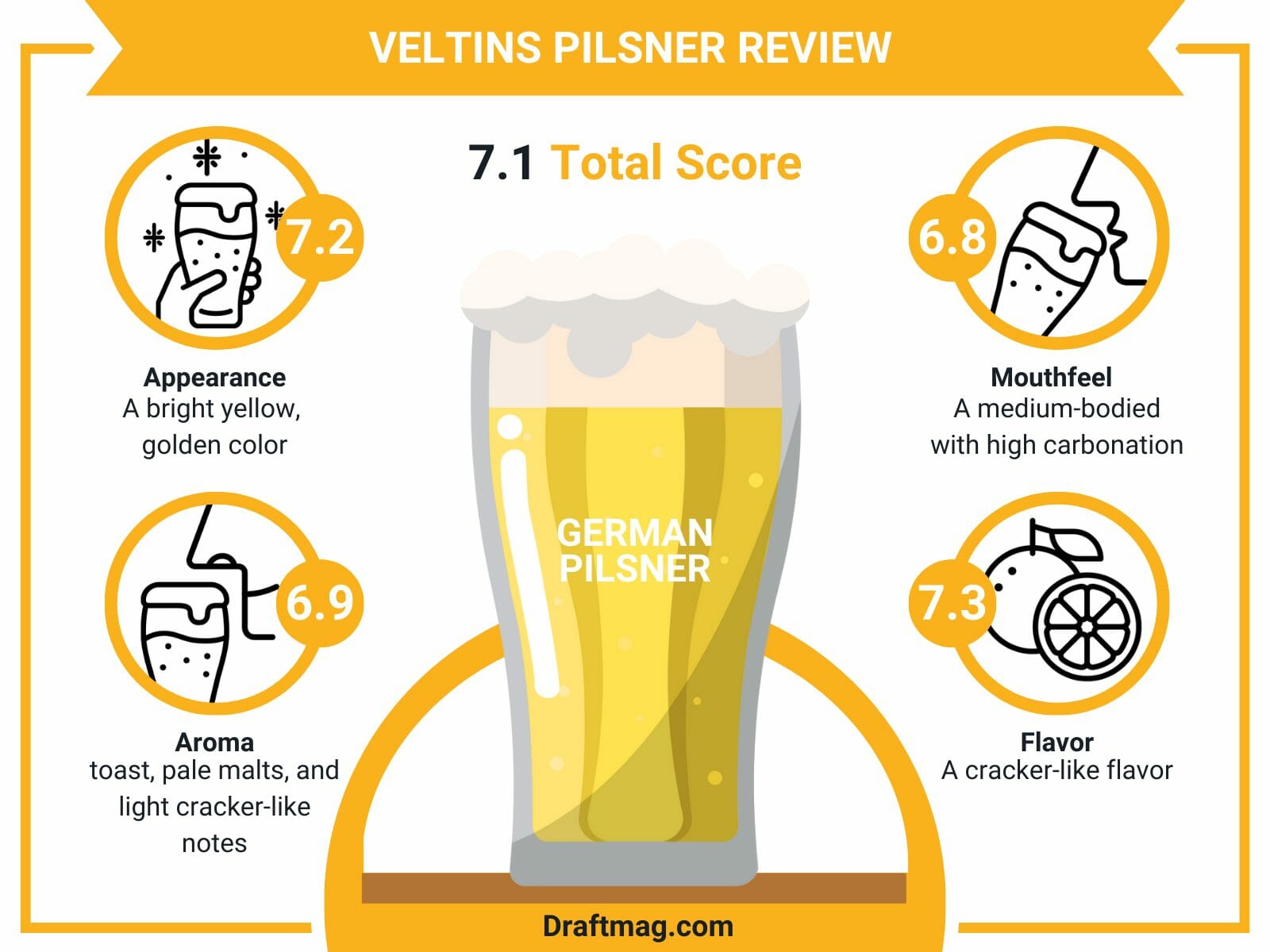 We've thoroughly assessed this beer and provided honest insight. Let's get started right away if you're eager to know what our beer experts think about this brew.
Veltins Pilsner Stats
| | |
| --- | --- |
| Country | Germany (Grevenstein) |
| Brand  | Brauerei C. & A. Veltins |
| Style | German Pilsner |
| Taste | It is quite sweet with light hop flavors, strong malts, and a dash of fruity notes that make for a remarkable taste. There's moderate hoppiness and little alcoholic skunk. |
| Body | It is medium-bodied with high carbonation. It has a slightly sweet creaminess that morphs into moderate sweetness. It leaves a crisp and dry finish. |
| ABV | 4.8 percent |
| Flavor and Aroma | Its flavor and aroma are of malt, hops, yeast, citrus notes, grass, peppercorn, and a cracker-like note. |
| Serving Temperature | 42 – 50 degrees Fahrenheit |
Tasting Notes
Veltins Pilsner Tasting Profile
Veltins Pilsner Review
If you're an experienced beer drinker, you'd agree that German beers are often great-tasting. If you hope this German pilsner falls into that category, we've provided an unfiltered breakdown under different headings.
– Appearance
This beer has a bright yellow, golden color that immediately brings to mind lager. It is quite pale and very effervescent, with very high carbonation as streams of bubbles are visible through the beer's glass. A thick white foam head is also visibly resting at the top of the beer glass and lasts for some minutes there.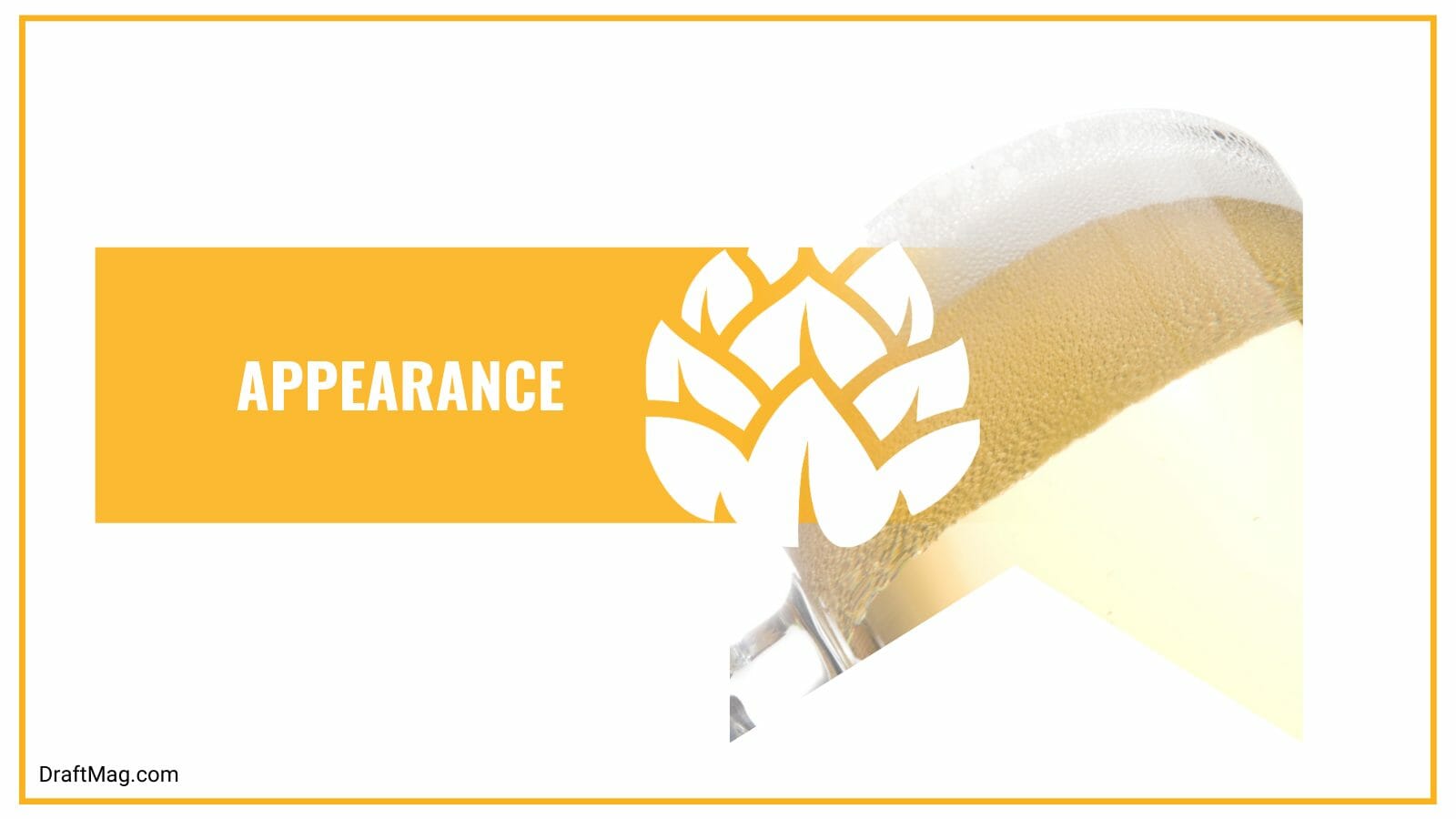 While it doesn't have excellent retention, the foam head is fair enough and leaves behind minimal lacing that sticks to the body of the beer glass. We like the clearness of this beer, although it looks like a lager and there's almost nothing too appealing about its appearance.
– Aroma
The aroma of this beer holds better promise compared to its appearance. You can easily detect a whiff of toast, pale malts, and light cracker-like notes. There is a fruity scent that smells sour, like lemon and what may be a pear. An earthy note also teases the nose, and although it leans towards thin, there's no denying that the grassy scent adds a bit of depth to the beer.
A yeasty scent is also very noticeable and brings to mind biscuits or bread. Also, you can detect a spicy peppercorn note. The hop presence is quite light, and there's just a bit of an alcoholic skunk emitting from the beer.
– Mouthfeel
This Brauerei Veltins beer is medium-bodied with high carbonation that lends the beer a crisp character. It tastes slightly too sweet, especially with its maltiness which also gives the beer a foamy, creamy feel. The hops are also present, although they seem mildly subdued as there is no strong bitterness that one would associate with a German beer. You can taste a distinctive yeasty note that hits the palate and remains until you can't help but notice it.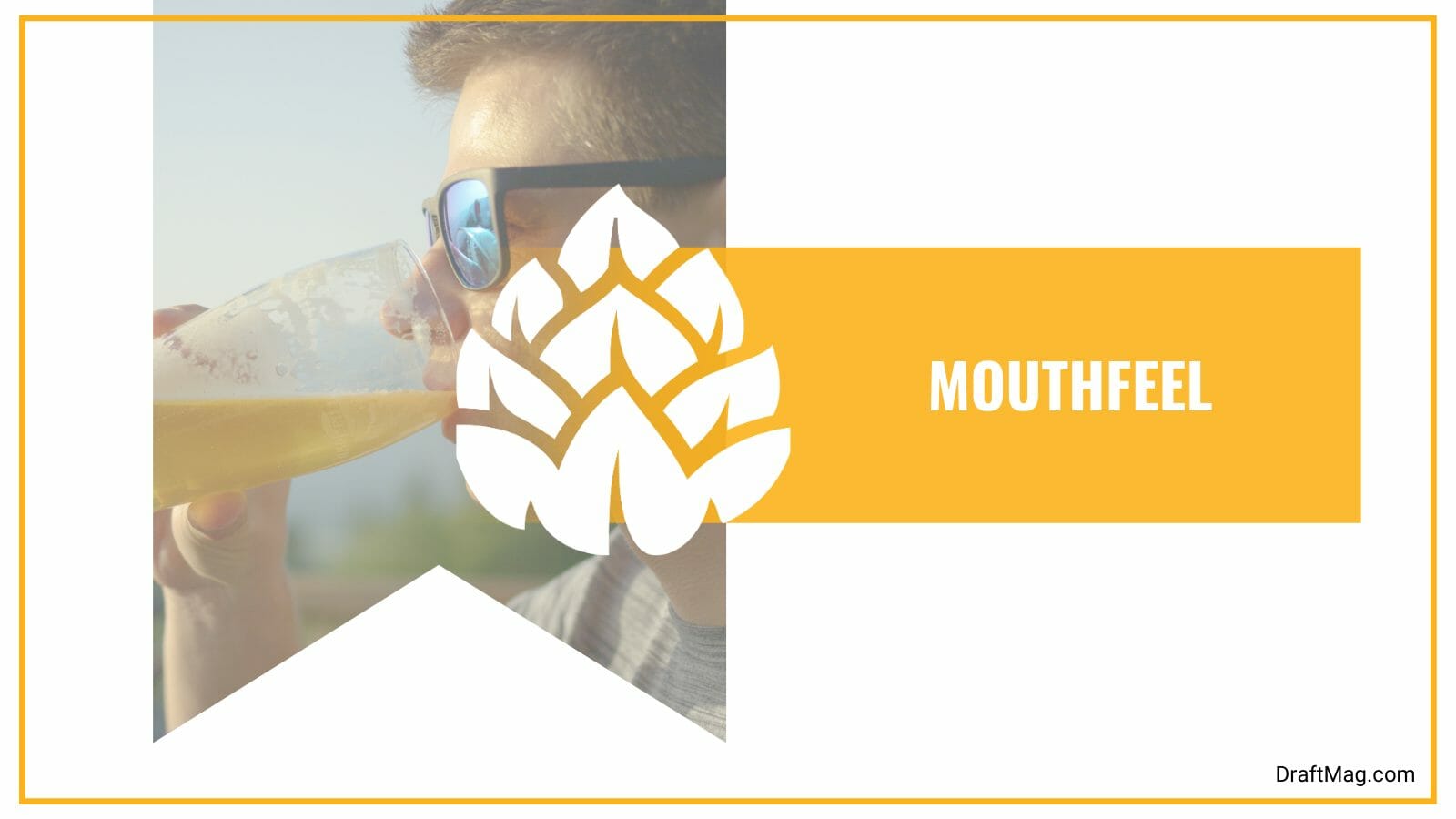 You can feel a bit of alcohol, although we think it is barely there. Overall, this is a crisp, smooth beer that leaves a clean, slightly dry finish.
– Flavor
This beer has a strong flavor profile. You can immediately discern Munich malt and a blend of pale and toast malts, giving you a Brauerei Veltins beer with a rich malt flavor. A grassy flavor also makes its way to the front, and it is almost impossible to miss the flavor of yeast. There's a cracker-like flavor as well as light citrus flavors that make for an interesting flavor profile.
A hop flavor is present, but it appears subdued. Although we notice that these notes, aside from the malt, seem a bit too delicate, we like that the overall result is a balanced beer. No flavor is overly astringent, and everything blends well to create a highly drinkable pilsner.
– Food Pairings
Brauerei Veltins beer is quite sweet compared to most German pilsners, but it still pairs well with similar meals. You'd need food that contains a lot of spice to get the best of this beer. You can pair it with the most common pub foods: burgers, pizza, French fries, and tacos. Other great options include chicken, buffalo wings, and steak.
Grilled dishes are another amazing option, but we recommend trying this beer with seafood. Whether you're having shellfish, lobster, shrimp, or oysters, this beer pairs well with the rich and sweet taste of seafood. Salads, flatbread, and asparagus are a light option to pair with this beer.
Ingredients
This beer is made from traditional beer ingredients including hops, water, yeast, and a variety of malts. These malts include Munich, Pale, and Barley Malts. There's also a hint of citrus peels and what may be peppercorn.
Nutrition Facts
Veltins Pilsener contains 167 calories, zero grams of fat, 2.9 grams of carbs, and 0.63 grams of protein. It is vegan-friendly and may include gluten unless stated otherwise by the brewing company. It has low carbs and alcohol volume, making it a great beer for beer beginners and those trying to watch their body weight.
History
Veltins Pilsener was first produced around 1824 in Grevenstein, Germany. It was brewed following the German Purity Law, and the brewery, Brauerei C. & A. Veltins, eventually grew to be one of Germany's leading private beer producers.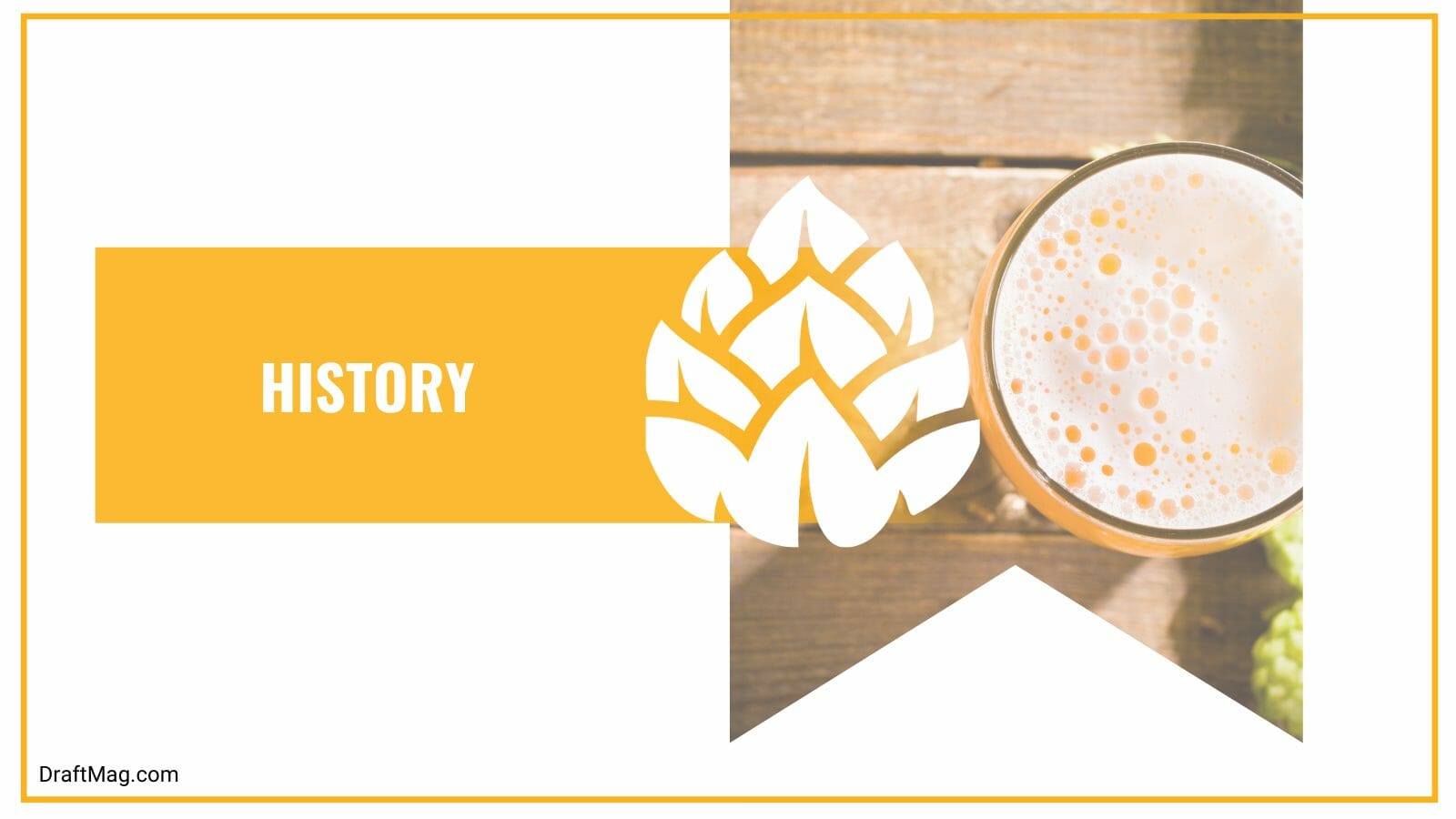 Passed down through five generations, this pilsner has maintained its excellent quality and is still exclusively brewed following the German Purity Law. It combines hops, water, yeast, and malt to create a refreshing, classic German beer.
Conclusion
Here's a quick recap of what we discussed in this article:
Veltins pilsner is a German pilsner with 4.8 percent ABV and is produced by Brauerei C. & A. Veltins.
Its aroma, taste, and flavors are sweet malt, hops, yeast, and light citrus notes. There's moderate bitterness and barely a hint of alcohol.
This beer is medium-bodied with high carbonation, resulting in a crisp, smooth brew that has a creamy feel but a dry finish.
You can pair this beer with seafood, tacos, grilled dishes, barbecue, burgers, and pizza.
While this beer isn't the definition of a premium German pilsner, it is still a classic brew that embodies what a pilsner should be like. It uses fine malts, hops, and yeast with a touch of citrus notes to produce a drinkable beer that hits hard when served ice cold.