Zombie Dust Beer Review: Try Out This Intensely Hopped Pale Ale
Zombie Dust beer is such a hoppy pale ale that you might mistake it for a slightly-less intense IPA. The delicious beer from 3 Floyds Brewing offers vibrant and intense flavors to caress your taste buds.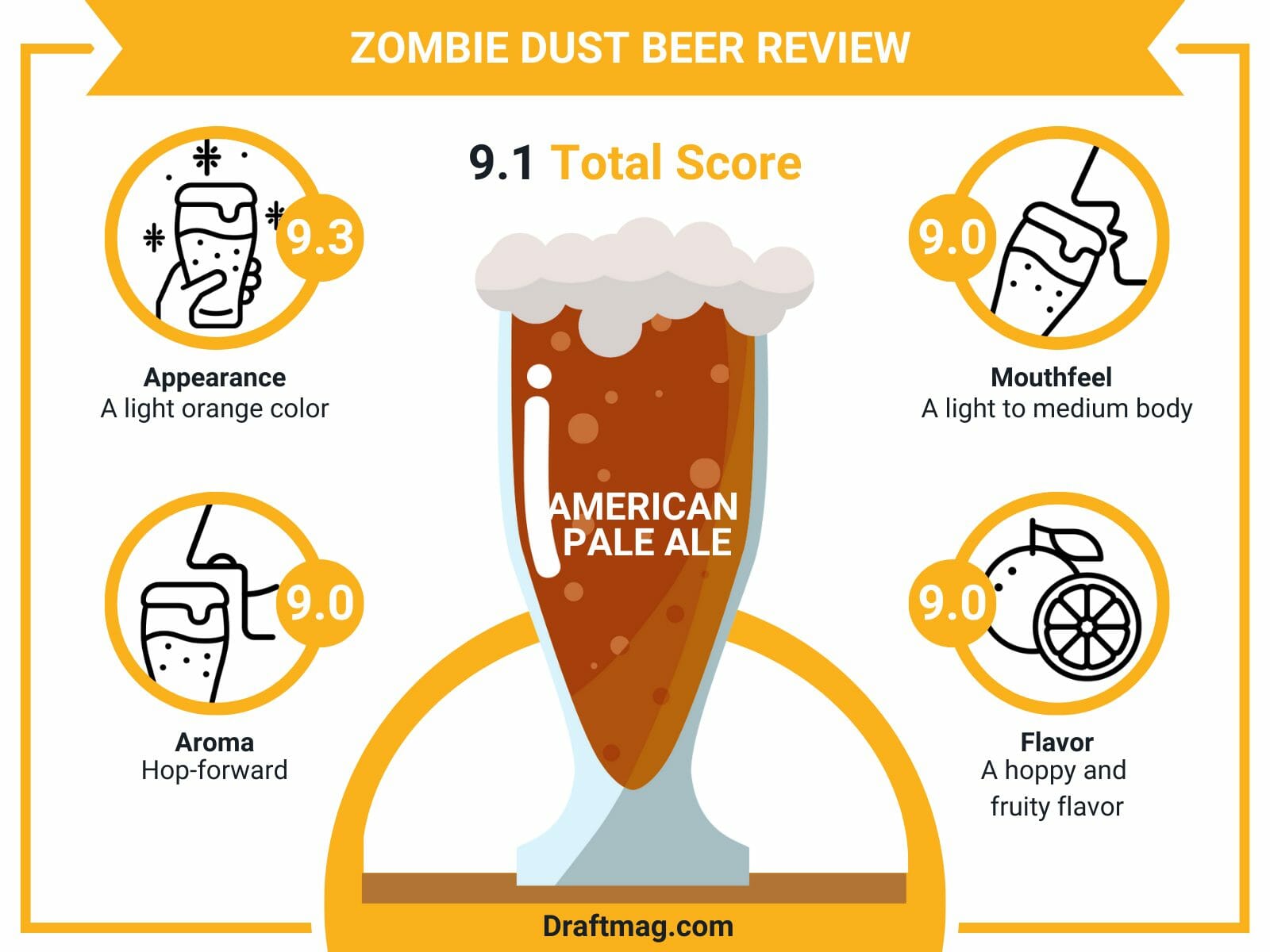 Its crisp and complex flavor goes perfectly well with a wide range of foods, from soft cheese to white fish. Our review covers all you will need to know before taking your first sip of this beer.
Zombie Dust Beer Stats
| | |
| --- | --- |
| Country | United States |
| Brand | 3 Floyds Brewing Co. |
| Style | American Pale Ale |
| Taste | Hoppy, fruits |
| Body | Light Body |
| ABV | 6.5 percent |
| Flavors & Aromas | Tropical fruits, grapefruit, hops, tangy |
| Serving Temperature | 45 – 50 degrees Fahrenheit |
Tasting Notes
Zombie Dust Beer Tasting Profile
Zombie Dust Beer Review
The Zombie Dust is an American pale ale with a 6.5 percent alcohol content from 3 Floyds Brewery Company. The fruity beer has a light orange color with aromas and flavors of tangy grapefruit, tropical fruits, hops, and mild malty sweetness. It is a light-bodied beer with a bit of dryness in the finish.
Pour the beer into a pint glass to get the most out of the bright color and balance its white head. You can also pour it into a snifter, chalice, or goblet glass. The ideal serving temperature is from 45 to 50 degrees Fahrenheit. You can garnish the brew with an orange slice dropped in the glass or a wedge placed on the rim.
The beer is ideal to be enjoyed during dinnertime or when hanging out with friends.
– Appearance
The Zombie Dust ale pours a light orange color into your glass, with a clear appearance and no hazing. On top of it is a decent white head that lasts for a long time, retaining the aroma further. It leaves a lot of lacing against your glass as it dissipates.
– Aroma
On the nose, the ale is hop-forward, and its notes are delicately balanced. You will notice aromas of mild grapefruit and citrus, and this aroma is well supported by pineapple notes. It manages to smell smooth with no malty aromas.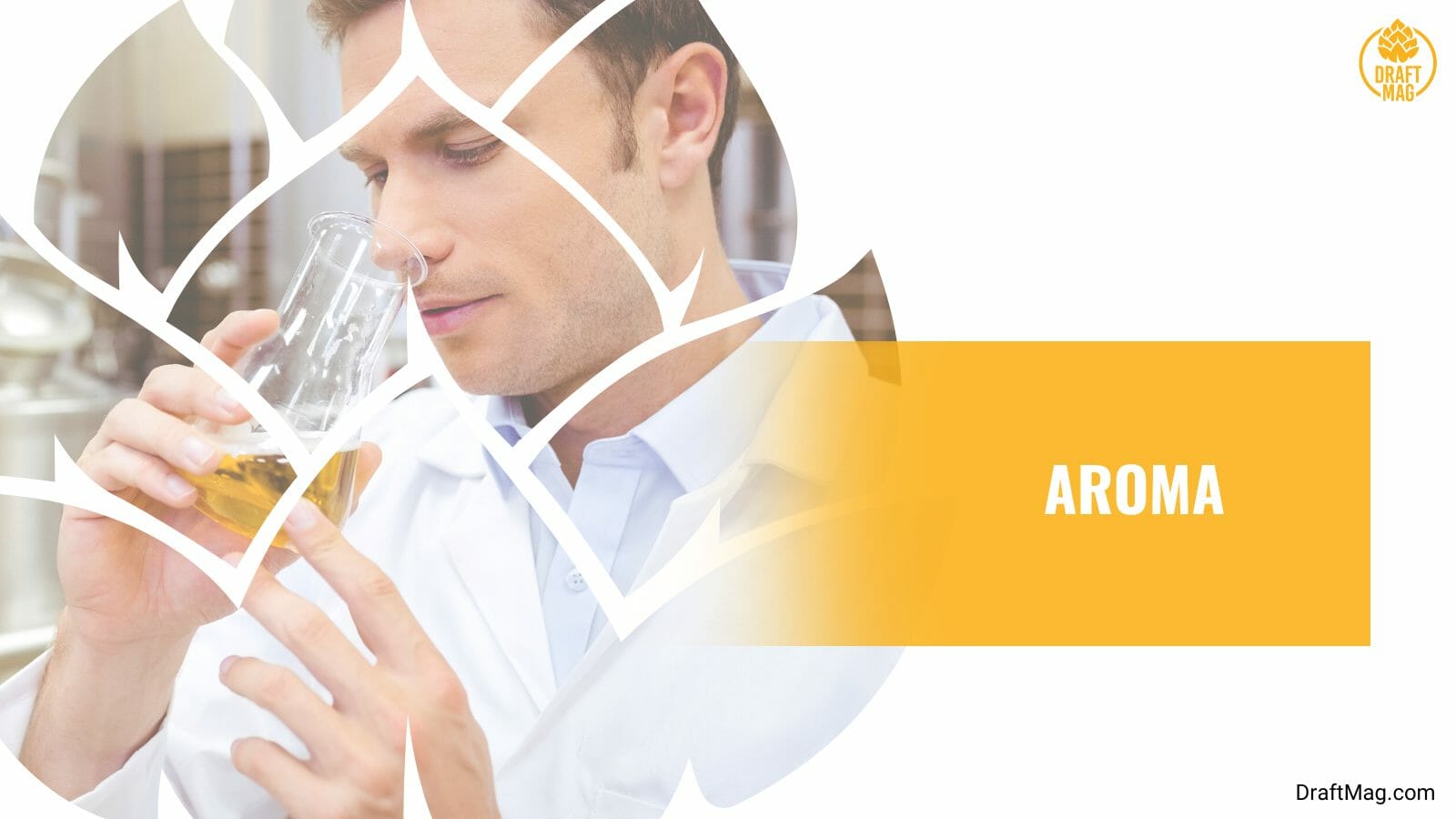 – Mouthfeel
As for the mouthfeel, the Zombie Dust ale has a light to medium body. There's some bitterness in the mouthfeel without being too sharp or tingling. The craft beer also has slight carbonation presenting itself with a fizzy feeling. It finishes with some moderate bitterness and feels smooth and drinkable, going down easy on the swallow.
– Flavor
The Zombie Dust ale has a hoppy and fruity flavor, with all the notes balanced. It starts with grapefruit flavors, and this is followed by pineapple and mango notes. There is a bit of sweetness in the flavor, and you might taste the caramel which makes the backbone of the beer.
While the tangy grapefruit is stronger in flavor than in aroma, it is tempered down by some sweetness. You will barely taste the malt, and there is a dank resinous note that gives way to clean citrus. The big hop burns envelopes the other flavor notes without feeling unpleasant.
– Food Pairings
If you have the Zombie Dust ale, you should pair it with spicy, smoky, and aromatic flavors. The best foods to pair the beer with include meat pies, burgers, and English cheese. You can also try out barbecue ribs, steak, fajitas, burritos, French fries, and mozzarella steaks.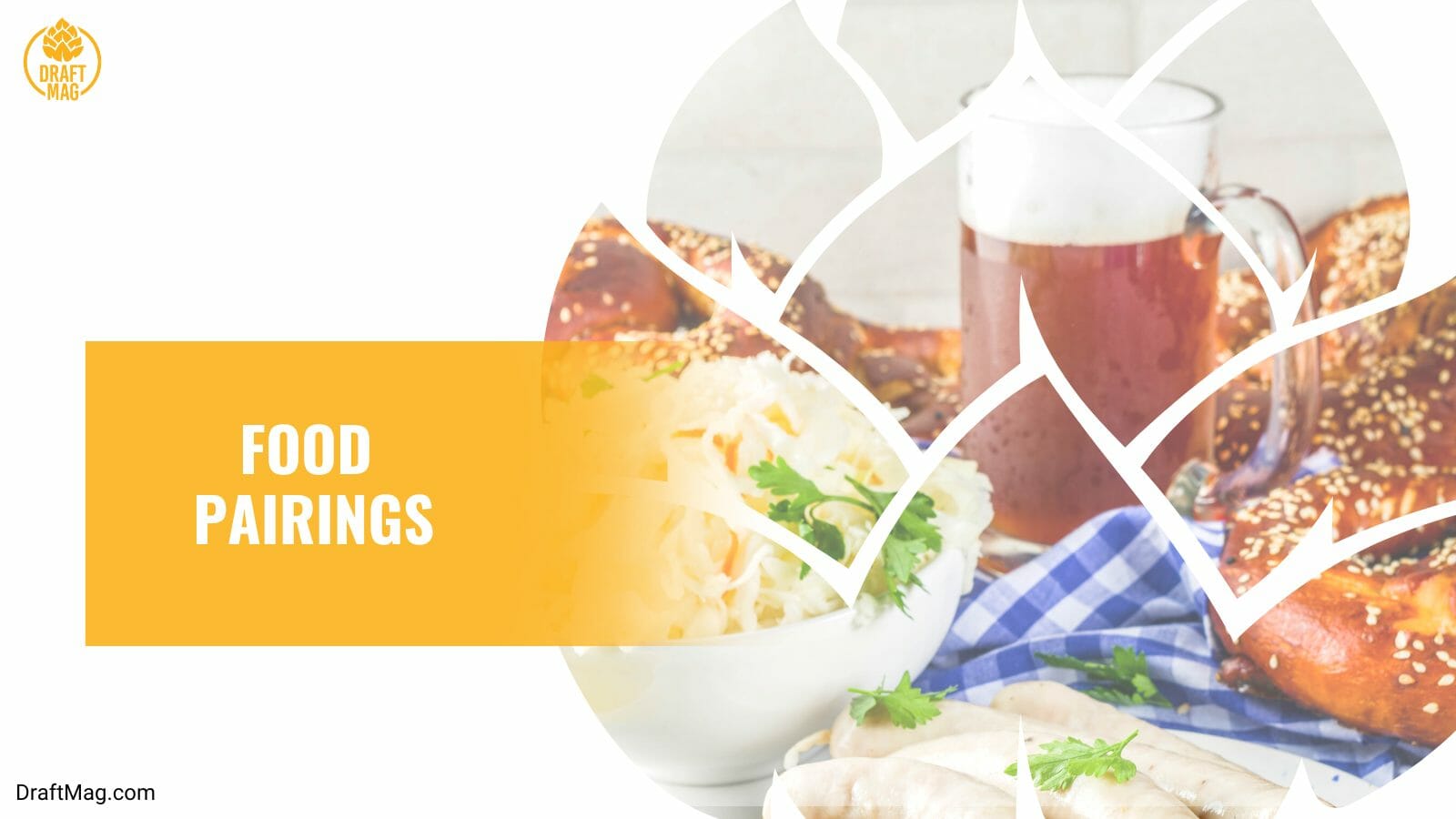 The delicious beer can go well with a Cajun burger, poutine, fish and chips, stilton and blue cheeses, or hot Italian dishes. Try out spicy Mexican and Indian foods like tacos with barbecue sauce or a spicy curry. Also, go for cheeseboards with a wide range of intense cheese to pair well with the ale.
For cheese pairings, you can have the beer with mozzarellas, burratas, blue cheese, or chevres. It will go well with lighter fresh cheeses. As for dessert, enjoy this beer with caramel-based desserts and citrus-flavored desserts like blood orange sorbet, banana orange crepes, and panna cotta with lemon.
Ingredients
The exact ingredients of the Zombie Dust ale are unknown, but there are different recipes that you can use to make a clone if you're a homebrewer. Homebrewers usually use pale, Munich, caramel malts, and Citra hops. It can be American and German malts with ale yeast.
Nutrition Facts
The Zombie Dust ale features an ABV of 6.5 percent, which is expected for the beer style. The alcohol is not prominent as the intense hoppiness will overshadow it. It also has an IBU of 62, which gives you medium-high bitterness.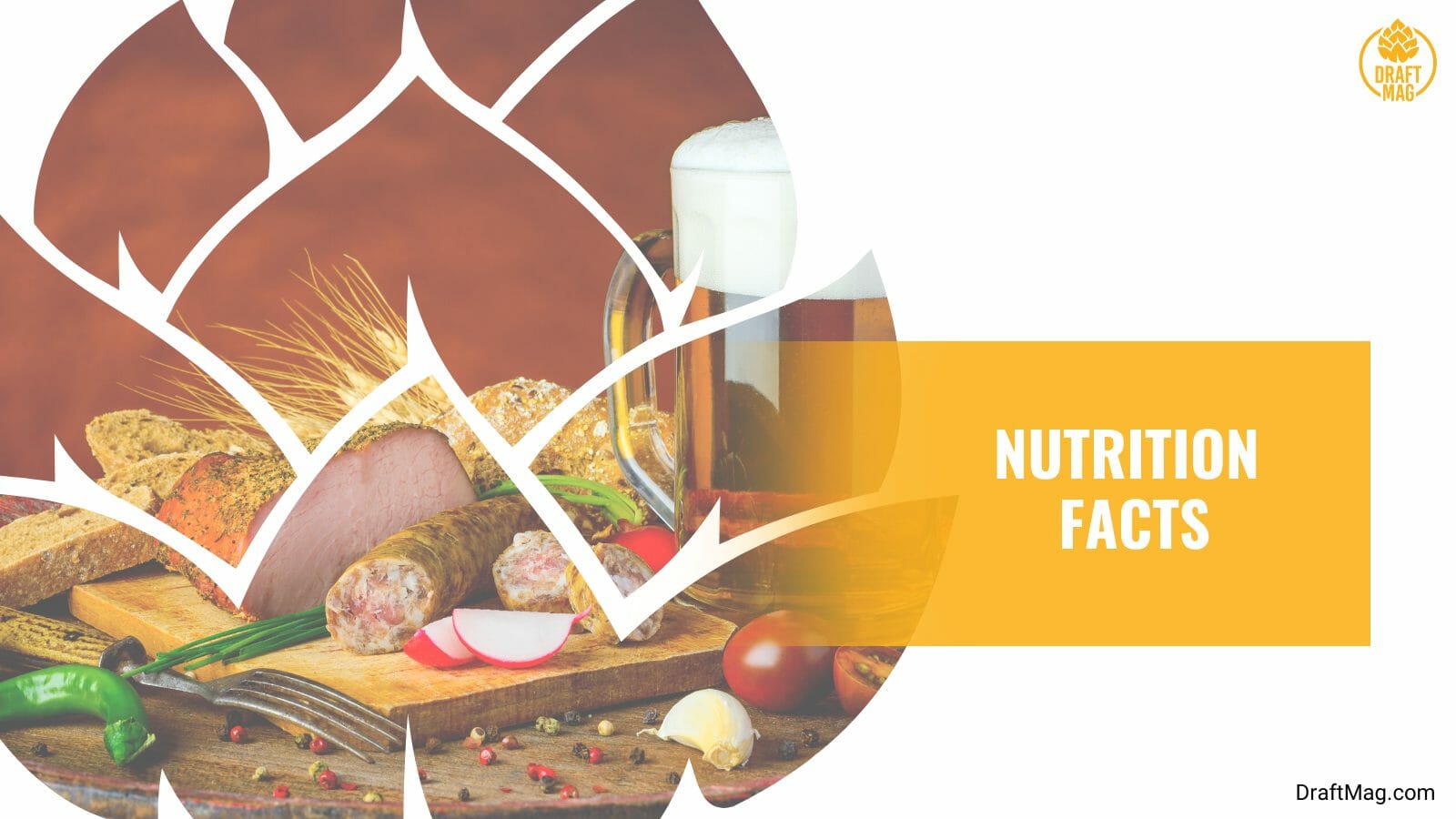 In this beer, you have 186 calories for every 12 ounces. Keep this in mind when calculating your daily dietary intake. There are also 16.6 grams of carbs and 1 gram of protein, but no fat. It is not keto-friendly as it has a high-carb content. Those who cannot consume gluten should avoid consuming this beer.
History
The Zombie Dust ale is brewed by 3 Floyds Brewing Company and was first released in December 2010. The brewery made the beer with artists in the comic industry, and you will see the unique design on the can. The artist was Tim Seeley, and the designer was Zimmer-Design.
Zombie Dust is a year-round beer, so you can have it on tap whenever you're in Indiana. 3 Floyds Brewery was founded in 2000 but dated back to 1996 when the brothers, Simon and Nick, came together with their father, Mike Floyd. The Zombie Dust ale is one of the first beers to feature Citra hops.
Conclusion
Zombie Dust is an intense and hoppy ale that tastes great with a wide range of meals. Here's a rundown of what our review covered:
Zombie Dust is an American pale ale with a 6.5 percent alcohol content from 3 Floyds Brewery.
The beer has flavors and aromas of grapefruit, citrus, pineapple, and hops, with a slight caramel backbone.
The exact ingredients of this beer are unknown.
The beer is best served in a pint glass and garnished with a citrus slice or citrus wedge.
Zombie Dust pairs well with different foods, including spicy dishes, cheeseboards, blue cheese, and citrus-based desserts.
You can enjoy Zombie Dust whenever you're in Indiana as the brewery has it on tap, and you can also purchase it online.