Sam Adam Chocolate Bock Review: A Sweet and Smooth Brew
Sam Adam Chocolate Bock is a chocolatey bock that is sweet enough to be considered a dessert beer, making it great for after dinner drinks. It is not as roasty as other types of bocks that you might be used to, but it offers a surprising taste that will please the everyday beer lover.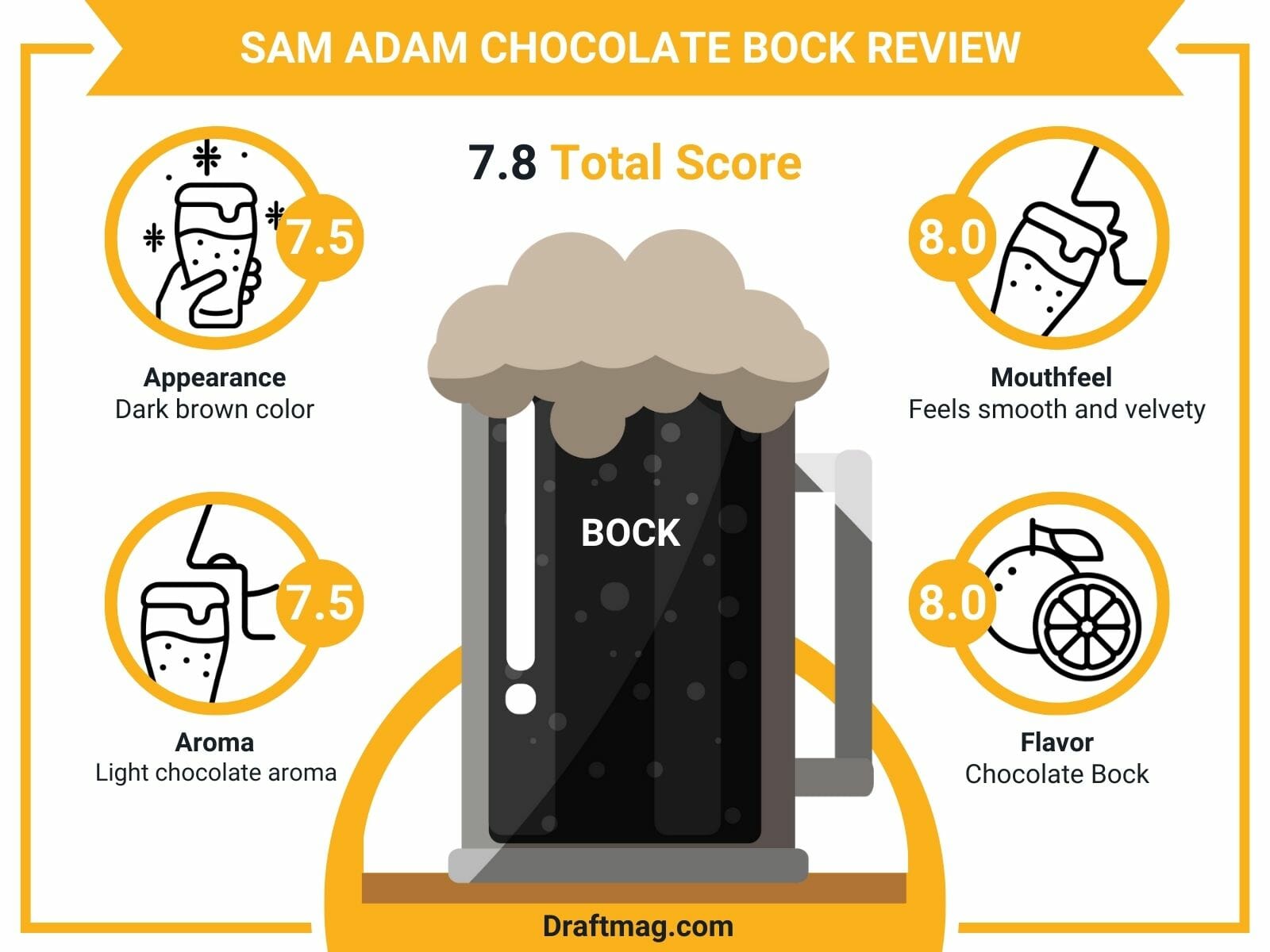 You can expect a balance of chocolate and vanilla notes with a solid malty base, and it offers a slight edge that improves with every sip. In our review below, we cover all there is to know about this chocolatey bock, so continue reading! 
Sam Adam Chocolate Bock Stats
| | |
| --- | --- |
| Country  | United States |
| Brand | Boston Beer Company |
| Style | Bock |
| Taste  | Dark toast, chocolate |
| Body | Medium Body |
| ABV | 5.8 percent |
| Flavors & Aromas | Chocolate, cream, coffee, malty, honey, roasted, vanilla |
| Serving Temperature | 41 – 48 degrees Fahrenheit |
Tasting Notes
Sam Adam Chocolate Bock Tasting Profile
Sam Adam Chocolate Bock Review 
Samuel Adams Chocolate Bock is a bock made by the Boston Beer Company. The chocolate-flavored beer features an alcohol content of 5.8 percent, and its smooth, velvety flavor makes it perfect for different kinds of sweet desserts. 
The bock features flavors and aromas of chocolate, dark toast and roast, coffee, toffee, honey, vanilla, and malts, with slight herbal hops. It has a dark brown appearance, while the body is medium with slight carbonation. With its sweet malty taste, the beer pairs well with different kinds of desserts and hearty foods. 
Serve the bock in a stange at temperatures from 41 to 48 degrees Fahrenheit. The glass is tall and narrow and shows off the brown color and the thin tan head. You can also serve it in a pint glass but you can pick any of the beer glass that suits you. Garnish the beer with some dark berries to match the roast. 
– Appearance 
On the pour, the Sam Adams Chocolate Bock features a dark brown color that will remind you of weak coffee. There are hints of ruby hues, and the beer is a bit hazy when you hold it to the light.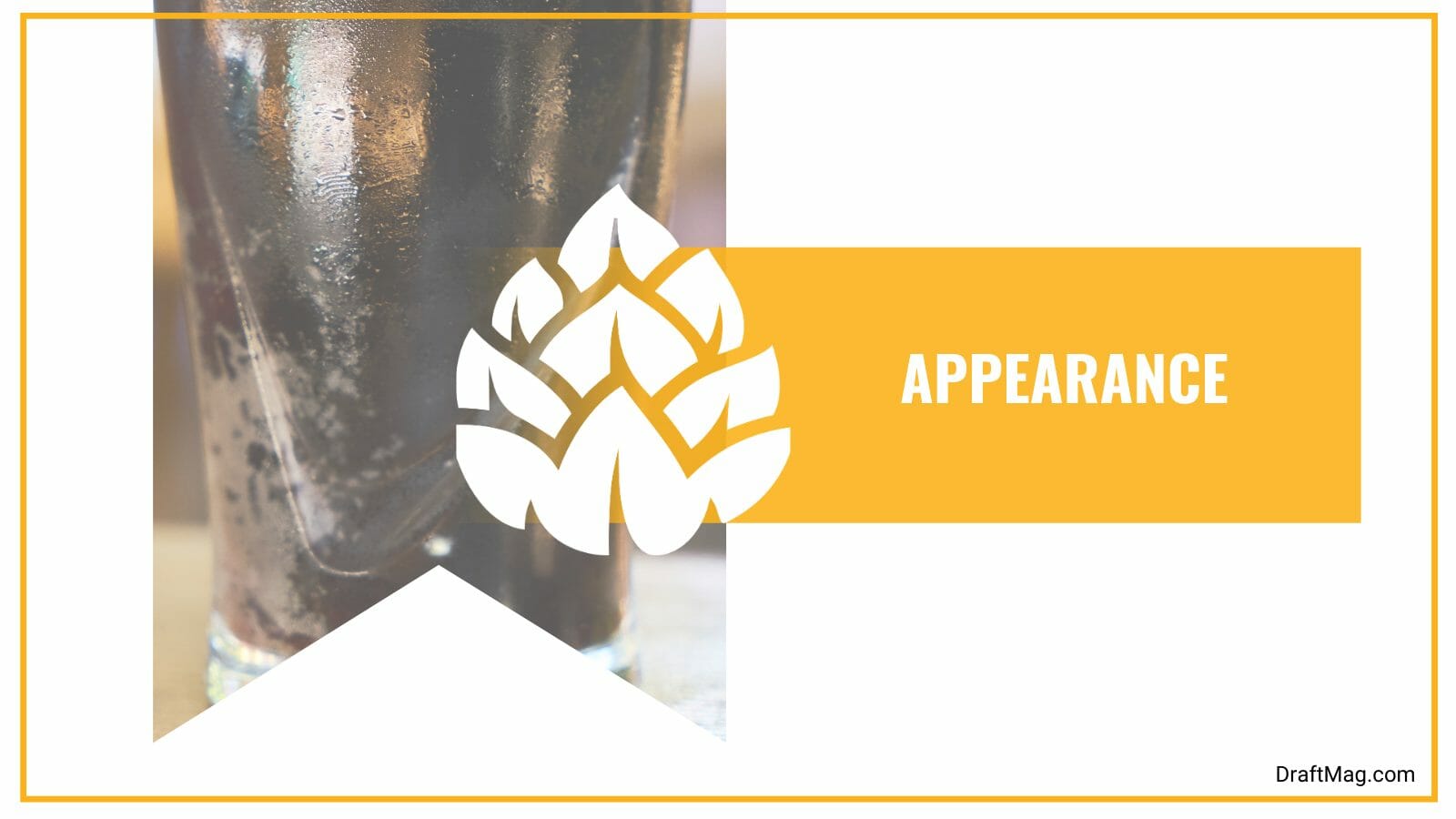 Atop the bock is two fingers of a foamy, thick head with a light tan color. The head will last for a few minutes but will quickly fade into a thin ring and leave some lacing against the glass. 
– Aroma 
The first thing you smell when drinking this craft beer is the light chocolate aroma. The chocolate scent smells really sweet and will remind you of candy. There's a slight touch of malt in the backbone of the aroma too. 
The nose is inviting and warm and not too complex, but will invite you to take a sip. You might also notice a bit of light toffee, raisins, roast coffee, dark toast and herbal hops along with the chocolate. 
– Mouthfeel 
The bock has a medium body that feels smooth and velvety against your palate. There is tingling carbonation, although you might not have noticed this when you were pouring it. It gives you a bit of a fizzy feel when you swallow.
There's a bit of a hop bite when you drink this beer, and the finish is mostly dry but with a bit of sweetness from the malts and chocolate. It is very easy to drink too. 
– Flavor 
The flavor of the Chocolate Bock starts drier than you would've expected, but it quickly leans towards sweet. The sweet flavor of chocolate is the first thing that you taste, and it fills up your mouth. Towards the end, the beer is slightly sweet, with a bit of vanilla that balances out the chocolate notes. It finishes crisp and clean.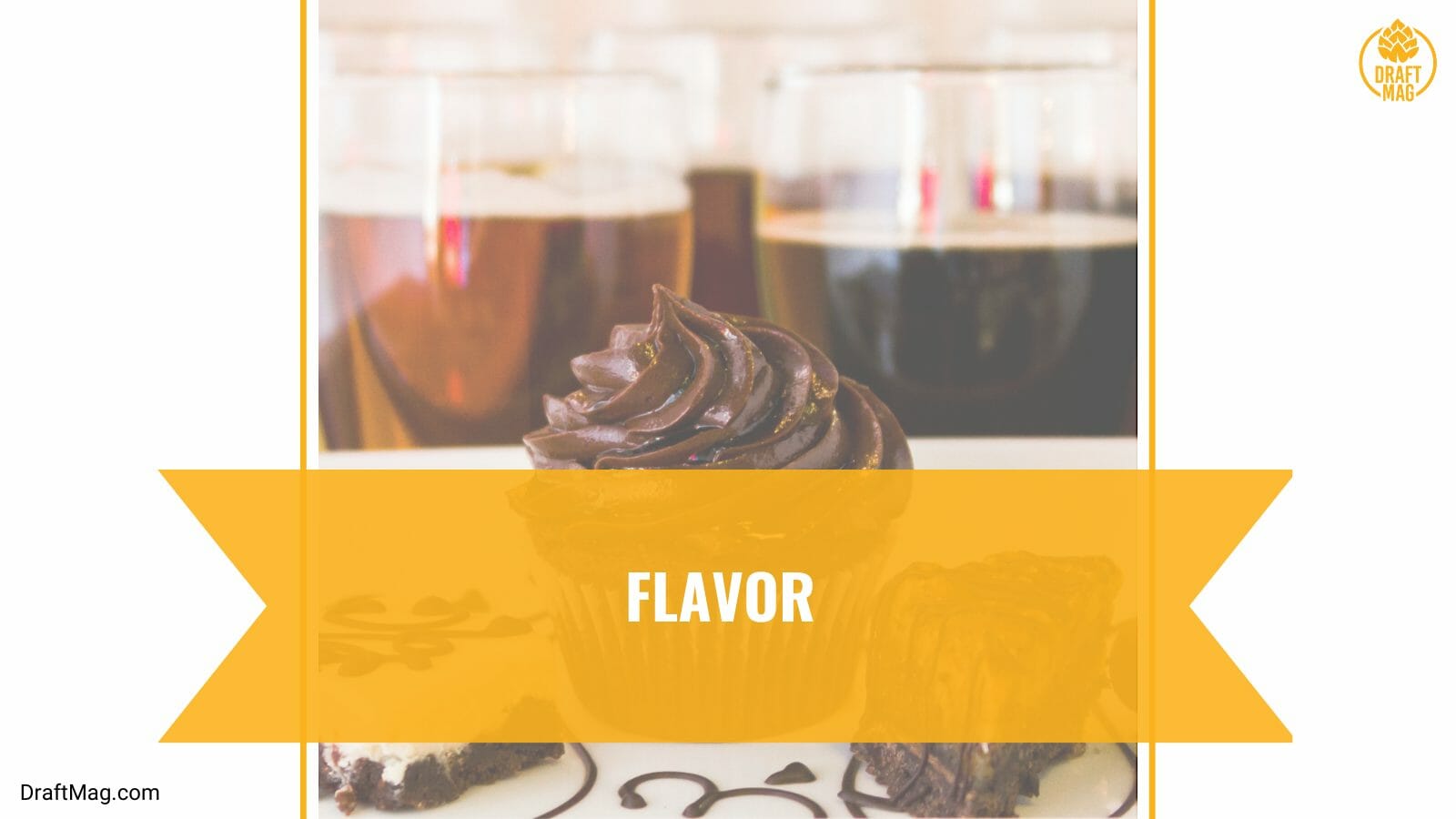 At the beginning of the flavor, you will notice bits of dark toast, herbal hops, raisin, molasses, vanilla and light pear with the strong taste of milk chocolate. But in the swallow, you get poached pear, black tea, light toffee, floral hops, dark toast, and raisins with the chocolate. It still gives you a strong malty base. 
– Food Pairings
When having the Samuel Adams Chocolate Bock, you should pair it with hearty and strong foods. Have it at your summer barbecue with different seared foods like beef and sausage. Enjoy the beer with chicken, turkey and pork, whether you fry, grill, or smoke it. 
It also goes great with game meats, so try out venison, elk, or duck. It also goes well with oysters, braised dishes and rich stews, so try out a braised lamb leg. Chicken fajitas are another good pairing. The beer should be sweeter than the dish you're pairing it with. 
If you're interested in cheese, try out some smoked cheese, Swiss cheese or Gruyere. The smooth taste of the cheese will match that of the beer. As for dessert, anything with chocolate will go great with the bock. Try out gingerbread brownies, chocolate cheesecake, devil's food cake, or a chocolate pot de crème. 
Ingredients 
The Chocolate Bock is made with malts, yeast, hops and water. It is brewed with a two-row pale malt blend made by the brewery, Caramel 60, Carafa malt, and Munich 10 malts. This gives you the strong flavor of chocolate, malts, molasses and vanilla.
As for the hops, the beer is made with Chinook hops, which gives you a slight herbal note when you drink it. The yeast is a lager yeast made by the brewery. There are no special ingredients in the beer, but the mix of malts gives it a full flavor and aroma. 
Nutrition Facts 
Every serving of this bock is 12 ounces, and it offers an alcohol content of 5.8 percent, while the IBU is 11. The ABV is low and only offers a slight bite when you swallow, with a bit of warming after a while. The IBU in the beer is low because there is barely any bitterness.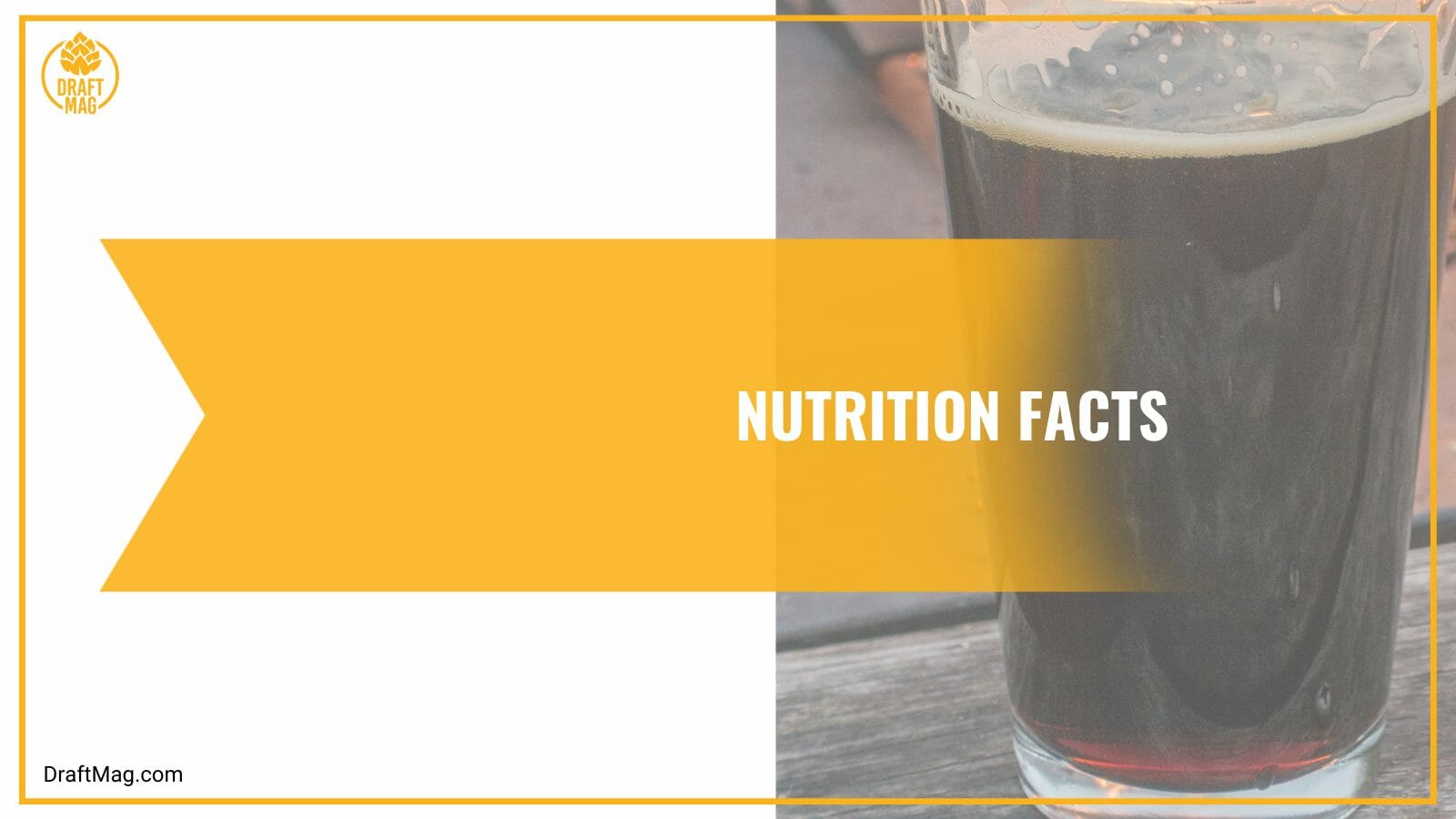 There are 237 calories in every 12 ounces of beer, and this requires beer drinkers on a diet to calculate it as part of their dietary requirement. There are also 59 carbs, which is a very high level due to all the chocolates. There is no fat or protein in this brew. 
History 
It was released in 2003 as one of the beers from the Boston Beer Company under the Samuel Adams brand (they also created the Samuel Adams Pumpkin Beer). It is a seasonal beer that is only released in November and December. It was discontinued for a bit but later re-emerged due to popular demand. 
The beer has also won different awards from international beer companies. The Samuel Adams brand was released in 1984 and named after one of America's founding fathers. It is under Boston Beer Co, which was founded by Jim Koch, starting from a microbrewery in their home. 
Conclusion
Whenever you're in the mood for a beer that leans towards dessert, this bock is a suitable choice.
Before you go, here's a summary of our review:
Chocolate Bock is a bock beer with an ABV of 5.8 percent.
The beer has flavors and aromas of chocolate, vanilla, coffee, molasses, herbal hops, honey, dark roast and toasted malts, and raisins.
It is made with two-pale malts, Caramel 60, Carafa malt, Munich 10 malts, Chinook hops and lager yeast.
The beer is best served in a stange at temperatures from 41 to 48 degrees Fahrenheit.
Pair it with seared food, barbecue, smoked and grilled foods, game meats, hearty stews, oysters, smoked cheese and gingerbread brownies.
You can only find this bock beer in November and December, whether online or at physical stores.