Castle Danger Cream Ale Review: Crisp, Clean, and Creamy
Castle Danger Cream Ale is a medium-bodied and super creamy ale that offers a wealth of flavor with every sip that you take. The delicious beer is an excellent example of its style, offering you a brilliant appearance and alluring flavor.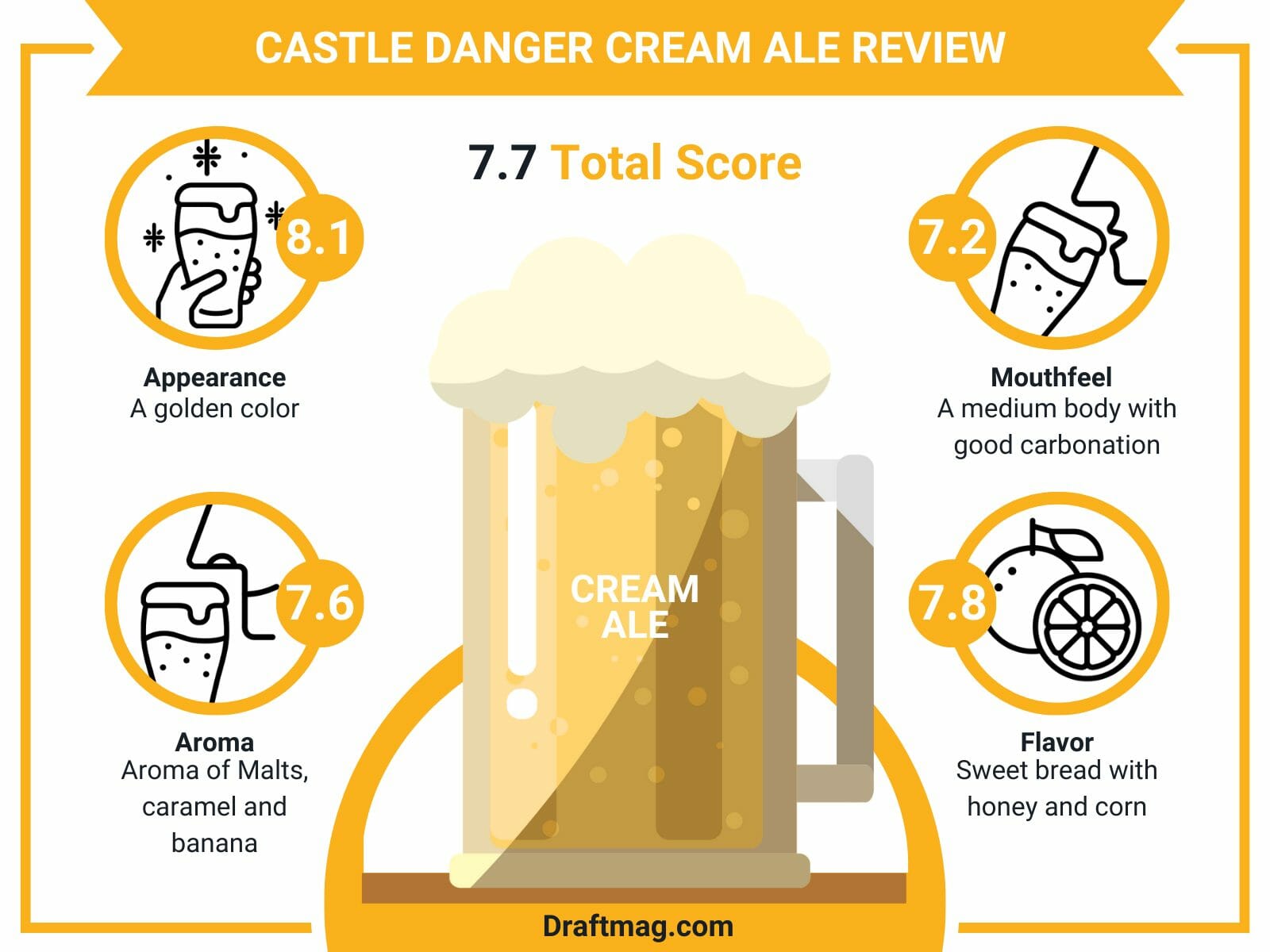 Enjoy the balanced, fresh, smooth, and sweet flavors of this ale on any occasion. If you want to know more information about this ale before drinking it, our review covers every detail from the tasting notes to how to serve it best. 
Castle Danger Cream Ale Stats
| | |
| --- | --- |
| Country  | United States |
| Brand | Castle Danger Brewery |
| Style | Cream Ale |
| Taste  | Biscuits, cream |
| Body | Medium Body |
| ABV | 5.5 percent |
| Flavors & Aromas | Biscuit, cream, dark honey, toffee, bread, grain |
| Serving Temperature | 45 – 50 degrees Fahrenheit |
Tasting Notes
Castle Danger Cream Ale Tasting Profile
Castle Danger Cream Ale Review 
Castle Cream Ale is a beer made by Castle Danger Brewery in Minnesota. Despite having a creamy body and a soft texture, the beer is also very sessionable and refreshing. It goes down very easily with the 5.5 percent alcohol content and finishes smooth and clean with every sip you take.
The beer has a clear golden appearance with a medium body. There are flavors and aromas of biscuits, cream, dark honey, toffee, bread, grain, candy, and a bit of hop bitterness. It is known as a flavorful beer that keeps your tastebuds busy, as there are a lot of flavor notes to discover while drinking. 
Serve the creamy ale in a pint glass to show off the clear, attractive color. The glass has a wider opening that holds the eggshell white head in place. Its ideal serving temperature is from 45 to 50 degrees Fahrenheit, which keeps the beer cool and refreshing. You can garnish it with a cherry or apple slice.
– Appearance 
The ale pours a golden color that tends towards caramel in your glass, and there are streaks of amber hues that float to the bottom. It has a very clear appearance which allows you to see the medium level of carbonation in the form of bubbles floating to the top.
On top of the beer is a creamy head up to one finger high, with an eggshell-white color. The head has pretty good retention and will slowly dissipate, leaving barely any lacing. 
– Aroma 
On the nose, you can enjoy the complex and interesting aroma of the Ale, but all the notes are well-balanced to offer a pleasurable scent. It also has a mild aroma, so it does not surpass the taste. You will mostly smell bread when pouring the beer.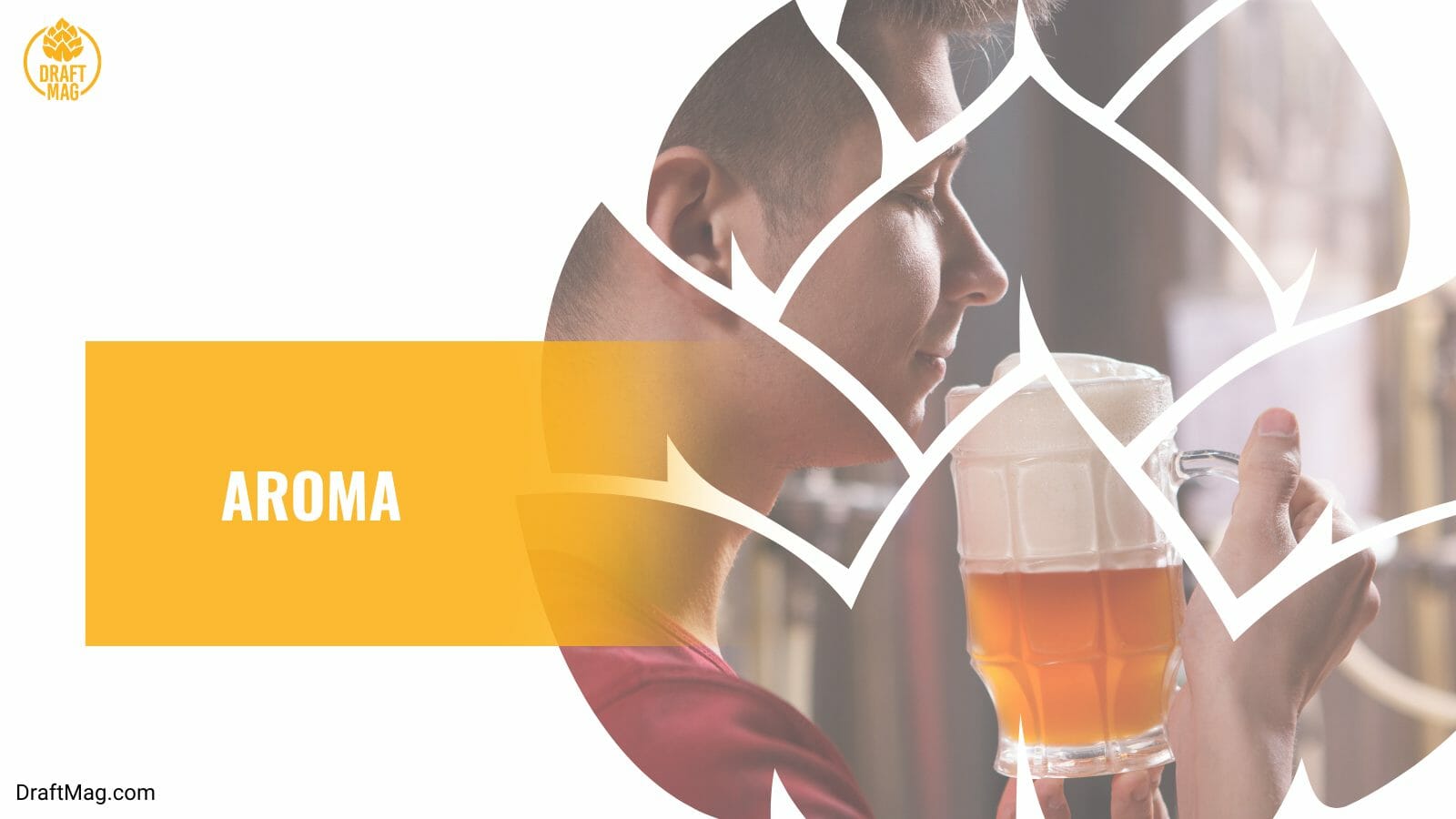 Expect notes of malts, caramel, sweet bread, and some banana with floral hops in the nose. There's also a lot of cream soda.
– Mouthfeel 
Even the mouthfeel of the Ale is complex, but it mostly offers a sense of creaminess that fills your mouth with softness. When you drink the beer, it first feels crisp before moving to soft, creamy, and more.
The beer has a medium body, and the finish lasts for a decent amount of time. There is very good carbonation in this smooth beer, giving you a bit of a fizzy feeling like cream soda. 
– Flavor 
The flavor of the Castle Cream Ale follows the aroma very closely, with a lot of tasting notes that caress your tongue. You can enjoy a good balance of sweet bread with honey and corn when you first taste it. The breadiness remains as you get a bit of caramel and cherry juices in the middle of the palate. It finishes bready and creamy.
You can expect flavors and aromas of malts, grain, butterscotch candy, toffee, dark honey, and yellow sweet bread. Towards the finish, the mild hop bitterness is more pronounced, but this is still balanced with some light sweetness. The aftertaste has a bit of lingering bitterness and a nutty taste. In general, it goes from white cream sweetness to cherry fruitiness. 
– Food Pairings
This Castle Danger Castle Ale comes with smooth, sweet, and malty flavors. You can pair this with sweet, hot, and spicy foods, which include chicken, salmon, salads, and bratwurst. You can top your crunchy salads with a fruity dressing or have a light pasta dish with a creamy or meaty sauce and enjoy it with this beer.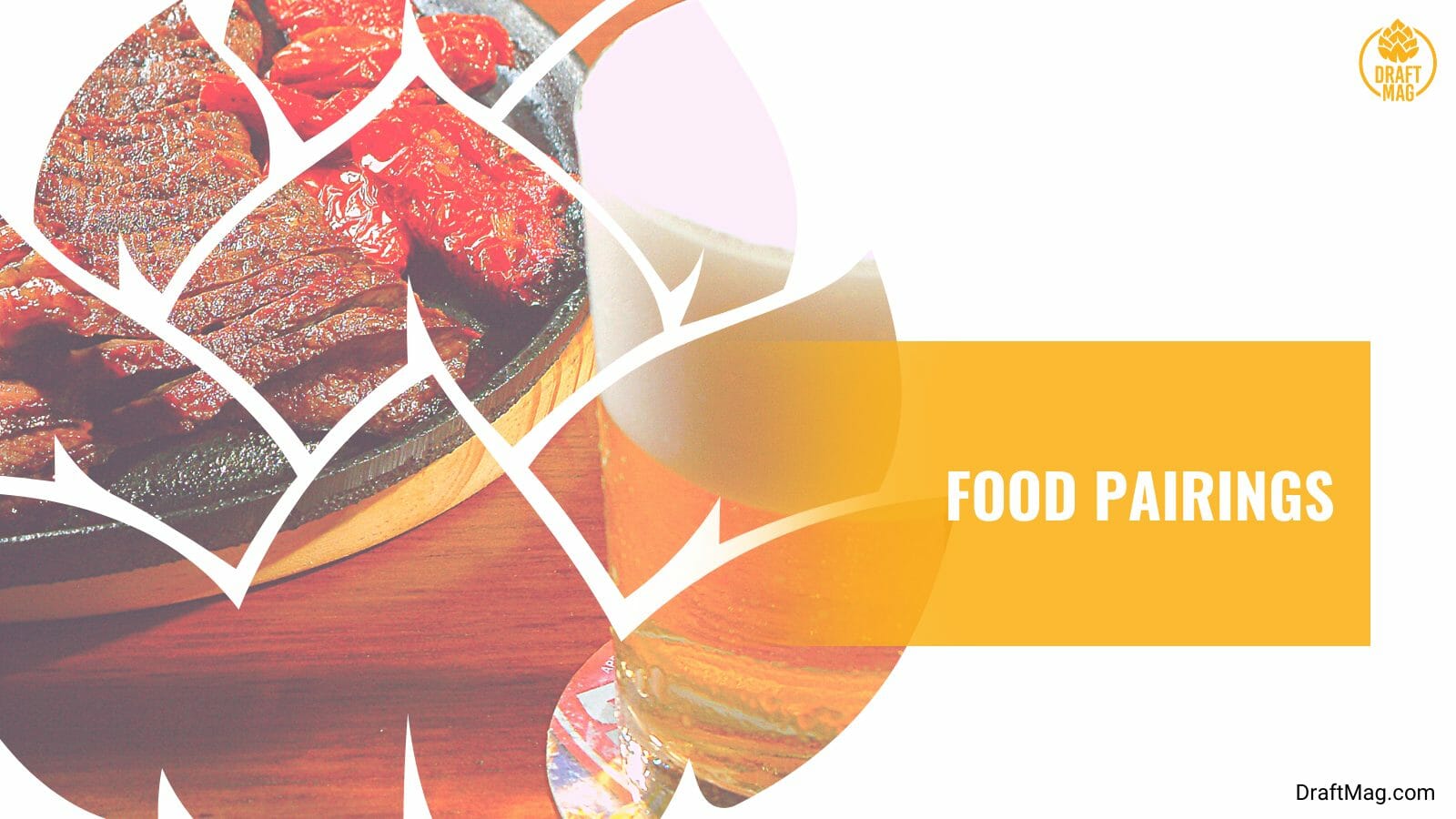 The beer also goes well with buffalo wings, burgers, steaks, pizza, nutty, fried, and spicy foods, and Asian and Mexican cuisines. It will also pair well with braised dishes, barbecued and grilled foods, salty foods, and seafood like oysters.
If you want to enjoy the beer with cheese, you should have it with Cheddar, Romano, and Parmesan cheeses. Consider creamy cheeses that match the body of the beer. As for dessert, you should enjoy it with a carrot cake or a chocolate cake. A creamy dessert like a chocolate pudding will also pair well. 
Ingredients 
The Castle Ale is made with malts, hops, yeast, and water. The ingredients used to make the beer offer a character with honey, caramel, biscuits, and a bit of hop spice. It is barely yeasty in aroma or flavor, either.
The malts used to make the beer include Pilsen, Caramel 10, Light Munich, and Flaked Corn. All of these lend to the medium body and creamy texture of the beer. As for the hops, they include German Hallertau, Tettnang, and Hersbrucker hops. These contribute to the bit of cherry flavor and mild bitterness.
Nutrition Facts 
The Ale features an alcohol content of 5.5 percent, which is well masked throughout the flavor and the aroma. The IBU is 20 due to the mild hop bitterness and very slight fruitiness, like cherry. It goes down very easily without any alcohol warming.
Every 12 ounces of this beer offers drinkers 180 calories and 14 grams of carbs. The beer also has 2 grams of protein, 1 gram of fiber, and 10 mg of sodium. It is not ideal for those on a keto diet due to the high carbs content, and it is also not a gluten-friendly beer. 
History 
The beer was released by Castle Danger in 2013 and has remained a year-round offering ever since. It is designed for all kinds of craft beer lovers, whether it's your first or hundredth time tasting beer. The idea for the beer was from the brewery's first intern, and from there, the recipe was created.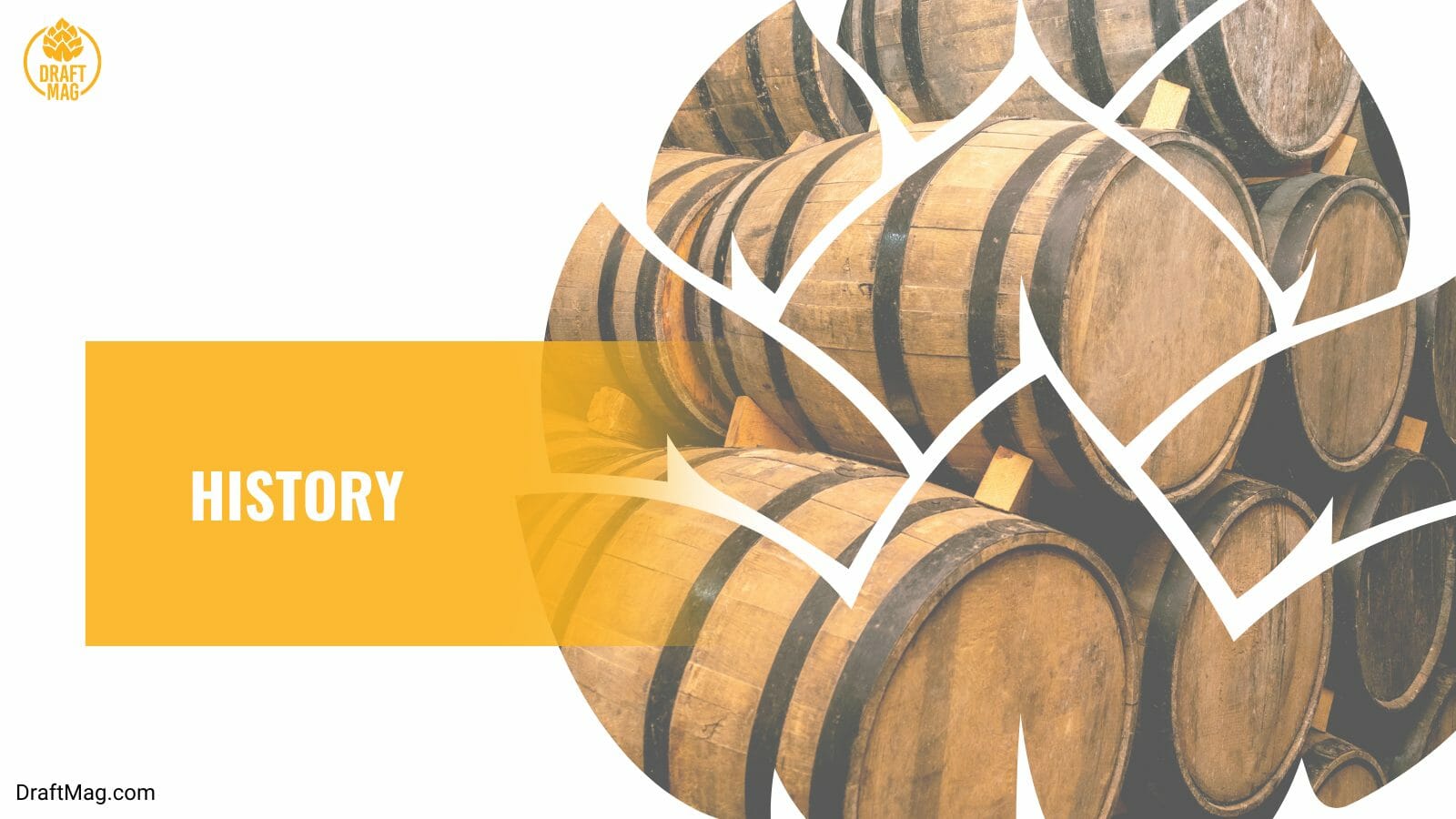 The point of the beer was to be a sessionable option. The brewers started with a flavor profile and then created the unique beer you have today. The brewery was founded in 2011 in Two Harbors, Minnesota, and was founded by Clint MacFarlane, expanding further in 2014. A similar beer from the brewery is Summer Crush pale ale.
Conclusion
If you're looking for a smooth and creamy ale to match any dish, this creamy option is ideal. Here's a summary of what we covered in our review:
Castle Danger Cream Ale is a creamy beer with a 5.5 percent alcohol content.
The beer has flavors and aromas of biscuits, cream, dark honey, bread, toffee, grains, and mild hop bitterness.
It is made with Pilsen, light Munich, flaked corn, caramel 10 malts, and three hops.
The beer should be served in a pint glass at 45 degrees Fahrenheit.
Pair the beer with spicy foods, salads with fruity dressings, pasta with creamy sauce, barbecued and grilled dishes, creamy cheeses, and cake for dessert.
You can easily get the beer on tap at the brewery in MN, as it is available year-round. Alternatively, you can also purchase it in bars and liquor stores.