Galaxy Unicorn Review: A Rich, Creamy Imperial IPA for Hop Heads
Galaxy Unicorn is a flavorful imperial IPA from Pipeworks Brewing Co, offering loads of hops in the form of fruits and alcohol character. The galaxy hops really shine through the character, making it an ideal choice for anyone that enjoys IPAs.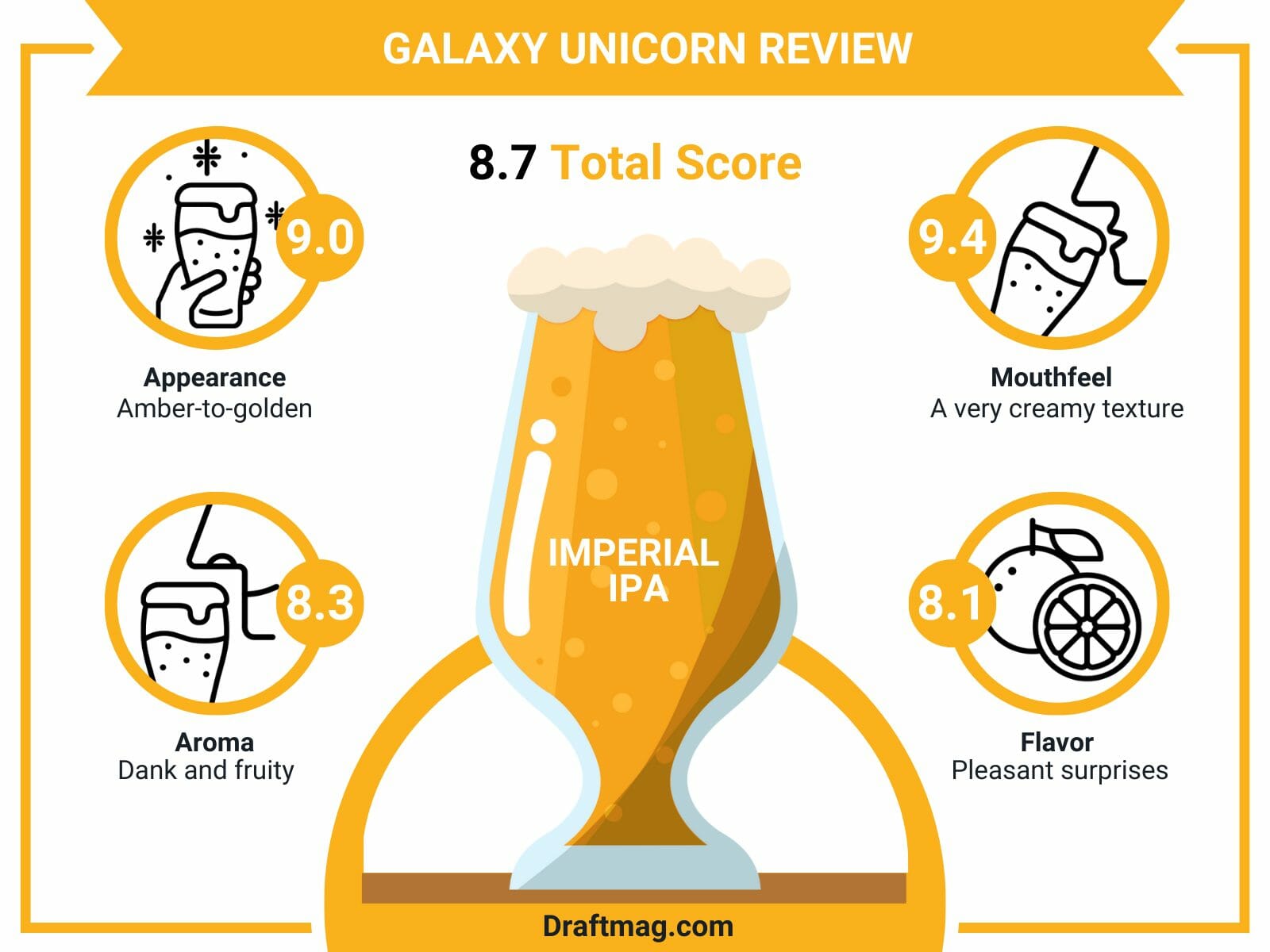 Despite its alcohol and hops, the IPA offers easy drinking and a refreshing character for any occasion. Let's take a closer view at what this beer has to offer in this complete review.
Galaxy Unicorn Stats
| | |
| --- | --- |
| Country  | United States |
| Brand | Pipeworks Brewing Company |
| Style | Imperial IPA |
| Taste  | Citrus, fruity |
| Body | Medium Body |
| ABV | 9.5 percent |
| Flavors & Aromas | Fruity, citrus, melon, caramel, tropical fruits |
| Serving Temperature | 50 – 55 degrees Fahrenheit |
Tasting Notes
Galaxy Unicorn Tasting Profile
Galaxy Unicorn Review
Galaxy Unicorn is an imperial IPA brewed by Pipeworks Brewing Co, with a 9.5 percent alcohol content. True to its style, the beer has a taste of citrus, fruits, and alcohol warming. It has an amber appearance with flavors and aromas of melon, tropical fruits, pineapple, and a caramel backbone, finishing dry with some fruits and carbonation.
The beer is best served in a snifter, goblet, or chalice, all of which give room for its two-finger head and sparkling appearance. Serve it at temperatures from 50 to 55 degrees Fahrenheit, which allows for the alcohol warming. You can make the beer more intense by dropping an orange slice or sticking a wedge at the rim of the glass.
Have this hoppy IPA with friends, when partying, or with a spicy meal.
– Appearance
The beer pours an amber-to-golden liquid into your glass with a light haze. The beer appears effervescent due to its carbonation, and there is an egg-shell-colored head up to two inches high. With good retention, you can expect some sticky lacing against your glass as it goes down.
– Aroma
On the nose, the galaxy-hopped beer smells dank and fruity, with a lot of tropical fruits, citrus, and melon. There are also hints of pineapple, garlic, and onion, with a bready backbone behind the aroma.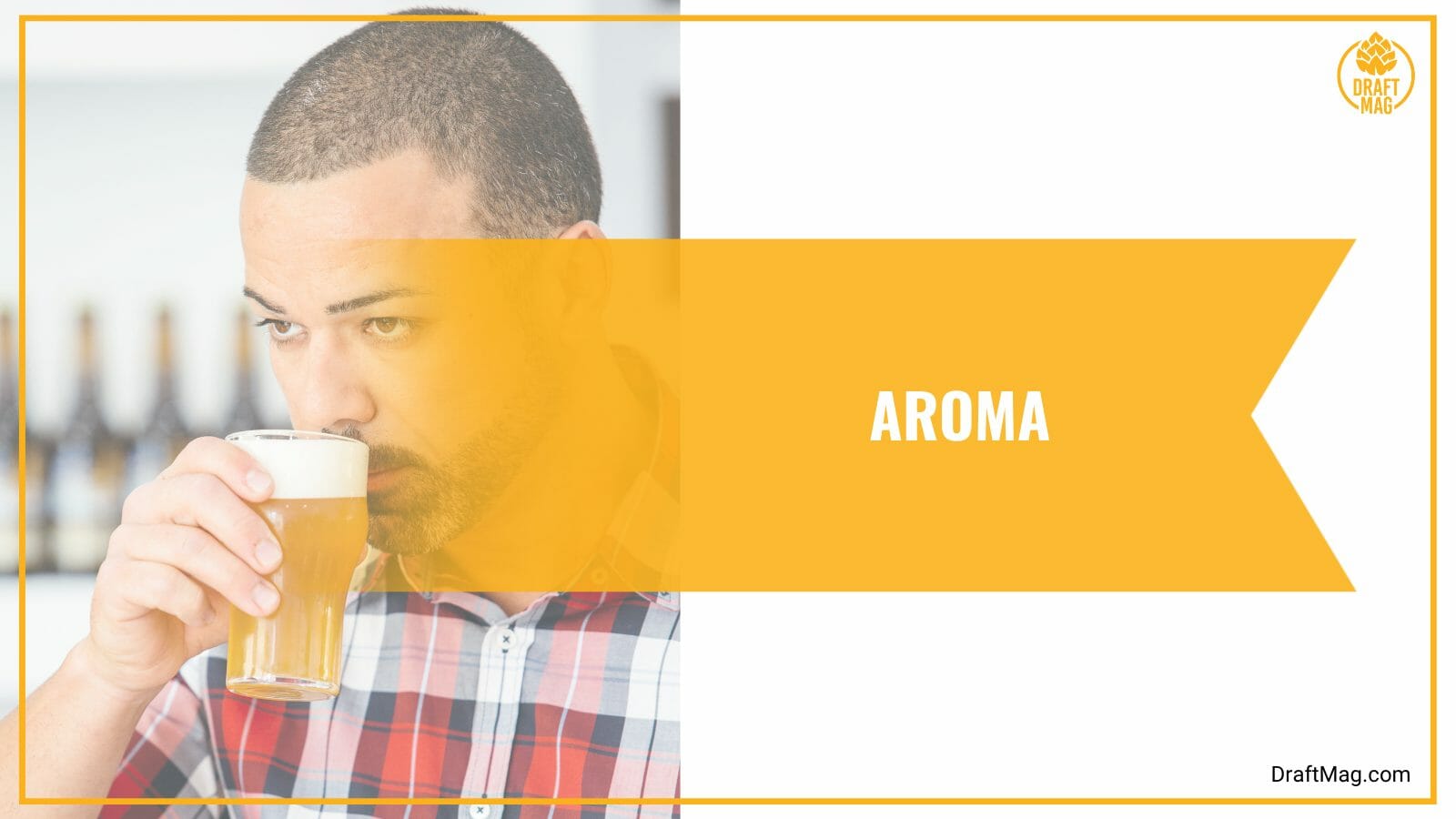 It has a mild aroma that does not overshadow the flavor.
– Mouthfeel
The IPA has a very creamy texture that feels soft and luscious and will caress your palate as you drink and swallow it. Its medium-bodied character offers easy drinking, and there's a lot of carbonation that balances it out. The beer finishes dry, and there's some alcohol warming, as expected from this style.
– Flavor
IPA lovers can expect pleasant surprises when drinking this imperial beer. It tastes fruity, with a lot of tropical fruits and citrus that are well-balanced. Up front, you can taste the pineapple, mango, pine, citrus, and melon with some alcohol and onion.
On the backbone, the beer offers a trace of caramel from the malts. As it warms up, you will taste dried pineapple and grapefruit and some bready notes that remind you of cake. It finishes dry, with hints of grapefruit and pineapple in the aftertaste. Despite its complexity, balanced imperial IPA drinks are easy to consume.
– Food Pairings
The imperial IPA should be paired with similarly strong tastes as it is bitter and hoppy. Since the bitterness can cool your palate down, you can go for spicy foods like a burger or taco with barbeque sauce, noodles, Indian curries, Mexican food, and more. It can also act as a palate cleanser.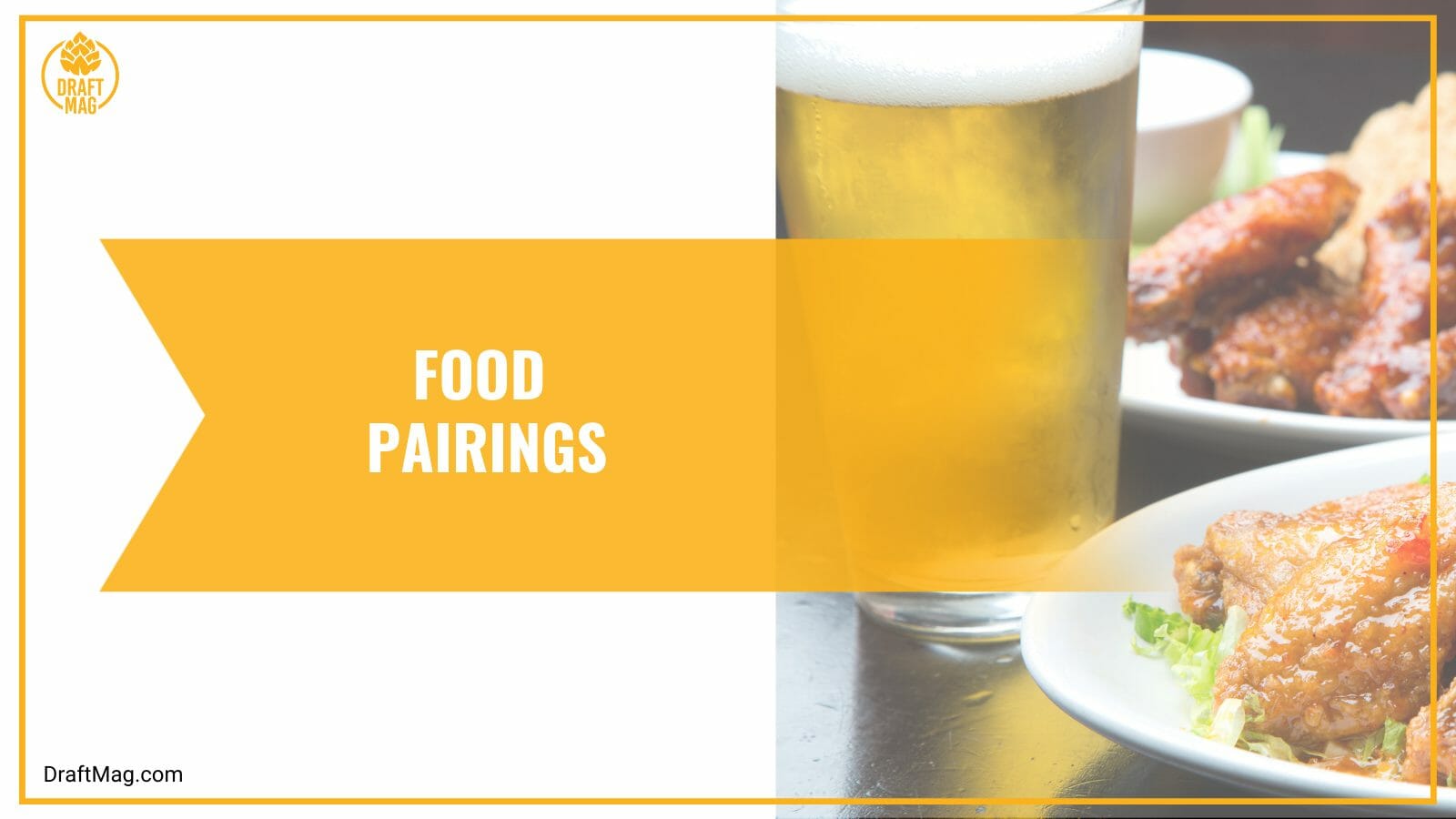 Aside from spicy food, try the Galaxy Unicorn with crunchy dishes like crisps, corn on the cob, fried chicken, or a potato salad. Oily fish like salmon or mackerel, or sticky and sweet chicken wings, sausages, jalapeno poppers, chips and dips, nachos, and salted nuts also go great with food.
If you enjoy cheese, you can have the beer with sharp cheddar, blue cheese, and spicy cheeses, as the intensity matches that of the IPA. For your sweet tooth, the imperial ale goes well with fruity desserts like a blood orange sorbet, lemon crepes, and citrus-flavored cake.
Ingredients
The vibrant character that you get from Unicorn Galaxy is gotten from the Galaxy hops, which offer aromas and flavors of tropical fruits, citrus, tangerine, freshly cut grass, and passion fruit. As for the malts, the beer is brewed with malted barley and wheat, which gives you a slight malty caramel backbone.
Nutrition Facts
The Galaxy Unicorn has an alcohol content of 9.5 percent, which is expected from the style. You can notice the alcohol warming in the flavor and aroma of the beer, especially after it warms up. Also, expect a lot of bitterness units due to the hoppy character.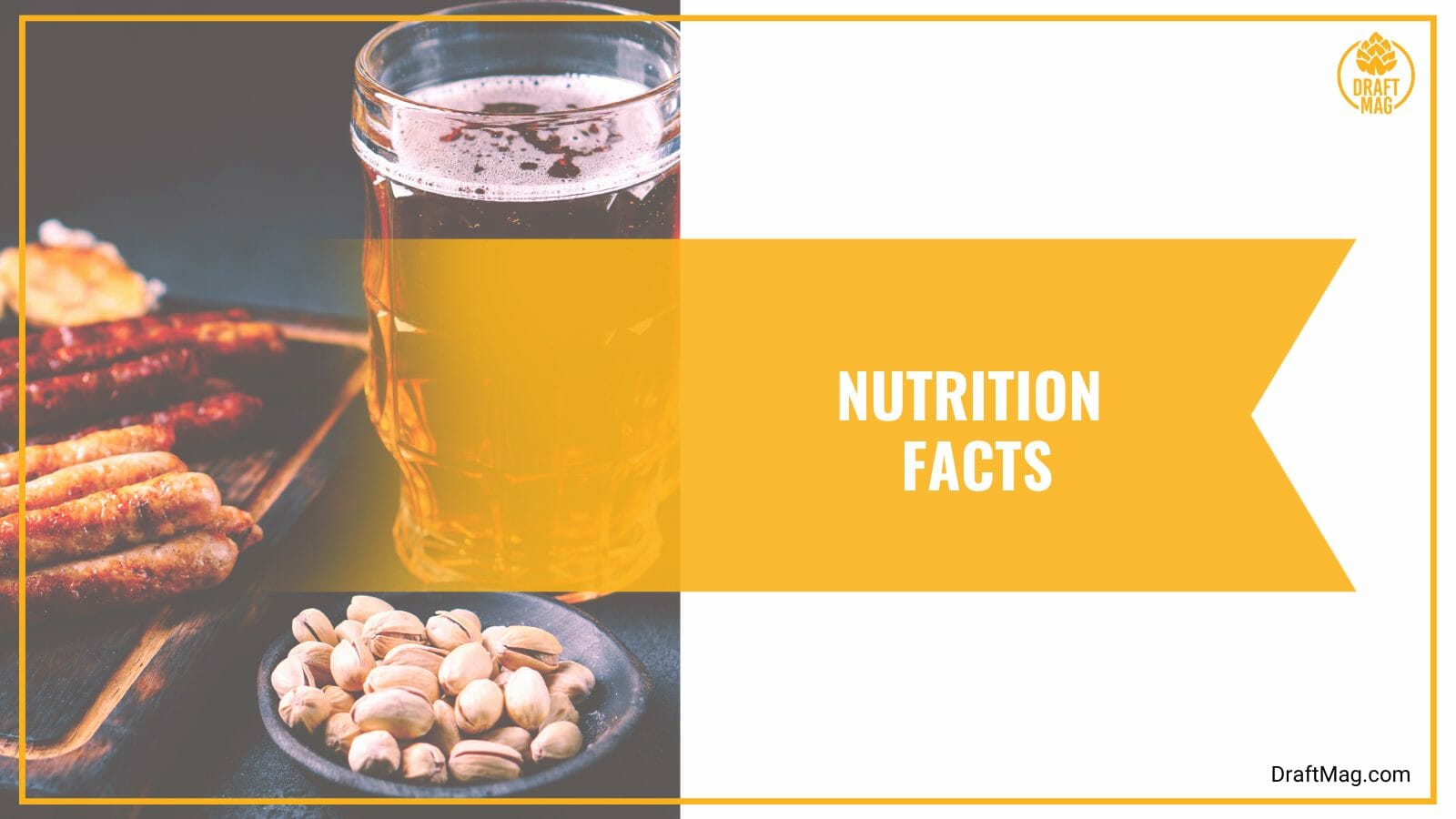 The IPA features 285 calories in every 12 ounces, which is a pretty high level. You should keep this in mind when calculating your daily dietary intake. The beer is not friendly for those on a keto diet due to the high carbs, and it is not gluten-friendly as well.
History
The beer was brewed by Pipeworks Brewing Company, which is based in Illinois, United States. It was released in 2012 and has remained one of the top beers from the brewery, especially since it appeals to hop heads.
Pipeworks Brewing was also established in 2012, making this IPA one of its earliest breweries. The brewing company self-distributes in Illinois and some other cities in the United States. They have also won awards, not only for their unique beers but also for the original artwork that is used to design their beer cans.
The brewery also sells beers online and runs a Dojo Bottle Shop.
Conclusion
If you're looking for a hoppy imperial IPA that still goes down easy, this is the ideal choice for you. Here's a rundown of our beer review:
Galaxy Unicorn is an imperial IPA with a 9.5 percent alcohol content by Pipeworks.
The beer has flavors and aromas of tropical fruits, citrus, melon, alcohol, and caramel, with a creamy medium body and dry finish.
It is made with malted barley, wheat, and Galaxy hops.
Serve the beer in a chalice or a goblet, with the temperature not too cold and a citrus slice.
You can pair it with spicy foods, oily fish, chicken wings, fruity desserts, and sharp cheddar cheese.
To try this beer out, order it online, check liquor stores near you, or visit the Dojo Bottle Shop for a sip.