Regia Beer Review: The Brew That Boasts of Numerous Accolades
Try the world-famous Regia beer if you're looking for a thirst-quenching alcoholic drink. It's of Salvadoran origin, brewed as an American adjunct lager, and if you're familiar with this beer style, you should know what to expect.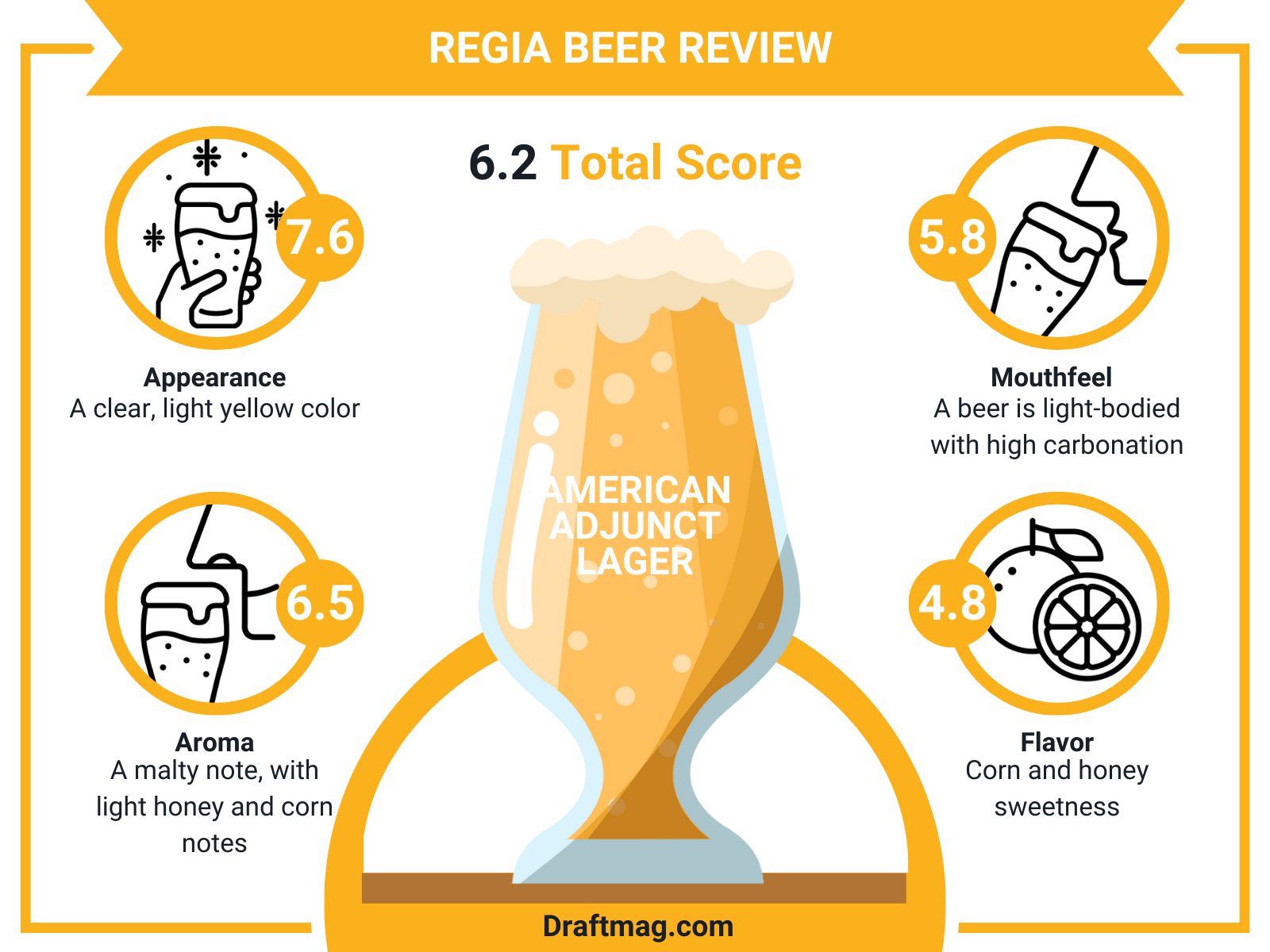 If you aren't familiar with this brew, our complete review will cover unique details about this beer. Also, we'll be sharing the tasty dishes that you can pair with Regia Extra beer for a complete experience.
Regia Beer Stats
| | |
| --- | --- |
| Country | El Salvador |
| Brand | Cerveceria Salvadorena |
| Style | American Adjunct Lager |
| Taste | Malty, sweet corn |
| Body | Light |
| ABV | 4.6 percent |
| Flavors & Aromas | Malty, hop spice, corn |
| Serving Temperature | 38-45 degrees Fahrenheit |
Tasting Notes
Regia Beer Tasting Profile
Regia Beer Review
In this section, we look into the beer's essential characteristics that make it an adjunct lager. Also, we'll suggest possible food pairings that will go well with Regia beer.
– Appearance
The beer pours a clear, light yellow color with a persistent white head in a pilsner glass.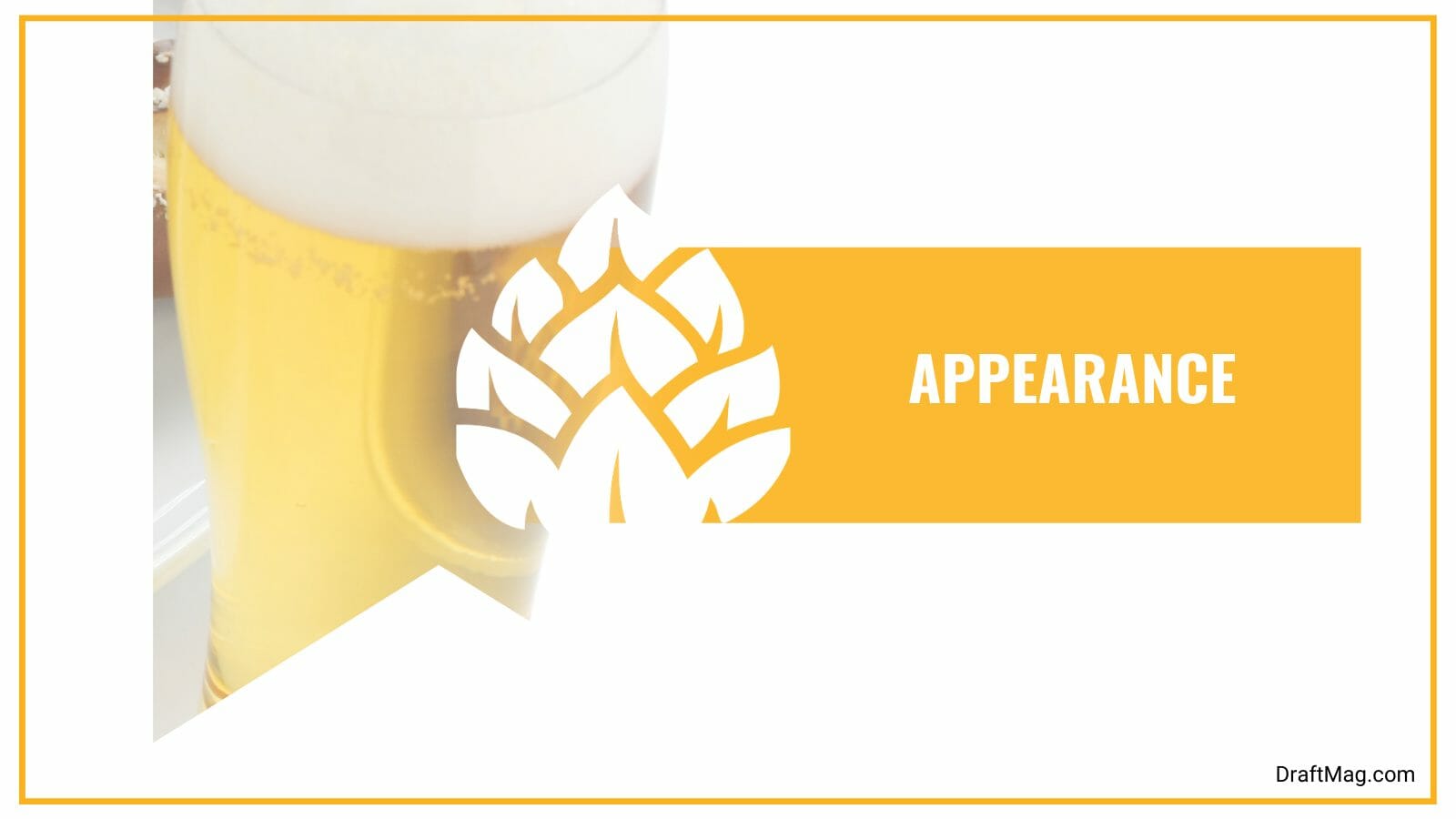 The head is about two fingers thick and leaves decent lacing on the glass. Also, being a highly carbonated beer, you'll notice bubbles rising to the head and sticking to the glass wall.
– Aroma
There is no complex aroma to this beer, but you'll get a malty note upfront balanced by hop spice. Also, there are light honey and corn notes that you will be able to distinguish with a sniff.
– Mouthfeel
Regia beer is a thirst-quenching drink to cool off on a sunny day. The beer is light-bodied with high carbonation bubbles tingling the tongue.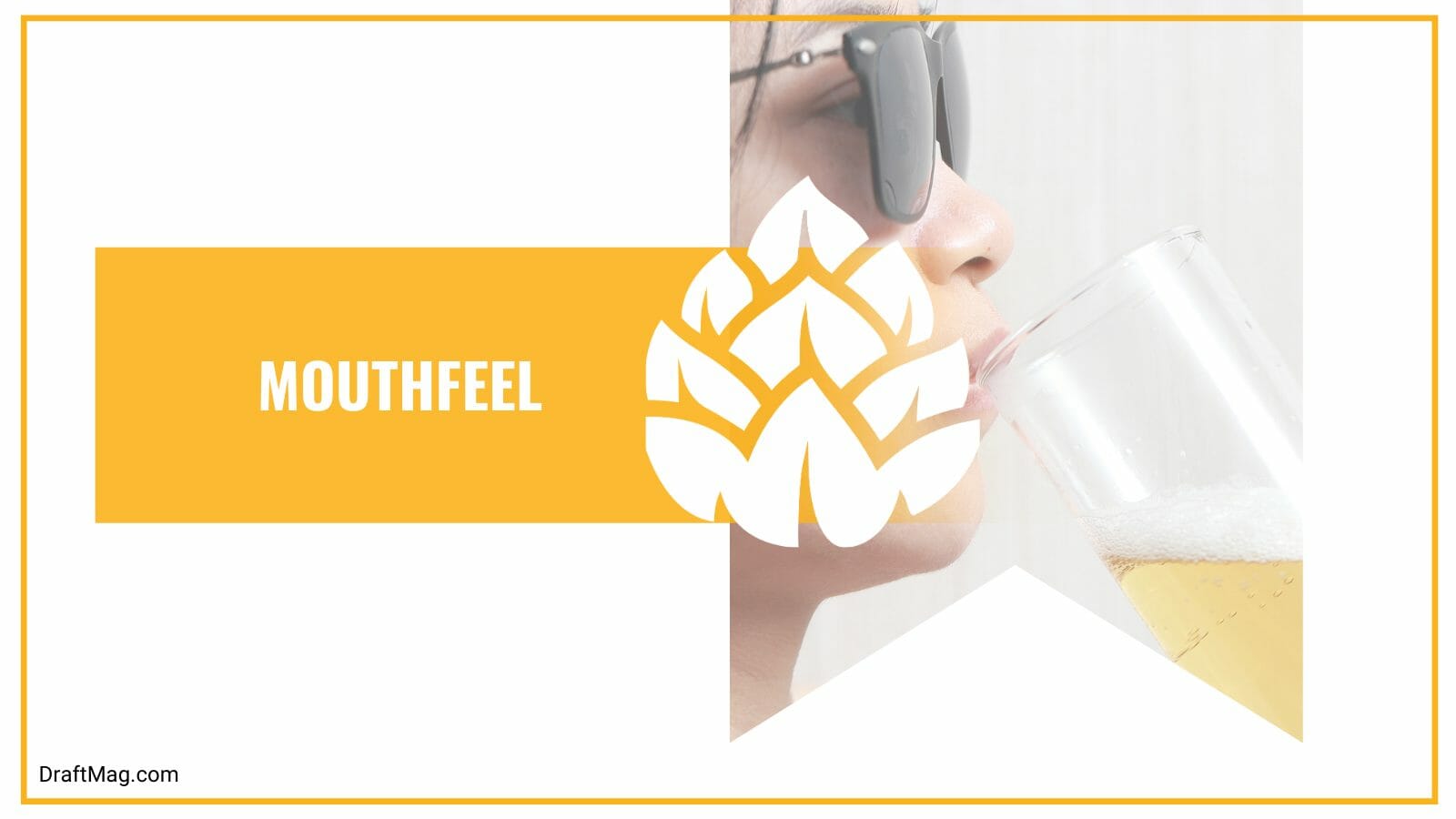 It is crisp with an overall watery mouthfeel and no lingering aftertaste.
– Flavor
This beer has no awful taste as the flavor follows the aroma. You get maltiness plus corn and honey sweetness upfront. This is balanced by a mild hop character on the back end, giving the beer something that is similar to a wine flavor.
– Food Pairings
Regia beer is an adjunct lager, making it one of the easiest to pair with food because of its simple flavor and aroma. And being a light beer, it is fine with similar light dishes like salads, soups, fish tacos, sushi, noodles, and tapas. Also, this beer goes well with soft cheeses as they perfectly accompany the beer's corn sweetness, so consider the likes of brie, cottage, cheddar, ricotta, feta, and camembert.
In addition, you can take advantage of Regia's high carbonation and pair it with fried and spicy dishes as the beer is an excellent palate cleanser. Therefore, introduce the likes of french fries, spicy fried chicken, phaal curry, potato croquettes, Thai shrimps, and fried plantains. Also, salty snacks can play the game; try peanuts, popcorn, roasted chickpeas, kale chips, and pretzels.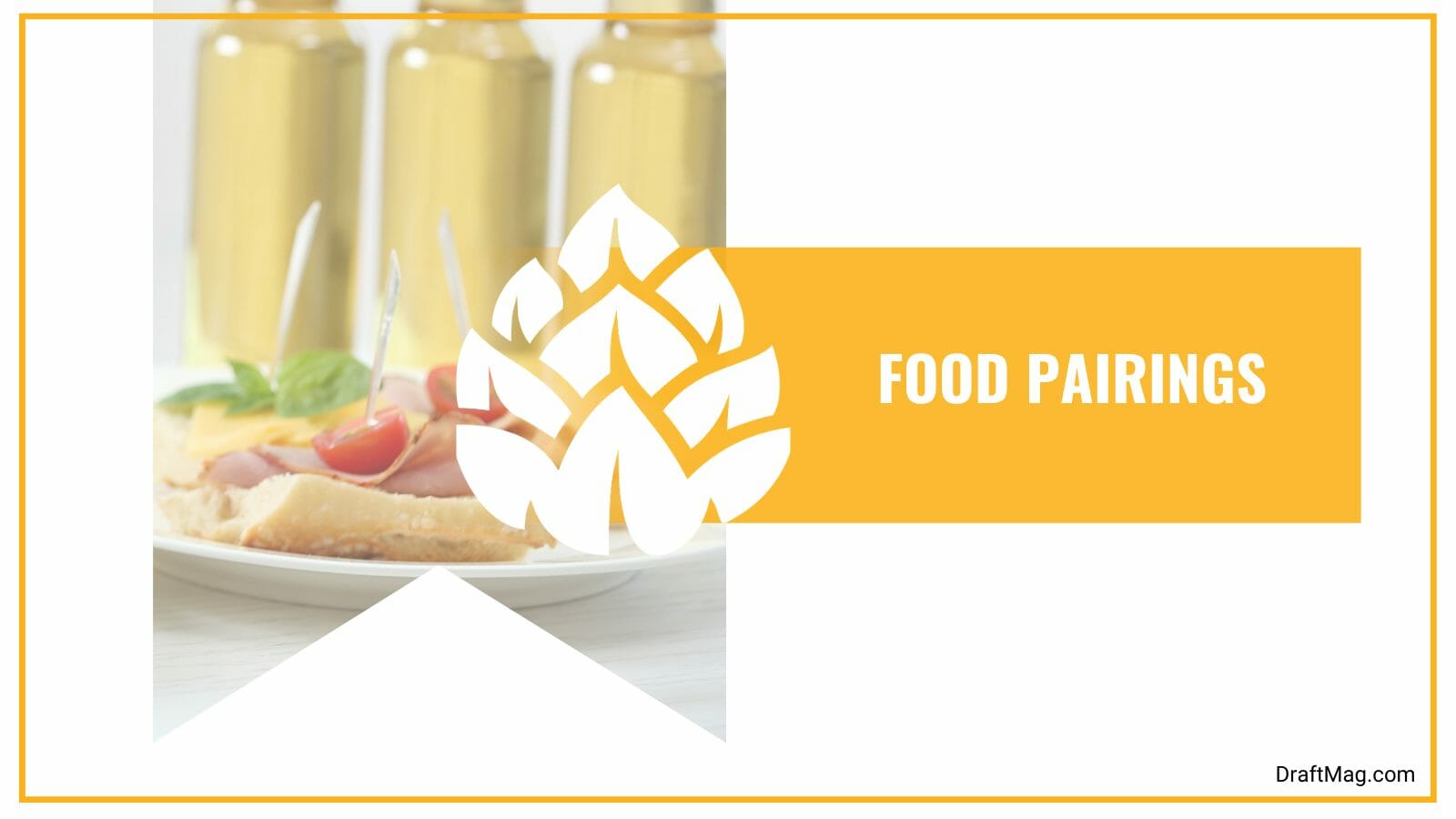 Also, this Salvadoran beer can travel with desserts like chocolate or vanilla cakes, bananas foster, milk chocolate, pastries, corn on the cob, cookies, tarts, and fruit salads.
Other valid meals include pasta, pizza, hot dogs, pork, sandwiches, grilled meat, spicy seafood, and pies. And for the most holistic experience, serve Regia beer in a pilsner glass between 38-45 degrees Fahrenheit.
Ingredients
While the primary ingredients in Regia beer are not revealed, its flavor profile suggests it contains the following:
6-row malt
Hops
Corn
Yeast
Water
An adjunct is primarily any ingredient besides malt that contributes to the fermentable sugars. Examples include corn, rice, oats, wheat, honey, fruits, etc. Brewers also refer to adjuncts as unmalted grains, and these adjuncts or unmalted grains add to the wort sugar content and alcohol concentration. Also, they improve the beer's prominent characteristics like aroma, appearance, and flavor.
Nutrition Facts
The label on the bottle doesn't state the amount of Regia beer calories. However, it has 4.6 percent alcohol by volume. Comparing this with the popular ABV to calorie chart, the 355ml can of this beer contains approximately 135 calories. While the calorie content isn't too high, you may consider regulating how much you drink if you're on a keto diet.
Also, Regia beer alcohol percentage is in the mid to low range, so you can down a few bottles without getting boozy. Regardless, it would be best if you drink responsibly. Furthermore, from the beer taste profile, it should have below 20 IBUs.
History
Regia extra was released in 1959 by Cerveceria La Constancia S.A, a brewery in El Salvador, Central America. This brewery has existed for over a century and has developed through a series of acquisitions. Since its inception in 1906, the brewery has served Salvadoran consumers, but later in 2003, it expanded into the USA.
Regia beer is brewed with top-tier quality, and this is based on facts and not hearsay. In 2005 and 2006, the beer won gold medals at the Monde Selection, an award program organized by the International Institute for Quality Selections in Brussels, Belgium. Likewise, Regia beer won a gold medal at the 2014 edition of the World Beer Cup. Other beer brands of the brewery include Taurino, Pilsener, Rialto, and Suprema beer.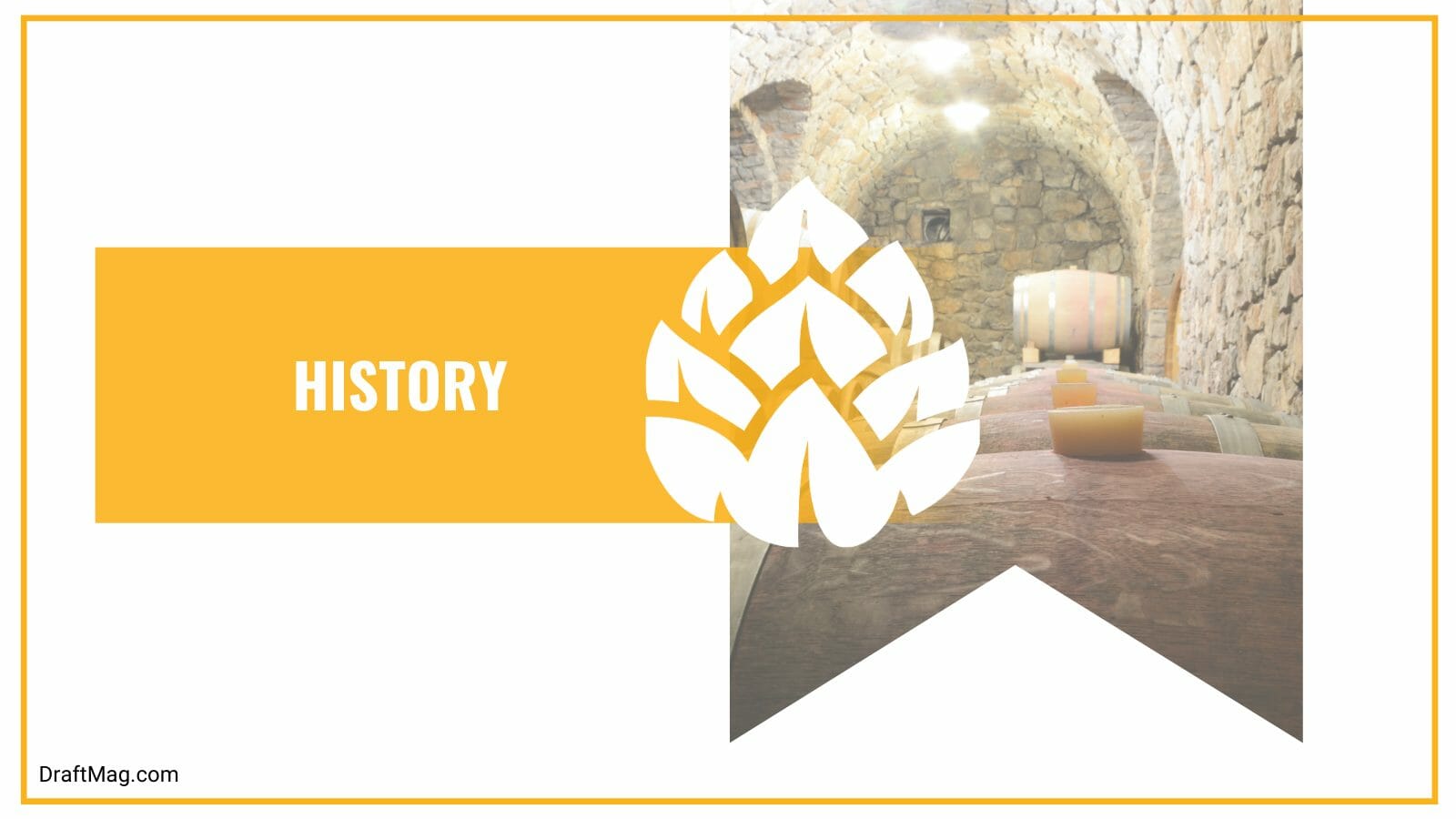 In 2017, Cerveceria Salvadorena acquired the Regia and Suprema brands and has since handled their commercialization. Again in 2020, 2021, and 2022, the Monde Selection recognized the Regia brand but this time with Silver medals. The beer is sold in 355ml cans, 12oz, 25oz, and 32oz bottles, and while the beer is not so popular in the USA, you can find it in Salvadoran immigrant regions in the country.
Conclusion
If you read this review to this point, you already know what Regia beer has to offer. Judging from the beer's list of accolades, it's undoubtedly a drink worth trying, so here are the key points to note from this review:
Regia beer is an adjunct lager with 4.6 percent ABV.
The beer is light-bodied with high carbonation.
The beer's flavor and aroma include malty and sweet corn notes with no alcohol heat.
Cerveceria Salvadorena has acquired the Regia brand from Cerveceria La Constancia S.A.
Remember that we've shared various dishes you can pair with Regia beer, but don't limit yourself to the suggestions in this review because the beer is versatile. So do well to explore other options that come your way.