Miller Fortune Review: Sipping This Unique American Amber Lager
Miller Fortune is a fantastic beer choice for anyone who wants a sipping beer as it offers a spirit-infused malty flavor. The American amber lager is a product of Miller Brewing Co. and is one of the most popular beers from the brewery.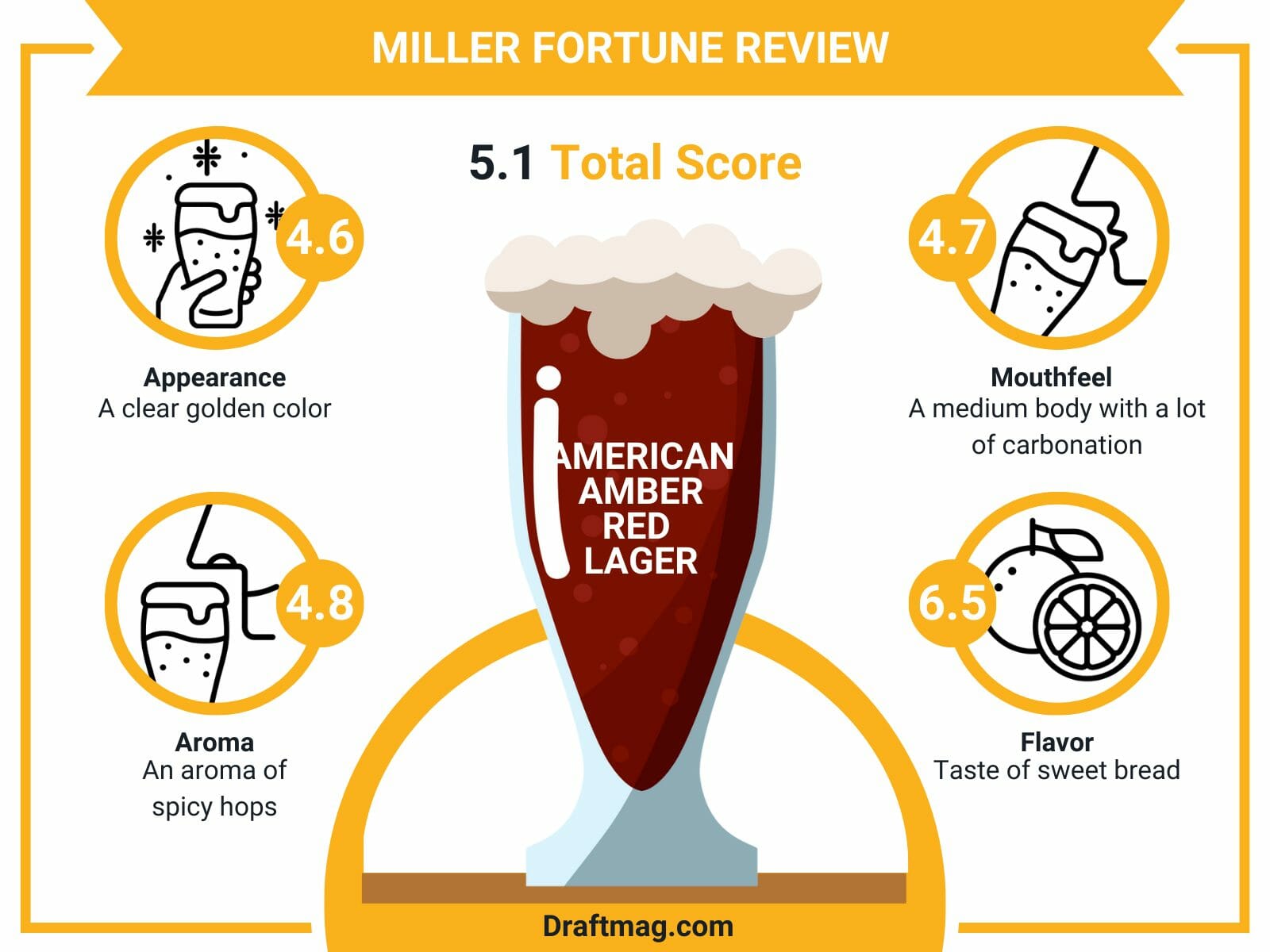 With its alcoholic bite, sweet aftertaste and caramel flavor, the Fortune lager is definitely a must-try for any beer lover. We review the amber lager in this complete guide, so take a closer look below.
Miller Fortune Stats
| | |
| --- | --- |
| Country | United States |
| Brand | Miller Brewing Co |
| Style | American Amber/Red Lager |
| Taste | Caramel, spice |
| Body | Medium body |
| ABV | 6.9 percent |
| Flavors & Aromas | Caramel malts, sweet, spice, stone fruit |
| Serving Temperature | 45 – 50 degrees Fahrenheit |
Tasting Notes
Miller Fortune Review Tasting Profile
Miller Fortune Review
Fortune is an American amber or red lager from Miller Brewing with a 6.9 percent alcohol content. The beer has a medium body with average carbonation and a smooth feeling on your palate. It offers flavors and aromas of sweet caramel malts, spice, and stone fruit, with an overall sweet and malty character. It finishes wet and light.
Serve the beer in a pilsner glass for the best results, although a pint glass also works. A pilsner glass has a wider opening but slims down to the end. This gives it room for a foamy head and allows for a bright and sparkling character. Serve the beer at temperatures from 45 to 50 degrees Fahrenheit and add a sweet citrus wedge.
With its drinkable nature and carbonation, this amber lager is a fantastic choice for any situation.
– Appearance
The Fortune beer pours a clear golden color into your glass with red tinges. You will see the carbonation rising to the top in the form of sparkling bubbles into a thick white head.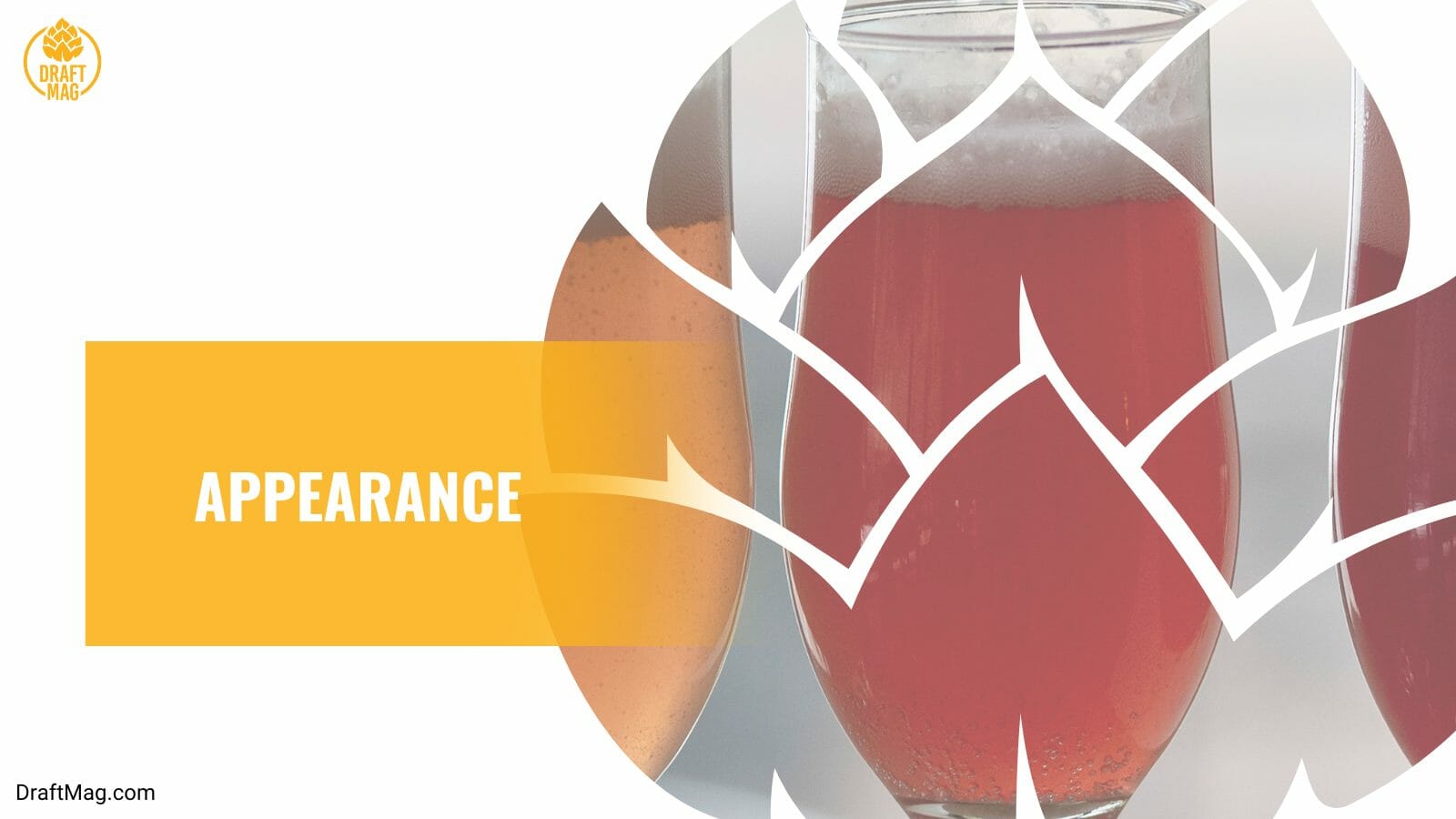 The head doesn't have good retention and will disappear quickly, with barely any lacing.
– Aroma
The alcohol character in the spirited golden lager is strong on the nose due to the high ABV. Aside from this, you can smell the spicy hops and some bread from the malty character. The malt is the main aroma of this beer and features a sweet smell.
– Mouthfeel
On the palate, the Fortune lager features a medium body with a lot of carbonation.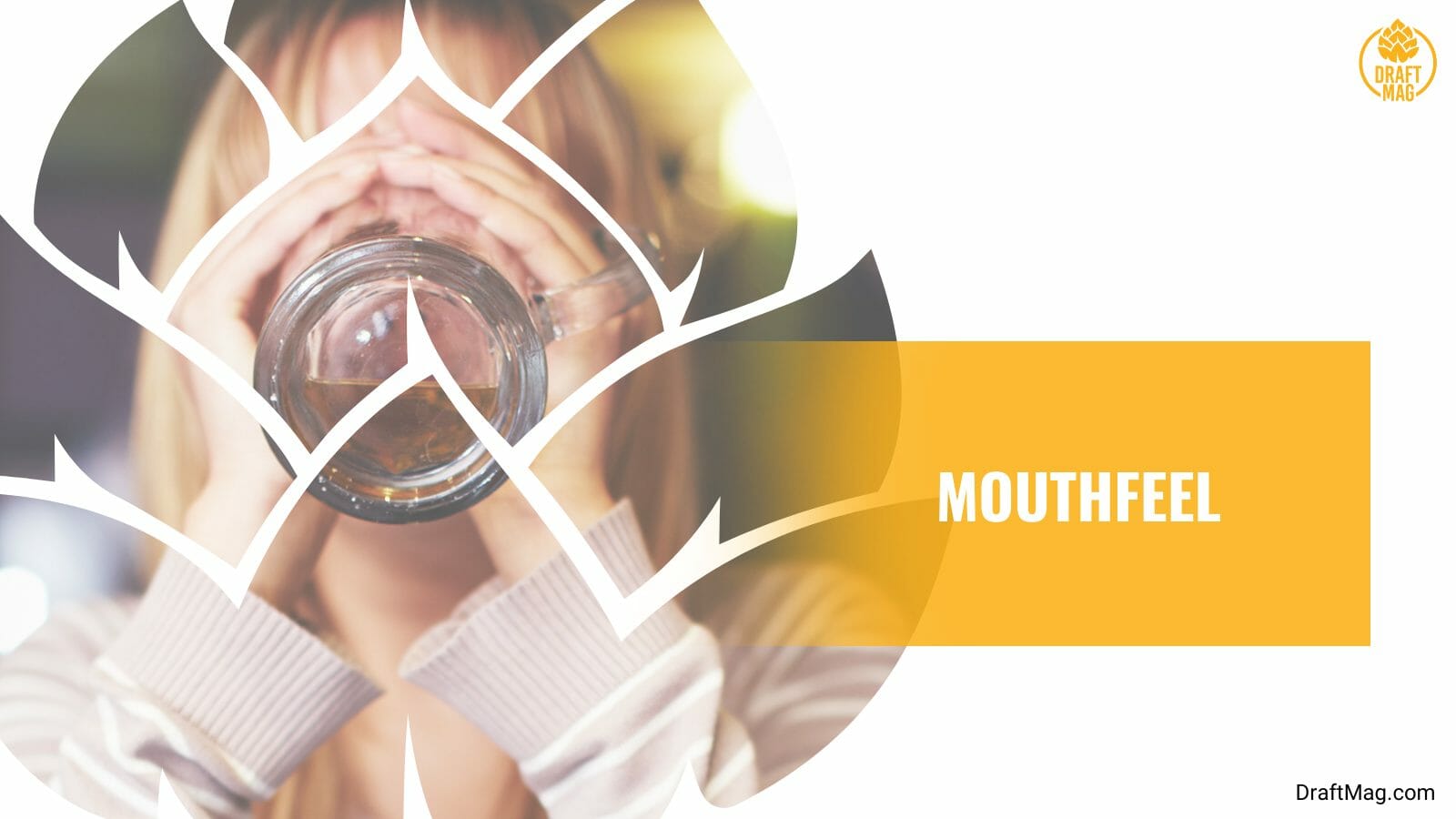 The carbonation makes the beer feel fuller despite its soft and light feeling and will offer you the feeling of fizzy bubbles against your palate. The carbonation goes well with the spicy hops, and it offers a moderate finish.
– Flavor
As for the flavor, the amber lager will first give you the taste of sweet bread. This is well-balanced with the flavor of caramel, which makes the beer taste very sweet when you first drink it. The sweet flavor quickly becomes one of strong alcohol, a boozy taste.
The next thing you will taste is the spicy hops, which balance out the alcohol. It finishes sweet and malty, with a bit of hops. You might notice hints of stone fruit and sugar in the flavor. The residual sugar offers you a sweet aftertaste.
– Food Pairings
When having the Fortune amber lager, you can pair it with a wide range of foods. The beer is medium-bodied with a caramel-like character from the malts. Have the beer with grilled meats and vegetables, jerk chicken, barbecue pulled pork, brisket, or pizza. The caramel goes well with meaty and fatty foods.
It also goes well with light foods like chicken, salmon, salads, or bratwurst. Pair the delicious beer with hearty and spicy foods like Mexican dishes, pork, or sausage. Other good options include candied nuts, burgers, steaks, and other rich fatty dishes.
If you want to have cheese with your beer, white cheddar is always a good option. Other good cheeses include feta, Burrata, and fresh goat cheese. Please your sweet tooth with some fruit desserts paired with the beer. Chocolatey desserts like a mousse cake, tart, or pie will also go well with the beer.
Ingredients
The Miller Fortune is made with malts, hops, yeast, and water, but the exact ingredients are not known. Based on the allergen info, the beer contains cereals and their derivatives, barley, and barley products. If you're allergic to any of these, you should avoid drinking this amber lager.
Nutrition Facts
The red lager features an ABV of 6.9 percent, which is a pretty high level. You can smell the alcohol in the beer and also taste it while you drink. The IBU is unknown, but the beer does not have a lot of bitterness.
In every 12-ounce serving, the beer features 186 calories, which is a pretty decent level. Consider the calories when calculating your daily dietary requirements. The beer also has 12 grams of carbs and 1.3 grams of protein. There is also 10 mg of sodium. If you're on a keto diet or are gluten intolerant, you should avoid drinking this beer.
History
Fortune is brewed by Miller Brewing Company, an American brewery and beer company based in Wisconsin. The brewery was acquired by Molson Coors. The beer was first released in 2014 and remained a top choice. Miller Fortune was the first main beer brand since Molson Coors, and SABMiller merged in 2008.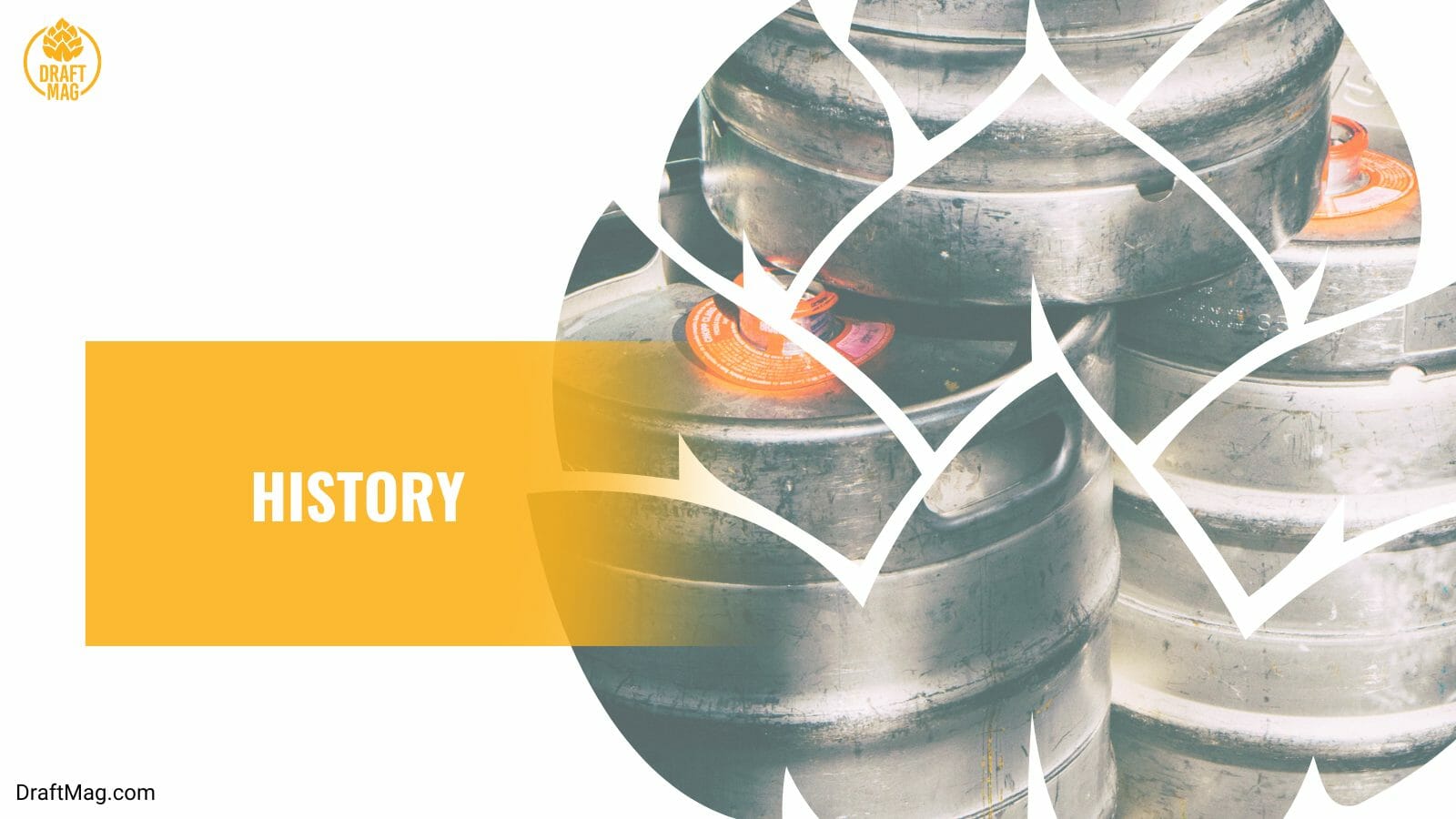 The beer received mixed reviews from critics and beer enthusiasts. Aside from the Fortune, you can also try out their other top beers like Miller Pilsner, Miller Genuine Draft, Olde English, and Miller Lite. The Fortune is often compared to the Miller High Life, also from the same brewing company.
Conclusion
The Miller Fortune is a tasty amber lager that appeals to a wide range of beer lovers for its bourbon-like flavor. Here's a rundown of what we covered in our review:
Fortune is an American amber lager with a 6.9 percent alcohol content from Miller Brewing.
The beer has flavors and aromas of sweet malt, caramel, spice, and stone fruit, with a sweet aftertaste and a boozy character.
It is made with malts, hops, yeast, and water.
The beer is best served in a pilsner glass, with a temperature of 45 degrees Fahrenheit.
It is best paired with meaty dishes, hearty meals, sweet desserts, white cheddar cheese, and Mexican cuisine.
The beer is pretty popular and can be purchased online or in physical stores that sell liquor. You can also find this beer in bars and pubs.