Little Kings Beer Review: Made for the Cream Ale Lovers
Little Kings beer is one of the best options if you love to spend your summer evening enjoying the silky taste of cream beer. The richness in flavor, the smooth, clear mouthfeel, and the mild carbonation with low ABV make this premium lager hugely popular.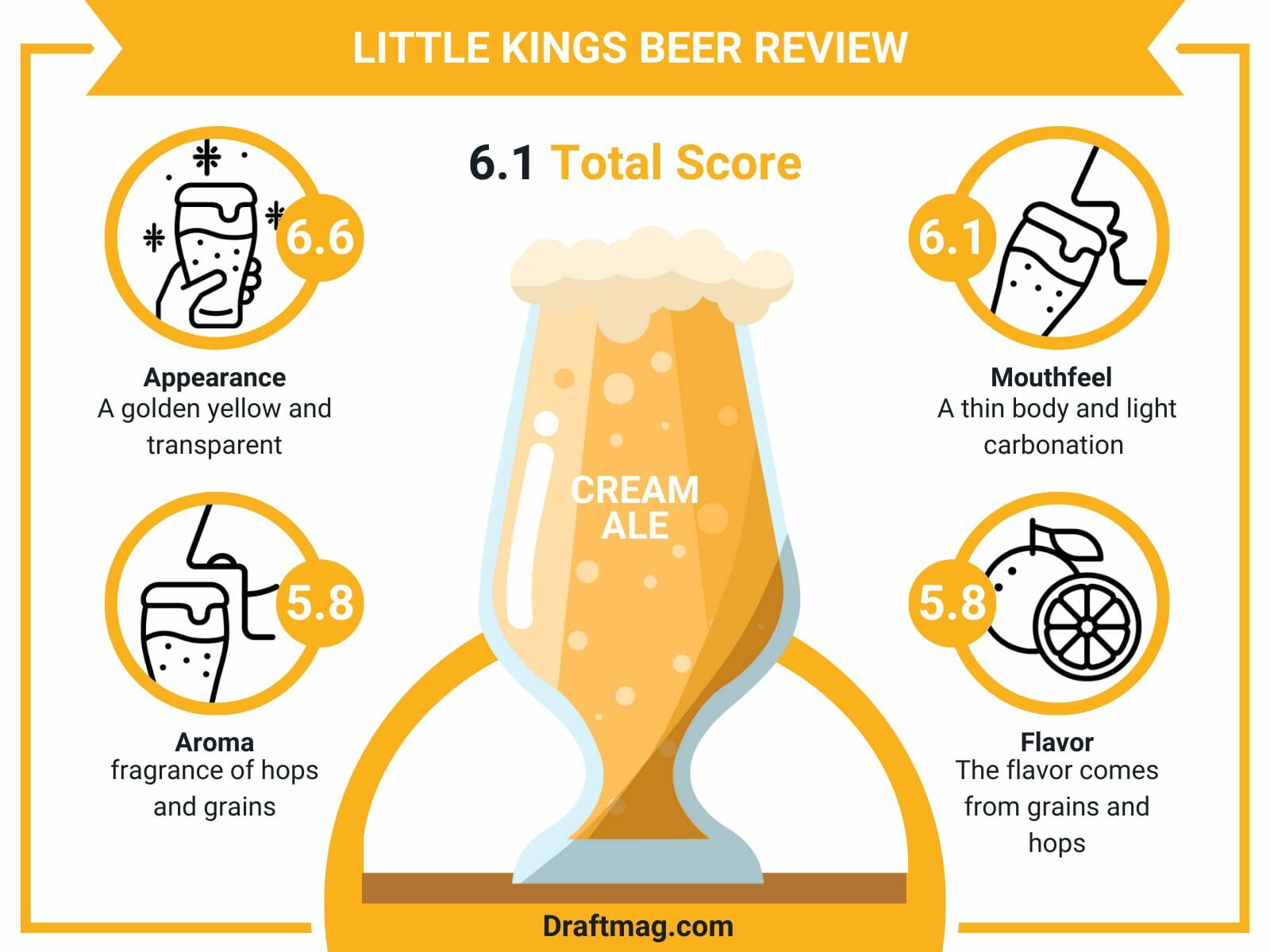 As you are here, we understand you are planning to buy the beer and want to know about the beer in detail. We are not going to disappoint you, as you will find the full review of the beer here.
Little Kings Beer Stats
| | |
| --- | --- |
| Country | United States |
| Brand | Little Kings Beer |
| Style | Cream Ale |
| Taste | Sweet, Crisp, Grassy |
| Body | Light-bodied |
| ABV | 5.5 percent alcohol content |
| Flavors & Aromas | Biscuit, Vanilla, Sweet Wheat |
| Serving Temperature | 45 to 50 degree Fahrenheit |
Tasting Notes
Little Kings Tasting Profile
Little Kings Beer Review
This creamy beer is a rare American beer style, and Little Kings proudly represents the legacy of this kind of beer. This section will find all the crucial facts about the beer sourced from the original Little Kings beer website.
Appearance
When this beer is poured from a bottle of seven ounces in weight into your glass, a golden yellow and transparent flow of the beer will blow your mind. A beautiful white and foamy head gets created in the glass in your hand.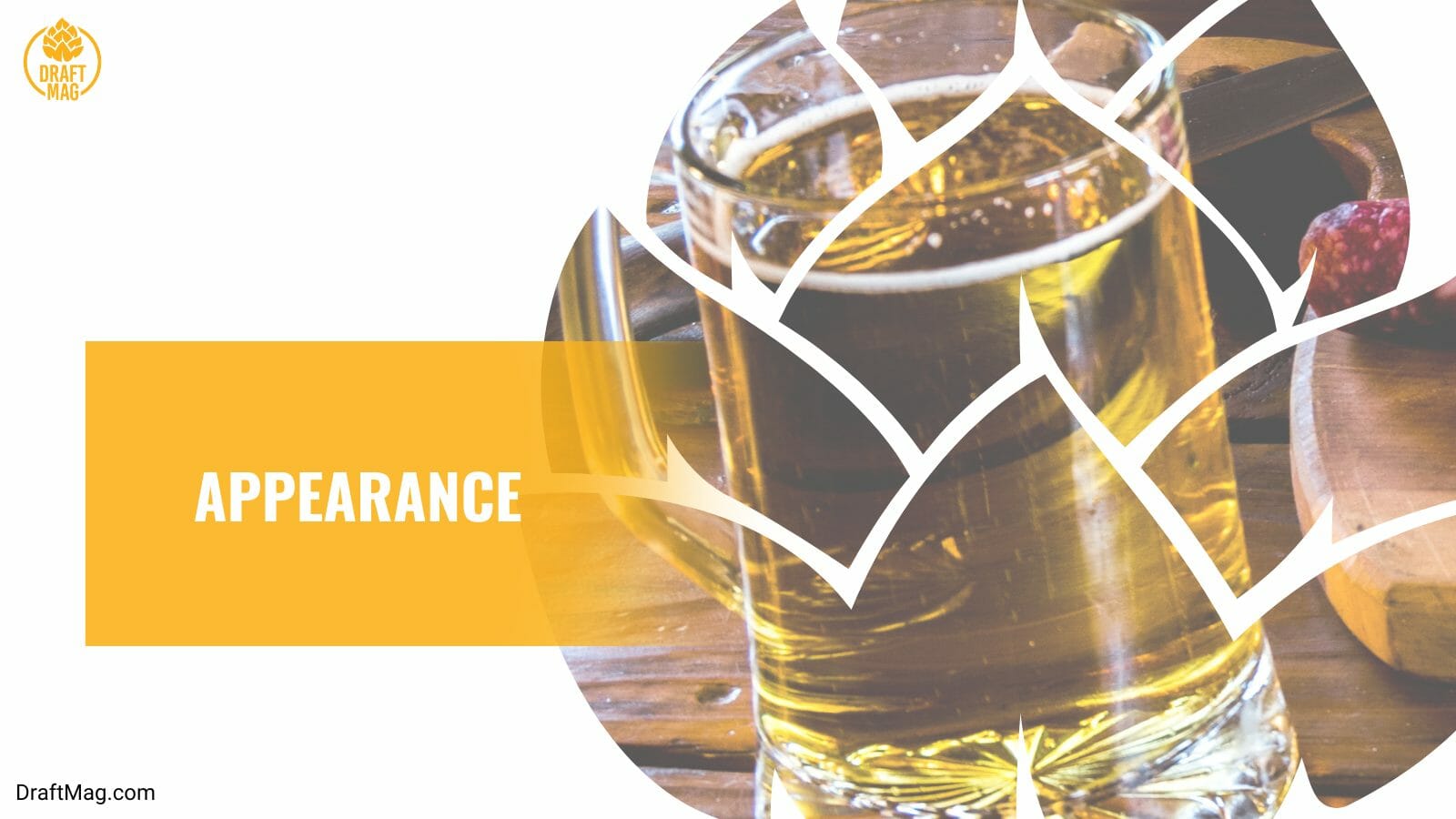 However, the head of the beer is small in size and evaporates soon to transform into a very lean and rangy ring. This beer produces no lacing, which is disliked by some.
Aroma
This light, refreshing beer is enriched in aroma to impress you from your nose to your heart. It has the scent of biscuit and vanilla, and it smells mildly spicy as well. However, critics think the vanilla aroma should be more apparent in Little King beer as it is a creamy type of an ale. As the beer is made of hops and malts, it also possesses the fragrance of hops and grains and a touch of sweetness.
A toned-down aroma of skunkiness is also present in the beer as it's a skunk beer. The aroma is produced when the hops get boiled to brew the beer as the hops release Iso-Alpha acids, which are bitter in taste and nature. These bitter acids get exposed to sunlight and produce a molecule which is the reason for the skunky aroma of this Ale.
Mouthfeel
This beer offers a slightly light mouthfeel having a thin body and light carbonation. Creamy and delicate mouthfeel are visible, which you are going to experience. It has decent weight and gives a creamy feeling with soft airiness.
When you drink the beer, a moderately crisp and clean feel strikes your mouth. This smooth, full-flavored beer has a dry, little bitter but clean finish, and you will enjoy your drink.
Flavor
This creamy beer has a comparatively simple flavor that comes from grains and hops. The flavor is not complicated. You will encounter the taste of a little sweet wheat with a sour finish and freshly-baked biscuits, followed by mineral.
You will find a slight honey-like and vanilla flavor in the beer. Hints of diacetyl and butter are also available on the finish, but they will not reign your taste bud as being weak.
Food Pairings
As a Cream Ale, this beer has a malty sweetness that goes well with the taste of roasted chicken as well as bbq and smokey ribs of beef and pork by creating contrast with the dishes' taste.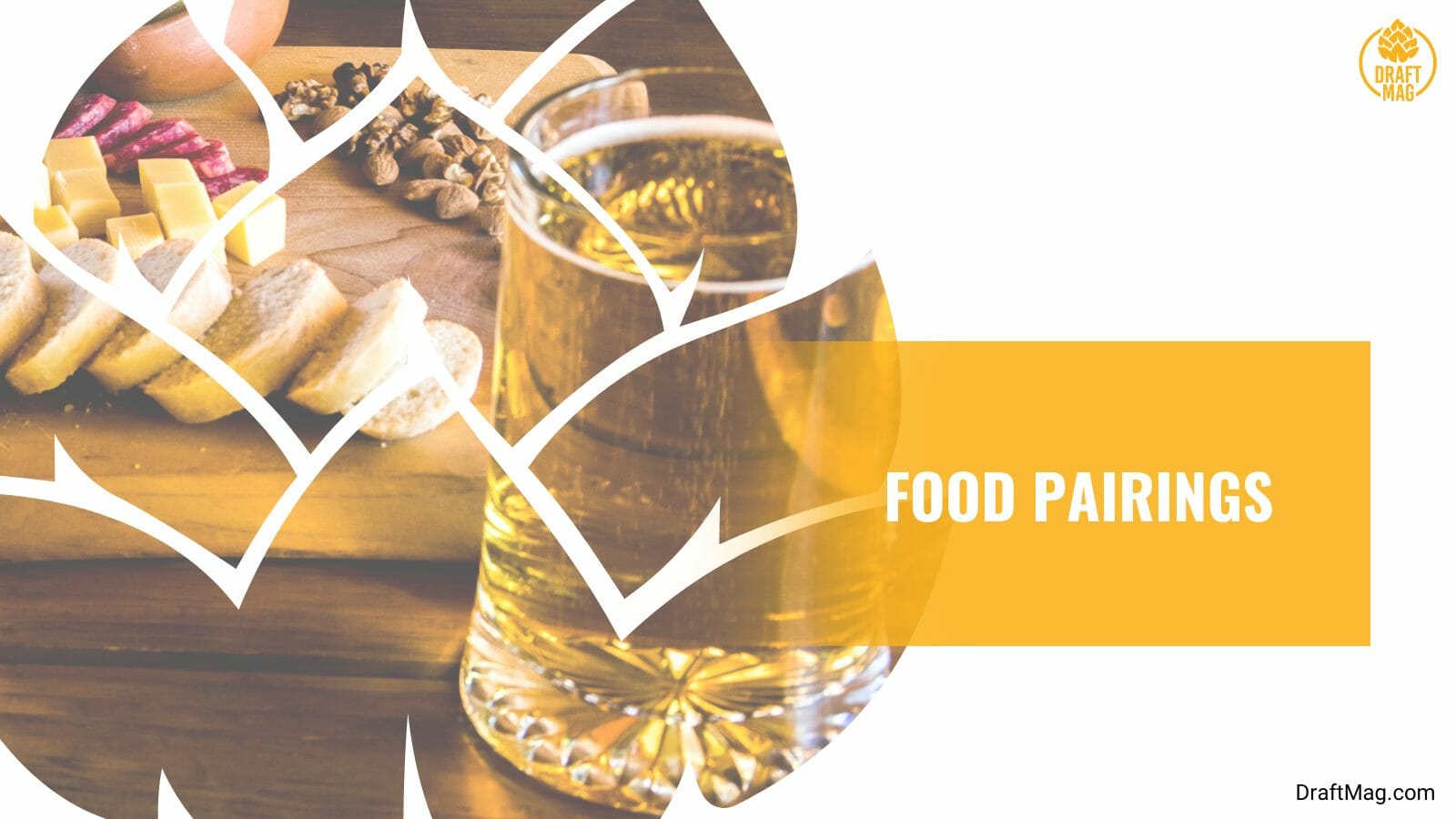 Apart from that, its mild sweetness and weak hop flavor make it a perfect pair with whiskey or bourbon.
Ingredients
Many think that the cream in this beer is made of dairy products, as its name indicates. But this is a wrong idea since it is not brewed using any dairy products. This brewing company doesn't use dairy products also. However, other ingredients have been used to brewt this beer.
The beer is brewed using American-grown fresh malt and three different kinds of hops which are specially blended. Hallertau, Saaz, and Cluster hops are these special hops that are used in the original recipe along with bottom-fermenting lager yeast. Alcohol is used in a fair amount, resulting in the beer's 5.5 percent alcohol content.
Nutrition Facts
The beer contains 5.5 percent ABV and 85 calories per serving of a seven ounces bottle. Besides, it has 10 grams of carbs and one gram of sugar. However, no protein or vitamin is in the beer.
Overall, the seven-ounce bottle contains 85 calories, which shows that if you are aa person who is watching their calories or keeping them at a lower count, this little bottle will satisfy their need. In addition, people with a keto-diet or a lifestyle can also enjoy this as it isn't a type of beer that will hurt their diet.
History
The history of this beer is actually very old. It was brewed by the Schoenling Brewery in 1958 in Cincinnati, Ohio, for the first time. According to a legend, this sweet cream ale made its advent in the green bottle when the keg beer cooler went on the fritz. The incident occurred in Montgomery Inn, a prominent inn in Cincinnati.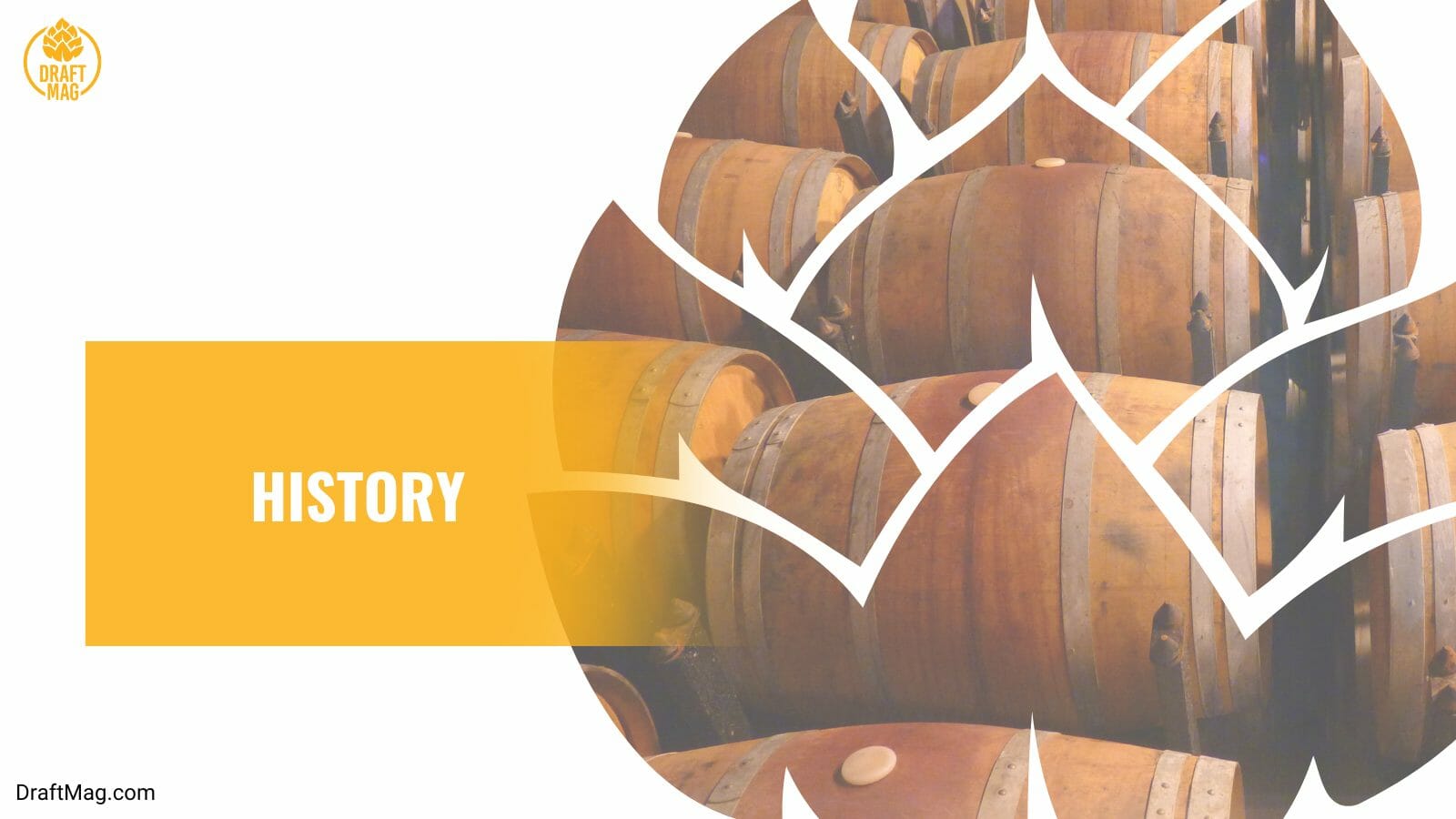 However, the beer production went to Frederick, Maryland, from Cincinnati in 2001. But in 2004, Christian Moerlein Company, founded by Greg Hardman, brought Cincinnati's beer back to the city again. Over-the-Rhine is the place where the beer gets brewed now. You can buy little kings beer for sale online or from your local store nearby.
Conclusion
We hope our review will help you decide on whether Little beer is worth your money or not. Here's a quick recap of all the essential bits from our review on Kings beer:
This kings beer is a Cream beer that has been brewed since 1958 in Cincinnati.
Having 5.5 percent ABV, this contains low alcohol and straight forward flavor of sweet wheat, freshly baked biscuits, minerals, and vanilla.
This golden straw yellow color lager has the aroma of biscuit and vanilla and offers a crisp and creamy mouthfeel.
Other than the original Cream beer of the company, it has introduced two new Little Kings flavors called Blood Orange and Agave Lime Ale.
The calorie count overall for this beer is 85 calories in a seven-ounce bottle, which is why it is keto-friendly.
As one of the greatest and premium versions of American Ale, you cannot afford to miss the classic taste of Kings beer.