Michelob Ultra Prickly Pear Review: A Detailed Overview of This Brew
Michelob Ultra Prickly Pear is a revolutionary beer with several modern inputs to make an exciting beer offering. The infusion of exotic fruits with incredible aromas and flavors delivers a clean and discernible taste.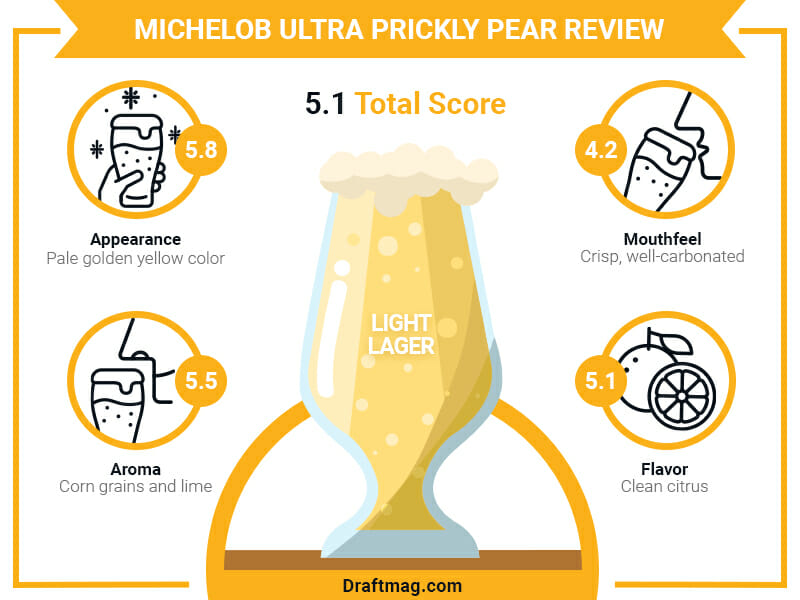 This properly put-together beer is fast becoming a worldwide favorite. Continue reading this review to have a more comprehensive look at this brew.
Michelob Ultra Prickly Pear Stats
Here is a summary of the vital features of the refreshing infusion beer. Check out its features and see if they win you over.
| | |
| --- | --- |
| Country | United States |
| Brand | Anheuser-Busch InBev |
| Style | Light Lager Beer |
| Taste | Crisp, clean and refreshing |
| Body | Light-bodied |
| ABV | 4.0 percent |
| Flavors and Aromas | Exotic fruity aroma and clean citrus flavor |
| Serving Temperature | 45 to 50 degrees Fahrenheit |
Tasting Notes
Michelob Ultra Prickly Pear Tasting Profile
Michelob Ultra Prickly Pear Review
The introduction of the new line of canned and bottled "infusions" beers was not coincidental. Michelob Ultra announced this beer in time for the warm weather and sunny beach days. This brew is an exciting innovation featuring lime and prickly pear cactus. If you're a lover of craft cocktails, you would be familiar with these popular ingredients.
Upon its release, the Michelob Ultra Infusions Lime and Prickly Pear Cactus defied all critiques. Although you will enjoy it better when served chilled, this brew still tastes great when drunk semi-warm. This is essential because many beers tend to taste bad after spending some minutes in the sun.
Thanks to the fruity infusions, you will surely enjoy the aroma and flavor of this beer. Likewise, it is a healthy beer choice due to its perfect mix of ingredients and alcohol content. Let's look closely at its features.
– Appearance
This beer pours with a clear, pale golden yellow color and a fizzy white head that disappears almost instantly. The disappeared head leaves minimal spotty lacing. The beer brand puts attractive presentation as a priority.
Michelob Ultra ensures careful preparation to ensure that this light-bodied beer stays delicious with an abundance of purity. It flows easily, giving you a sort of "out-of-body" drinking experience.
– Aroma
Upon opening this beer, you will notice the aromas of corn grains and lime, coupled with fruity prickly pear notes. You can't miss it!
– Mouthfeel
The mouthfeel is delivered neat and clean with proportionate amounts of adjuncts discernible by the fruits used for the infusion. Lime is upfront, followed by the prickly pear. Put together; you have a crisp, well-carbonated and overall refreshing brew.
– Flavor
It is a less developed light body, and it is also lightly carbonated. It goes a step beyond the popular La Croix, staying between the delicious Bud Light Lime and Corona. There is no skunkiness to it, presenting balanced sweetness and nice fruity flavors. With only 4 percent ABV, this infusion beer is very drinkable!
– Food Pairings
Michelob Ultra Infusions Lime and Prickly Pear pairs perfectly with practically any meal. Being a specialty light lager beer, you can try several chosen combinations. It pairs perfectly with salads and burgers. Likewise, the fruity infusions make it the perfect complement to fruity desserts.
Suppose you want to enjoy a warm afternoon in your backyard with nice spicy foods. In that case, this infusion beer is your best bet. When served chilled, it cancels out the heat of the spicy food and helps you enjoy your delicious meal.
You can also try this beer with barbeque, steak, Mexican foods, fried fish, shrimp, and other acidities if desired. Its versatility makes it taste just the same!
Ingredients
The Michelob Ultra Infusions ingredients include USDA Certified ingredients:
Barley Malt
Hops
Rice
Prickly Pear Cactus
Lime
Water
These ingredients combine to deliver a refreshing, crisp, and balanced flavor unique to this beer. Infusing the beer with lime peels and pear cactus even throws the refreshment up a significant notch. These premium aromatics deliver exotic fruity aroma and a clean, citrusy finish.
Aside from the fruity aromatics, the wholesome grains and Herkules hops used in brewing create a more refreshing finish. An even more attractive thing about the beer is that it is free of artificial flavors and colors. Everything you get from this superior fruit brew is an exquisite mix of natural constituents.
Nutrition Facts
Michelob Ultra Prickly Pear nutrition facts states that the infusion beer comes with only 95 calories in every 12-ounce serving. This is significantly lesser than what you get from Corona (148 calories) and Bud Light Lime (116 calories). Therefore, it is an excellent beer choice if you're watching your calorie consumption and weight gain.
Likewise, the same 12-ounce serving of the brew contains zero grams of total fat, ensuring that you won't have unnecessary fat storage due to the beer. The total amount of Michelob Ultra Prickly Pear carbs is just 5 grams, while it contains 1 gram of protein and 1000 milligrams of sodium.
Its alcohol content stands at 4 percent, ensuring it is a decent option for both new and veteran beer drinkers. You can take a couple of cans or bottles without the fear of getting drunk. Furthermore, the Ultra infusion is gluten-free. Thus, it is a perfect beer for gluten-sensitive or gluten-intolerant people.
History
Michelob Ultra announced the new line of "infusions" in 2019 as a means to revolutionize the beer world. It is already achieving this aim, with several beer lovers worldwide enjoying its enlivening aromas and flavors. Many beer brands are even looking to copy this innovative brewing idea.
Michelob is a member of Anheuser-Busch's family of brands, which began in 1896 as a draught beer. The original introduction of the beer was an expensive lager for fancy and richer people. However, Michelob struggled to gain a stand in the early-mid 1900s due to the wars. It was less accessible to the general public because it was a draught-only beer.
Today's innovative brewing techniques have helped the brand create a wide range of exciting offerings, including today's top choice. Until today, all Michelob beers are "super-premium," with high expectations from consumers. This brand stays true to purpose, promise, positioning, personality and identity. It also continues to stand out with interesting beer packaging.
Conclusion
We discussed different features of the Michelob Ultra Prickly Pear beer in this review, and we hope it helps you decide if it is a great choice for you. Here are the important points mentioned:
Michelob Ultra Prickly Pear is an innovative offering with an exotic fruity aroma and clean citrus flavor.
The ingredients for making this beer include Barley Malt, hops, rice, prickly pear cactus, lime and water.
Its alcohol content is 4 percent, allowing you to control your alcohol consumption easily. Its 95 calories per 12-ounce serving also prevent unwanted weight gain.
It is a gluten-free beer that can be paired with various delicacies, including spicy foods, salads, barbeques and fruity desserts.
Michelob Infusions gives you rich, fruity flavors with healthy ingredients and an exciting drinking experience. What are you waiting for; grab a bottle or can of this beer today!