Schaefer Light Beer Review: A Guide to an Exciting American Lager
Schaefer Light beer is the one that initially emerged right from the heart of Manhattan and has become a brew to search out for. Even though this beer encountered some setbacks over the years, It resurrected as one of the top flight light beers to choose from.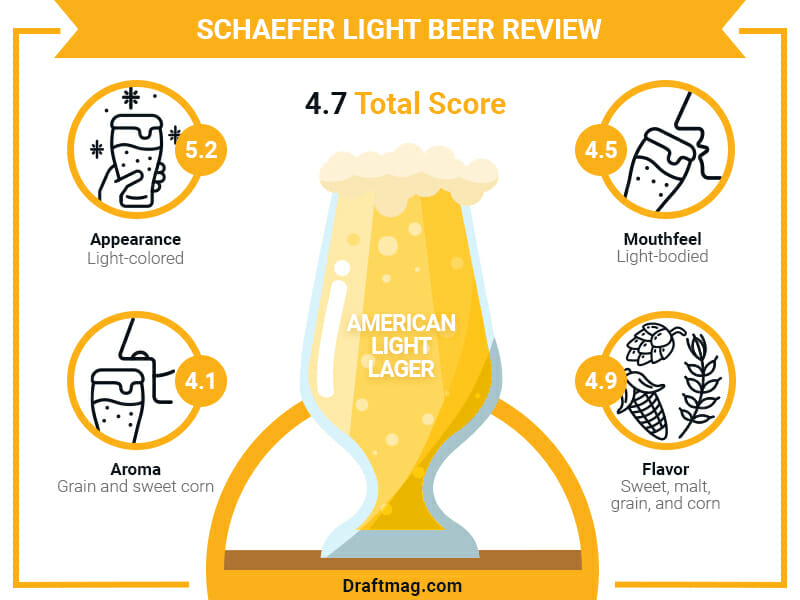 This light lager steps up to famous brewpubs, restaurants, and liquor stores with extraordinary flavors. Stick around as we spell out all you need to know about this brew's tasting notes and features.
Schaefer Light Beer Stats
| | |
| --- | --- |
| Country | United States |
| Brand | Pabst Brewing Company |
| Style | American-style Light Lager |
| Taste | Crisp, balanced, with little to no bitterness in the aftertaste |
| Body | Light-bodied |
| ABV | 4.4 percent |
| Flavors & Aromas | Pleasant flavor and aroma with notes of grain, light malt, corn, lemon grass and subdued hop |
| Serving Temperature | 35 to 40 degrees Fahrenheit |
Tasting Notes
Schaefer Light Beer Tasting Profile
Schaefer Light Beer Review
Brewed with slow-acting yeast, this brew is sweet, crisp, clean tasting and well-balanced with a mellow flavor. Its light color combines with grainy and sweet aromas to give a beer you will always want to open. Moreover, it contains nutritional ingredients to further improve its value.
Every feature of Schaefer Light combines to give an exciting offering for every beer lover. Don't worry, we will take a deeper look at the key features of Schaefer beer.
– Appearance
Generally, American-Style lagers tend to be light-colored, and the Schaefer Light beer is no exception. When you pour this beer into a pint glass, it appears a yellowish golden to straw color, with many bubbles streaming up the glass.
Likewise, it pours with a short-lived white foam that leaves behind a sheet lacing. Thus, this brew compares well in terms of outlook to Black Label beer, another top-flight beer.
– Aroma
Once you open a can of this light beer, you will perceive the oozing scents of grain and sweet corn as the smell fills your nostrils. Some beer enthusiasts would also claim that it has noticeable hints of lemon grass, malts, and hops to the nose sensation.
– Mouthfeel
Like every American light lager, this light Beer is light-bodied. It has a thin, fizzy, watery flow, a crisp finish and a sticky sweetness aftertaste. This brew reveals a very light mouthfeel and moderate carbonation, making it delicious, refreshing, and easy to drink.
– Flavor
This beer comprises the six-row varieties of hops blended with perfect balance to give off its sweet malt grain and corn flavor that commands respect. The method of producing this beer focuses less on intense or complex flavors. This is why many craft beer drinkers find this lager beer's suppressed hop flavor unique and enjoyable.
– Food Pairings
Schaefer beer is well known for its easy drinking when served mildly chilled. Its watery nature and less straightforward flavor profile pair well with almost any dish.
However, we would recommend that this beer is fantastic with barbecue, Chinese dishes, and curried chicken. We would also suggest these combinations to savor all the flavors and aromas of the beer. Remember, you can never go wrong with any light food combinations, such as Mediterranean food, or even middle eastern food such as hummus and crackers.
Ingredients
The fermentation technique and type of yeast used in brewing are the leading facets that distinguish lager beers from other types of beer. It is key to note that the main or essential ingredients of this light beer would be hops, corn, mineral water, and lastly, barley malt. The combination of these is what drives the beer to perfection.
In the same vein, you should note that the ingredients of lager beer get brewed at cool temperatures by a slow fermentation process using the bottom-fermenting yeast.
Nutrition Facts
The Schaefer Light beer alcohol content is 4.4 percent, the industry standard for a regular beer. Thus, this relatively low alcohol content helps the beer maintain its light body. So you can enjoy this light lager with low chances of quickly getting intoxicated. Besides, drinking a beer with below-average ABV will not predispose you to contentious health issues.
Furthermore, this brew contains 110 calories per 12-ounce serving. To elaborate further, it is simple to say that depending on your workout routine, you may need a little less than 30 minutes on the treadmill to burn out one pint of this beer. As such, this unique brew is an excellent alternative to other high-calorie beers. It ensures that you stay healthy and maintain a healthy weight.
Some other approximate nutritional values per 375 milliliters serving of Schaefer beer would be 0.7g of protein, 8.3g of carbohydrates, and no fat.
History
The F and M Schaefer Brewing Company opened its doors in New York City in 1842. They produced brisk-drinking lagers that amassed a long-lasting following. The brewery quickly expanded to create the Schaefer beer the same year of establishment. In fact, Schaefer became one of the top-selling beers in the country, ranking as high as the fifth best lager beer in the years 1950 and 1970.
However, even though the brewery had produced twice as much beer, the gap between the top national beers and Schafer started widening. This negatively impacted the company, leading to Schaefer beer's halted production in 1976. Soon after, the Schaefer company sold the brewery plant to Stroh Brewery Company in 1981. Stroh operated the brewing plant until Pabst Brewing purchased the company in 1999.
Two years later, Pabst chose to become a virtual brewer, selling the plant to Diageo. The saga continues with Diageo selling the brewery plant to Boston Brewing Company in 2008. Amidst all this, Pabst had retained the license to Schaefer. So, in 2020, Pabst Brewing revived Schafer into the beer market in the United States as a reformulation outsourced as "Schaefer Light Beer."
Conclusion
We discussed the different features and exciting history of the Schaefer Light beer in this review, and we hope it helps you to decide if it is a suitable choice for you. Here are the most relevant and interesting key points mentioned throughout this review article:
This beer pours a yellowish golden to straw color with a small white foam that disappears quickly.
This beer has a pleasant sweet grain and corn aroma, light mouthfeel, and moderate carbonation.
It has perfectly balanced tasting notes that make it enjoyable and best pairs many dishes, especially barbecue and curried chicken.
The light beer's ABV is 4.4 percent. In addition, its 12-ounce serving contains 110 calories which makes it keto-friendly.
Visit any beer store today to try the Schaefer Light beer. Trust us; you won't go wrong with this lager beer, don't forget it's a light beer, it has low calories.