Dino Bits Review: Enjoy This Super Drinkable Double IPA
Dino Bits is a double IPA, one of the top beers from Weldwerks Brewing Co. in collaboration with Toppling Goliath Brewing. This hazy beer is perfect for hop heads with a citrus-forward flavor and a tangy tropical bite that brings the flavors together.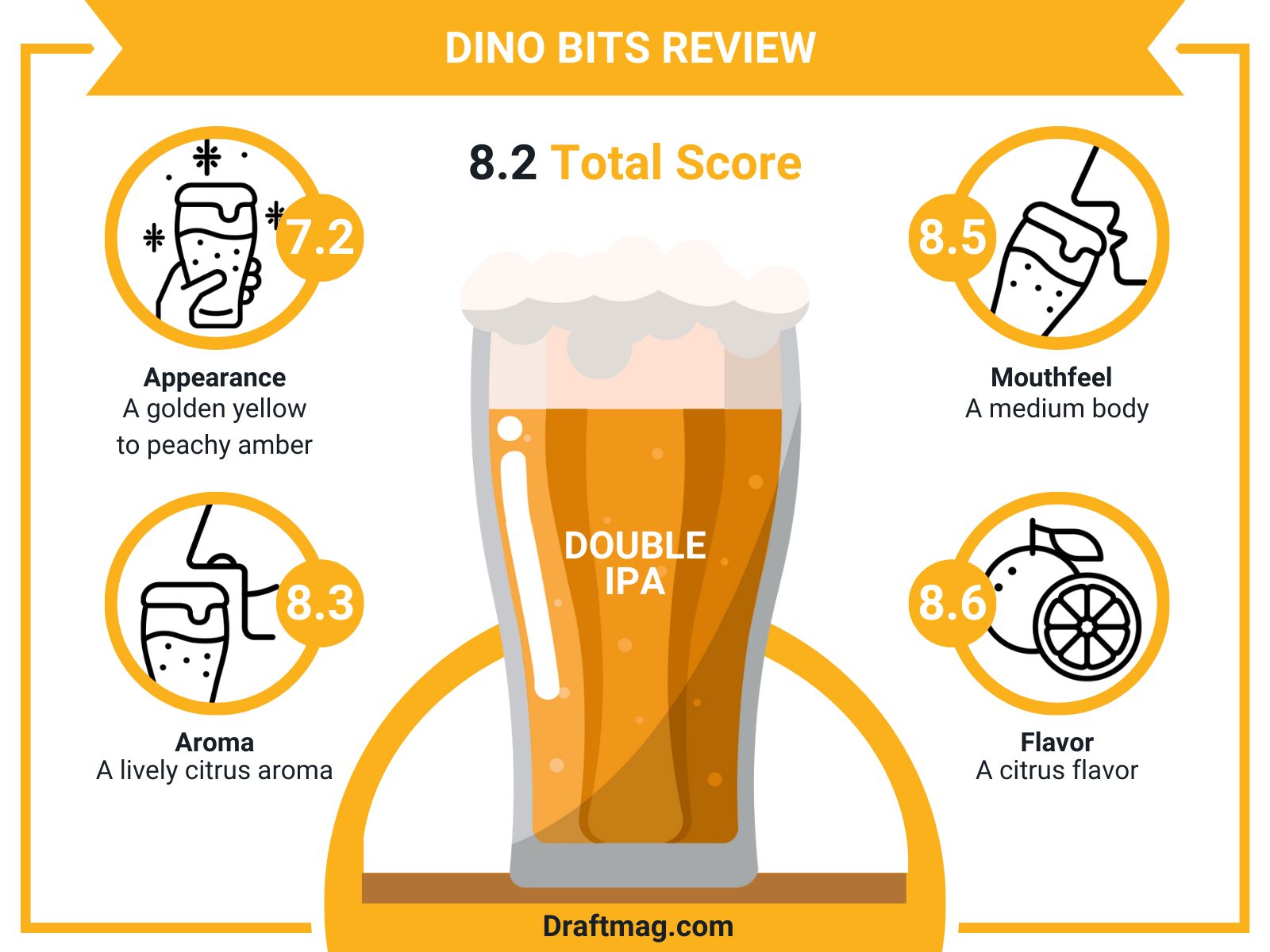 Dino Bits is always a good fit if you're looking for a tropical summer beer to enjoy with friends or alone. Our beer review covers all you need to know about this double IPA, including the flavor profile.
Dino Bits Stats
| | |
| --- | --- |
| Country  | United States |
| Brand | Weldwerks Brewing Co |
| Style | Double IPA |
| Taste  | Citrus, tropical fruit |
| Body | Medium body |
| ABV | 8.2 percent |
| Flavors & Aromas | Citrus, tropical fruits, pine, caramel, biscuity malts |
| Serving Temperature | 45-50 degrees Fahrenheit |
Tasting Notes
Dino Bits Tasting Profile
Dino Bits Review
Dino Bits is one of the legendary beer collabs from Weldwerks Brewing offering you a citrus-forward flavor and is a perfect example of the double IPA style. The beer is a delicious summer option with a golden amber appearance and a strong aroma of citrus and tropical fruits.
You can best enjoy the Dino Bits brew in a snifter or chalice when you serve it cold, between 45 and 50 degrees Fahrenheit. You can also add citrus garnishing like an orange or lemon slice.
The double India Pale Ale is super drinkable despite its high ABV and hoppy bitterness. The flavors are balanced with the right hop intensity, and the ABV is well masked to give you a delicious beer.
– Appearance
The Dino Bits beer pours golden yellow to peachy amber, with a murky appearance in your glass. It has a frothy off-white head that quickly dissipates into a light layer on your beer. The foamy head has decent retention and will leave behind a thick lacing against the glass.
– Aroma
The Dino Bits beer has a lively citrus aroma on the nose that comes first when you drink. It also has hints of tropical and stone fruit, with a slight pine aroma, offering a tart, hoppy scent. There are also aromas of biscuity malts and caramel sweetness from the malts.
– Mouthfeel
The beer has a medium body and is pretty soft on your palate. The softness of the beer is combined with moderate carbonation that gives you a fizzy feeling at the back of your tongue, but you might notice a slight hop burn when you drink the Dino Bits beer. It finishes with dry hops.
– Flavor
As an imperial IPA, the Dino Bits has a citrus-forward flavor. It tastes bright citrus, with flavors of tangerine, lime, lemon, and oranges. The citrus flavors have a backbone of tropical fruits and stone fruits, all coming together to give you a fruity IPA.
You can also expect hints of pineapple, passion fruit, apricot, mango, peach, and melon in the beer, obtained from the diverse hops. From the malts, the Dino Bits beer offers a taste of grass and caramel with hints of biscuit. You might also notice hints of resinous spicy pine.
The imperial IPA is super drinkable. Although it might seem like the fruity flavors are too much, they are well-balanced to give you a fruity and hoppy beer. Some fruity flavors are faint, with tropical fruits and citrus dominating the beer's character.
– Food Pairings
If you have the Dino Bits beer, you can pair it with a wide range of foods. The double IPA pairs well with grilled foods, like ribs, chicken, and pork chops. The high ABV and the bitterness in the beer will cut through the fat of the meaty foods and cleanse your palate.
As for cheeses, the IPA goes well with strong cheeses, especially sharp cheddar and blue cheese. The hoppy bitterness will eliminate the fatty coating of cheese and sauces left in your mouth after drinking with its easy-to-drink nature.
If you want to satisfy your sweet tooth, the Dino Bits beer goes well with citrus-flavored desserts like an orange almond cake or a fruit tart. You can also pair the beer with chocolatey foods. Generally, you can enjoy the beer with fatty foods, deep-fried foods like French fries and meat, salty foods, and other foods with similar flavors to the beer.
Ingredients
The Dino Bits beer was brewed with malts, hops, water, and yeast to give you a delicious brew. The malts offer a biscuity backbone with faint flavors of caramel. As for the hop schedule, it is made with Belma, Citra, and Motueka hops.
The beer is then double hopped to give it a strong fruity flavor. You might also notice hints of grass in the beer offered by the yeast used to brew the beer. If you're allergic to any of the ingredients like malts, it's best to avoid drinking this beer.
Nutrition Facts
Dino Bits has an ABV of 8.8 percent, giving you a pretty high ABV beer that is perfect on a night out. Luckily, it does not have a strong boozy aroma or flavor despite the high alcohol content.
As for the calories, the beer has over 200 calories due to the high ABV. The calorie level is not ideal for those watching their dietary intake. With 12 grams of carbs, the beer is also unsuitable for people on a keto diet because of the high carbs.
History
Dino Bits is an imperial ABV brewed by Weldwerks Brewing Company in collaboration with Toppling Goliath Brewing. Weldwerks is based in Colorado Springs and is well-known for its long history since it started in a garage.
After the success of the Dino Bits, the brewery made the DDH Dino Bits, which was even more hopped than the original version.
Conclusion
Dino Bits is a delicious IPA with tropical fruits, citrus, and a perfect summer beer. Here is a summary of what we covered in this review:
Dino Bits is an 8.2 percent double IPA made by Weldwerks Brewing.
The beer has aromas and flavors of tropical fruits, citrus, stone fruit, caramel, and biscuity malts.
It was brewed with malts, Belma, Citrus and Motueka hops, yeast, and water.
With citrus garnishing, you can enjoy it best when served cold, in a snifter or chalice.
Dino Bits is best paired with grilled foods, meaty and salty foods, fruity desserts, and strong cheeses.
If you want to try out Dino Bits, you can visit Weldwerks in Colorado Springs or check out the beer in liquor stores.