Terrapin Watermelon Gose Review: What To Expect From This Fruity Beer
Terrapin Watermelon Gose is a Gose-style beer that has gotten beer drinkers talking. Produced by Terrapin Brewing Company, the buzz around it came from its unique combination of watermelon and other citrus notes to produce a tart, somewhat spicy brew.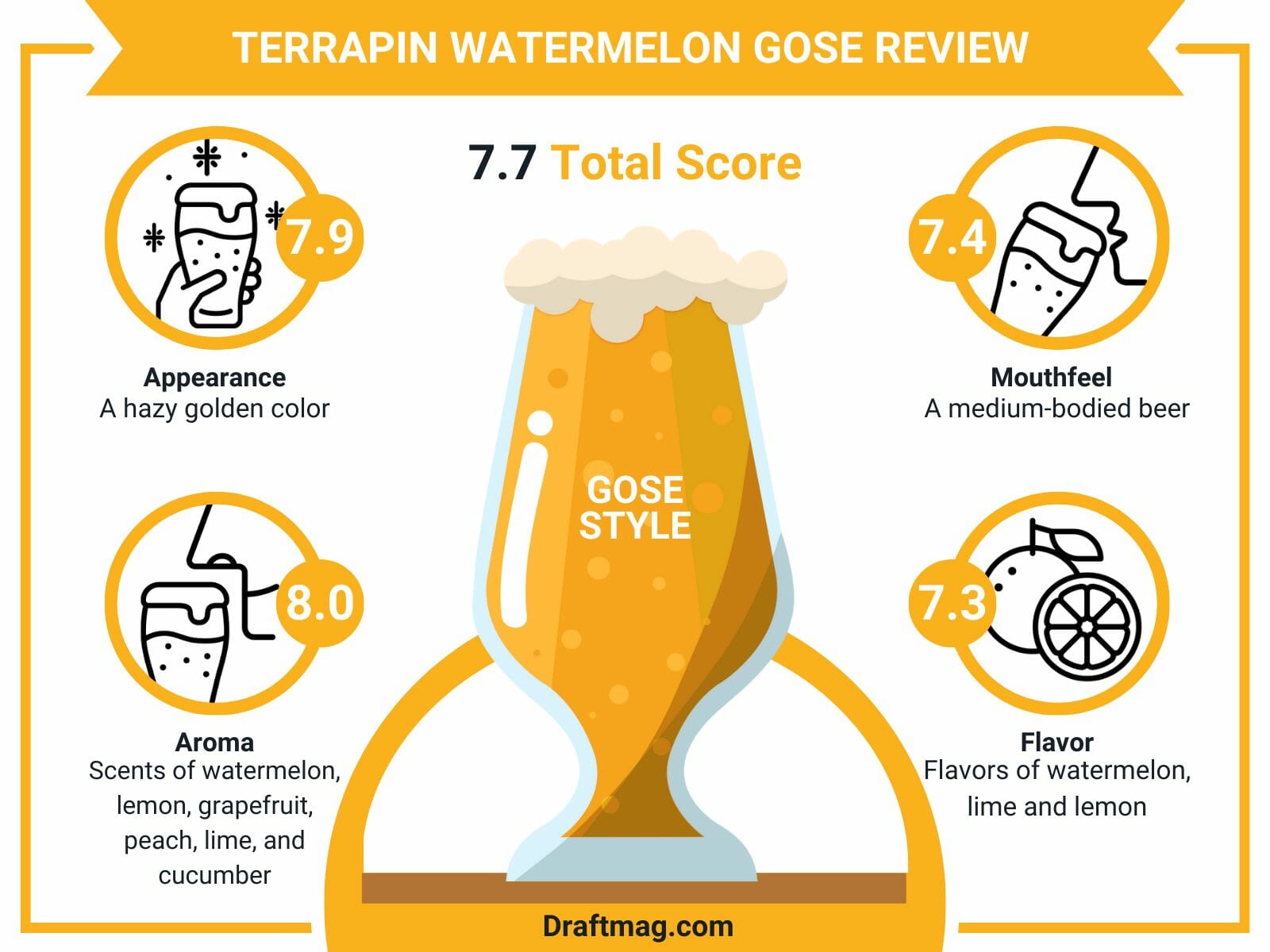 Although this beer style isn't mainstream, this beer seems to have won over many drinkers. Our beer experts provide all you need to know about this beer and why it is special in this review.
Terrapin Watermelon Gose Stats
| | |
| --- | --- |
| Country | United States (Georgia) |
| Brand | Terrapin Beer Company |
| Style | Gose style |
| Taste | Terrapin Watermelon Gose predominantly tastes like watermelon, lemon, lime grass, wheat, yeast, and malt. Of course, one can also detect other fruity notes and a fairly subdued spiciness. |
| Body | It has a medium body with active carbonation present in the beer's dizziness. It has a tangy feel that is salty and somewhat grainy. There are no traces of alcohol, and this beer leaves a clean, moderately dry finish. |
| ABV | 4.5 percent alcohol content |
| Flavor and Aroma | Its flavor and aroma are of fruity notes alongside wheat, yeast, and salts. There is almost no indication of hops. |
| Serving Temperature | 45 degrees Fahrenheit |
Tasting Notes
Terrapin Watermelon Goser Tasting Profile
Terrapin Watermelon Gose Review
With a couple of positive reviews on most beer sites, one can say that it is a well-liked beer. However, our beer experts have decided to conduct an in-depth review to see if this beer is really worth the hype.
– Appearance
It has a bright golden color that is almost effervescent. This hazy golden-colored beer gives way to an off-white foam head that's fluffy and thick. The fluffy foam head has commendable retention and eventually gives way to a moderately thick ring of lacing. We like that this dense lacing lingers around the glass for a long time.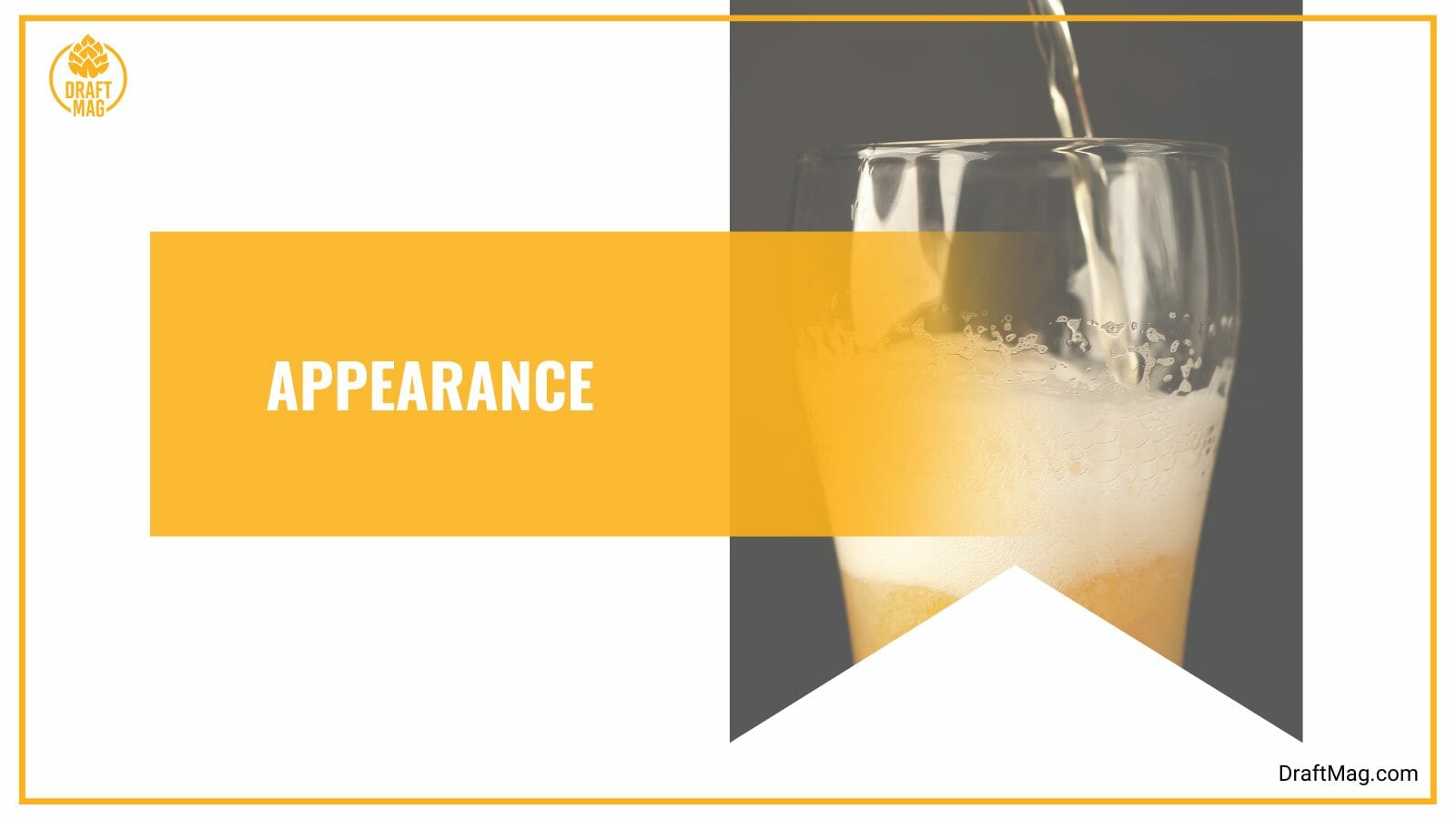 Upon closer inspection, you'll also notice small bubbles streaming through, all thanks to its lively carbonation. It has a look that invites you to take a sip almost immediately.
– Aroma
Perhaps the most inviting feature of this beer is its fruity scent. There is a mix of watermelon, lemon, grapefruit, peach, lime, and cucumber. You can also detect other notes of yeast, wheat, salt, cracker, and what can best be described as a grassy note. It has a funkiness and tart scent resulting from the citrus mix.
Even though the scent is somewhat complex and assertive, it is still pleasant and well-balanced. If you're not a fan of overly bold flavors, you'd like the simple fruitiness it delivers.
– Mouthfeel
It is a medium-bodied beer with high carbonation. Surprisingly, it has a thick feel, considering how light it appears. Its slightly grainy and tart mouthfeel doesn't take away from how slick and easy it is to drink. You can taste all of the fruit notes almost at once, which is slightly overwhelming but not unpleasant.
The tartness of this brew lingers for some time and eventually gives way to a subdued salty finish that is crisp, clean, and moderately dry. It also has hints of spiciness and doesn't reveal any sign of its alcohol content.
– Flavor
Its flavors are reminiscent of sour watermelon, lime, and lemon, alongside other citrus notes that produce a distinct tartness. It has a salty flavor that is slightly off-putting but refreshing nonetheless.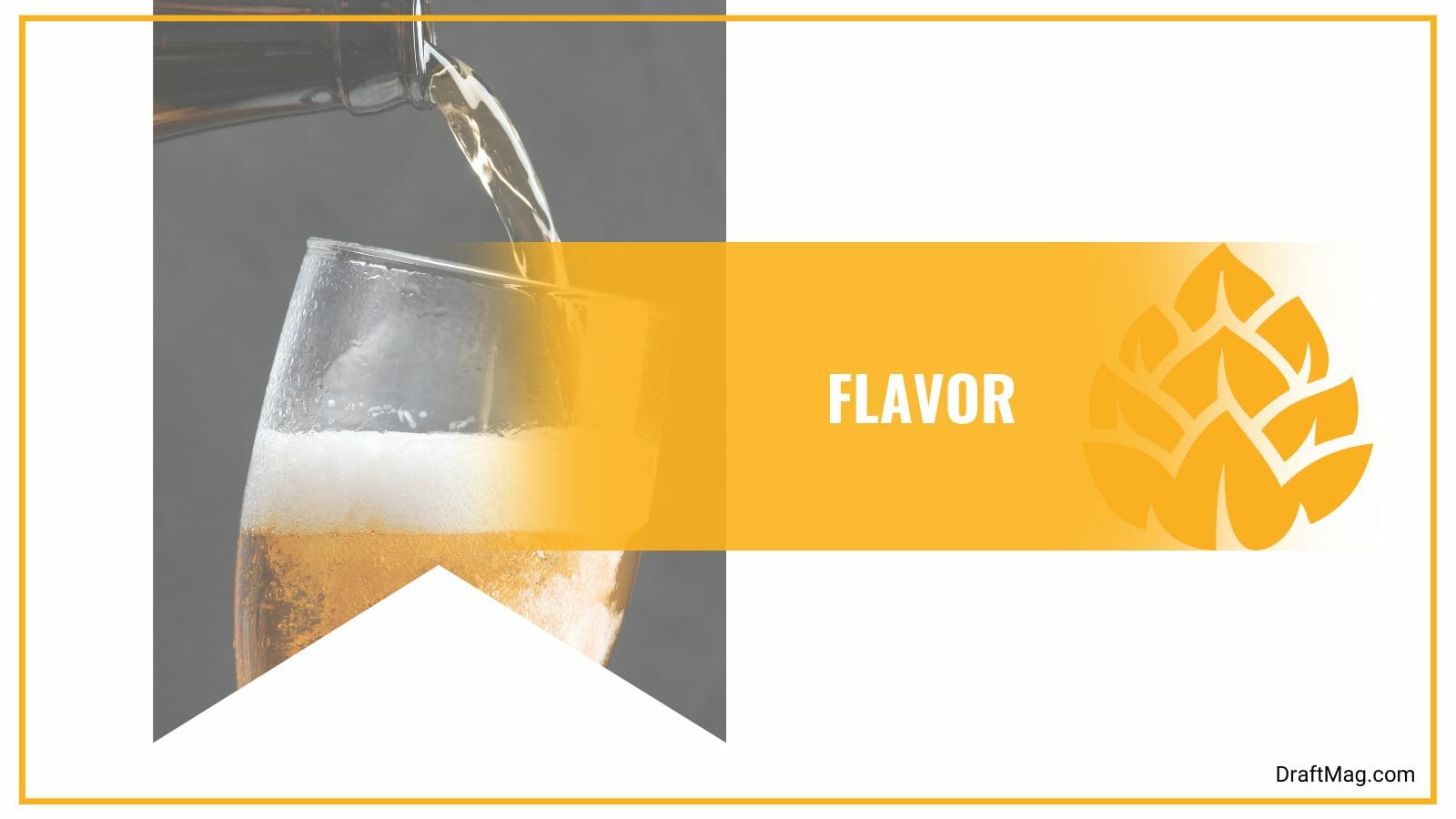 One can also notice its wheat and malt flavors, which all produce a well-rounded fruity Gose that is smooth and drinkable. We like that although the flavors are complex, they are not overly cloying or astringent.
– Food Pairings
This beer goes well with most meals as long as they don't have too many flavors. Try this beer with pork, grilled chicken, Thai shrimp, grilled fish, fruit salad, and fruity desserts. Salty nuts are another great food to pair with this Gose-style beer. Although not always the best choice, cheese is another option if you need a meal to pair with this terrapin beer.
Ingredients
Its ingredients are very similar to those used in other beers. It is made of crystal clear water, yeast, malted wheat, watermelon concentrate, barley malt, hops, Lactobacillus, and natural flavors.
Nutrition Facts
This brew has 141 calories, 11grams of carbs, two grams of protein, and zero grams of fat. It has an alcohol content of 4.5 percent, making it a fairly decent beer for both newbie and veteran beer drinkers. Unless stated on the bottle's label, Terrapin beer isn't gluten-free.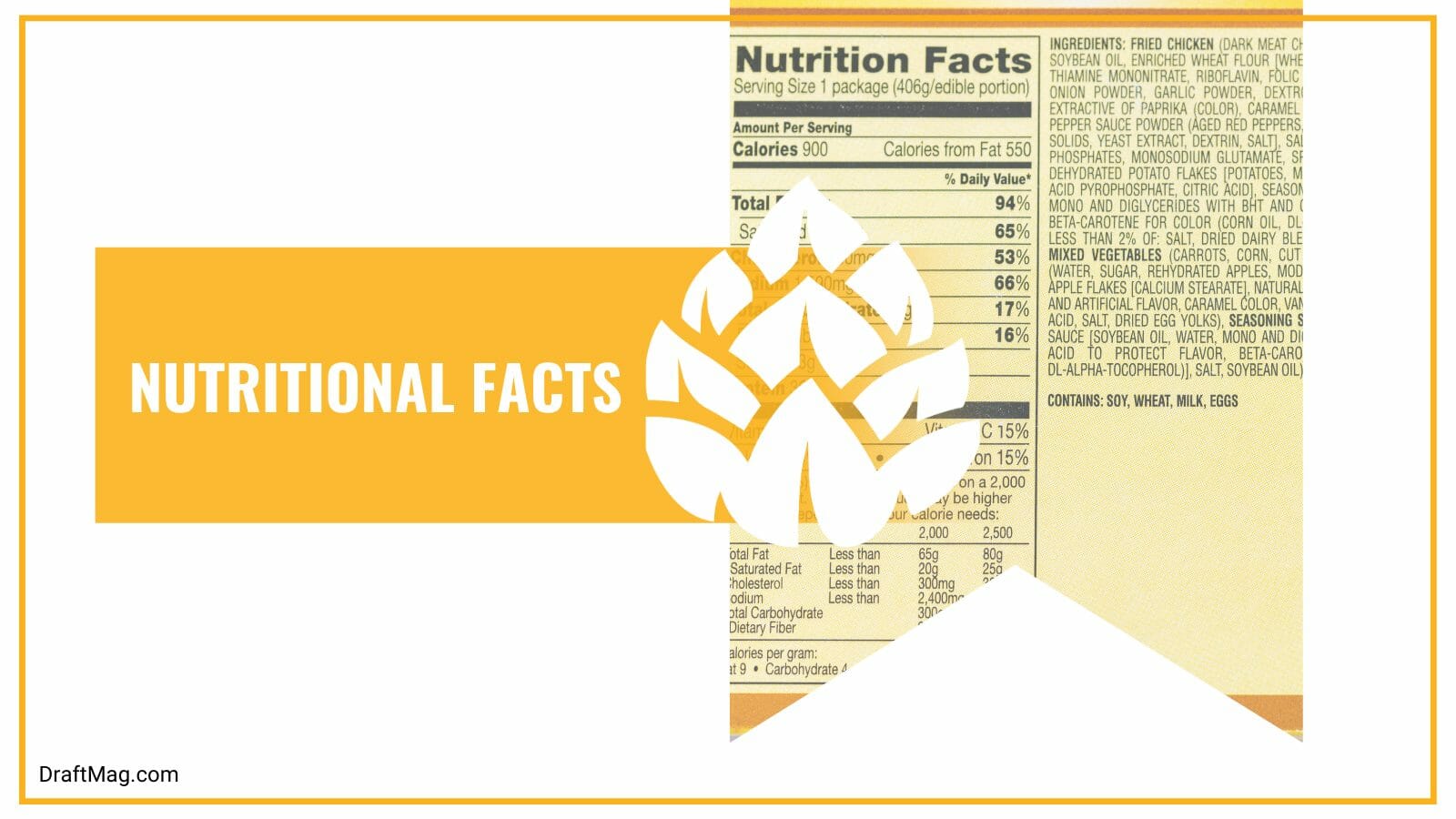 Another wonderful drink from this company is the Terrapin Hopsecutioner IPA, which has a 7.3 percent alcohol content. It would be best to watch out when drinking this, as a bottle or two can get you feeling buzzy right away.
History
The beer was introduced in 2016 and is Terrapin Brewing Company's first ever gose. It is a seasonal brew known for its watermelon and tart taste. Watermelon Gose is one of the many lineups of Terrapin beers the company has been producing since 2002. It is one of those brews that are great to drink on sunny summer days.
Frequently Asked Question
– How Do You Pronounce Gose?
Gose beer is pronounced "Guz-Uh," which is very similar to pronouncing the word "Nose or Knows" but with the addition of "Uh" at the end of the word. It is a German word used to describe a type of German wheat beer.
Conclusion
This beer is undoubtedly a complex yet refreshing beer to drink, so here's an outline of the points in this review:
Terrapin Watermelon Gose is a Gose-style produced by Terrapin Brewing Company.
It has an aroma and flavors of watermelon, crackers, lime, lemon, cucumber, wheat, yeast, and coriander.
It has a fruity taste followed by a tart, salty finish that is also spicy.
This beer is medium-bodied with high carbonation. It is grainy and salty and leaves a lingering tartness. There's very little alcoholic warmth. The finish is crisp and clean.
Unfortunately, the beer doesn't cut it for us in terms of smell. The taste, while not unpleasant, consists mostly of sour watermelon and salt, which is quite disappointing. However, it can be a nice beer on a sunny day if it is served ice cold.