Trop Hop Beer Review: Is This American-style IPA a Hit or Miss?
Trop Hop Beer isn't your regular IPA. It is tropically infused, meaning it is a fruit-forward IPA that will delight fans of beer that aren't too bitter.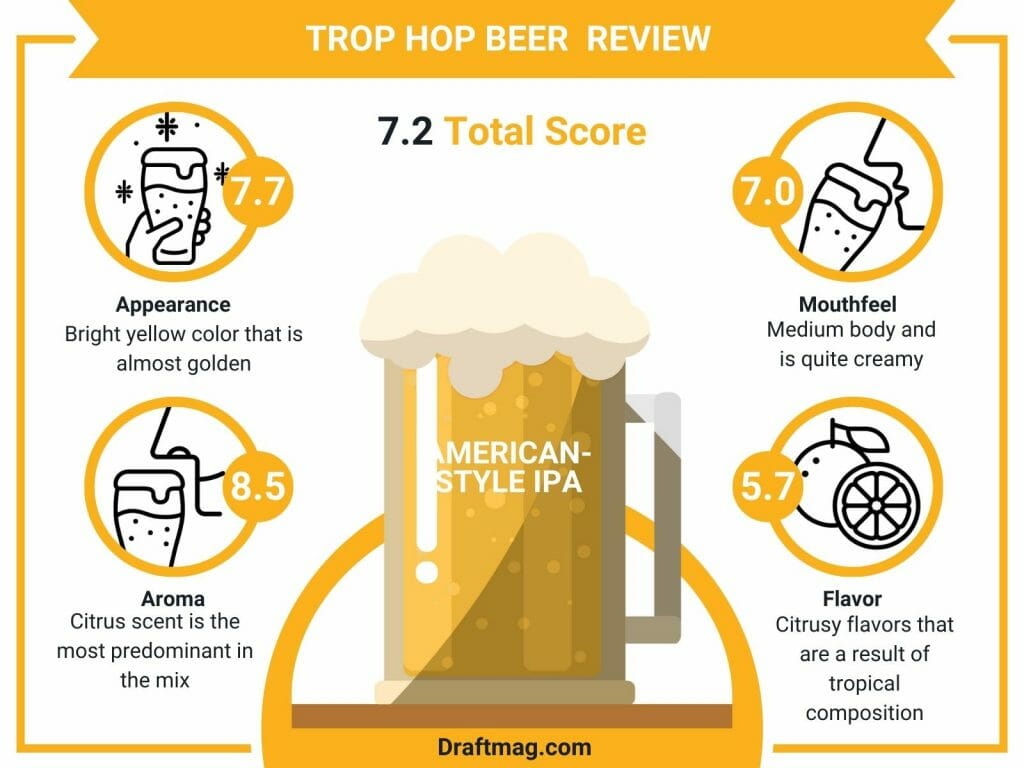 Our beer experts have compiled this detailed review, providing all the information you need about this tropical-infused IPA.
Trop Hop Beer Stats
| | |
| --- | --- |
| Country | United States |
| Brand | King's Calling Brewing Company |
| Style | American-style IPA |
| Taste | Like most IPAs, this beer tastes crisp, smooth, and clean. However, it is different in the way that its citrus notes are predominant, which lends the beer a seltzer type of taste. There's also a biscuit-like taste accompanied by a mild hoppiness with just enough bite to remind you that this is a beer. |
| Body | It has an effervescent yellow, almost golden color, alongside a thick foamy head and moderate retention. It is medium-bodied with active carbonation. Also, it leaves a clean, dry finish. |
| ABV | 6.1 percent |
| Flavor and Aroma | The flavor and aroma are of grapefruit, passion fruit, and other citrus essences. There's also a spicy flavor and aroma, alongside a yeast-like note that reminds one of biscuits or bread. |
| Serving Temperature | 42 degrees Fahrenheit |
Tasting Notes
Trop Hop Beer Tasting Profile
Trop Hop Beer Review
If you're curious to try out this celebrity-owned beer, our review is all you need to decide if it is worth having. Our beer experts have thoroughly analyzed this beer based on several categories. By the end of the review, you will have a good grasp of how it looks, tastes, smells, and what food pairings are best.
– Appearance
This tropical fruited beer pours a bright yellow color that is almost golden. It is translucent, and when poured, a thick creamy foam head appears that takes a while to dissipate. When it eventually does, you are left with a lingering lacing. We like that it has excellent retention, which is already a plus for the brand.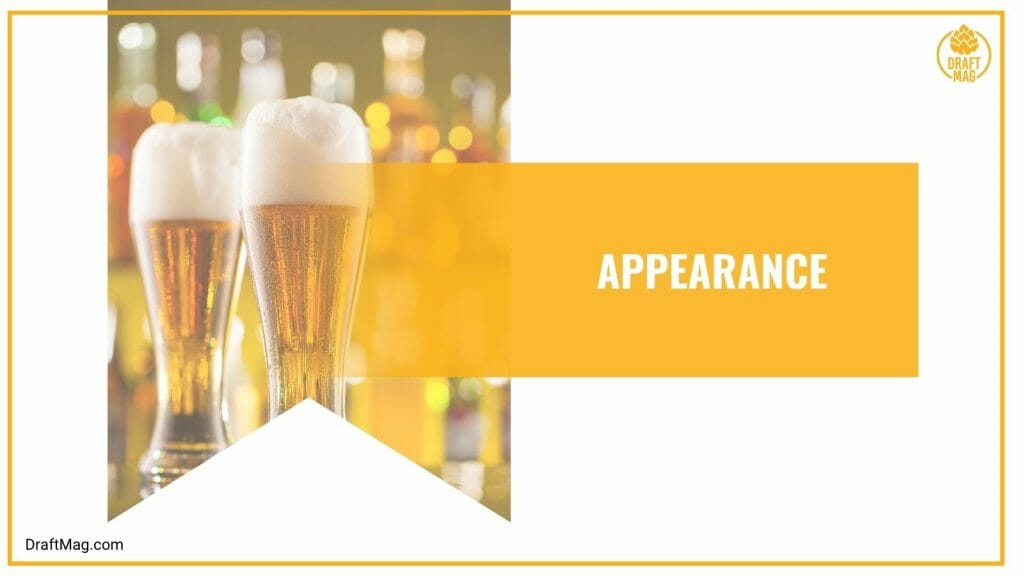 When you pay close attention to the glass, you'll discover that there are streaks of bubbles making their way through the glass, all thanks to active carbonation. This gives the beer a champagne-like or fizzy effect that is visually appealing. This beer easily scores high on our list for its inviting look that draws your attention immediately.
– Aroma
Austen Kroll's American-style IPA has a citrus scent that is the most predominant in the mix. Unlike some IPAs that have citrus notes but an equally strong hop character, this one has fragrant scents that are slightly cloying.
You can easily detect citrus notes that resemble passionfruit, grapefruit, lemon, and what may be guava. There's also a hint of spice, like ginger, and a fragrant, perfume-like scent.
This IPA has hints of malt and a doughy note that brings biscuits to mind. The hoppy notes aren't so pronounced, although a careful inspection will indicate its presence. Although the beer has too much of a fruity scent for an IPA, we like that it isn't overwhelming or off-putting to the nose.
– Mouthfeel
This beer by King's Calling Brewing Company has a medium body and is quite creamy for a hazy IPA. Perhaps one of the aspects that we like about this celebrity-owned beer is that it is very easy to drink due to its smooth and refreshing taste.
Due largely to its citrus composition, the beer tastes like seltzer or sour fruit beer. It has moderate carbonation as well, which gives it a full mouthfeel.
If you've forgotten that this beer contains a 6.1 percent alcohol content, the slight burn or alcoholic warmth will surely come as a surprise. The beer also has a mild yet lingering bitterness that creeps in behind the citrusy flavors. It leaves a clean and dry finish. Both experienced beer drinkers and beginners will enjoy this refreshing brew owing to its smooth, clean, and full mouthfeel.
– Flavor
This beer has citrusy flavors that are a result of its tropical composition. You can detect passion fruit, guava, lime, grapefruit, and an almost herbal piney flavor. There's also a spicy flavor, probably from ginger, and a yeast-like, biscuit note.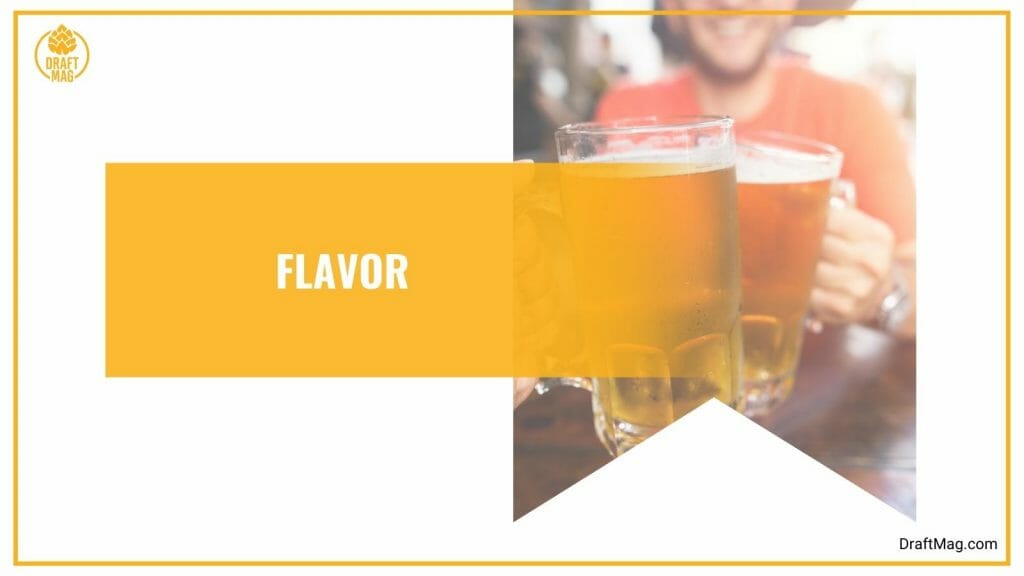 Although greatly subdued, one can easily detect a malty flavor and a hoppy character. These flavors can immediately be noticed, but we like that they are not overly astringent or too assertive.
On the other hand, you can easily tell that this beer mix is balanced to ensure you enjoy its goodness without dealing with distracting or overwhelming flavors. All these intricate flavors are well-combined and create an enticing blend of flavors that earns the beer a favorable spot among IPA lovers.
– Food Pairings
Our beer experts recommend having this beer with spicy meals. Almost every seasoned beer drinker knows that the best meals for IPAs are spicy meals with many flavors. Both complement each other, so you get a memorable gastronomic experience.
Nonetheless, if you enjoy spicy Asian, Indian, Italian, Mexican, or even Jamaican dishes, you would love pairing these cuisines with a cold glass or can of this beer.
You can pair this beer with lime pie, buffalo wings, barbecue, steak, chicken guacamole, and fried fish. Other food pairings for this refreshing IPA include burgers, pizza, French fries, salsas, and even cheese.
As you can analyze, this beer can be paired with different types of foods, from the lightest to the greasiest, and it will match perfectly, and the reason why is that goes well with the flavors of the foods and the ingredients in the beer. As you pair them together, they will enhance and complement one another.
Ingredients
Like most traditional IPAs, this beer is made of water, yeast, malt, and wheat. As an IPA with a twist, this beer contains citrus/tropical extracts that are predominant and make up most of the beer's profile. Not much is considered about the type of hop used for this brew; it may contain Citra or Simcoe hops, but they appear to be used in minimal quantities, which is why the flavor varies from other IPAs.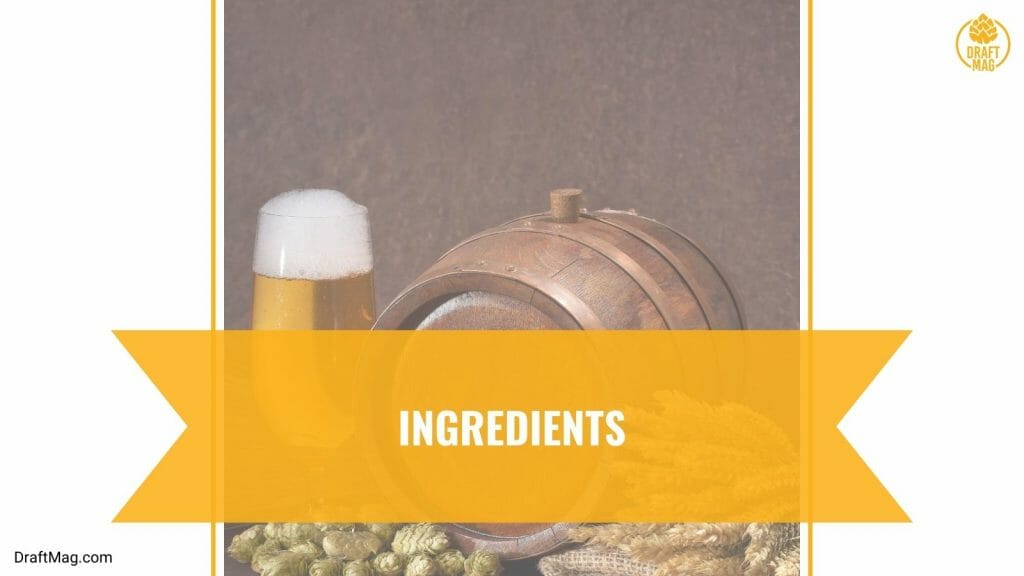 Nutrition Facts
This IPA contains 195 calories. It has 75 IBU, zero grams of carbs, zero grams of proteins, and zero grams of fat, which is surprising, considering those IPAs are generally high in carbs and high calories. however, when you are on a journey to lose weight, you may have to be careful when drinking.
Thankfully, it doesn't contain carbs, making it more highly recommended than other IPAs. On the other hand, this beer is perfect for people who have a gluent-free lifestyle, because it simply doesn't contain any carbs.
History
The beer was first introduced in October 2019. It is brewed by the King's Calling Brewing Company which is owned and operated by Austen Kroll, a reality TV star of the show Southern Charm. King's Calling Brewing Company works in conjunction with Catawba Valley Brewing Company, and every Trop Beer is brewed and canned from the Carolina District of the United States.
Although the beer surprisingly has few reviews on most online beer sites, it has made quite the impression on those who have tasted it. It is easy to see that the brewing company's owner outdid himself with this refreshing brew as it has been positively accepted since its introduction into the beer market.
Unfortunately, the company currently can't ship the beer directly to customers. However, there is merch on the Brewing Company's website for those who want to own one.
It is available at Charleston Beer Works, the Alley Charleston, King Street Dispensary, Bay Street Biergarten, and Uptown Social. It is also available in most parts of Florida. If you want to know more about the places where this tropical IPA is being served, you can subscribe to King's Calling's mailing list for more updates.
Conclusion
This IPA is a memorable beer that every beer lover should try at least once, it is a good tropical-infused beer with strong notes of passionfruit, grapefruit, and other citrusy elements. Here is a recap of the points we've discussed in this review per our beer connoisseurs' opinion:
Trop Hop Beer is produced by King's Calling Brewing Company, owned by a Southern Charm reality star.
It is a fruit-forward, American-style IPA with an aroma and flavor mostly of passionfruit, grapefruit, lemon, guava, and spiciness from the ginger.
This American-style IPA tastes fruity, although there's an alcoholic burn that indicates a slightly high ABV. It also has a subtle, biscuit-like taste. Aside from being creamy and refreshing, it also has an appealing look.
The beer is medium-bodied with moderate carbonation and a crisp, clean mouthfeel. It is full and leaves a dry finish.
You can pair this beer with any spicy Asian, Mexican, Jamaican and Italian cuisine. You can pair it with the usual meals: buffalo wings, burgers, pizza, and chips.
Although this beer doesn't rank on the most popular IPAs, it is worth your time and money. It is a great beer because it is medium-bodied, has moderate carbonation, and doesn't pack much hoppy bitterness. It is the perfect beer to have while at the beach, swimming pool, or on a breezy night out with family and friends.