Space Station Middle Finger Review: A Mix of Flavors
Space Station Middle Finger is an easy-drinking American ale with a delicious mix of citrus and bitter hops and a solid base of grains and barley. Following the style excellently, the beer features a breakfast fruitiness that is well-balanced.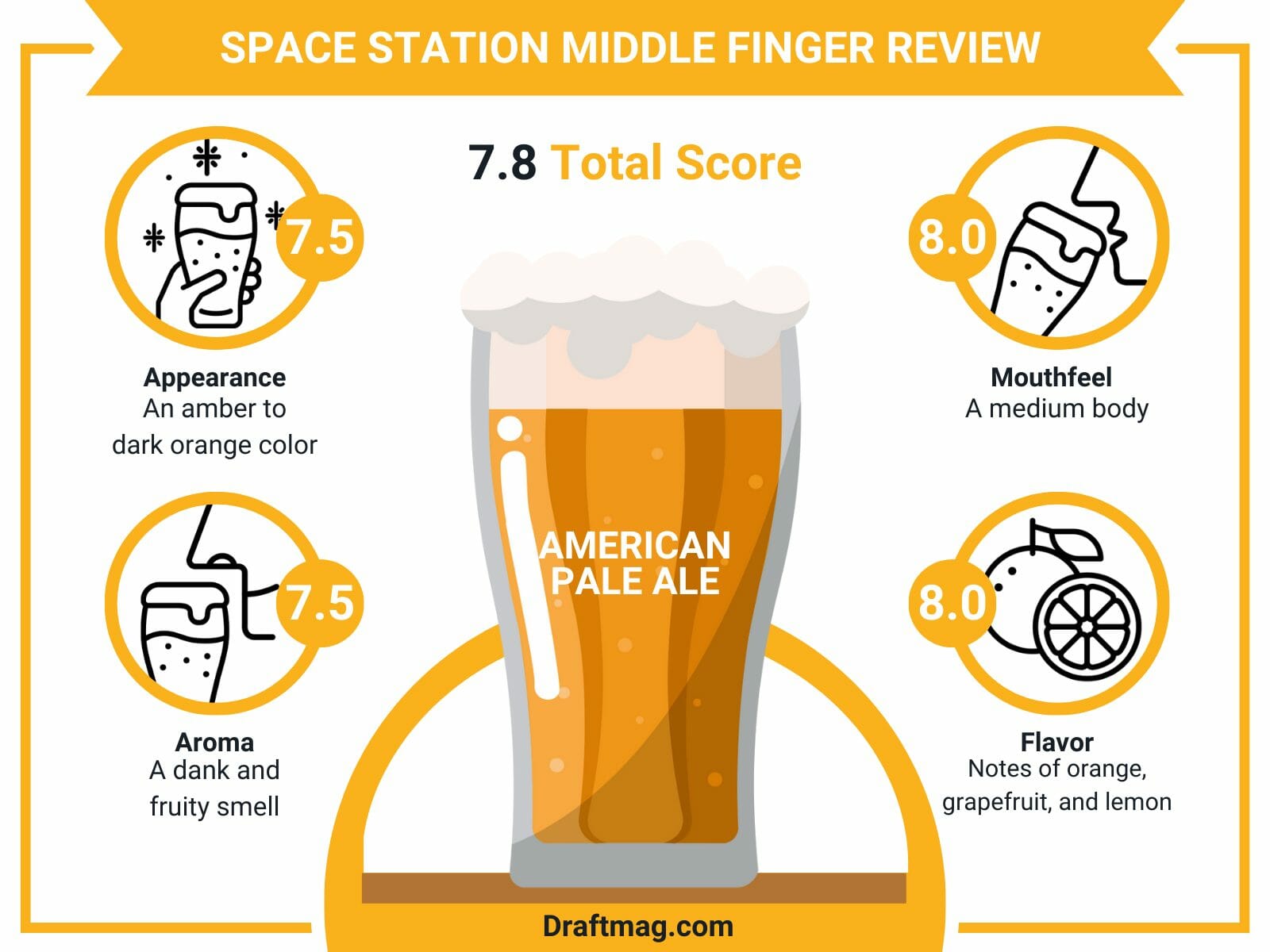 This vibrant ale is suitable for any social setting and has a pleasant flavor that will please any type of beer lover. If you're curious about what this beer tastes like, how many carbs to expect, and what you can pair it with, our detailed review covers all the basics. 
Space Station Middle Finger Stats
Country 

United States

Brand

3

Floyds Brewing

Co.

Style

American

Pale Ale

Taste 

Citrus, grains 

Body

Medium Body

ABV

6.5 percent

Flavors & Aromas

Oranges, lemon, citrus, grains, barley, hops, melon

Serving Temperature

45 – 50 degrees Fahrenheit
Tasting Notes
Space Station Middle Finger Tasting Profile
Space Station Middle Finger Review 
Appearance: 7.5/10

Aroma: 7.5/10

Mouthfeel: 8/10

Flavor: 8/10
This is an American pale ale made by the 3 Floyds Brewery in the United States. The beer features an alcohol content of 6.5 percent and a delicious taste of citrus hops and grains. It is a solid APA with a good balance of flavors.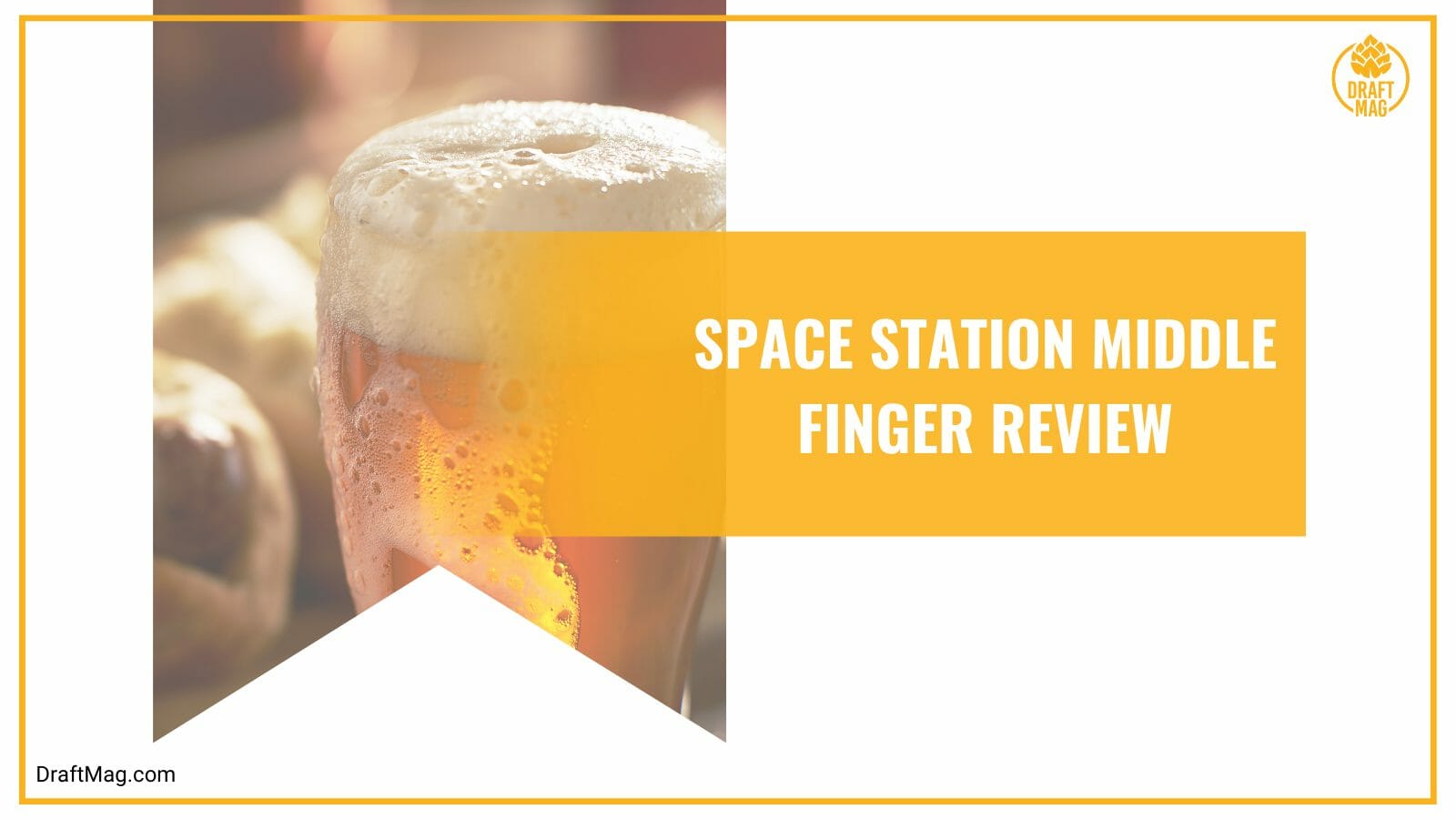 The beer has flavors and aromas of orange, lemon, citrus, melon, piney hops, biscuity malts, barley, grains, and grapefruit. It pours a clear amber color and features a medium body. Ideal for all occasions, it is a thirst-quenching beer for parties or a night at home.
Serve the ale at temperatures from 45 to 50 degrees Fahrenheit in a pint glass. The pint glass has an excellent shape that holds the head at the top and also shows off the color of the glass. You can garnish it with a citrus slice on the rim and pair it with different fruity foods. 
– Appearance 
The beer has an amber to the dark orange colored body, with a very clear appearance so you can see through the soda-like brew. In the beer, you will see visible carbonation as the effervescent bubbles float to the top and fill the brew.
On top of the beer is a white-colored head up to a finger and a half high. The spongey head retains but leaves weak lacing against the glass.
– Aroma 
On the nose, the APA has a dank and fruity smell that reminds you of its style. You can't smell the malts a lot as the hoppy fruitiness takes over. The first thing you smell is the green melon, apple, and apricot fruitiness.
This quickly moves to dank citrus, with notes of orange, grapefruit, and lemon. There are also a lot of piney hops and dank fruitiness on the nose. It also smells a bit dry. 
– Mouthfeel 
The ale features a medium body on the mouthfeel that makes it crisp, solid, and smooth. It nearly fills your mouth and goes down easily, making it ideal for different kinds of settings and drinking often.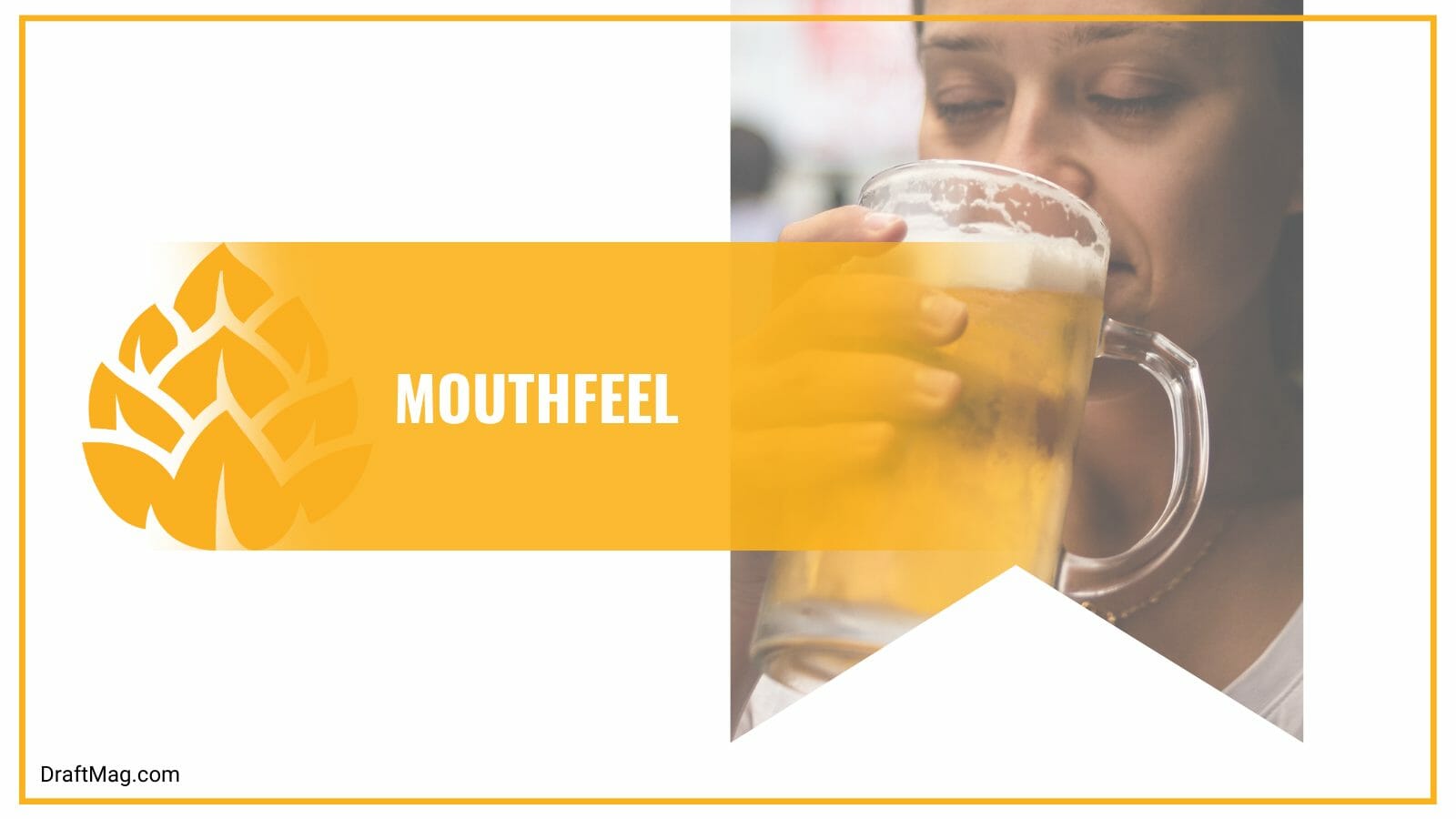 On the mouthfeel, you get a bit of stickiness and resins when you swallow. There is medium carbonation too, so you can't escape a few bubbles at the back of your throat when you swallow. In the finish, it is creamy and soft. 
– Flavor 
The flavor of the 3 Floyds Space Station ale follows the aroma but is more flavorful with vibrant notes. In general, you can expect notes of orange, grapefruit, lemon, and piney hops, with a solid base of biscuity malts. There is also a bit of white pepper. In the finish, the beer offers a lot of citrus and bitter hops. 
The dank oranges, lemon, and grapefruit take the front wheel in the flavor but still taste smooth and clean. As for the grains, it acts as a solid backbone, giving you a mealy, grainy, and biscuity taste. It also gives room for the dank hops to shine without overshadowing them. You can expect fruity green melon and tangy tangerine notes too. 
– Food Pairings
When having the APA, you should pair it with American food classics. Try out burgers, pizza, grilled steak, fried chicken, or a pizza. Aside from your everyday foods, spicy cuisines also go great, so try out spicy Mexican food like tacos or chili. 
If you like to go spicy, consider strong and hot Thai, Vietnamese and Indian dishes, like a spicy curry. Hot Italian dishes will also pair great with this ale, so try out spaghetti with chili or pecorino and pepper pasta. Roast chicken or beef steak will also go great, especially if you sprinkle it with pepper or have it with a citrusy sauce.
For your cheese pairings, enjoy the ale with the tangy cheddar flavor that contrasts with the sweet malts. Dessert is easier since you can enjoy any fruity dish like strawberries and cream, citrus cheesecake, or carrot cake.
Ingredients 
The exact ingredients of the APA are unknown, but the beer is made with malts, hops, yeast, and water. The malts used to brew the golden ale are Azzacca Hops, which are known for offering sweet citrus and tropical notes into the flavor and aroma to balance out hoppy bitterness.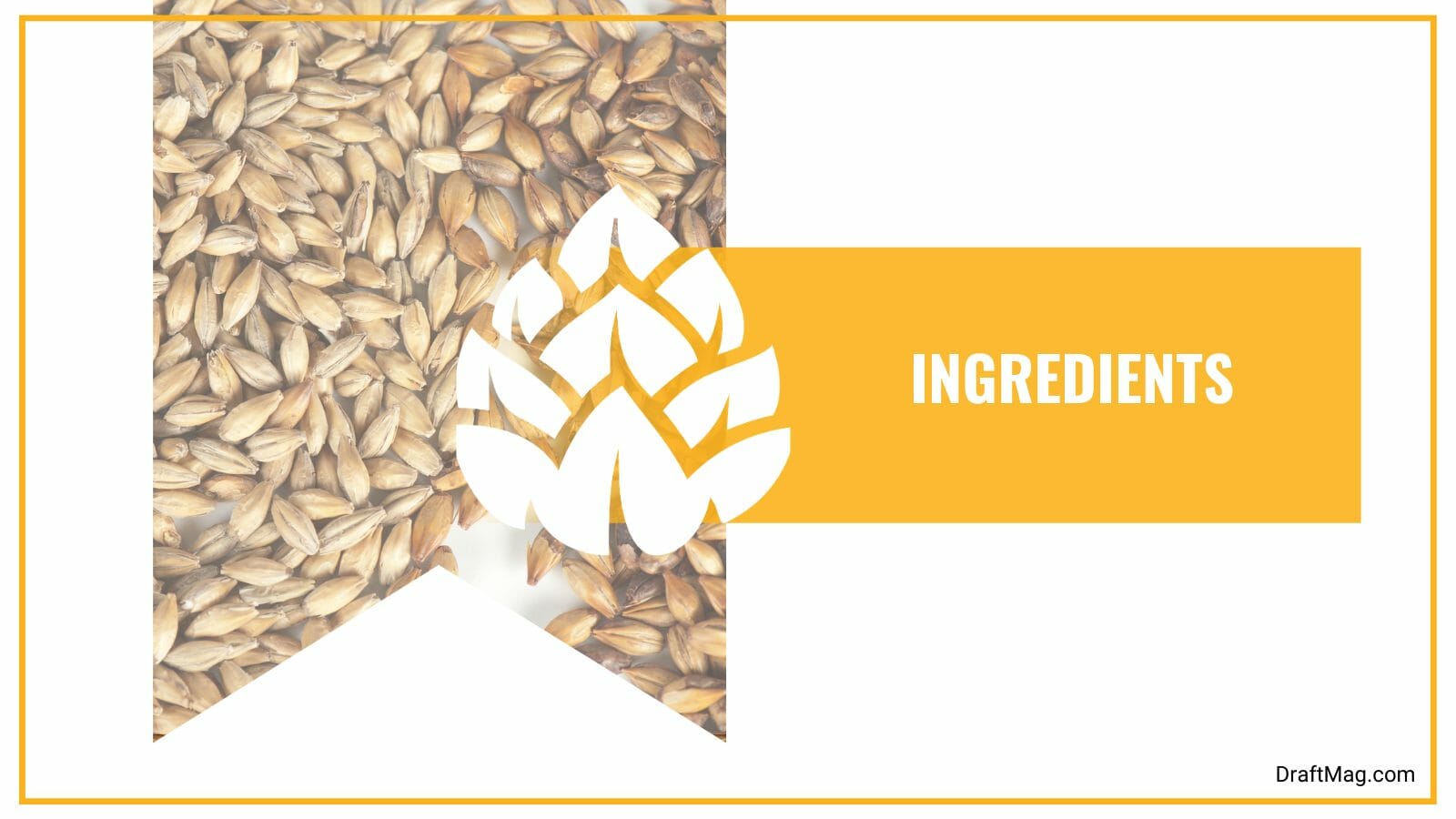 The beer's malts are also prominent in the flavor, offering a taste of barley, grains, and biscuit malts without overshadowing the hops. It allows the flavor of the beer to balance out. The yeast is not prominent in its flavor and aroma.
Nutrition Facts 
For every 12 ounces of this light ale, you get an alcohol content of 6.5 percent. The alcohol percentage is well-masked in the flavor, but you'll still get a bit of ethanol when it warms up. The IBU is 58 due to the hoppy bitterness that is prominent in the flavor, especially at the finish.
The ale features 180 calories in every 12-oz serving, but there are also 16.1 grams of carbs and 1 gram of protein. Those on a keto diet should avoid this beer since it has a high carbs content. It is also not a gluten-free ale. 
History 
The American ale was released in 2013 by 3 Floyds Brewing Co, well-known in Indiana. The beer has been a year-round offering since, with a unique space concept and a well-balanced taste. The artist credited for the can or bottle design is Dick Smart, while the designer was Zimmer-Design. 
The brewing company was founded in 1996 by the Floyd brothers, Nick and Simon, and their father, Mike Floyd. It has been open in Indiana since then and recently closed its brewpub in Munster due to the pandemic. The brewery is known for its unique beers like Dark Lord Day and Zombie Dust.  
Conclusion
Get ready for a classic and flavorful APA experience when you have this offering from 3 Floyds.
Before you go, here's a rundown of what our review covered:
This is an American light ale with a 6.5 percent alcohol content.
Space Station Middle Finger has flavors and aromas of citrus, orange, lemon, grapefruit, piney hops, biscuity malts, barley grains, and white pepper.
It is made with Azzacca hops for a tropical and citrusy flavor.
The beer should be served in a pint glass at 45 degrees Fahrenheit.
Enjoy the beer with classic American foods, spicy dishes, Thai and Vietnamese dishes, roast chicken or beef steak, cheddar, and fruity desserts.
Enjoy the APA by purchasing it at different stores and supermarkets near you. If you're living in Indiana, look out for news on the brewpub opening so you can get it right on tap.