Cloud Candy Beer Review: Know This Delicious Brew Inside-out
If you are reading this Cloud Candy Beer review, you are probably wondering about this epic New England IPA, one of the most famous beers from a popular brewery in America. Mighty Squirrel Brewing Company has proven time and again that they know how to brew classic, delicious and tasty beers without any gimmicks and adjuncts.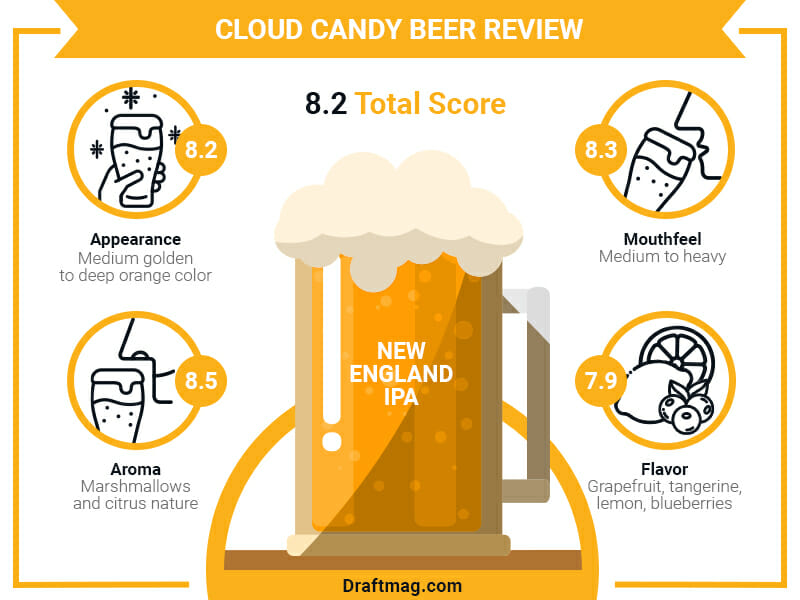 It is never too late to try this epic fruity burst of IPA and enjoy an overload of tropical flavors in your mouth. Here is everything you need to know about the this fluffy Hazy IPA —Cloud Candy.
Cloud Candy Stats
| | |
| --- | --- |
| Country | Massachusetts, United States |
| Brand | Mighty Squirrel Brewing Company |
| Style | IPA – New England |
| Taste | Citrusy, Tropical, Overly Juicy, Sweet, Bitter |
| Body | Poofy Head, Fine Active Carbonation, |
| ABV | 6.5 percent |
| IBU | 60 |
| Flavors & Aromas | Marshmallow, Floral, Citrus, Papaya, Mango, Starfruit, Pine |
| Serving Temperature | 45 – 50 degrees Fahrenheit |
Tasting Notes
Cloud Candy Tasting Profile
Cloud Candy Review
Here is an in-depth review of Cloud Candy beer's characteristics.
– Appearance
Juicy or Hazy India Pale Ale usually has qualities similar to an American IPA. These beers are mostly unfiltered, that's why the hazy appearance. It is cloudy and has a medium golden to deep orange color topped with an ivory head that leaves nice rings of lace in a few minutes. It is almost completely opaque and thick.
This beer is usually served in a tulip glass to compliment the pour. IPA glasses usually have big bulbous bottoms as it helps you to swirl your beer around and take in the citrusy, floral, fruity aromas that get released from the beer.
– Aroma
This beer shows the high aromas of marshmallows and citrus nature. There is a light malt backbone and some light aromas of mango, and papaya on the side. This beer is quite complex in nature and character which is why you can feel some light floral notes on the back too. All of these tropical aromas and the fluffy mouthfeel are almost like tasting a cloud.
– Mouthfeel
Like every other Hazy IPA, even Cloud Candy has a medium to heavy mouthfeel because of its unfiltered haziness. There is visible carbonation which adds to the drinkability of the beer. It has a moderately dry finish on the palate, leaving you wanting to grab another.
The finish is that of a dull fruit and leaves some warmth afterward. This beer is truly a tropical fest that delivers pure delight on the palate through delicious olfactory cues minus any alpha slab at the backend.
– Flavor
The Cloud Candy Double IPA is unfiltered and slightly less bitter than other classic American IPAs. It is also extra juicy and many beer fans and beer gurus would describe it as being plushy, silky and creamy.
Hazy IPAs usually have an overload of fresh tartness and fresh citrusy flavors that include grapefruit, tangerine, lemon, blueberries and more. Cloud Candy is extremely juicy, like a tropical burst in your mouth. It has bright flavors and medium to light bitterness from the citrusy infusions.
– Food Pairings
This beer is high on fruity flavors and tartness. With that being said, you may want to avoid anything that overpowers your beer tasting experience.
When it comes to food pairings, it is best to stick to items like fish tacos, Indian curries, strawberry salsa dips, and pad thai with sweet peanut sauce. Basically, anything that has a slight zing of citrus in it will pair well with this beer.
Ingredients
This beer is made up of mainly four ingredients, just like other beers — water, malt, yeast and hops. It is brewed and dry-hopped with Citra, Mosaic and Amarillo Hops. Each of these is responsible for the upfront juicy flavors.
Nutrition Facts
While not much is known about Mighty Squirrel Cloud Candy beer calories, when we compare it to other Hazy IPAs like Sierra Nevadas Hazy Little Thing, it would be somewhere between 190 to 210 calories.
Cloud Candy beer alcohol content is 6.5 percent, as mentioned in the above table. Hazy IPA beers usually lie in the ABV range of 6.0 – 8.0 percent.
History
Mighty Squirrel Brewing and Taproom is one of the most famous breweries in Massachusetts and is located in the foothills of Beaver Brook. The brewery began operations in 2011 when two friends came together to brew delicious high-quality craft beers. Founders and friends Henry Manice and Naveen Pawar decided they wanted to create beers with higher protein levels than before.
They learned a lot from home brewing and later continued their brewing activities in the brewery. They made thousands of prototypes in their brewery with several attempts to include barley protein in their beers.
In 2018, Mighty Squirrel opened a brewery and taproom in Waverly Oaks Road and has brewed several craft beers like the epic Squirrel Cloud Candy, Cosmic Distortion and many more. This brewery has won various awards for its beers over the last few years and keeps winning people's hearts with its delicious and experimental brews.
Conclusion
Some other delicious New England Hazy IPAs from Mighty Squirrel are Dear George, brewed at 7.2 percent ABV, Dear Mack, at 7.2 percent ABV, and Dear Bubba, brewed at 7.2 percent ABV. All Day Haze is a brew by Founders Brewing Company that is very similar to the Cloud Candy Hazy IPA. This beer has a cloudy appearance and mouthfeel and tastes like a burst of tropical summer in the mouth, staying true to its name.
Mighty Squirrel Brewery is known to produce hop-forward Hazy IPAs that have a relatively higher protein content than their counterparts.
Cloud Candy IPA price is $11.99 for a 16 Oz pack of four.
Cloud Candy is one of the most loved beers in America thanks to all the juicy, citrusy and floral notes from high-quality ingredients.
If you are curious and wondering about Cloud Candy beer, where to buy it, then head to one of the many liquor stores in your area and buy a can or bottle to taste and judge it for yourself.