Montucky Cold Snack Review: Delicious Lager that Stands Out
Montucky Cold Snack is the ideal choice if you're interested in a sweet American lager. This beer offers you flavors and aromas of sugary corn, floral hops, malts, and crackers.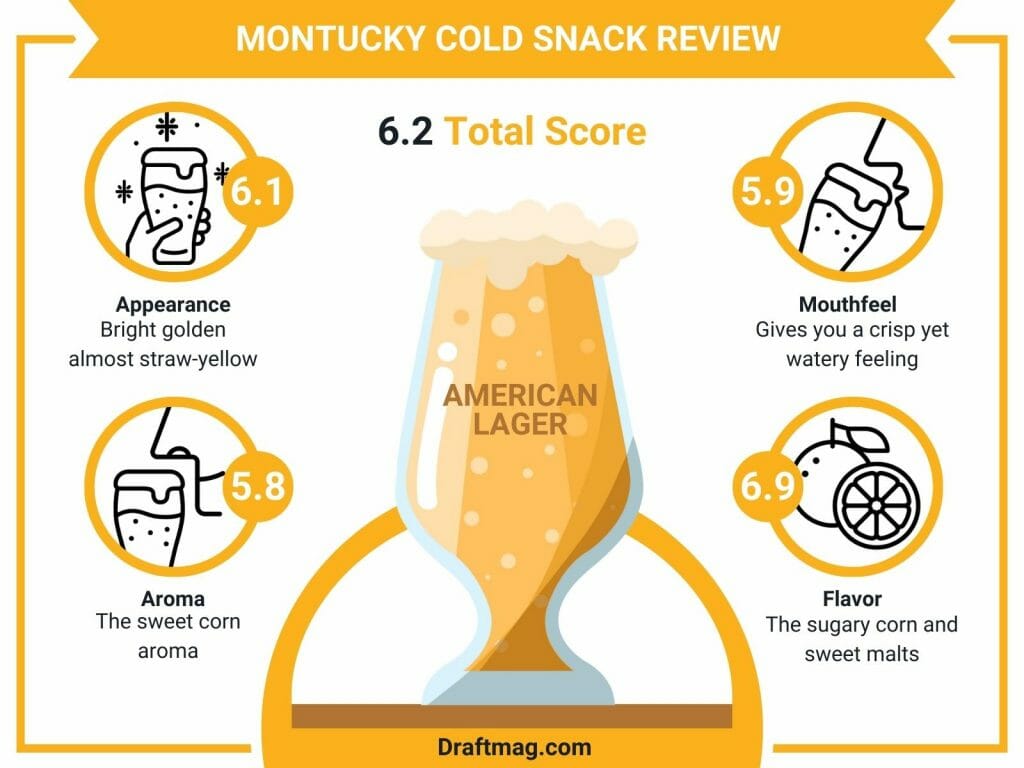 Whether you're hanging out with friends, camping, or having dinner, the lager is always a top choice. Read our complete review of this beer to know more about what it has to offer, available below.
Montucky Cold Snack Stats
| | |
| --- | --- |
| Country  | United States |
| Brand | Montucky Cold Snacks |
| Style | American Lager |
| Taste  | Sweet, corn |
| Body | Light body |
| ABV | 4.1 percent |
| Flavors & Aromas | Sugary corn, malts, crackers, floral hops |
| Serving Temperature | 36 – 38 degrees Fahrenheit |
Tasting Notes
Montucky Cold Snack Tasting Profile
Montucky Cold Snack Review
This beer is an American lager with a 4.1 percent alcohol by volume and a light body.
If you're thinking of having this lager beer, you should serve it in a pilsner glass. The tall footed glass is straight, so it will preserve the eggshell-colored head of this beer and also retain its carbonation. The beer should be very cold, with 36 degrees Fahrenheit being the sweet spot. You may even add a lemon slice to it for the garnishing.
The Montucky beer is an all-season option that will appease all beer lovers, even those that don't favor lagers. It is best for camping, fishing, golfing, and other fun sports, especially with the low ABV. This also means that it doesn't work for heavy partying.
– Appearance
When you pour the American lager, you see the bright golden almost straw-yellow color that fills up your glass. The beer has a clear appearance with a small, off-white head. The head has decent retention, but as it dissipates, and time passes by it leaves behind lots of lacing against the glass.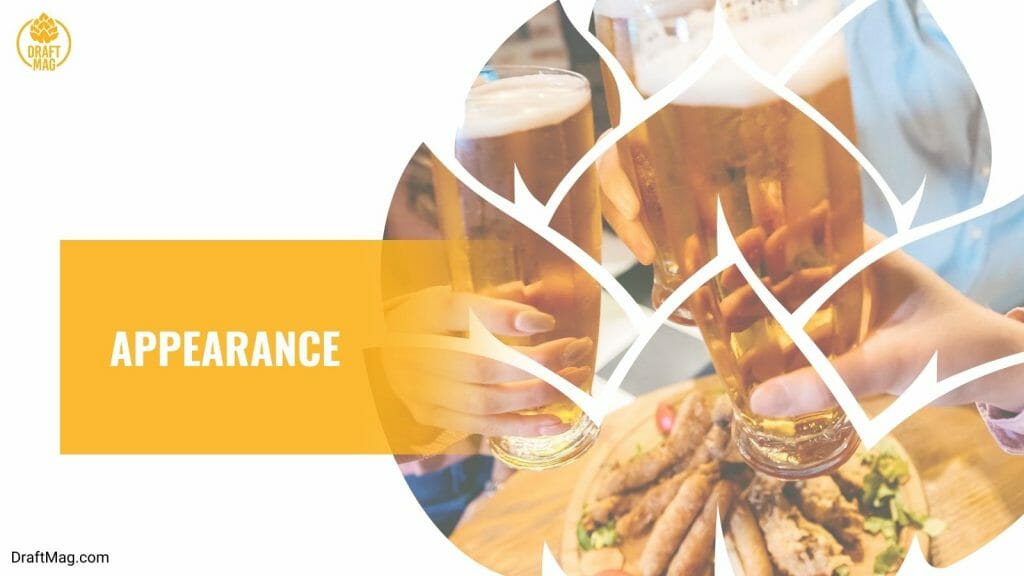 – Aroma
Bring the light lager to your nose, and you will enjoy the sweet corn aroma as you smell it, because the beer has a sugary aroma, with hints of malty grain and honey and subtle grassy hops. Nonetheless, the aroma is gentle and does not overshadow the flavor of the beer. The malt gives off aromas that feel so much like a cereal grain, wet straw, or crackers.
– Mouthfeel
This American lager is light-bodied, which gives you a crisp yet watery feeling on your palate. Some beer drinkers might consider this to be too watery. The beer has medium-high carbonation, translating into a slight kick on your tongue. It is clean until you get to the finish.
– Flavor
The lager starts off with a sweet flavor from the moment you drink, offered by the sugary corn and sweet malts. There is also a hint of floral hops, but these will quickly turn spicy as you drink, with hints of hay, lemongrass, and herbs. This will offset the grainy flavor on the tongue.
Towards the end, the grassy and herbal bitterness gets more pronounced by the sweetness. The hops are balanced with the soft alcohol flavor despite the low ABV, but this comes pretty late, and you might not notice it at all.
The lager is quite balanced, malty, and sweet, and the sharp alcohol finish at the end is a surprise. Although it is sweet, it does not overshadow the malty and lager kind of flavor. on the other hand, there is little hop character too, and the beer tastes crisp.
– Food Pairings
When having the snackable lager, there's a lot that you can pair it with. The beer goes with herbed chicken and potatoes, which matches with its sweet malts, and seafood like shellfish. On the other hand, you can also have it with hot dogs, salmon, noodles, buffalo wings, spicy foods, salads, and burgers.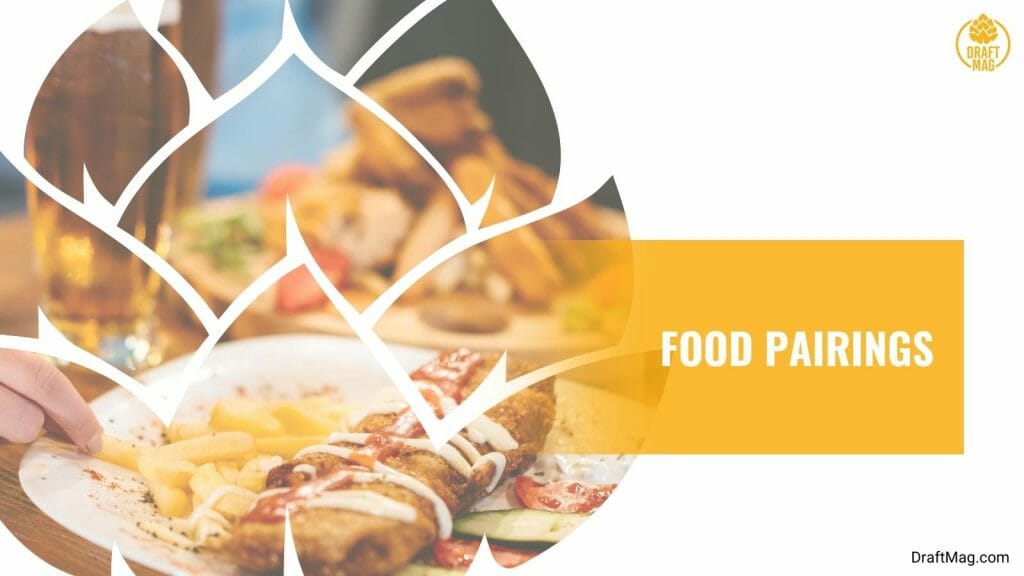 French fries, jalapeno peppers, sliders, and chips are at the top for snacks that go best with the lager. As for fruits, have them with pineapple or strawberry. The beer also pairs well with mild cheeses like mozzarella and gouda and will appease your sweet tooth with chocolatey and coffee desserts.
Ingredients
The snackable lager is made with the four main ingredients of beer with no fuss. These are mated barley, hops, water, and yeast. The malted barley offers the sweet corn character, cracker malts, and grainy taste.
The hops character in this beer is minor, only presenting itself in the form of slight floral hops, grassiness, and herbal bitterness. There is also a slight taste of honey that gives a very sweet flavor.
Nutrition Fact
This light yellow lager has an ABV of 4.1 percent, which is a pretty low level. Despite the low ABV, you can still expect sharp alcohol warming towards the finish, but this is not unpleasant. There are 102 calories in every 12-ounce serving, so health-conscious drinkers should keep this in mind when having this beer.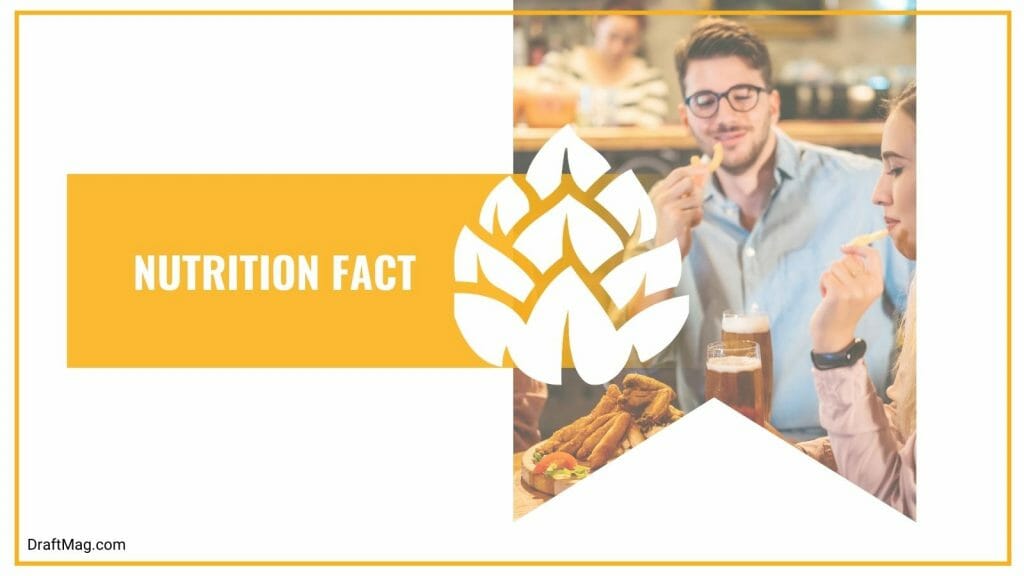 As for the carbs, there are 4.95 grams of carbs in the beer, and this is a decent level. There is no fat in the beer. It is suitable for those on a keto diet due to its low-carb content, on the other hand, you must note that it is not a gluten-free beer.
History
Montucky Cold is a snackable beer launched in 2014 by Montucky Cold Snacks. The term, Montucky, is derived from the endearing term for Montana. It refers to the rural areas and backwoods of the state. Then, Cold Snacks is a cheeky way of referring to beer. You can easily enjoy this lager by purchasing it at stores near you, either online or in physical locations.
Conclusion
If you're interested in a sweet lager, try the grainy-tasting lager for sugary corn and delicious malt flavor. Here's a rundown of what our review covered:
Montucky Snack is a lager with a 4.1 percent ABV and medium carbonation.
It has flavors and aromas of sweet corn, malts, floral hops, crackers, and honey, finishing with some herbal bitterness and grassiness.
The beer contains malted barley, hops, water, and yeast.
It is best served in a pilsner glass when cold.
You should pair this beer with chicken, seafood, different mild cheeses, chocolatey desserts, and fruits.
Overall, this pale-colored lager is loved by many not only because it is refreshing but also because the flavor doesn't feel very heavy, so, when will you be trying it?