Almaza Beer Review: Is This Unique German Pilsner a Hit or Miss?
Almaza beer is a foreign beer that has left an impression on its international consumers. Described as having a malty taste, this beer has garnered a lot of feedback from beer drinkers.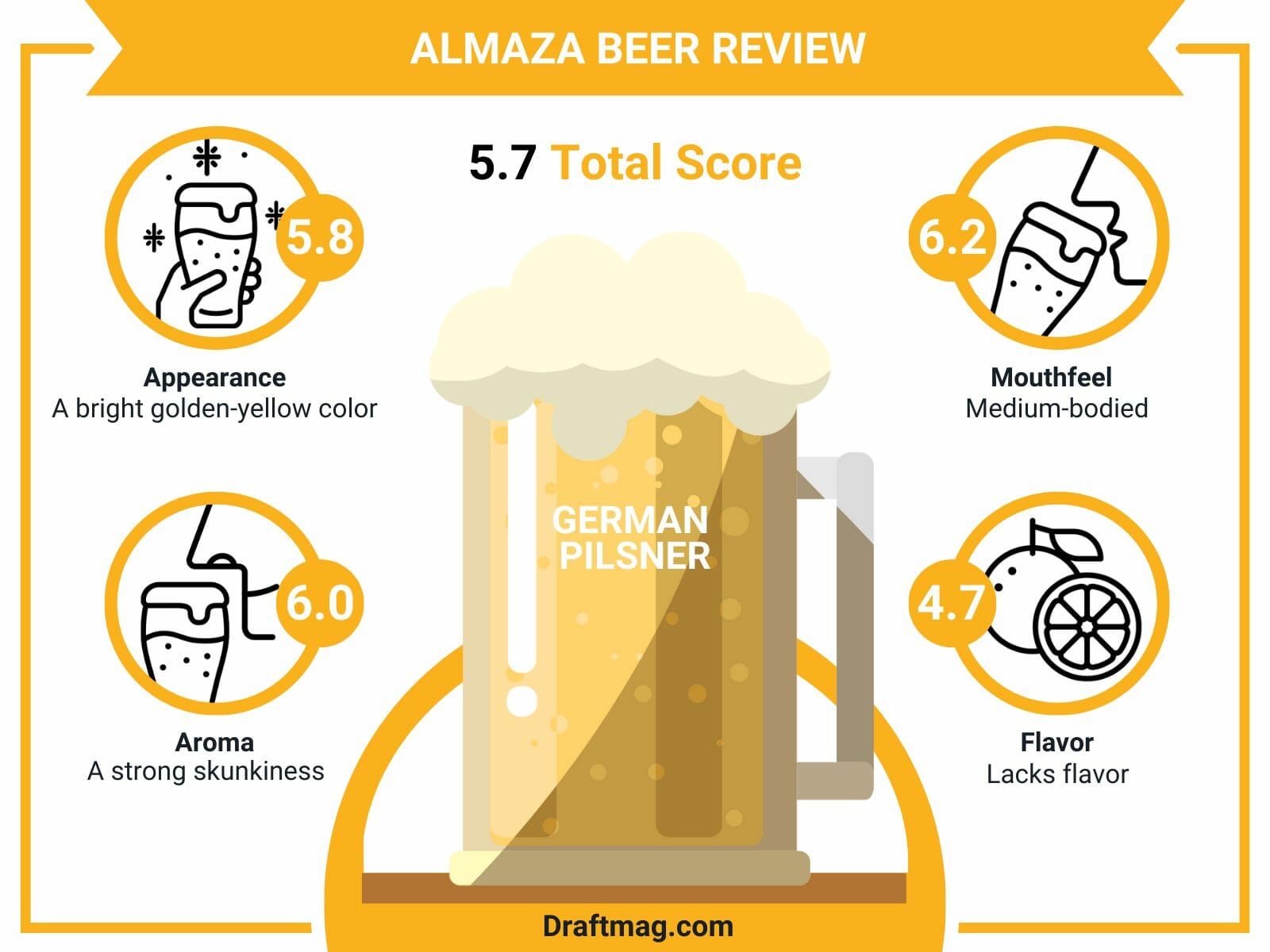 With several mixed reviews online, deciding whether this beer is worth the purchase might be difficult. Our detailed review is all you need to decide if you should give this brew a try.
Almaza Beer Stats
| | |
| --- | --- |
| Country | Lebanon |
| Brand | Brasserie Almaza S.A.L. |
| Style | German Pilsner |
| Taste | It tastes grainy and sweet with hints of malt and honey. There's a moderate hoppiness that seems too light for a German pilsner. |
| Body  | This beer is light-bodied with fair carbonation. It is a bit too thin but quite crisp. It leaves a clean, dry finish. |
| ABV | 4.2 percent |
| Flavor and Aroma | Its flavor and aroma are light. You can make out pale malts, floral hop, maize, grass, lemon, and honey. |
| Serving Temperature | 45 degrees Fahrenheit |
Tasting Notes
Almaza Beer Tasting Profile
Almaza Beer Review
Deciding whether to purchase a beer can be challenging since no one wants to waste money on terrible drinks. Thankfully, our beer team has taken the time to analyze this beer. If you're eager to try this beverage, this review will help you form a decision.
– Appearance
This pilsner pours a bright golden-yellow color that's startlingly effervescent. It has a fair amount of carbonation as tiny bubbles are spotted moving to the top of the beer glass. A thin white foamy head appears at the top but doesn't last. Although the head retention is disappointing, it doesn't fare so badly as it leaves a thin coating.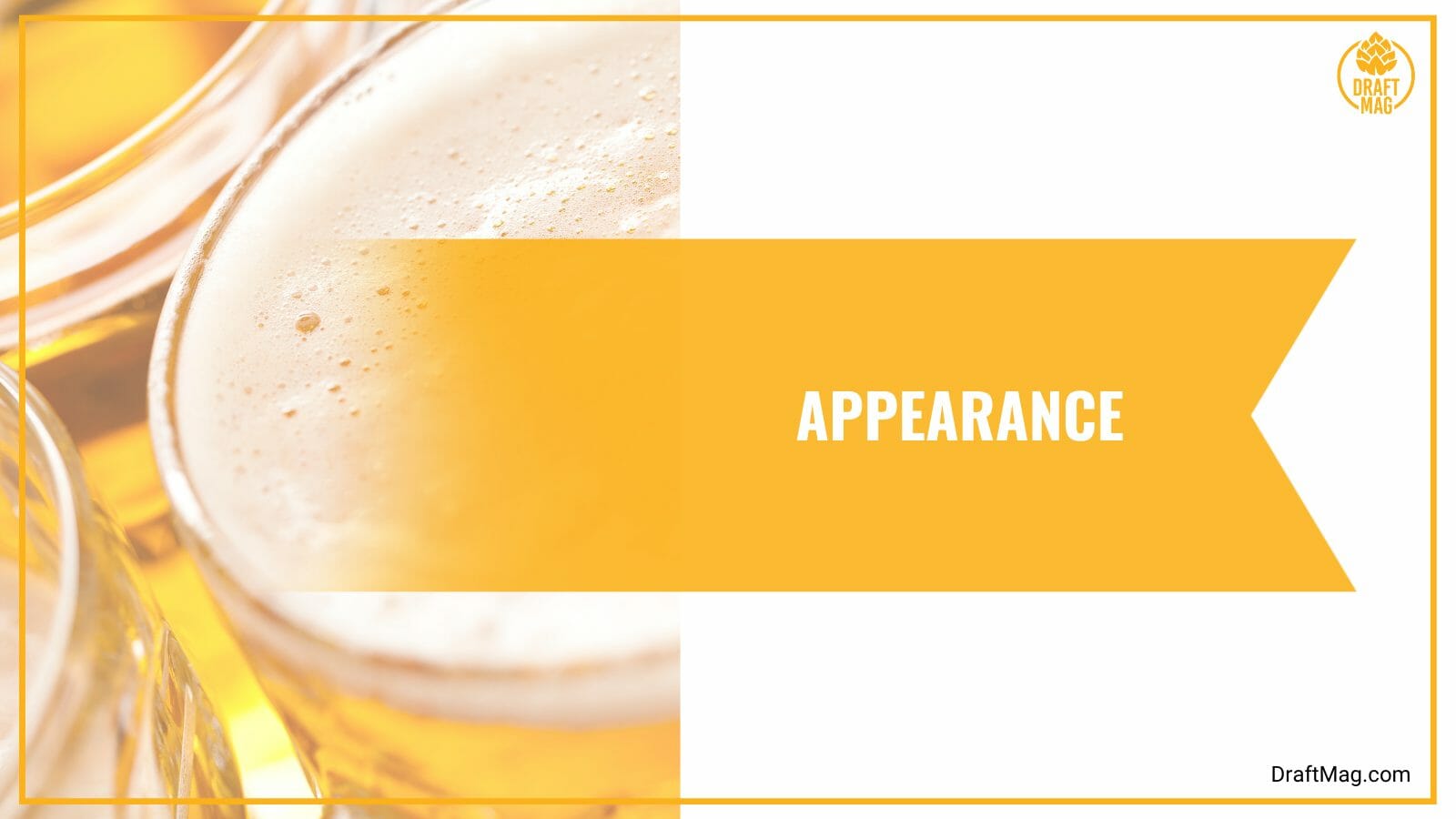 It also leaves a relatively lasting ring of lacing. From a distance, it is easy to confuse this beer with a European pale lager based on its appearance. It appears a little too thin for a German pilsner and lacks any distinctive quality that makes you yearn to drink it.
– Aroma
When you bring this beer close to the nose, a strong skunkiness that appears to be the predominant scent hits you. Once you get past it, you will catch whiffs of malt that smell like pilsner malts. One can also make out an earthy smell that smells like straw or hay, alongside a subdued scent similar to honey.
It is impossible to miss its floral hop note and a sour note that reminds one of lemon and grass. Hints of an alcoholic presence are detected, although it doesn't leave much of an impression. Overall, the aroma of this beer is in no way enticing, but it doesn't smell awful.
– Mouthfeel
This beer is more light than medium-bodied. It has fair carbonation and is slightly too thin. Its thinness is quite disappointing for a German pilsner. However, it has a creamy feel that may result from its malty essence. The maltiness gives the beer a sweet tinge, and there's an herbal feel of grass or hay.
The beer also has some citrus undertones, which may be due to lemon. Although this beer is slightly watery on the palate, it has a moderate bitterness that saves it from being bland. It is clean and finishes dry. While its bitterness is noticeable, it is too light for a German pilsner as these beer styles are known for their biting bitterness.
– Flavor
Although it would be unfair to state that this beer lacks flavor, it is actually tough to make out any distinguishable flavor from it. The malt flavor is so light that it is almost non-existent. The same goes for its hop flavor. There's also a skunky flavor that might be from the grass and lemon.
Aside from these, there's nothing else to make of this beer in terms of flavor. Perhaps the biggest shock for our beer experts is discovering that this pilsner lacks the characteristic hoppy flavor most German pilsners are known for. Light beer drinkers may enjoy this, but for drinkers who enjoy a burst of flavors in beers, this beer performs below average.
– Food Pairings
Since Almaza pilsener is not as bitter as many German pilsners, you can pair it with the same meals as any pilsner. We recommend spicy or heavily flavored meals to mask its bland taste and skunkiness. These meals include burgers, French fries, salsa, pizza, tacos, and chicken wings.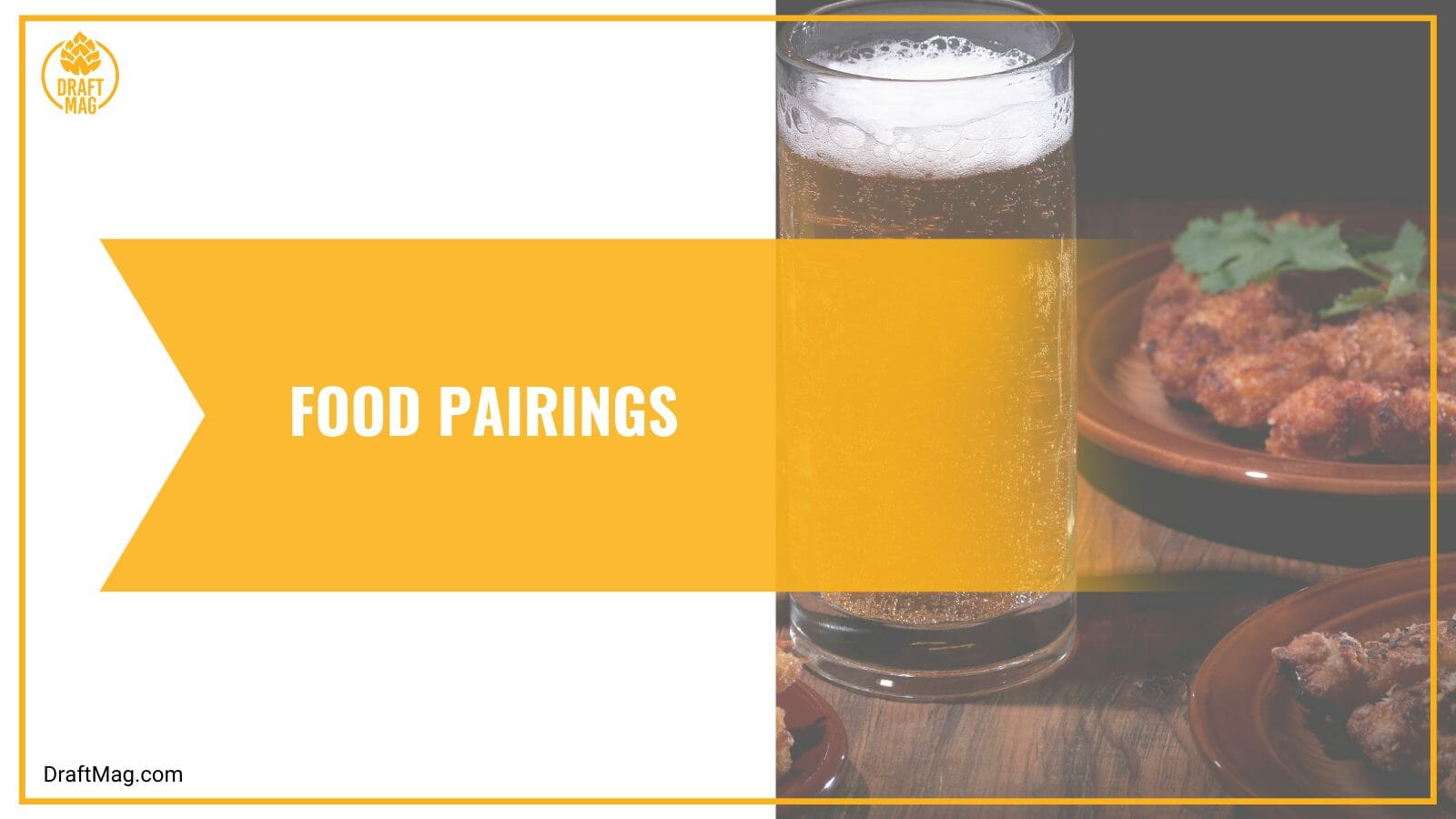 Steak, spicy BBQ sauce, and grilled dishes are also great options, alongside traditional Lebanese, spicy Thai, and Mexican cuisines. Side dishes or desserts like cheesecakes, apple pies, and salads are perfect too.
Ingredients
This beer is made from simple ingredients including water, hops, malted barley, and maize. There's a hint of lemon in its composition, although this is not listed as part of its ingredients. Aside from these, this beer has no other known adjuncts.
Nutrition Facts
This beer contains 38 calories, 3.7 grams of carbohydrates, and zero grams of proteins. It also contains zero grams of fat and 1.5 grams of salt. Made only from plant-based products, this beer is vegan-friendly.
It also includes gluten due to the malted barley in its composition. The beer also has low carb and alcoholic content, making it safe to drink for beer beginners.
History
Almaza pilsener beer was first produced in 1933, making it one of Lebanon's oldest beers. It is brewed by Brasserie Almaza S. A. L., founded in the same year. The government of France owned and controlled the brewery until Lebanon's independence. Almaza then became a national and international sensation as it was Lebanon's only brewery as of 1995.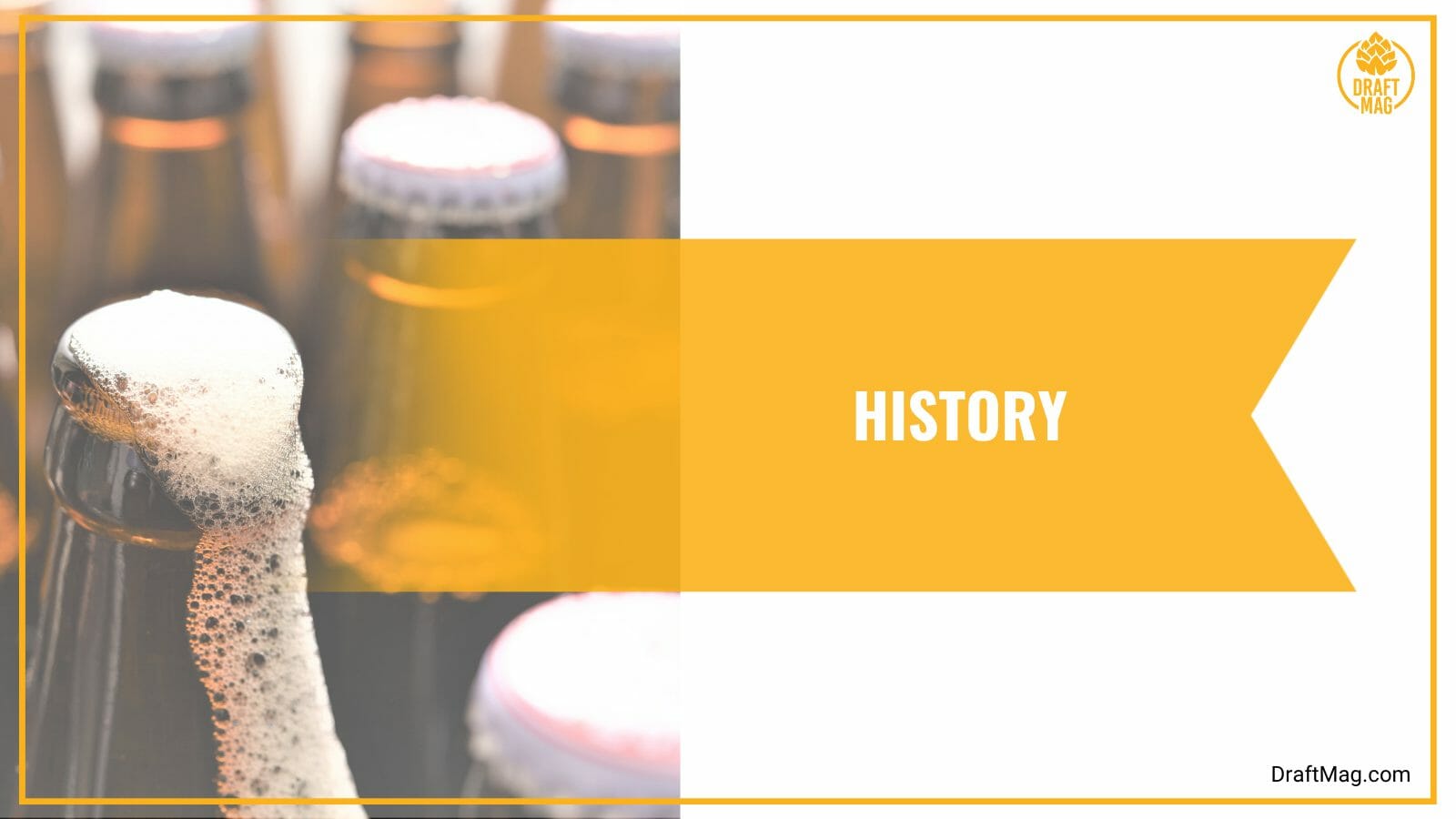 The Heineken Group bought the brewery in 2002 and started producing other beers such as Almaza Pure Malt, Rex Strong Ale, and Laziza. This beer is available in pubs, liquor stores, restaurants, convenience stores, supermarkets, and online beer retail sites.
Conclusion
Almaza Pilsner doesn't rank high on our list of recommended beers because it tastes bland and lacks intricate flavors. Here's a quick rundown of the points we discussed in this review:
Almaza Beer is a German pilsner with a 4.2 percent ABV.
Its aroma and flavors are pale malts, floral hops, corn, lemon, and grass.
This beer tastes slightly sweet and is balanced by mild hoppy bitterness. It is light-bodied, thin, crisp and leaves a dry finish.
You can pair this meal with burgers, tacos, sweet desserts, salads, traditional Lebanese dishes, and Mexican and Thai cuisines.
If you're used to drinking highly flavored craft beer, we do not recommend this beer. However, you can try this if you enjoy simple beers with little to no distinctive scents or flavors.