Goat Island Blood Orange Review: Excellent Berliner Weisse 
Goat Island Blood Orange is the ideal beer for drinking all night, offering you a fruity and sweet orange aroma and flavor. The sour beer offers layers of fruity flavors and malts, although you might notice that there's more orange than beer as you drink it.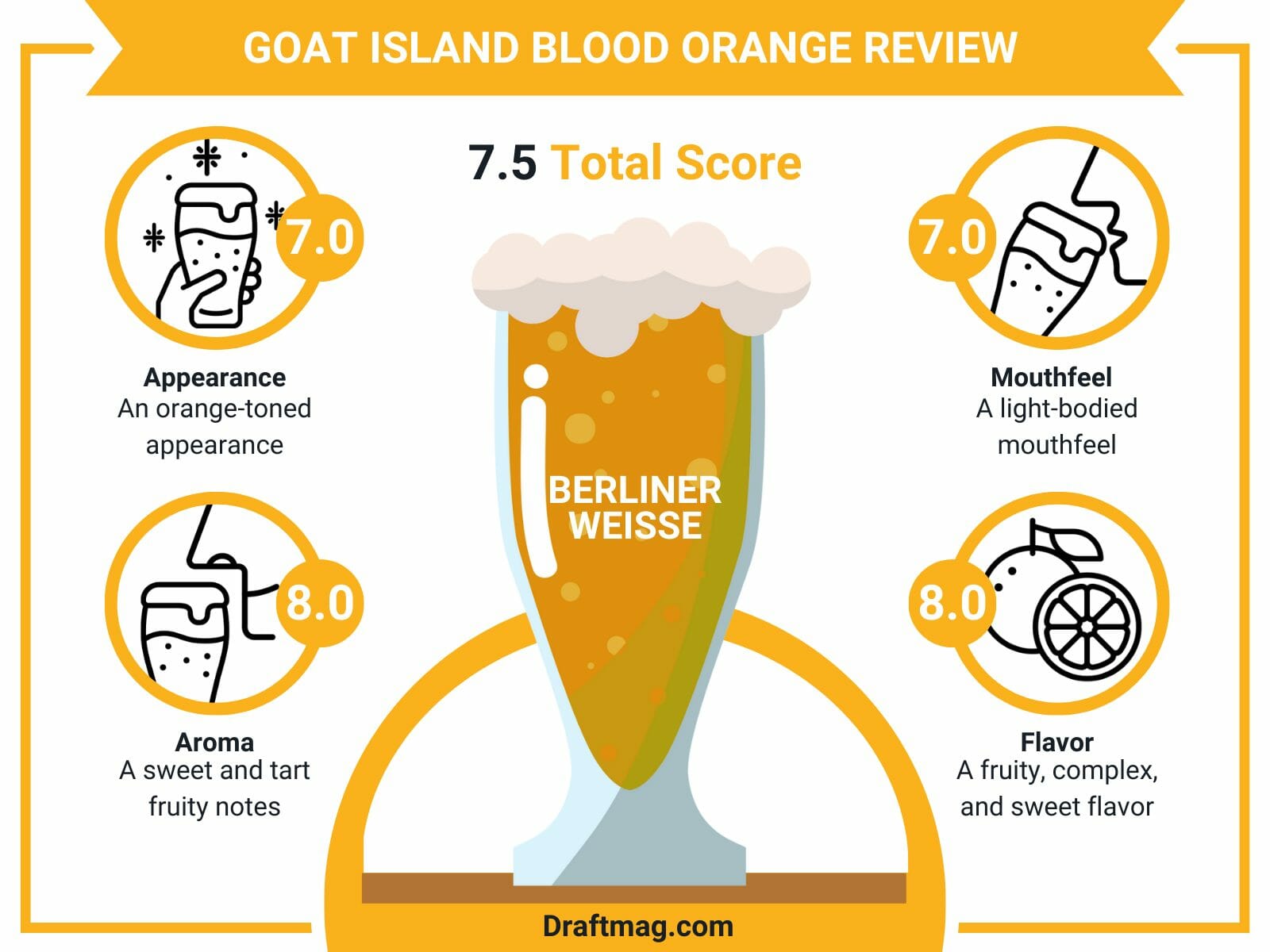 If you want to make the best out of a hot day or are interested in a unique sour beer that strays a bit from its usual style, you should give this beer a try. Learn more about it by reading our comprehensive review below. 
Goat Island Blood Orange Stats
Country 

United States

Brand

Goat Island

Brewery

Style

Berliner Weisse 

Taste 

Malts, orange

Body

Light Body

ABV

5.5 percent

Flavors & Aromas

Malts, orange, grapefruit, lime, lemon, sour, wheat, dough

Serving Temperature

45 – 50 degrees Fahrenheit
Tasting Notes
Goat Island Blood Orange Tasting Profile
Goat Island Blood Orange Review 
Appearance: 7/10

Aroma: 8/10

Mouthfeel: 7/10

Flavor: 8/10
Blood Orange is a fruity sour beer made in Alabama, the United States. The beer features an alcohol content of 5.5 percent, while the taste balances malts with citrusy oranges. You get a good balance of flavors when you drink this beer, with its orange-toned appearance and light body with vivid carbonation.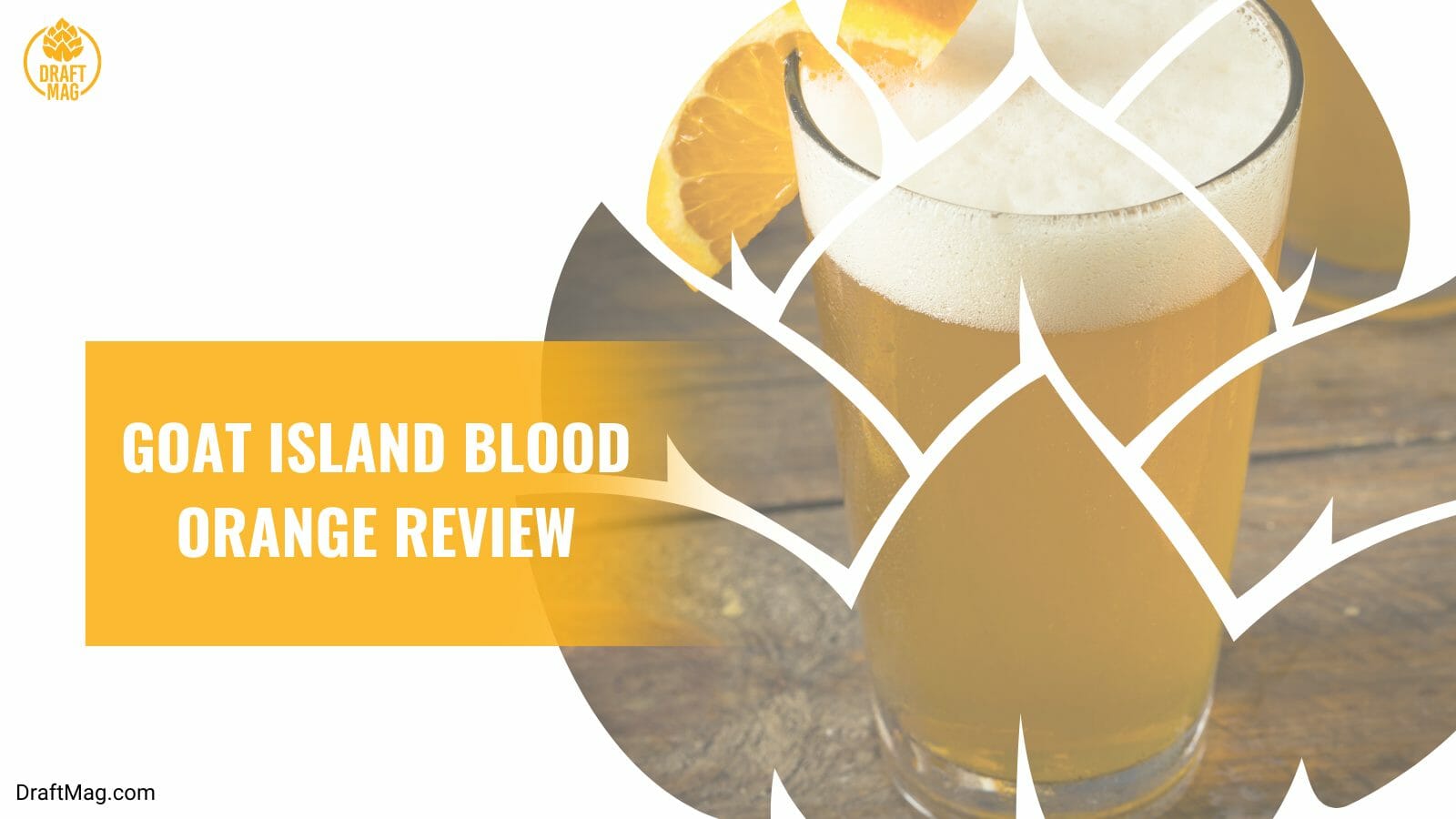 The sour beer offers flavors and aromas of malts, orange, grapefruit, lime, lemon, wheat, and sourdough, giving you a tasty and delicious beer. Some beer lovers have criticized the beer due to the overwhelming orange character that makes it more of a seltzer, but the wheat and malts shine through to remind you.
You should serve this beer in a snifter, chalice, or goblet. These glasses have a rounded body and short stem that you can use to twirl the beer and enjoy its aroma. The serving temperature is from 45 to 50 degrees Fahrenheit. 
– Appearance 
The beer features an orange-toned body with pinkish hues in the head and streaks going toward the bottom. The toned body is also pretty hazy but not as cloudy as a hazy IPA. Its light pink color is more evident when you put the beer in the light.
Atop it is a frothy white head with pink hues and will remain there for a short time, keeping the aroma strong. The fleeting head dissipates to leave a bit of lacing against the glass.
– Aroma 
On the nose, you get a lot of sugary, sweet and tart fruity notes that give you a peek of what you should expect in the flavor. The Weisse has a mild and well-balanced aroma that does not overwhelm you, but it remains there for most of the drink.
You get citrus and notes of red grapefruit and orange on the nose. In the backbone, you might notice an aroma of wheat and the smell of melted sugar. 
– Mouthfeel 
The feeling that this beer offers in your mouth is light, sweet, and fizzy. It has a light-bodied mouthfeel that contributes to its drinkability, especially with the decent and well-masked 5.5 percent alcohol content. 
Its mouthfeel is light, crisp, and refreshing, offering a thirst-quenching experience on a hot summer day. There's a lot of carbonation too, giving you a soda-like feeling that reminds you of a seltzer. In the finish, there's a lot of sourness. 
– Flavor 
The flavor of the Blood Orange Berliner beer is fruity, complex, and sweet, giving you different layers of delicious beer. The first thing that you taste is the light malt flavor, with notes of sourdough, wafers, and fructose, but this quickly ends as you're hit with some acidity and fruits.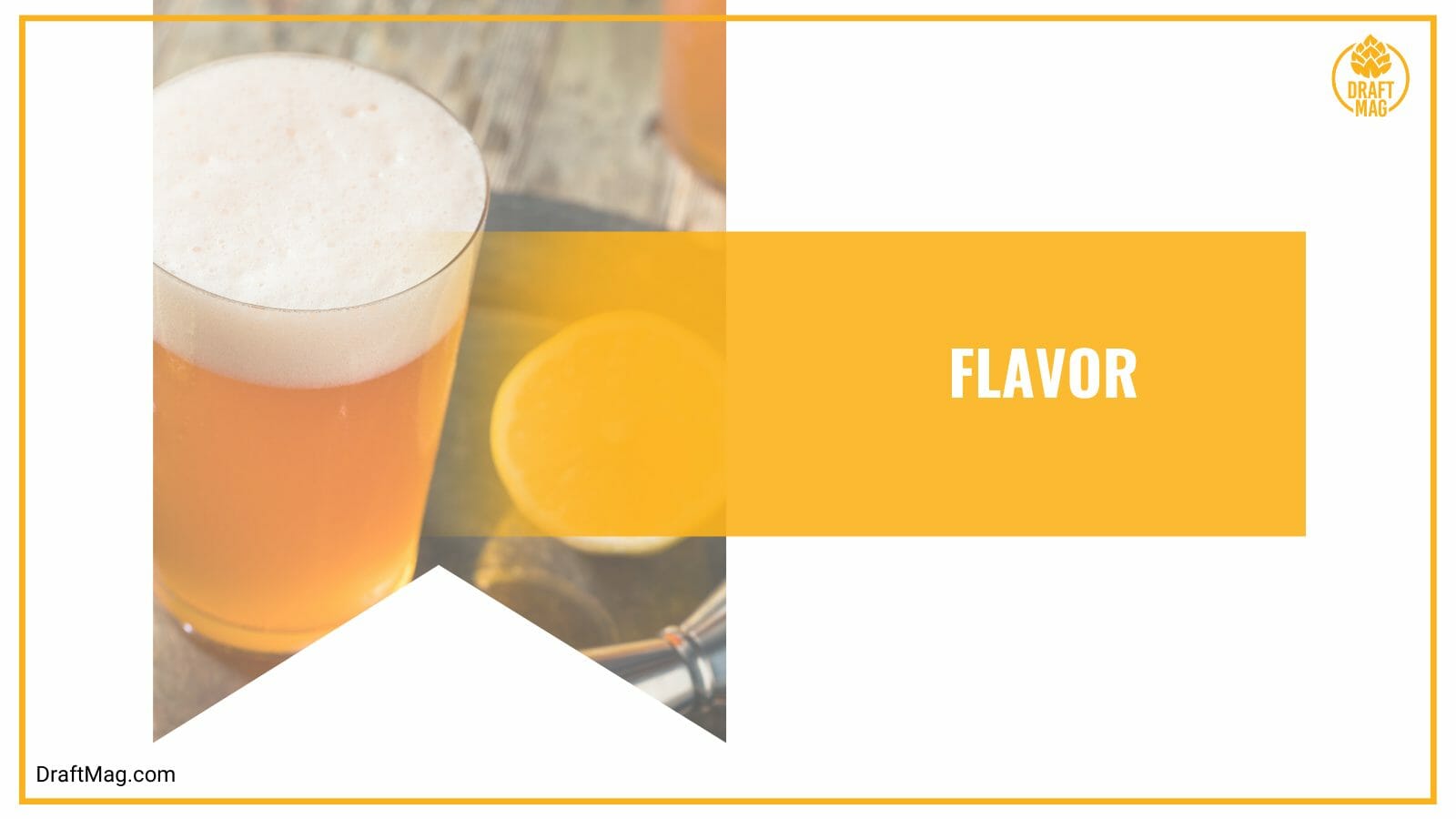 The beer is full of carbonation, and so the bubbly feeling paves the way for the fruity notes of grapefruit, lemon, oranges, and lime after the sweet malts. This fills the mid-palate with sour fruitiness. Towards the end, you get hints of sour candy, cider, and white wine, with some shy bitterness in the finish. The finish is full of fruity sourness and slight sourdough. 
– Food Pairings
The tart and clean flavor of the sour beer makes it an ideal pairing for a wide range of foods. You can pair the crisp beer with snacks like sourdough pretzels, French fries, and potato cheese. Also, try out some salty, oily, and starchy foods.
You can contrast the uniquely tart flavor of this beer with spicy dishes like chili, Indian curry, fajitas, Mexican food, spicy noodles, or tacos and burgers with barbecue sauce. Also, the fatty cuts of beef, like the ribeye or T-bone, go great with the light and crisp taste of the beer.
If you're having the beer with cheese, you should match the intensity of the cheese with the fruity and tart flavor. A baby swiss, Havarti, or mild Colby are great choices for the sour beer. Enjoy a sweet dessert like a fruit salad, dessert fruit bowl, or a fruit and vanilla tart with this beer.
Ingredients 
The exact ingredients of the Goat Island Blood Orange sour are unknown, but it is made with wheat malts, hops, yeast, and water. The wheat malts offer the basic backbone of wheat, malts, and sourdough that manages to shine through the fruity flavor and aroma of the beer.
The hops contribute more, offering a lot of fruity flavors throughout the taste. It is unsure whether the brewery used any other ingredients, like orange fruit, to give it its fruity flavor. It is fermented with yeast, but there isn't a yeasty character in the beer. 
Nutrition Facts 
The Goat Island Blood Orange percentage of alcohol is 5.5 percent, and this is properly masked so you can enjoy drinking without any warming or alcoholic bite. As for the IBU, it is very low, at 5. This is due to the non-existence of bitterness and hoppiness in the beer, as it mostly has tart and sour fruits.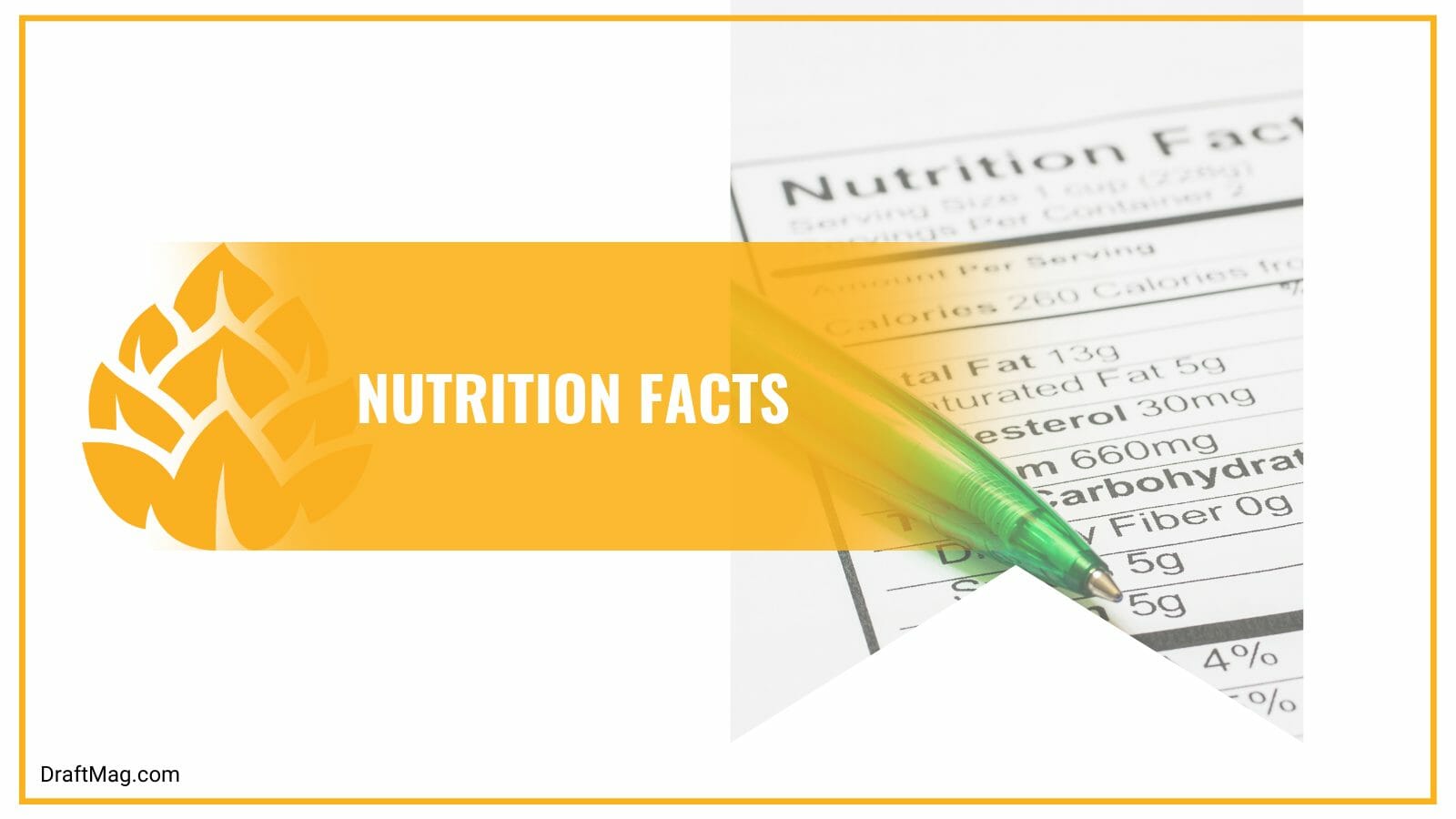 Every 12 ounces of the sour ale gives you 15 grams of carbs, 2 grams of sugar, 2 grams of protein, and 15 mg of sodium. It also features 160 calories in every serving. With the high carbs content, the beverage is not great for those on a keto diet. Drinkers on a diet should conside the Goat Island Blood Orange nutrition facts.
History 
The beer was released by Goat Island Brewery based in Alabama, United States. It was launched in 2018, and the brewery describes it as an orange-to-pink beer that is refreshing and drinkable. By 2020, it became the best-selling beer by the brewery on tap, making it difficult for them to keep up with demand.
The brewery was founded by Mike Mullaney and Paul White in 2015. It is well-known as a community-friendly brewery in northern Alabama and also organizes community events and fundraisers. If you're wondering where to buy Goat Island Blood Orange, it's always on tap in Alabama.
Conclusion
Give the sour beer a try whenever you want to try out a unique wheat beer.
Here's a summary of what we looked at in the review:
Blood Orange is a sour beer with a 5.5 percent alcohol content.
The brew has flavors and aromas of citrus, orange, grapefruit, lemon, lime, sourdough, wheat, and malts.
Its exact ingredients are unknown.
The brew is best served in a snifter, goblet, or chalice at 45 degrees Fahrenheit.
Pair it with snacks like sourdough pretzels, spicy dishes, fatty cuts of beef like ribeye steak, mild Colby cheese, or a fruit salad.
It's easy to get Goat Island Blood Orange near me, at physical and online stores. You can enjoy the beer best when you get it on tap in Alabama, or take the Goat Island Blood Orange Keg home.