Gold Cliff IPA Review: A Flavorful IPA With Pineapple
Gold Cliff IPA will surprise you with the balance of pleasant hoppy bitterness and pineapple sweetness, all based on a solid malt base. The juicy India Pale Ale is smooth and drinkable, and it's the perfect choice for drinking on the beach or by the pool.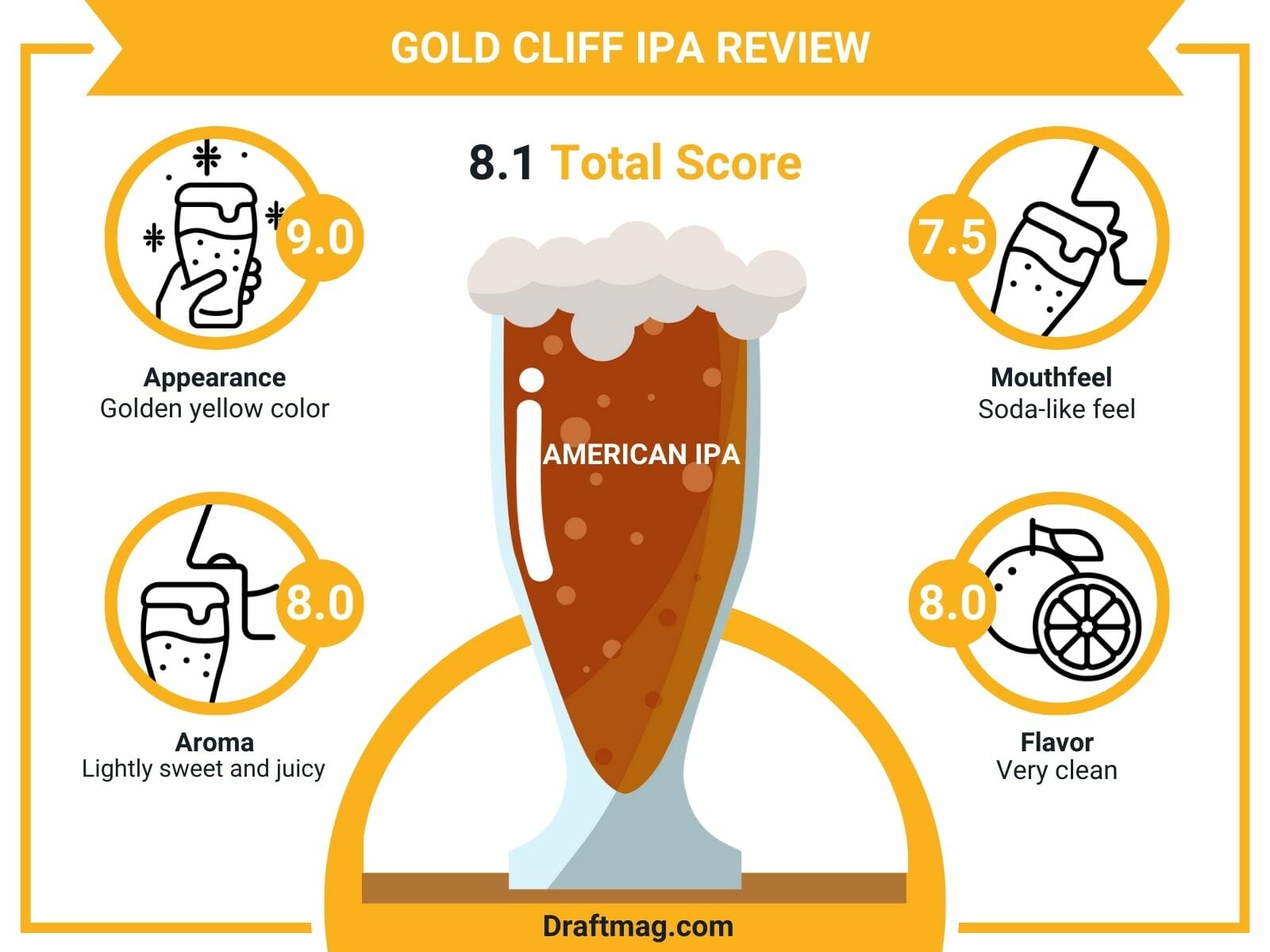 The light-bodied IPA offers a bit of booze, but the alcohol is properly hidden and is on the lighter side when it comes to hoppiness.
Before you give this beer a try, you should read our complete review below, as we cover all you need to know. 
Gold Cliff IPA Stats
Country 

United States

Brand
Kona Brewing

Co

Style

American IPA

Taste 

Pineapples, hoppy

Body

Light Body

ABV

7.2 percent

Flavors & Aromas

Pineapples, malts, grassy, tropical, piney hops, mango, grapefruit

Serving Temperature

45 – 50 degrees Fahrenheit
Tasting Notes
Gold Cliff IPA Tasting Profile
Gold Cliff IPA is an American IPA with an alcohol content of 7.2 percent, brewed by Kona Company. The beer has a balanced taste of pineapples and hops, but it is more sweet than bitter. This is a solid west coast IPA with light hoppiness. 
The beer has a vibrant taste of pineapples, grassy hops, tropical fruits, piney hops, mango, grapefruit, and solid malts. It features a light body and a golden-yellow but hazy appearance. If you're looking for a refreshing summer IPA that you can have on the beach or by the pool side, this is a good choice. 
When you serve the beer, do so in a tulip glass, which has a rounded base and a short stem. At the top, the glass tapers a bit, capturing the pineapple aroma and allowing the head to form. The perfect serving temperature is from 45 to 50 degrees Fahrenheit, and you can garnish it with a juicy citrus slice. It is not wrong to serve it to another beer glass type but a tulip (or Belgian) glass is highly recommended.
– Appearance 
On the pour, the Gold Cliff India Pale Ale features a golden yellow color that sparkles in a tulip glass. The beer is also slightly hazy, and this clashes with vibrant carbonation that shows off bubbles floating to the top.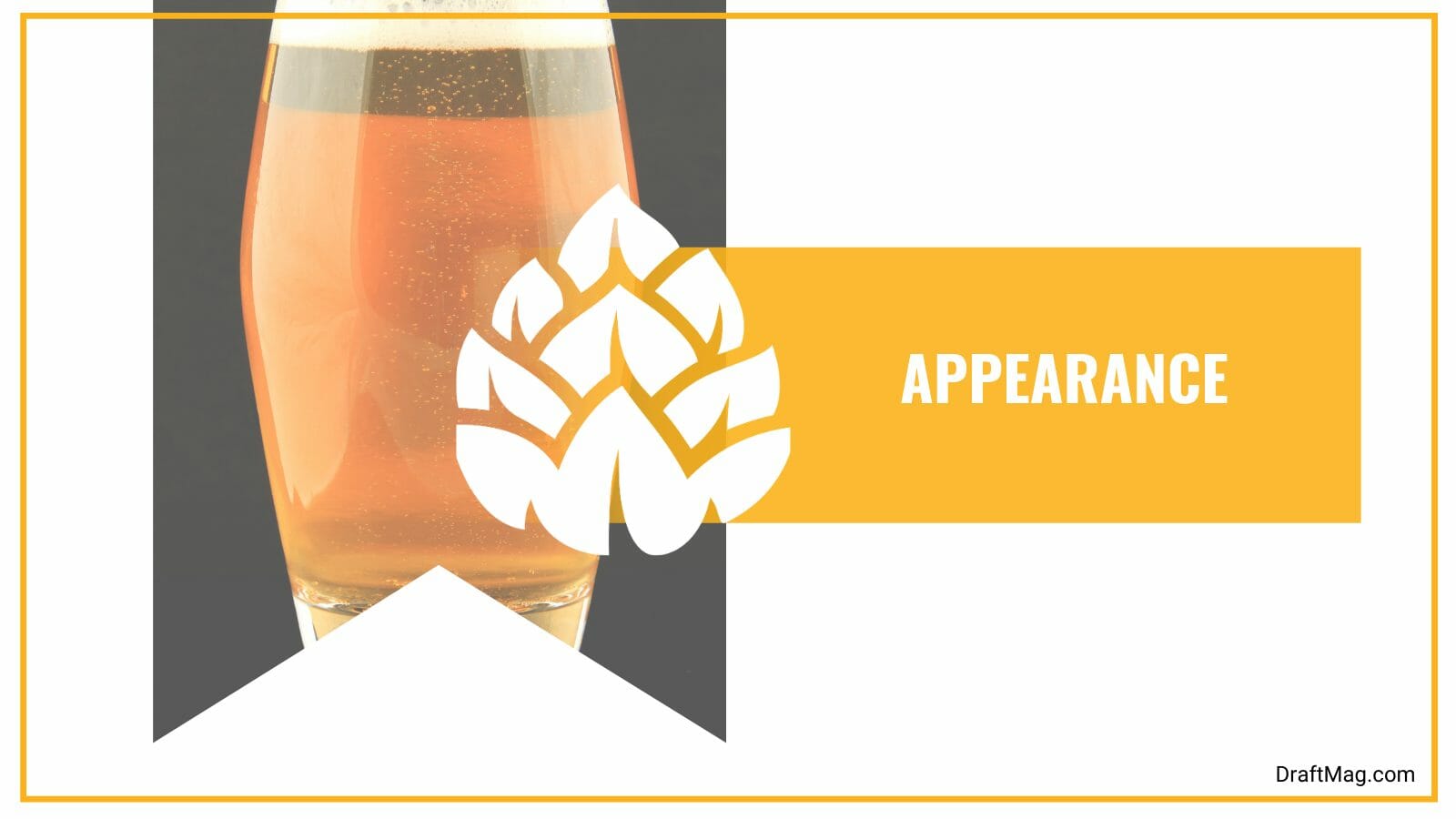 In the light, the yellow color tends towards amber. Atop the IPA is a foamy head that goes as high as three fingers. It has really good lacing too. 
– Aroma 
As for the aroma, the IPA offers lots of pineapples from the moment you bring it to your nose. The aroma is lightly sweet and juicy, and offers promise for what the taste will be like. 
In the base of the aroma, you might notice a bit of tropical fruits and grassy hops. Some of the fruits are grapefruit and mango, with piney hops. 
– Mouthfeel 
The IPA features a light body that goes down easy due to the carbonation. The above average carbonation offers a fizzy, soda-like feel along with the light body as you drink. In the finish, the beer is dry and resinous. 
Since the IPA has a high alcohol content of 7.2 percent, it's not surprising that the beer is a bit boozy. The alcohol content is well-masked, so it doesn't affect the taste too much. You simply get a bit of alcohol warming. 
– Flavor 
The flavor of the Gold Cliff beer is very clean, which will surprise you since the aroma isn't that clean. It follows the aroma a bit, but the pineapple is not as prominent in the taste as it was in the aroma. The first thing you taste is the light malts, and this is balanced out with low to moderate hoppy bitterness.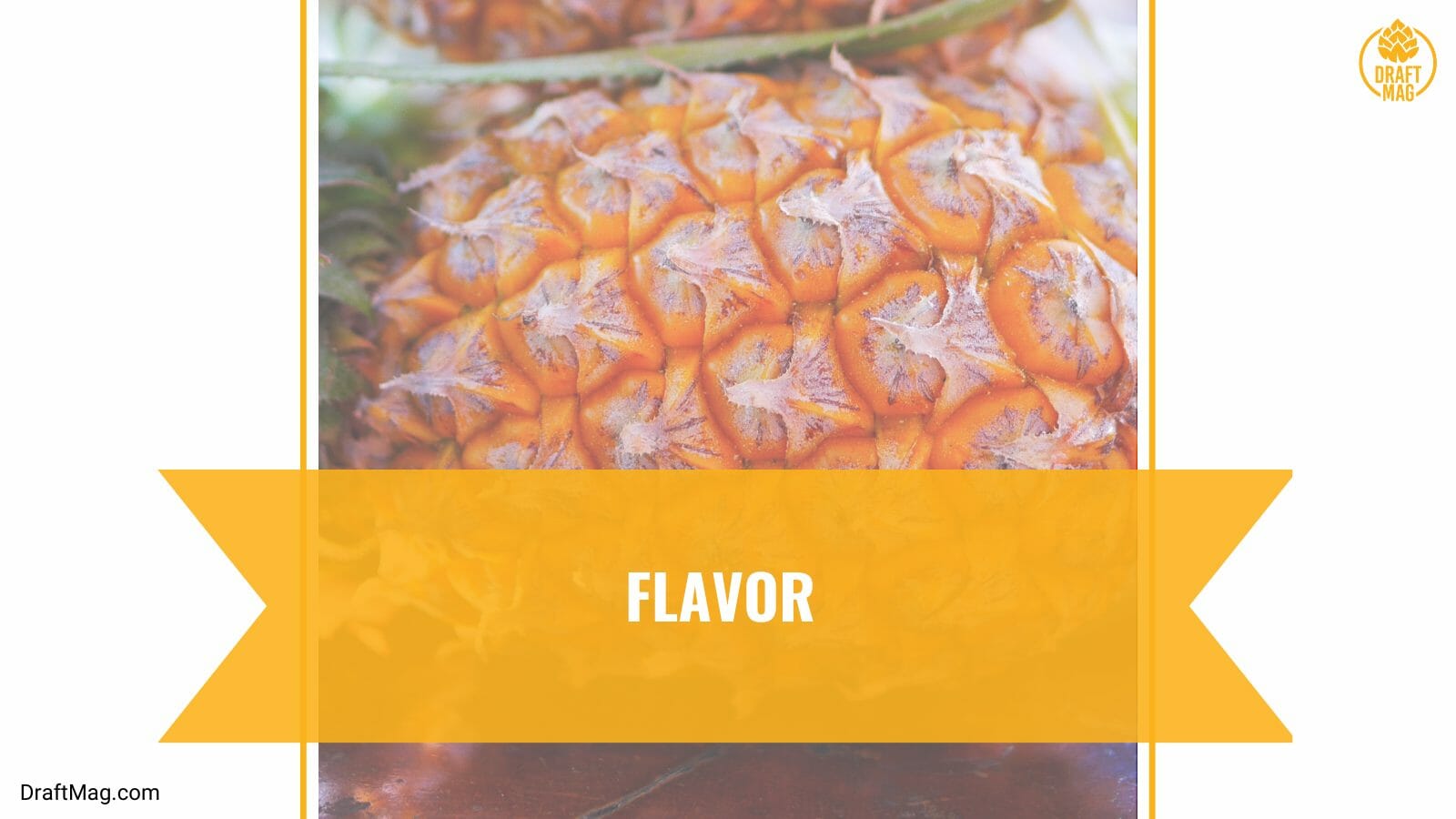 You will then get a bit of pineapple along with other tropical fruits like mango, grapefruit, and grape. In the finish, you get a clean taste with some grassy hops. The piney hops contribute to the bitterness, but this is balanced out with the solid malts and the sweet pineapple. There are slight hints of candied lemon and orange citrus as well. 
– Food Pairings
When having the Gold Cliff ale, you should pair it with similarly intense foods so that you match their flavors. While the IPA is slightly bitter and hoppy, it also offers a sweet pineapple taste. So, you can pair the IPA with a baked pineapple salmon, sheet-pan pineapple shrimp, chicken teriyaki pineapple bowls, and even pineapple chicken. 
The hoppy bitterness in the beer will cool off spicy dishes, so try out taco or burger with spicy barbecue sauce, Indian curry, Mexican, Southeast Asian and Thai dishes, spicy noodles, and pasta. You can also pair the flavorful beer with oily fishes like salmon or mackerel. 
If you have a sweet tooth, you can enjoy the beer with a pineapple upside down cake, a pineapple carrot cake, or a blood orange sorbet. It also pairs well with cheddars (either a medium or a sharp cheddar) and blue cheese. 
Ingredients 
The Kona Gold Cliff ale is made with malts, hops, yeast and water. It is brewed with real tropical pineapple, and this is what gives it the authentic taste of pineapple fruit that makes it refreshing. The malts used to make the beer include pale 2-row malts, Caramel-10 malts and acidulated malts.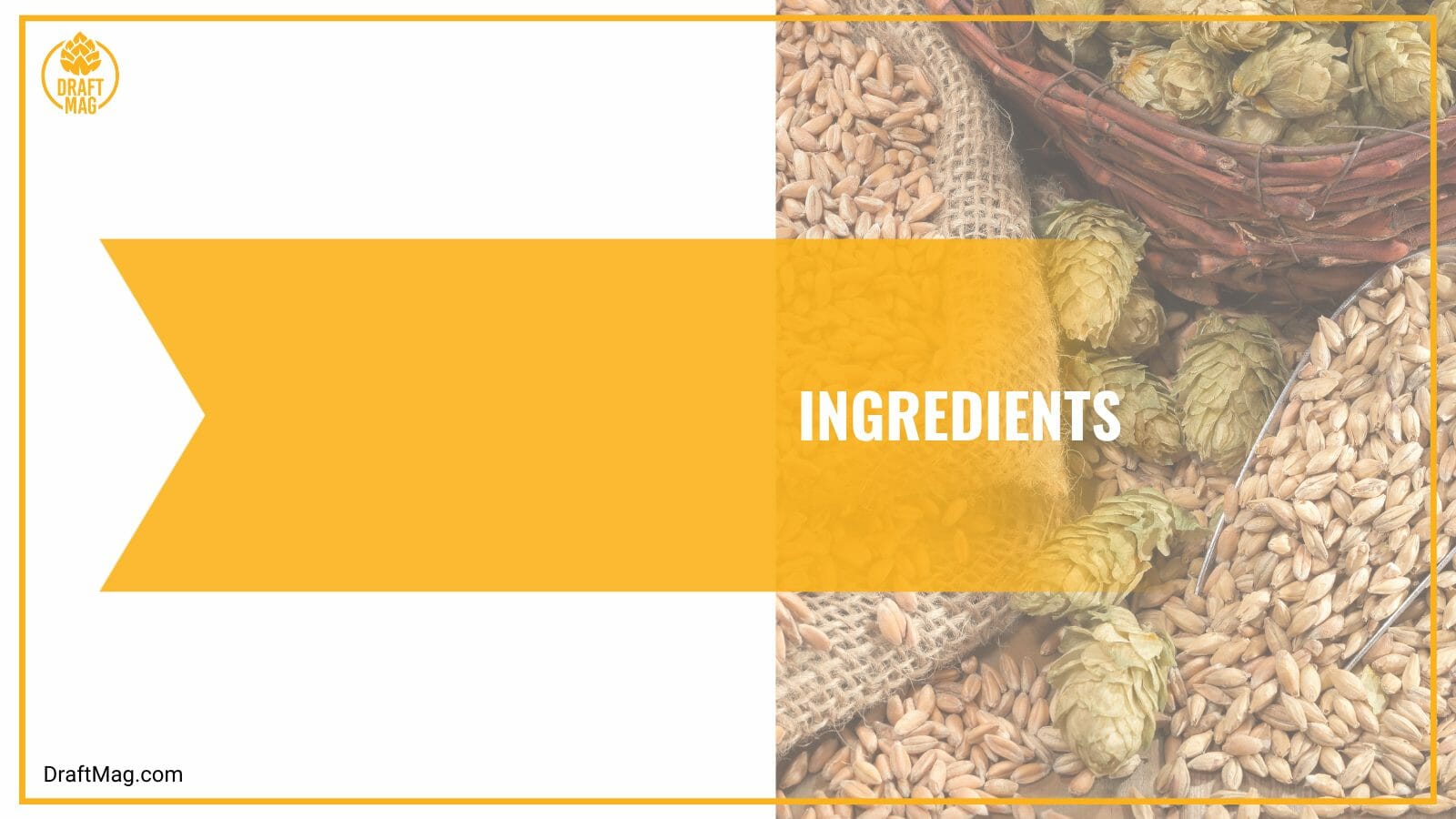 These form a solid base of sweet malts as you drink. As for the hops, they are Chinook, Mosaic, Topaz and Citra hops, all coming together to give you a grassy, piney taste with every sip. The hops are still light when compared to other types of IPAs. 
Nutrition Facts 
In every 12 ounces of the Gold Cliff India Pale Ale, you get a whopping ABV of 7.2 percent. The alcohol content is well masked but you will still taste a bit of warming as you swallow. As for the IBU, it is 50, as there isn't a lot of bitterness as you would expect. 
There are 211 calories in every serving of the beer, while the carbs are 15.6 grams. There is also protein in the beer, which is 2.12 grams. There is no fat, but the sodium level is 9 mg. It has a high level of carbs, and this makes it unsuitable for those on a keto diet. 
History 
The Gold Cliff IPA was released in 2018 by Kona Brewing Company, and is one of the most popular year-round beers from the Hawaii-based brewery. The origin story of the IPA is the Kaunolu Cove, which is a diver's paradise in Hawaii. It is also where the island had its first pineapple field. 
Kona Brewing Company was founded in 1994 by Cameron Healy and Spoon Khalsa, a father and son duo. The beer is available year-round and distributed around the US. 
Conclusion
If you're looking for a sweet IPA that strays away from the standard bitter and hoppy ales, this is a suitable choice.
Here's a summary of what we looked at in our review:
Gold Cliff IPA is an American IPA with an ABV of 7.2 percent.
The beer has flavors and aromas of pineapple, grassy and piney hops, tropical fruits, mango, grapefruit, and malts.
It is made with real pineapple, malts, Chinook, Mosaic, Topaz and Citra hops.
The beer is best served in a tulip glass at temperatures from 45 to 50 degrees Fahrenheit.
It pairs well with pineapple-based dishes, spicy dishes, oily fish, pineapple desserts, and cheddar or blue cheese.
You can give the beer a try by purchasing it on tap or in a 12-oz can at different liquor stores and taprooms.