Monopolio Beer Review: Your Classic Lawnmower Lager
Monopolio Beer is the classic example of an American lager as it does not offer anything unique or different. The clean and crisp taste of malts is what many beer lovers are looking for as it goes down easily.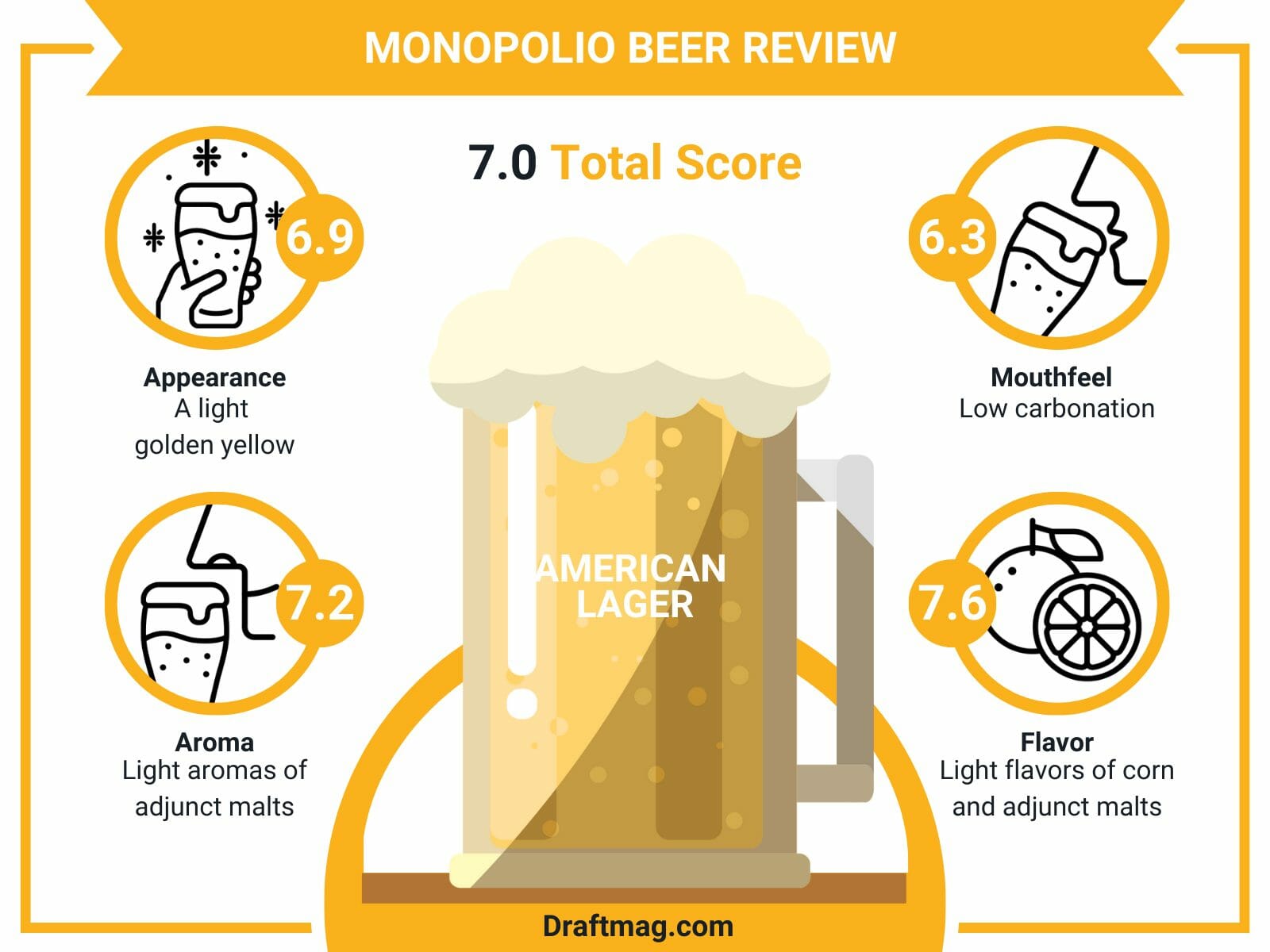 Since it's a classic lager, you can also enjoy this beer at any time, whether on a hot summer afternoon or with a spicy meal. Let's learn more about the beer in this detailed review.
Monopolio Beer Stats
| | |
| --- | --- |
| Country  | United States |
| Brand | La Cerveceria De San Luis |
| Style | American Lager |
| Taste  | Malts, crisp |
| Body | Light Body |
| ABV | 5 percent |
| Flavors & Aromas | Malt, biscuit, corn, adjuncts, hops |
| Serving Temperature | 35 – 40 degrees Fahrenheit |
Tasting Notes
Monopolio Beer Tasting Profile
Monopolio Beer Review
Monopolio Lager Clara is an American lager with a 5 percent alcohol content. Made by La Cerveceria De San Luis in the United States, the beer does not veer far away from the classic lager style. It has a crisp and malty taste with flavors and aromas of biscuits, corn, adjuncts, and light hop bitterness, all in a light body.
You can pour the golden yellow beer into a pilsner glass, which is a tall, slim and tapered shaped glass. The glass shows off the golden color and holds the white head at the top. You can garnish the beer with a wedge of lemon at the rim of the glass. The ideal serving temperature is very cold, from 35 to 40 degrees Fahrenheit.
– Appearance
The Monopolio pours a light golden-yellow color into your glass, with a slightly hazy appearance.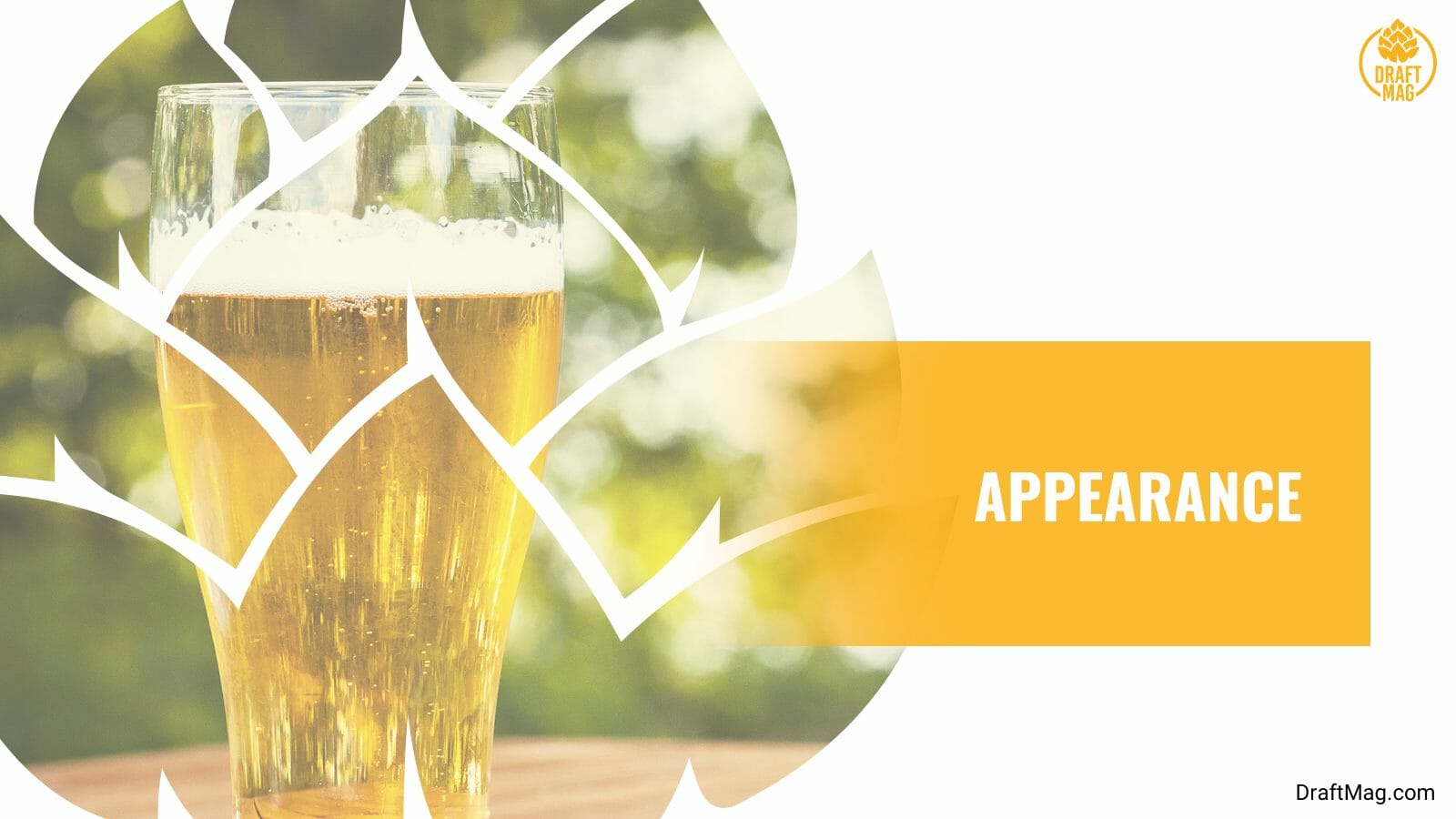 It is poured with a short white head that will die down, leaving a thin collar of lacing around the edge of the glass and a thin film of lacing on the surface. There is a visible amount of carbonation with the bubbles in the glass.
– Aroma
On the nose, the beer offers the light aromas of adjunct malts, giving you the classic aroma of an American lager. The malts are sweet and clean, but the corn is the most prominent, dominating the flavor. You can't smell the hops.
– Mouthfeel
This is a smooth lager as there is only low carbonation, so it doesn't tingle or fizzle on your palate. The beer has a light body on the palate that tends toward medium and a crisp finish. There isn't any burn or astringency, but it goes down easily.
– Flavor
In terms of flavor, it follows the aroma closely and remains like a classic lager. Monopolio has light flavors of corn and adjunct malts with no bitterness present. Although there are a lot of malts in the beer, it does not become sweet because of the underlying hops, giving you a good balance.
The main flavor of the malts is biscuity and dry, and there are no off-flavors. The hops offer a nice floral bite towards the finish, and it is clean with a lot of pale malts at the end. It has a short aftertaste that finishes quickly, acting as a palate cleanser.
– Food Pairings
When having the Monopolio beer, you can pair it with a wide range of foods. Since it has a clean and crisp taste, it easily cleanses your palate, so you can try out spicy, Southeast Asian, Mexican, and Latin food. The crisp beer can cut through the fat of grilled pork and chicken, French fries, buffalo wings, and taters.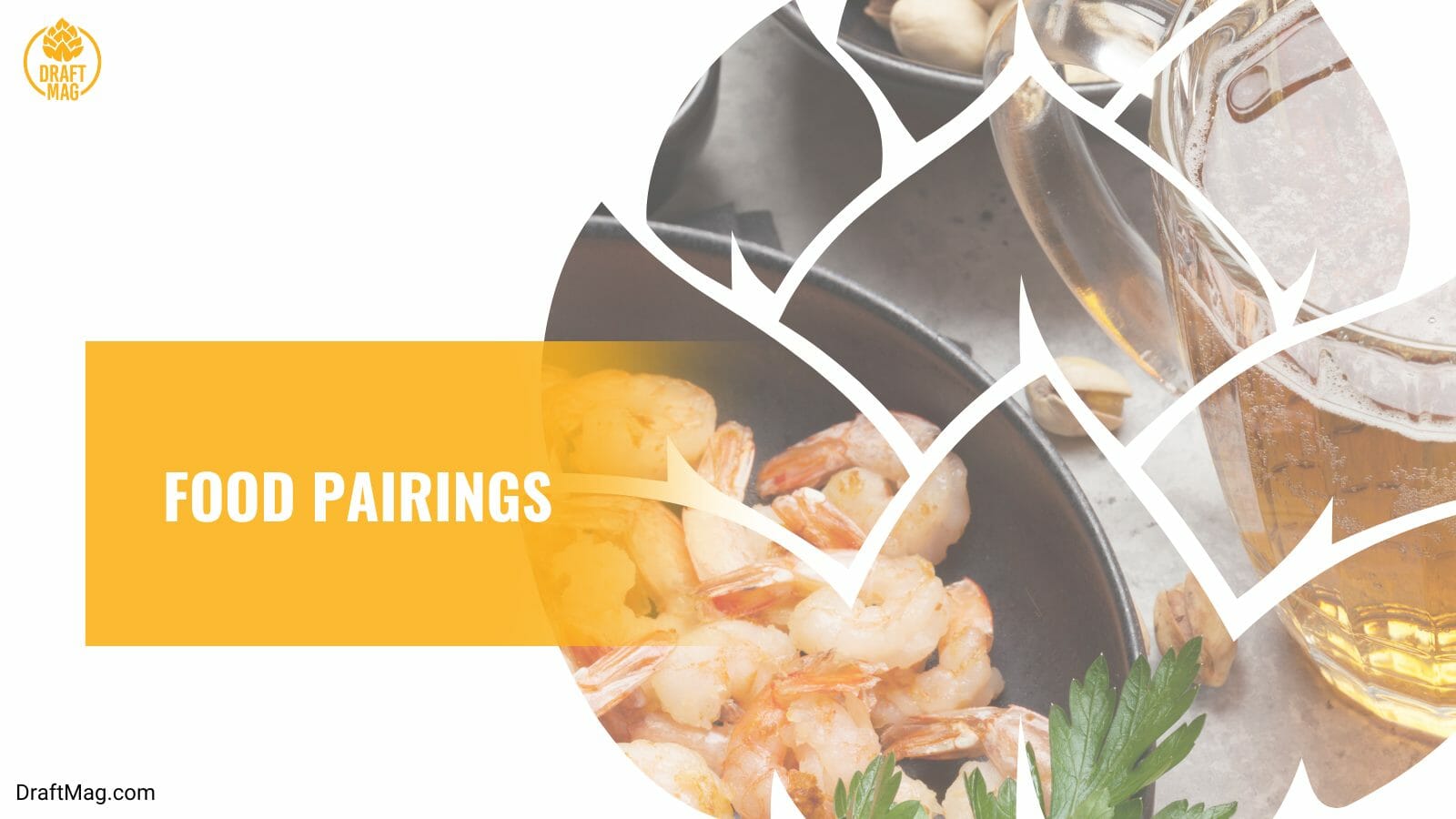 With the light body, it's best to go for lighter foods, so try out light seafood, sushi and shellfish, light pasta or noodles without any cream or meat sauces, hot dogs, and burgers. A nice green salad with citrus dressing will also go well with the beer.
For cheese, you can pair Monopolio with Havarti and Cheddar cheeses, especially the mild ones. You can have dessert with this beer, like lemon-flavored milk or dark chocolate cake, blood orange crepes, or panna cotta with lemon.
Ingredients
The Monopolio is a hand-crafted lager that is made in the USA. The ingredients of the beer include malts, hops, water, and yeast, although the exact varieties used are unknown. They offer notes of grains, maize, and bread, with the malts being at the forefront. There is a very light hop character with subtle bitterness.
Nutrition Facts
In the Monopolio beer, you get an ABV of 5 percent, which is spot on for an American lager. The beer does not have any alcohol warming or character in the taste and aroma. There are 20 bitterness units due to the low hops in the beer.
The lager features 145 calories in every 12 ounces. It's important to consider this when calculating your daily dietary requirements. The beer is not ideal for those on a keto diet since it has a high carbs content. It is also not ideal for gluten-sensitive drinkers or vegans.
History
This is one of the two Monopolio beers brewed by La Cerveceria De San Luis, with the other being the Lager Negra. The Clara is hand-crafted to show the Mexican culture and has been brewed for 50 years, first by a Mexican farmer and a wandering Frenchman, an unlikely duo. It is the most famous lager of the brewery, dating back to 1882.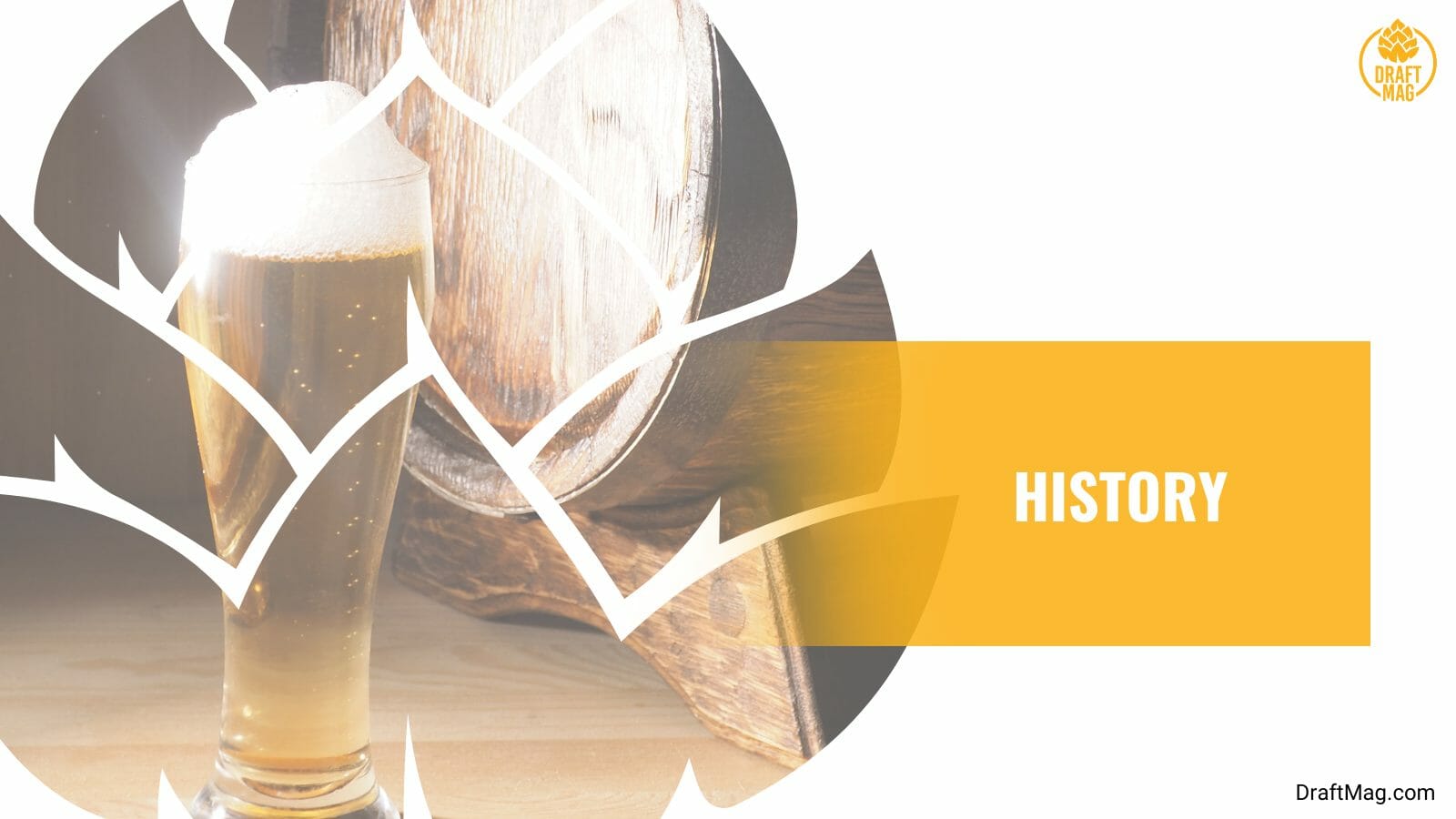 The brewery was founded in 1882 and still uses the original recipe of the Cerveza. When the Monopolio was first made, it was recognized at fairs around the world. The beer has won multiple awards globally.
Conclusion
The Monopolio Clara Lager is the ideal choice for beer lovers that want a clean-tasting lager without any of the additives. Here's a summary of our beer review:
Monopolio is an American lager with a 5 percent alcohol content.
The beer has flavors and aromas of malts, adjuncts, corn, biscuits, and bread, with a crisp, clean, and refreshing taste.
The bright beer is made with malts, hops, yeast, and water.
Pour it into a pilsner glass, garnished with a lemon wedge, at a temperature of 35 degrees Fahrenheit.
The beer is best served with light foods, spicy meals, fatty and grilled food, green salads, fruity desserts with lemon, and mild cheeses like Havarti.
If you're curious about Monopolio, it's easy to get your hands on a bottle. Any place selling or serving beer should have a case for you to buy.