Guinness Foreign Extra Stout Review: Try This Bittersweet Flavor
Guinness Foreign Extra Stout has remained one of the most popular export stouts since it was released and is an ideal choice for all beer lovers. Brewed with generous hops and roasted barley, the beer has a bittersweet flavor of chocolate and malts.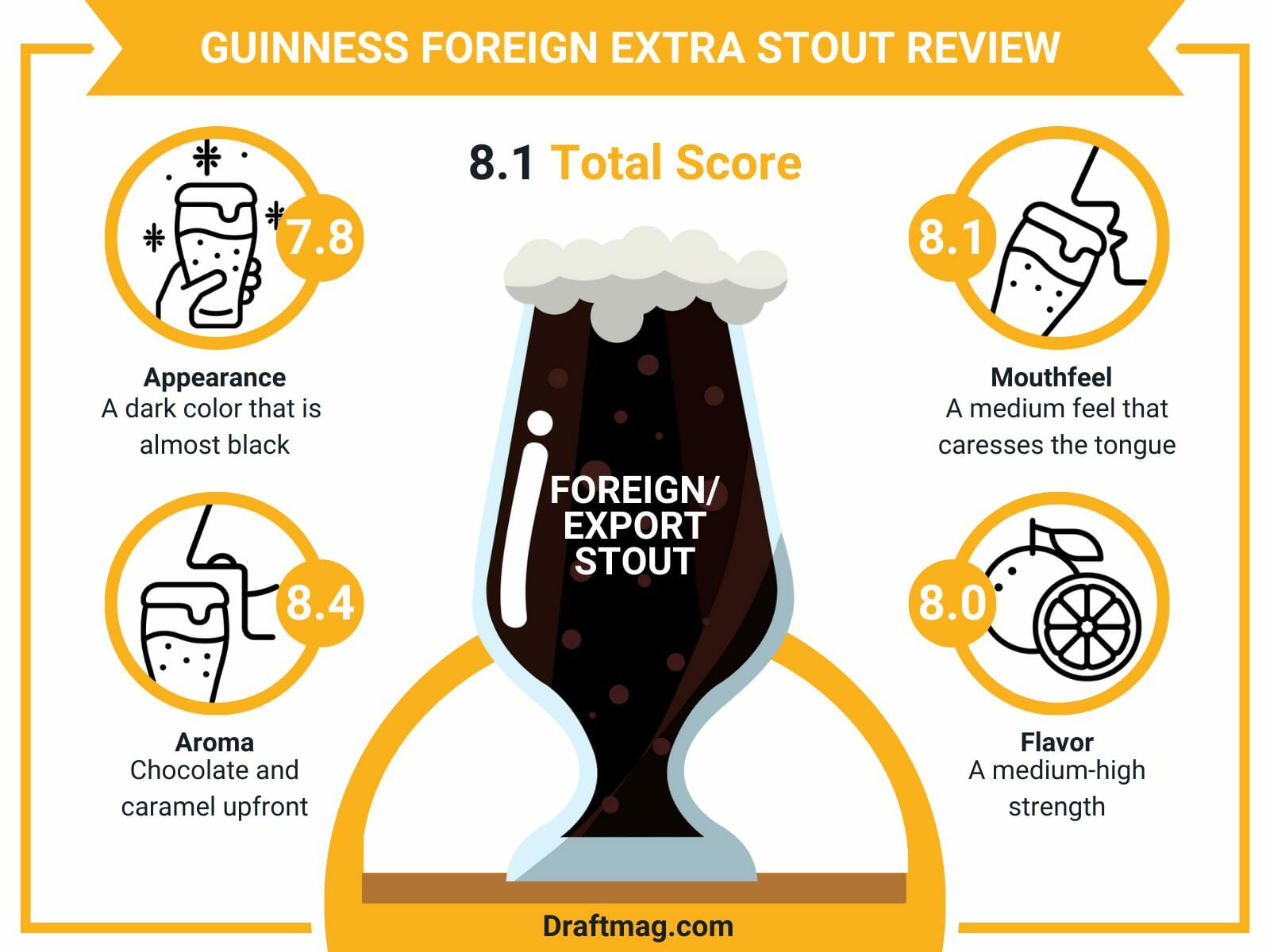 If you're looking for a creamy export stout to try out, this is the perfect choice for you. Let's take a closer look at this beer in our review.
Guinness Foreign Extra Stout Stats
| | |
| --- | --- |
| Country | Ireland |
| Brand | Guinness Ltd. |
| Style | Foreign/Export Stout |
| Taste | Chocolate, creamy |
| Body | Medium Body |
| ABV | 7.5 percent |
| Flavors & Aromas | Sweet chocolate, caramel, malty, nutty, roast |
| Serving Temperature | 45 – 50 degrees Fahrenheit |
Tasting Notes
Guinness Foreign Extra Stout Tasting Profile
Guinness Foreign Extra Stout Review
Guinness Foreign Extra Stout is an export stout from Guinness Ltd with a 7.5 percent alcohol content. The beer is a solid, tasty stout with an almost black color, a medium body, and light carbonation. There are flavors and aromas of sweet chocolate, malt, caramel, nuttiness, and roasted malts, with hints of dark coffee flavor.
The beer is best served in a pint glass, as the wider opening will keep the tan head standing and show off the dark color. If you don't have a pint glass, you can also try out a snifter, chalice, or goblet. The ideal serving temperature is from 45 to 50 degrees Fahrenheit, and it can be garnished with dark fruits like berries.
If you're looking for a warming beer with a decent ABV on a cold day, then this is an ideal choice.
Appearance
The export stout pours a dark color that is almost black, but you can see the deep brown hues at the edges of the glass. On top of the head is a two-finger tan head that offers great retention and will leave behind thick lacing of brown against the glass.
Aroma
As you pour the beer, you can smell the aromas of chocolate and caramel upfront. This is well-balanced by the pleasant aroma of roasted malts and some hops. It is medium in strength without overshadowing the flavor.
Mouthfeel
On your palate, the export stout has a medium feel that caresses the tongue and goes down easily.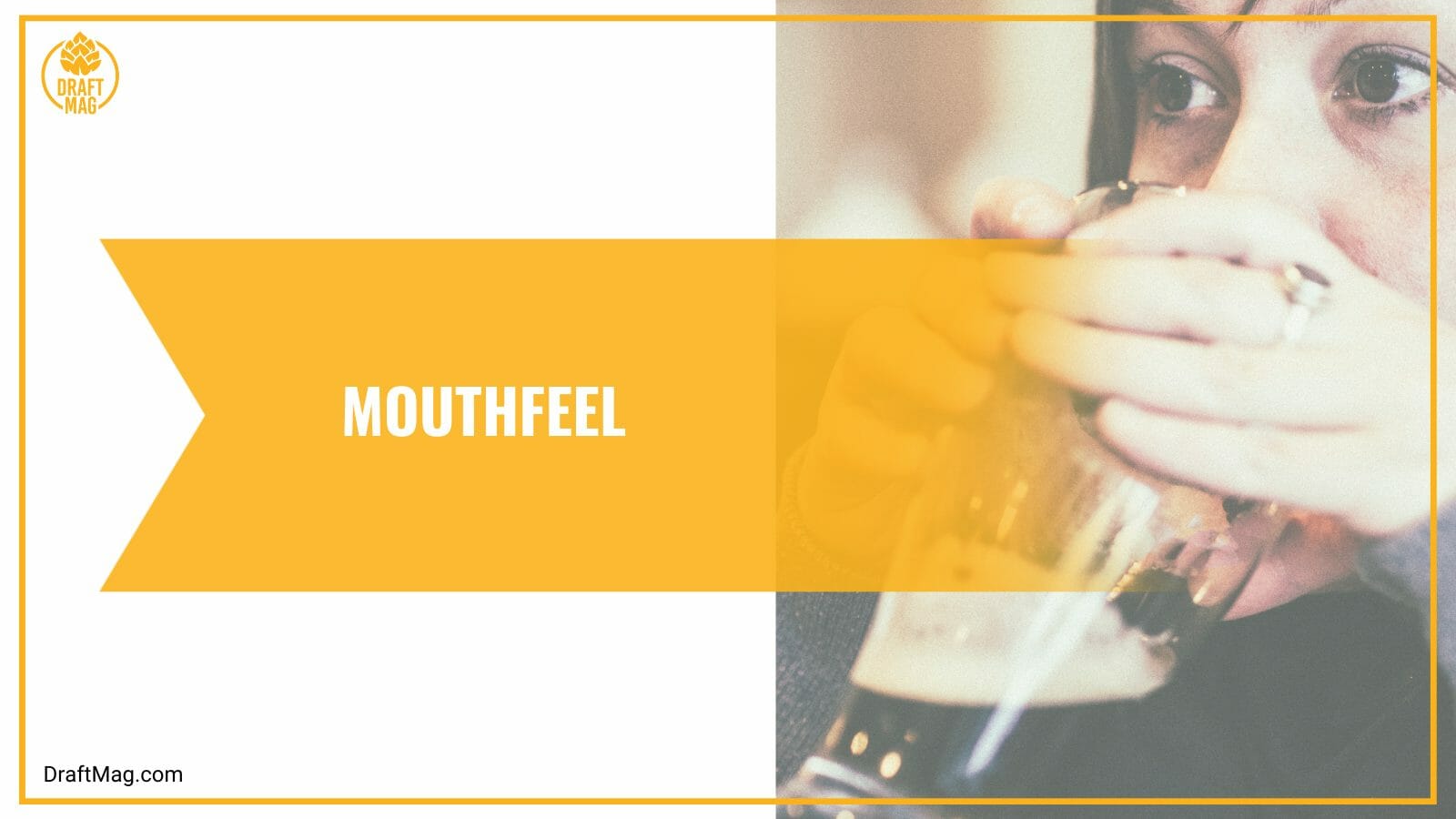 There is light carbonation to be expected, so you can barely taste the bubbly and fizzy feeling on your tongue. The beer is fairly creamy, and there is some astringency in the feel.
Flavor
When you drink the foreign stout, you have medium-high strength that follows the aroma, but it has a deeper bittersweet flavor and a moderately-high bitter taste that fades as you drink. There are hints of sweet chocolate and caramel, and the beer is very malty and nutty with hints of dark coffee.
The flavor starts out with moderately roasted malts on the tip of your tongue, but you can taste the sweet toffee mid-palate before moving to a bitter, roasted malt finish. All the flavors are on a creamy malt base, with a touch of roasted cocoa on the backend. There is some hop bitterness that will remind you of an espresso.
Food Pairings
You can enjoy different kinds of food when drinking your pint of Guinness export stout. Your best choice will be a hearty meal that you are having for dinner, like a beef stew that consists of beef, a beefy broth, and tender vegetables, or a shepherd's pie.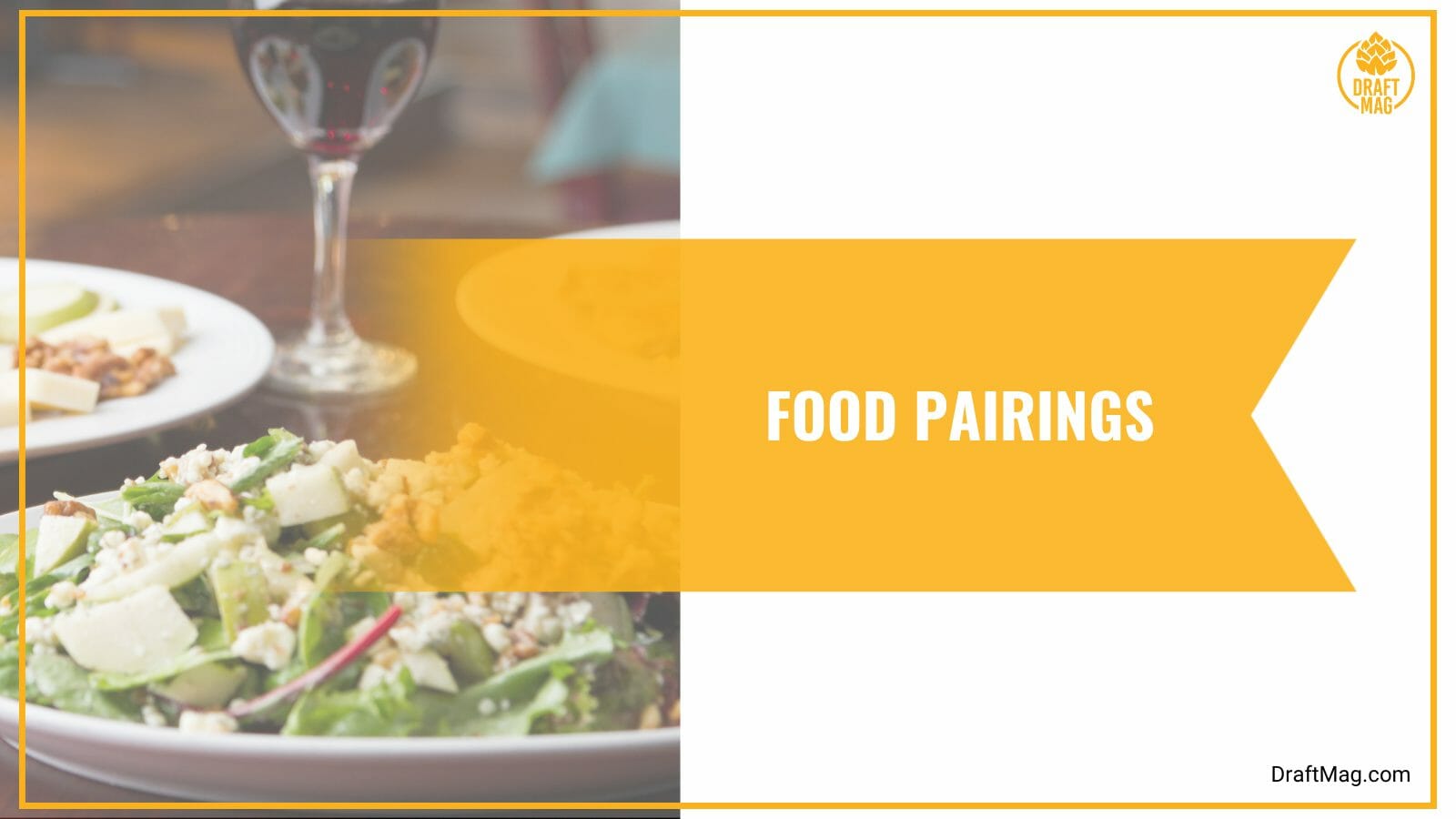 Other meals that you can have with the beer include baked salmon, fish and chips, soda bread, oysters, and a kidney pie. The medium-bodied brew will go great with roasted and smoked foods, barbecued and grilled food, braised dishes, and salted food.
If you're having dessert, it's a good idea to have a beer with food that is a bit sweeter. Go for anything with chocolate and coffee, like chocolate cheesecake or pudding. Another good food pairing is blue cheese, as the salty and creamy taste of the cheese will go great with the sweetness of the stout.
Ingredients
The Guinness export stout is made with grains, water, hops, and yeast to give you a unique taste. It is brewed with the Guinness Flavor Extract, which is a dehydrated hopped wort extract made from roasted barley and barley malt. It is exported from Ireland and added to locally brewed pale beer to give it the final, creamy result.
Nutrition Facts
The Guinness export stout has an ABV of 7.5 percent in every 12 ounces, but the alcohol is well-masked by the malty and roasted flavors. It also has 47 IBUs in every serving, which is due to the hoppy bitterness that combines with the malty sweetness.
In the beer, you get 176 calories from every 12 ounces. Drinkers on a diet should keep this in mind when calculating their daily dietary intake. There are also 14 grams of carbs and 3 grams of protein in each serving. The beer is not gluten-free or suitable for those on a keto diet as it is a high-carb alcoholic beverage.
History
The Guinness FES is a stout produced by Guinness Brewery, an Ireland-based brewing company. The beer dates back to 1801 when it was first brewed and designed for export, but it is more heavily hopped and has a higher alcohol content than the original. The extra hops were first added to preserve the beer during long journeys.
The FES is mostly found in Asia, Africa, and the Caribbean and makes up almost half of Guinness sales globally. The first recorded shipment of beer to the USA was in 1817, and it was first called the West Indie Porter. The name was changed to Foreign Extra Stout in 1849. Other popular beers are the Guinness Draught and Guinness Extra Stout.
Related Dark Beer Articles
Learn more about the best dark beers in the market right now and everything related to dark beers.
Conclusion
The Guinness export stout is the ideal choice for stout and lager lovers, but even ale drinkers will enjoy the slight hoppiness and malty sweetness. Here's a summary of our review:
Guinness FES is an export stout with a 7.5 percent alcohol content from Guinness Ltd.
The beer has flavors and aromas of malts, chocolate, caramel, roast, coffee, and nuttiness, with a medium body and bittersweet character.
It is made with grains, hops, yeast, and water.
The beer goes great with hearty foods like a beef stew or pumpkin pie, chocolate desserts, blue cheeses, and roasted, grilled, braised, barbecued, and smoked food.
You can easily purchase the export stout in stores and supermarkets or get it online. Learn more about the best dark beers in the market right now.