Wells Banana Bread Beer Review: A Delicious Bakery Packed in a Beer
The Wells Banana Bread beer is a delicious fruit and field beer that reminds you of freshly baked banana bread in its aroma and flavor. It is based on the idea that ale was previously known as liquid bread!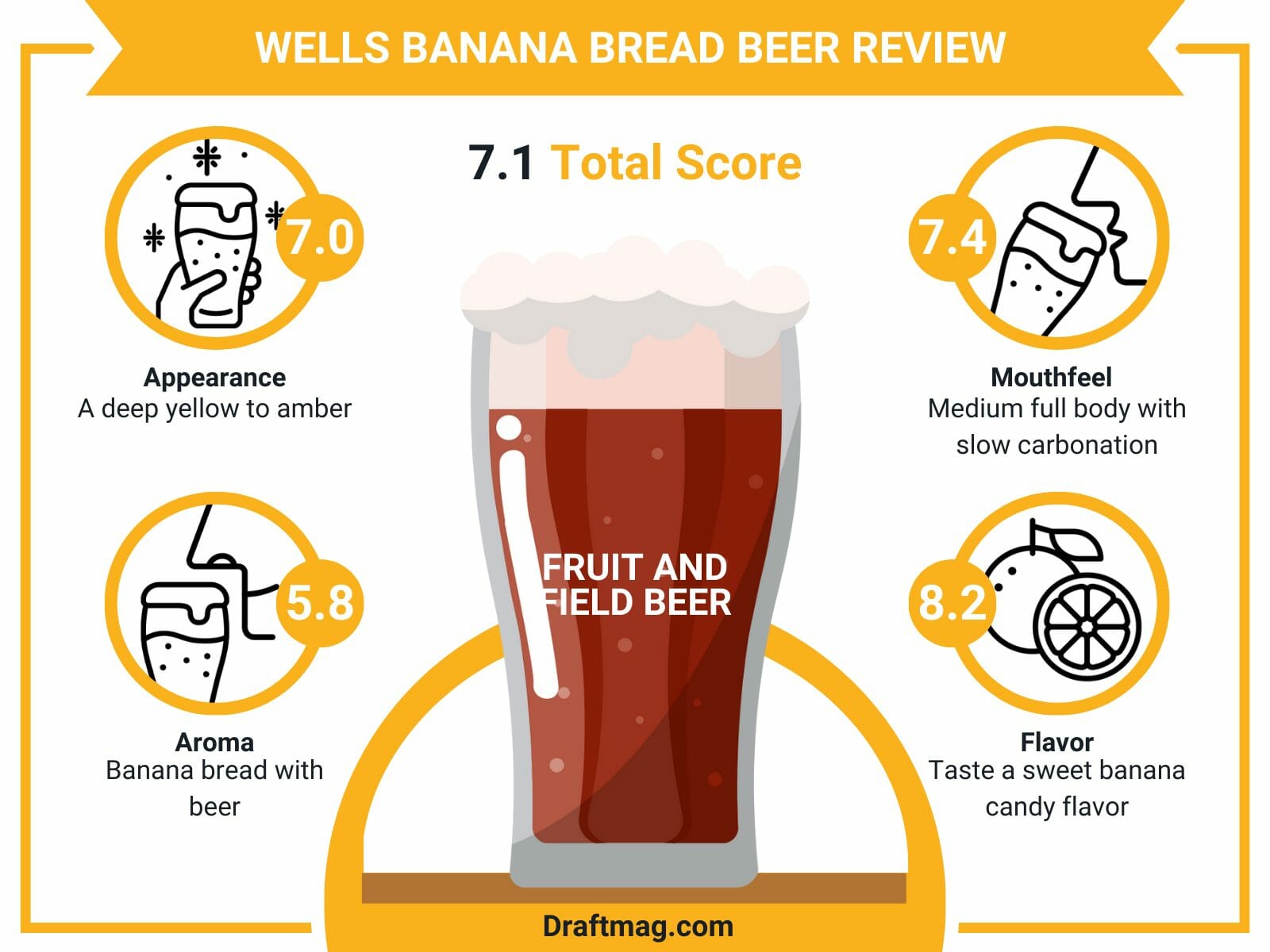 Regardless of the occasion, you'll enjoy this fruity and bready beer with a rich and versatile flavor. Our Wells Banana Bread review covers all you should know before trying out this beer.
Wells Banana Bread Beer Stats
| | |
| --- | --- |
| Country  | United Kingdom |
| Brand | Eagle Brewery |
| Style | Fruit and Field Beer |
| Taste  | Sweet banana bread |
| Body | Medium-full Body |
| ABV | 5.2 percent |
| Flavors & Aromas | Banana, bread, sweet, dry bitterness |
| Serving Temperature | 50 – 55 degrees Fahrenheit |
Tasting Notes
Wells Banana Bread Tasting Profile
Wells Banana Bread Beer Review
The Wells Banana Bread is a fruit and field beer with a 5.2 percent alcohol content. The delicious beer has a deep yellow-amber appearance, with flavors and aromas of banana and bread. The almost full body is accompanied by a light sweetness and dry bitterness towards the end of its taste.
Pour the Banana Bread brew in a snifter, chalice, or goblet, which has a thin opening and a wider middle. You can swirl your beer in the glass easily, and this will improve the aroma of the banana and keep the head stable. The serving temperature should go from 50 to 55 degrees Fahrenheit. You can add a citrus slice to the beer.
You can enjoy the Wells Banana Bread craft beer at any time, especially with its sweet and fruity flavor.
– Appearance
The Wells Banana Bread pours a deep yellow to amber appearance that is mostly gold.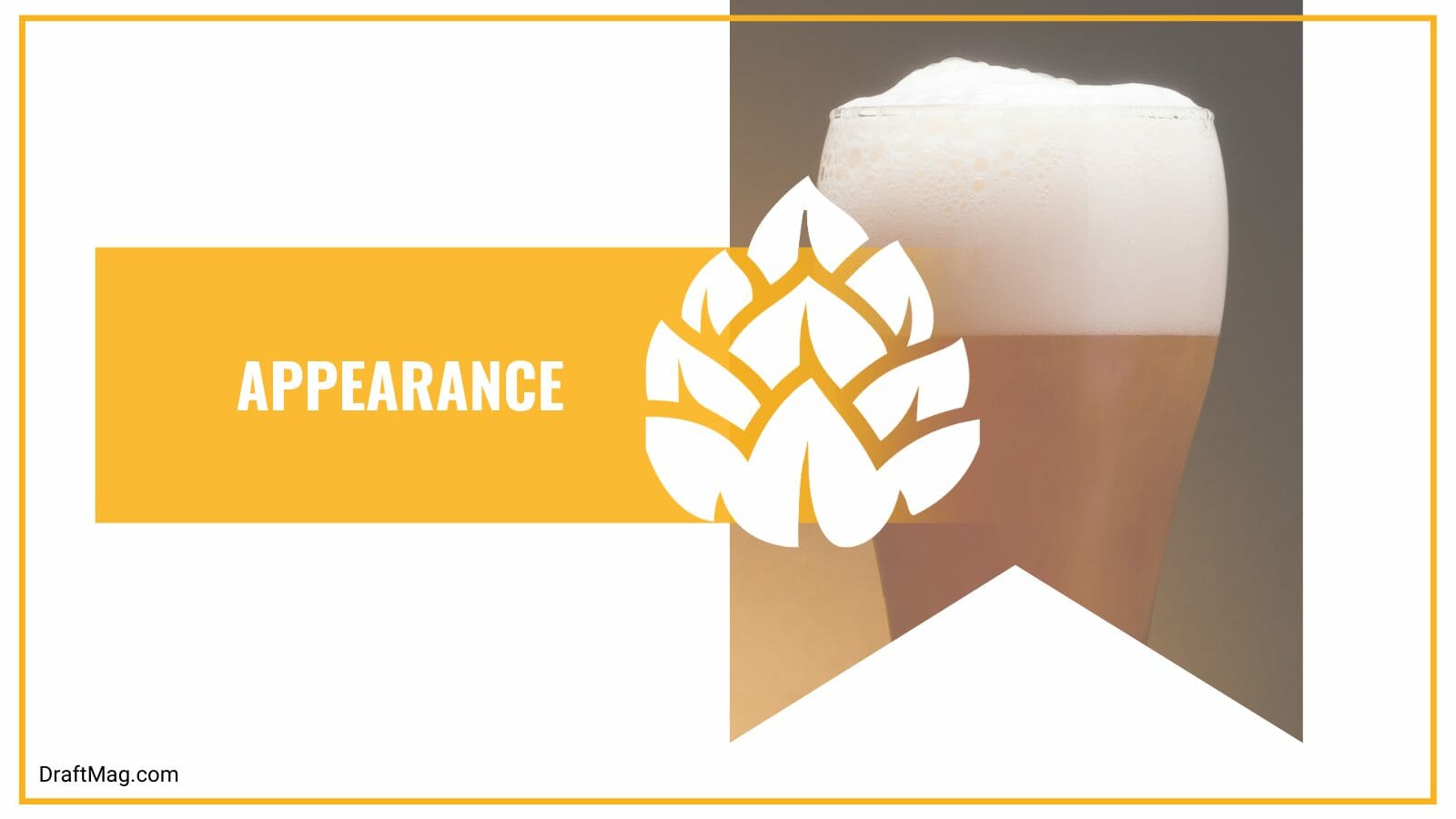 The beer is clear, and if you pour it aggressively, you can have a good foamy head sitting on the beer. The soapy head will slowly shrink into a fat covering and leaves a thick lacing against the edge of your snifter.
– Aroma
On the nose, the beer smells just like banana bread in beer. The aroma of banana is overwhelming, and although there are slight hops in the scent, you might not notice it strongly. The banana aroma is balanced with some bread dough.
– Mouthfeel
The feeling that the Banana Bread brew gives to you is one of slow carbonation.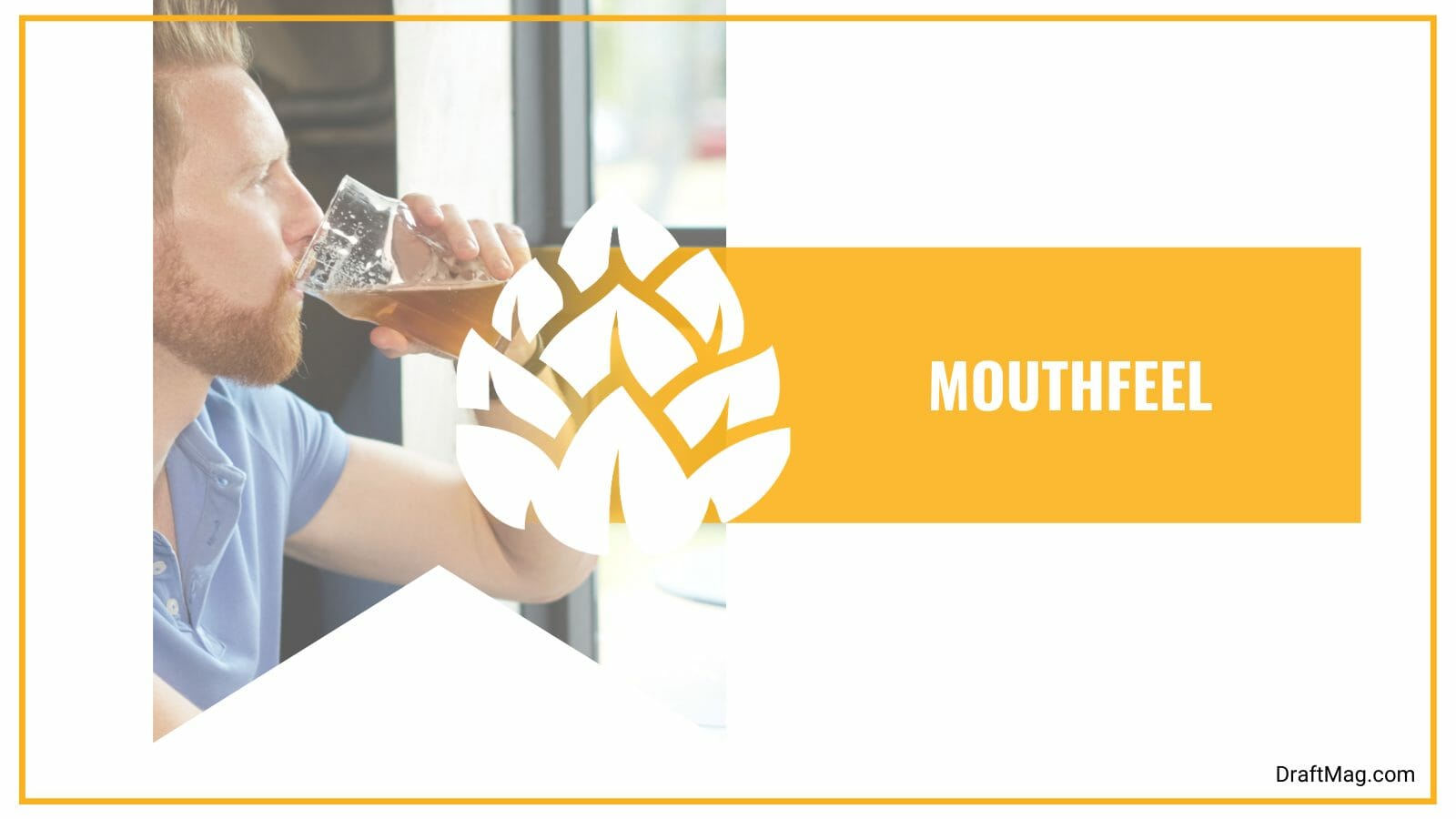 The beer has a dry mouthfeel and a medium-full body that is quite creamy, reminding you of liquid bread. It is easy to drink, too, with a clean feeling and some dry bitterness towards the end.
– Flavor
When you drink the Wells Banana Bread, you will first taste a sweet banana candy flavor that caresses your tongue. This slowly eases into the flavor of wheat bread before going back to banana candy. There isn't much going on when you drink this beer, aside from the flavor of sweet banana bread.
There is also some earthy bitterness offered from the hops, and the bready flavor sometimes tastes more like dough. There is a slight nuttiness with hints of burnt bread too. The banana is the star of the show, but we also have food and malt in the backbone.
– Food Pairings
There are different kinds of food that you can have with the Wells Banana Bread brew, but the obvious choice will be to get banana-flavored desserts. Try out a banana cream pie or a banana split. The beer will also pair well with bready foods like pizza and similar snacks.
Try this beer with grilled meat, pork, salmon, curry, and lightly spicy foods. You can also consider some dishes like a burger or tacos or freshly grilled barbecue with some spicy sauce.
If you enjoy cheeses, go for tangy cheeses like Brick and Edam and earthy options like Fontina or Camembert. The brewery recommends that you pair it with cheesecakes, nuts, chocolate desserts, and jerk beef.
Ingredients
The Wells Banana Bread's exact ingredients are unknown, but it is made with the finest malt blends. This gives you flavors and aromas of toffee and caramel. As for the hops used to make the beer, they provide a lot of peppery spices.
Eagle Brewing uses Fairtrade bananas to provide the banana flavor of the beer. This also gives a strong aroma of bananas. The beer is made with natural mineral water from the brewery.
Nutrition Facts
The Banana Bread features a 5.2 percent ABV and 18 IBU. The alcohol is barely noticeable in the flavor and aroma, and you can expect only minimal bitterness, mostly towards the end of the flavor. For a standard serving size of 12 ounces, the beer has 150 calories, which will be important when calculating your dietary intake.
The beer also has 10 grams of net carbs, so you should avoid this while on a keto diet. It is also not a gluten-free beer. Before drinking the beer, it's important to check the ingredients in case of allergies.
History
The Banana Bread craft beer is one of the top beers from Eagle Brewery. It is often called the Wells Banana Bread because Eagle was previously known as Wells Brewery. The creamy banana bread brew was released in 2002 and has remained one of the popular fruit beers.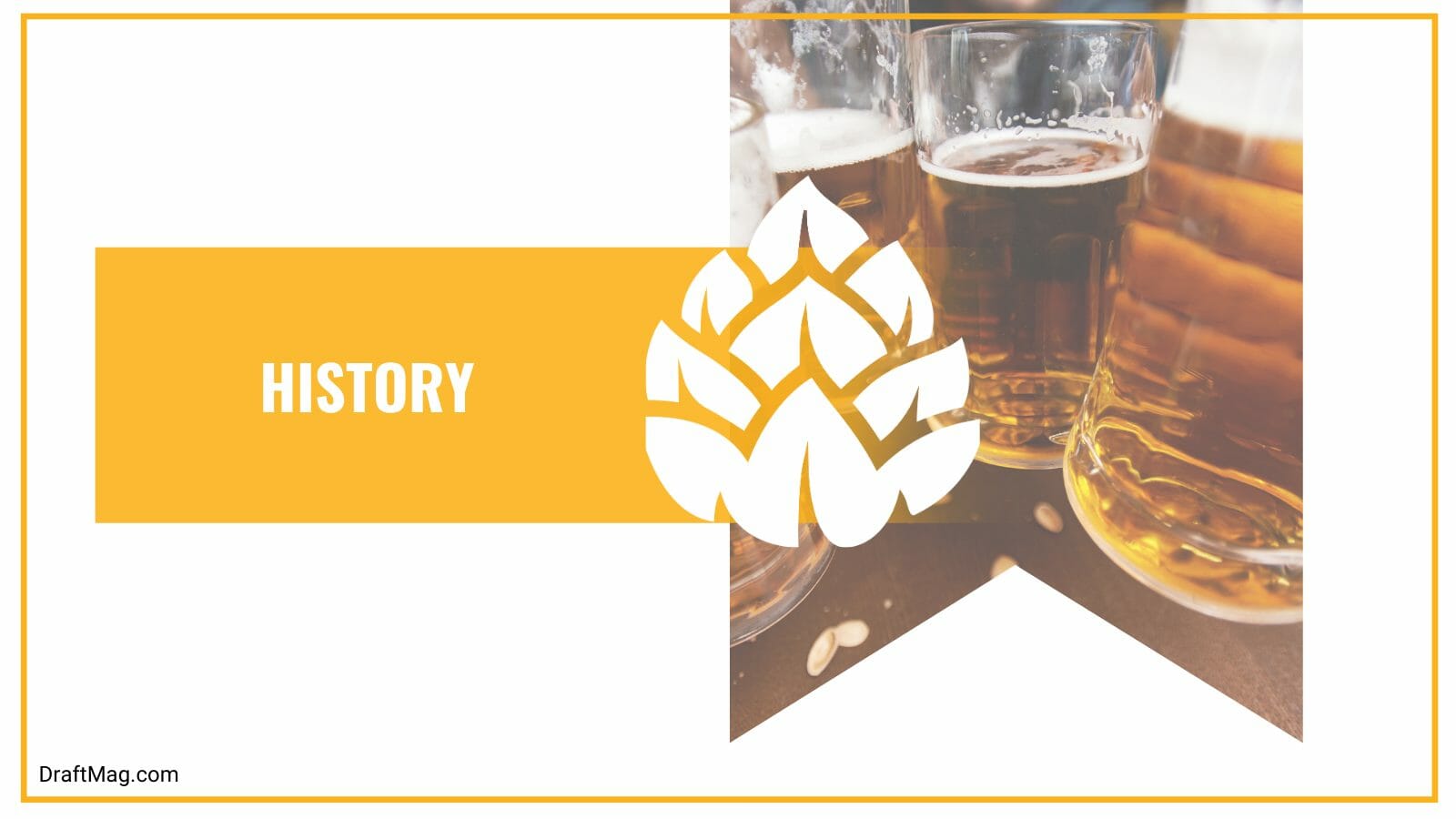 Not only this, but the beer has won several awards and accolades that make it even more popular. In the year that it was released, it won "Beer of the Festival" at the CAMRA London Drinker Festival. It combines the traditional brewing style of Charles Wells with a modern idea, which is all in the bananas.
Conclusion
The Banana Bread brew offers a smooth and semi-sweet flavor for any occasion, giving you a fruity and delicious experience. Here is a rundown of our beer review:
The Wells Banana Bread Beer is a fruit and field beer with a 5.2 percent ABV from Eagle Brewery.
The beer has flavors and aromas of banana and bread, toffee, fresh dough, and earthy hops, finishing smooth and slightly bitter.
It is made with malts, hops, yeast, and real bananas.
With a citrus slice, you should pour the beer into a snifter or chalice at a lukewarm temperature.
The best food pairings for this beer are banana-based desserts, chocolate, grilled foods, salmon and other fish, bread-based food, and tangy cheeses.
You can look out for the Banana Bread beer at online stores or visit the brewery in England to have a delicious experience.